Video surveillance has increased in popularity over the years. Commonly used to protect commercial and government properties, residential homeowners also find uses in their everyday lives. From keeping an eye on packages with a doorbell camera to communicating with a new pup through 2-way audio, home surveillance not only helps protect your home but can also help you save time with home automated tasks.
If you've thought about getting a home security system, you've probably noticed how many options there are out there.
Home security camera statistics and surveillance facts:
As technology advances, home security is more savvy. Now, you can view live video streams from your mobile phone, store videos on the cloud, chat with someone thanks to 2-way audio, and so much more—all in high definition.
Surveillance cameras have been around for a long time.
A German engineer created the first CCTV in 1942 to monitor rocket launches.

In 1949, the U.S. company Vericon started selling video surveillance technology.

China is the most surveilled country (cameras per person), and Taiyuan, China, is the most surveilled city [1].

About 60% of burglars confess that they would seek out another property if an alarm were present, and 83% of burglars attempt to see if there is an alarm before breaking into a home [2].

Residential properties account for over 60% of burglary offenses [3].

Alarms and outdoor cameras are considered effective deterrents against burglars.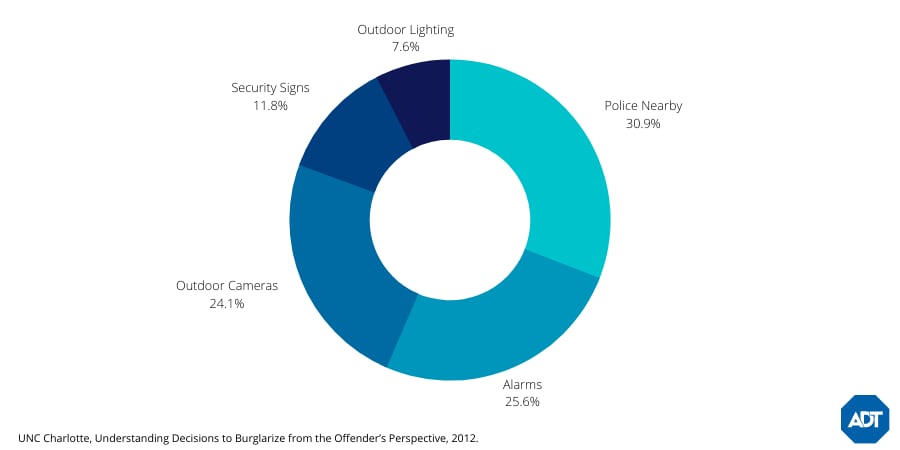 Benefits of a home surveillance system:
Home security is prevalent all around the world. Video monitoring can help protect not just your property and valuables but allow you to see what's going on around your home effectively.
What are some benefits of a home surveillance system?
Enhanced protection for your family, home, and valuables.

Possible reduction in home insurance premiums.

Real-time monitoring offers peace of mind.

Reduces the risk of vandalism on your property.

Aids law enforcement if a burglary does occur by providing video evidence.

Keep an eye on a family member to make sure they're behaving for the babysitter.

Security systems make it easy to check up on a new pet.
How to choose a home surveillance system?
Home surveillance comes in many forms and for any budget or home size. But there's more to it than picking a doorbell camera or outdoor security camera.
One of the main things to consider is what type of security camera and sensors to get with a home security system.
Are you looking for a wired or wireless connection? Do you want to self-install or use a professional? What about adding intelligent home automation or smart sensors that monitor temperature, fire, floods, or CO?
What sensors should you choose to help protect your home?
Some sensors come standard in basic packages for home security, like window, door, or motion sensors, but it can also be a good idea to get some additional ones for added protection.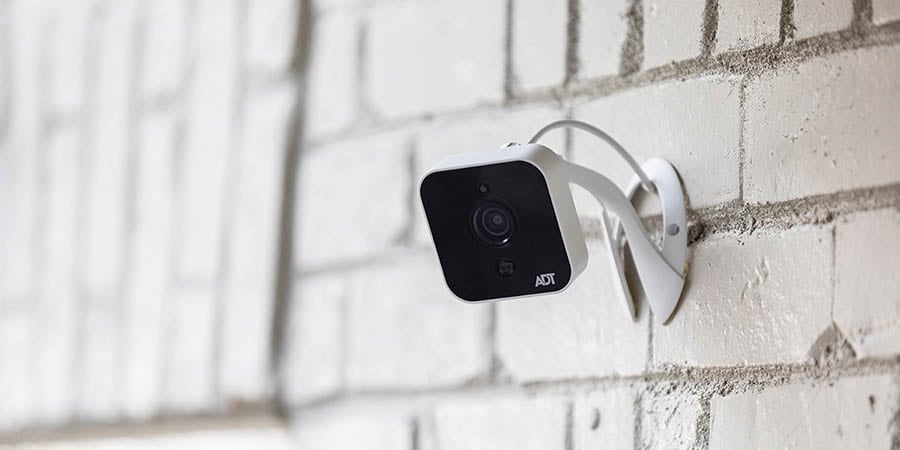 Which security camera is best for you?
Security cameras are an important defense against burglars, and there are plenty of options suited to your surveillance needs. If you're trying to catch a package thief, a doorbell camera might be just what you're looking for to see them in action. Or a traditional outdoor camera system could be the perfect deterrent to burglars for your new home.
An indoor camera doesn't just keep an eye on your children's babysitter but can also serve as additional protection for the inside of your home in the event someone does break-in. You will be able to show to footage to the cops.

Video doorbell cameras are easily installed in both apartments and homes, providing you with an additional layer of protection against porch pirates. And with 2-way audio, you can speak to a suspicious person, know when a guest is visiting, or dismiss a solicitor.

An outdoor camera is what people think of when they think of traditional home surveillance systems. You can keep an eye on the outside of your home, on your car in the driveway, or know when someone drops off a package.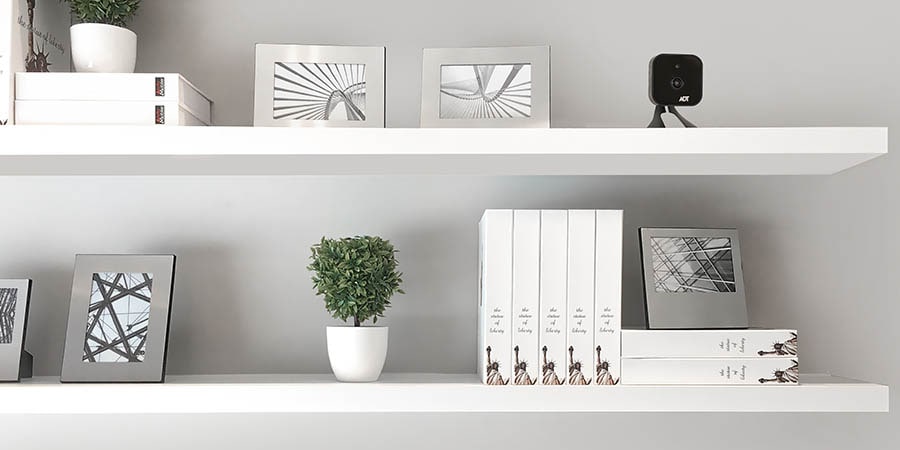 Wireless vs wired security cameras
Wired home security cameras plug into a hardwired connection, relying on cables to receive power and transmit signals viewed via a computer or mobile device. Since these wired surveillance cameras require a power supply, they always need to be plugged in or have a backup battery in the event of a power outage.
Whether you decide a wireless or wired system is right for you, they both help protect your home.
Things to think about when deciding on a wired option:
You may need to hire a professional to hook up your security cameras. (This may include drilling some new holes into your home.)

Make sure that your wired system has a backup battery in case the power gets cut.
And some benefits of a wired system:
They are often great for larger homes or spaces.

Works seamlessly with your home

The security footage remains safe since the transmitted information doesn't have to go over a wireless signal.

The video footage is safe as long as the surveillance camera is connected to its wires and recording hub.
Things to think about when deciding on a wireless option
By definition, a wireless security system transmits a video signal without hardwiring the connection using Wi-Fi, but that doesn't mean all camera models are entirely wireless. If you're talking about a camera that uses batteries, these cameras are referred to as wire-free or wireless cameras.
Wireless camera systems also:
Are easier to install than wired cameras.

An excellent option for renters.

A good choice for budget-conscience people who want flexibility.
Though you should also consider:
Ensure your wireless camera is placed near a router, so it has a good connection.

Larger homes may need more Wi-Fi extenders to extend the wireless connection.

Brick and concrete homes, or a basement apartment, may impair the signal strength of wireless cameras.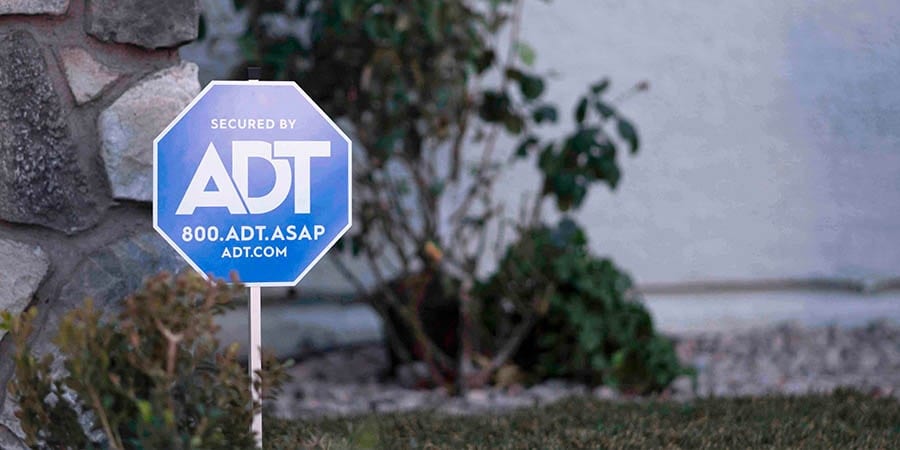 How does smart home automation help with home surveillance?
Technology enhances our lives in many ways, from increasing communication worldwide to making our daily lives easier in the home and office. ADT makes it easy to turn any home into a smart home with integrated smart home automation features.
Managing your security in one place makes it easy to keep an eye on your home from virtually anywhere.

Can effortlessly connect your Z-Wave smart locks, smart lights, thermostat, or garage door.

Create rules that can do anything from turning your thermostat down in the central parts of your home when you're asleep to turning lights on automatically when you're supposed to be home from work.

See who is at your door with a doorbell camera, and even speak to them with 2-way audio.

Add energy efficiency by precisely controlling the temperature that can learn your work schedule.
What are some ways you can use smart home integration to make your surveillance system more efficient?

Smart home integration is just another example of a way technology can make your life easier. Keep an eye on your home remotely. You can also manage energy consumption, saving time and money.
Here are a few ways you can use smart integration with your home security system:
Switch lights off if you accidentally left them on.

Check your video doorbell camera to see who is at your front door.

If your alarm system is triggered, set automation to turn on connected lights in your home automatically. If your fire alarm is triggered, automatically set your ADT smart thermostat to turn off to stop circulating smoke.

Use a smart lock for a rental property, and change the password when new tenants move in.

Create a rule with Z-Wave that whenever someone rings your doorbell, the lights on the front porch turn on.

Use an indoor camera to keep an eye on your dog or cat, and use 2-way audio to talk to them.

Arm your system remotely if you forgot to arm it when leaving the house.

Get a reminder if you forget to arm your system or lock the door.

Add unexpected activity alerts and get notified if system activity is sensed that is out of the ordinary.
Keep an eye on things at home with ADT home security cameras.
Figuring out what kind of home security system you need can be challenging, from the many security cameras options to installing and monitoring the system. But we can make it easy.
We have trained professionals ready to chat with you about our plans, from which ADT camera works best for you, to answer any questions you might have about home security.

Frequently Asking Questions about Home Surveillance:
Do home security companies offer warranties or repair support plans?
Security can mean many things, but in the context of security cameras, it means "something that secures or makes safe," or the ability to feel "freedom from danger [or] risk."
As for surveillance, it tends to indicate keeping an eye on something or someone nearby.
Why is home surveillance important?
A home security system gives you peace of mind while also making it easy to keep an eye on your home. And with today's technologies, it's easier than ever to use a security system to do more than help keep your home safe against burglars but to keep an eye on packages, your dog, or kids.
How to use video cameras in home surveillance?
Video cameras come in all shapes and sizes, from wired models that plug into a landline to wireless ones that work through Wi-Fi. Indoor cameras, video doorbells, and outdoor camera options are perfect if you need to record what's going on around your home. You'll have the flexibility to record videos for playback, view the live feed, or use a mobile app to receive real-time video or alerts.
Where is the best place to put your home surveillance system?
A good rule of thumb is to position a camera in the corner of the room, opposite the door or entry point. However, a trained professional may better understand what system is needed and where to best place it.