Join The ADT Dealer Program Today
5x more people choose ADT than the nearest competitor
As a leading provider of security, automation and smart home solutions, ADT helps protect and connect individuals and business customers. With unparalleled industry experience, ADT has been helping protect homes longer than any other company in the business. ADT is ranked as the #1 smart home security provider and continues to expand its technology capabilities through homegrown innovation as well as strategic partnerships, with a growing community of more than 6 million security and home automation customers.
When Americans think life safety, they think ADT
With a wide range of products to help protect against burglary, fire, flood and carbon monoxide, you'll provide homeowners and businesses with smart and secure solutions. Plus, ADT owns and operates nine monitoring centers, so quick notifications to police, fire department and ambulance services are 24/7 when homeowners need them.

ADT LifeSaver celebrations reunite our customers with the employees who helped save them from fires, carbon monoxide and other home emergencies. Click on the video to view a real lifesaver story about the Foreman family, and see their powerful story along with interviews from the owners of AIS about what it means to help save lives for a living.
A program that works for you
When you're part of the ADT Dealer family, you'll have the opportunity to run and manage your own business as you help people protect what matters most. Your potential for success is unlimited. ADT is committed to providing personalized support, rewards and recognition to all ADT Authorized Dealers.
• Higher net multiples*
• Flexible RMR ranges
• ADT-branded marketing materials
• Time saving e-contracts
• No hidden charges
• Full multiple for 3-year subscriber agreements
• Digital referral program
• Customer satisfaction award
• Local SEO program/digital listings service platform
*Subject to execution and Terms and Conditions of the standard ADT Authorized Dealer agreement.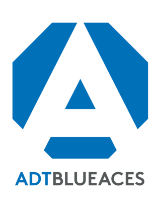 Advanced training & personalized support
From the day you start as a new ADT dealer, the ADT Blue Aces team ensures you are set up for success with a comprehensive on-boarding program and ongoing training. These trainings help provide individual attention both in classroom and on location and are performed by industry experts.
Current ADT dealer training seminars
New Dealer Virtual Training
Door Knocking Training
Professional Sales Workshop
Command Seminar
Power Up! Rapid Recruiting/Hiring Program
Advanced Leadership Training
Online Training Courses Available
A healthy cash flow means a healthy business and you can earn instant cash from your customers when you partner with ADT. You'll be paid directly by the customer when a qualified alarm system is installed. Once an account is purchased by ADT, you'll earn weekly compensation, paid to you by direct deposit.

ADT dealers have the opportunity to earn continuous income with revenue sharing and continuing equity payments for accounts they sell to ADT†. We also handle all of the accounting for purchased alarm accounts, so you'll enjoy the freedom to concentrate on your clients and watch your business grow.
† Subject to execution and Terms & Conditions of the standard ADT Authorized Dealer Agreement.
Upcoming conventions and tradeshows
ADT Authorized Dealer Convention
ISC West 2021 | Sands Expo Convention Center
Bellini #2105 Meeting Room, Las Vegas, NV
We host fun recruitment events in cities all across the country. Our events provide you an opportunity to both learn more about the ADT Authorized Dealer program and meet with our talented team of professionals.
Currently, we don't have any scheduled at this time. Be sure to check back for new events or call 855.JOIN.ADT to learn more about becoming an ADT Dealer.
*Please note that dates and locations are subject to change.
Real ADT Dealers. Real stories.
The products
customers want.
Vendor Partnerships
Alarm.com is the leading platform for the intelligently connected property. Millions of people depend on Alarm.com's technology to monitor and control their property from anywhere. Centered on security and remote monitoring, our platform addresses a wide range of market needs and enables application-based control for a growing variety of Internet of Things (IoT) devices.
Resideo is the leading global provider of home comfort and security solutions—present in more than 150 million homes globally and installations in 15 million homes each year. Our ADI Global Distribution business is the leading wholesale distributor of security and low-voltage products.
"At ADT, our mission is to do whatever it takes to help our Dealers succeed. Being the #1 name in home security means making the investments in training, product, and support that our Dealers need to grow their businesses. That's why so many of the industry's most successful Dealers choose ADT."
- Joe Nuccio, President - Dealer Business
Join the ADT Authorized Dealer Program today!
ADT Authorized Dealer Program FAQs
Does ADT have authorized dealers?
Yes. As an ADT Authorized Dealer not only are you provided with the benefits and resources of an industry leader, but you have the opportunity to run and manage your own business as you help homeowners protect what matters most.
How do I become an ADT authorized dealer?
Call 1-855-JOIN-ADT for more information about becoming an ADT Authorized Dealer. Joining the ADT Authorized Dealer Program gives you access to benefits and resources that help you grow your own business.