Smart home technology has become more and more commonplace in recent years. Homeowners are recognizing the convenience of asking Alexa to turn off the lights or check if the door has been locked after they leave the house.

While smart home devices add convenience to our lives, they can also add safety. This is especially true when items such as security cameras, smart door locks, and other smart home security devices are added to your system.

These devices also allow you to set up automation, which are short programs that occur either at a certain time (such as all of your doors locking and your lights turning off at 10 p.m. every night) or in response to an input (such as pushing a button on an app that turns on the lights, turns up the thermostat, and starts the coffee maker).

In this article, you will learn how your home security system can be part of your smart home setup and how to incorporate automation in a way that gives you peace of mind along with added convenience.


Start Your Home Security Automation by Installing Smart Cameras
Many homeowners believe that home automation security systems require disrupting one's whole existing setup. This makes smartening up your home seem daunting and time-consuming. However, smart setups often piggyback off of pre-established safety or convenience features within the home – making smart homes a much more feasible reality.

The first step in home security automation is often the addition of smart cameras to the exterior, interior, or both. Smart cameras function like a shot of espresso to an existing security system. Via the incorporation of Wi-Fi connections, ADT smart cameras feed real-time image information to any hub source you specify, including your smartphone, smartwatch, and security panel dashboard.

They can even communicate with one of your pre-selected in-home smart devices like Amazon's Alexa.

ADT cloud storage offerings make it easy to manage and feel in control of the footage that is shot at home. With options to store for 15 or 30 days, you can decide what becomes of the video clips and share whatever you may need for playbacks.


Indoor and Outdoor Camera Options
Even within this first step toward home security automation, another set of additional choices exist: going with indoor, outdoor, or both kinds of available smart cameras. Both are activated by motion sensors, both record clips that are then fed back to your security system, and both can be set to precoded automations that you create to best suit your family's schedule.

The primary consideration here is whether you are ready to automate your whole home at once or if you would rather take things in stages.

ADT indoor smart cameras are smaller and made of lighter materials, as they do not have to face the harsh conditions of life outdoors. As a function of home automation and security, ADT indoor security cameras can be set to distinguish between an unwanted guest and your pet. Standard infrared night vision means you get as clear an idea of what is going on at midnight as you would at midday.


ADT outdoor smart cameras are designed to resist snow, heat, rain, and wind for years. They can be smart-synced to the opening of a door so that you always know who is coming and going at your home and will send alerts to your phone anytime their motion sensors are tripped. With built-in heaters that kick in at 42°F, ADT outdoor cameras continuously work even in cold temperatures.


ADT video doorbell camera solutions remain one of the most discreet and functional instant upgrades you can make to your home automation system. Weatherproof and with wireless connectivity that easily syncs with the remainder of your system. A video doorbell camera allows you to converse with visitors at your door in real-time. HD video with de-warping technology means no grainy guesses as to who your guest is and lets you keep an eye on deliveries that may arrive while you are away.

Focal Features for Smart Cameras
Getting the most out of your home automation and security means knowing what smart camera features are considered standard, which are special or bespoke items pertaining to a specific brand or provider, and how all of this fits into what you really want out of your system. Turning your home into an ADT Smart Home does not mean spending a great deal of money to obtain state-of-the-art automation schematics. A few features that you should always deem standard include:


High-resolution imaging
Wide-angle lens
Motion detection
Audio recording capability
Encrypted data storage
ADT offers professionally installed or DIY packages that allow total customization of your home security automation needs.


Four Home Features You'll Want to Automate
The world of home automation and security extends far beyond the realms of cameras and vigilance. Convenience comes into play in this decision too... The following is a shortlist of common smart features our customers love:

Top Four Features to Automate in Your Home

Automated Locks
Garage Doors
Thermostat
Plugs
Automated Locks
Do you find yourself searching for your keys more often than just grabbing and going? ADT smart locks take this issue away entirely.

Beyond knowing that you can enter your home anytime you wish without having to fumble for keys comes with other benefits, such as the ability to know who is coming and going with alerts sent directly to your phone. If your teenagers have the mobile app and access to your locks, you will know if they came in past curfew or that they have made it safely home from school.

Your ADT smart locks work in automatic conjunction with your security cameras and can be armed or disarmed via your ADT Control app, at home or away, depending on the information provided by your cameras. This means greater safety for your children, pets, and loved ones, as well as a helpful measure of extra control and peace of mind for you.


Garage Door
What's worse than the stomach-drop moment when you get to work and realize you might have left the garage door open? Or you're driving a rental car and forgot to snag your door opener from your own car? With the ADT smart garage controller these frustrations are a thing of the past. You can open or close your garage door from virtually anywhere via your smartphone and the ADT mobile app.


Smart Thermostat
You can schedule your temperature control and manage it all from your phone with the ADT smart thermostat and the ADT Mobile app. If you are going to be away for a few days or weeks and don't want to waste power while you are gone, simply set a command for when the thermostat should raise or lower.

By the same token, smart thermostats give you convenient control even when you're home, just feet away from the device on your wall. Whether you've just gotten into bed and are feeling a bit warm or your in-laws are over and asking for a blanket, the ADT smart thermostat and the ADT mobile app give you the luxury of adjusting temperatures at just the touch of a button.


Smart Plugs
ADT smart plugs can be integrated with a wide variety of small appliances, such as Sonos speakers. Insta-play a song from one of your favorite designated playlists, add information from your Sonos speakers to your "Modes and Scenes" smart feature, and control individual or groups of speakers right from your smartphone.

This aspect of your home automation security system also allows you to set custom modes and scenes, like "At Home" or "At Work" that can then be summoned, with all itinerant settings pertaining to temperature, lights, and even music available at the push of a single button.

ADT smart thermostats also come with the ability to send automatic alerts to your ADT mobile app when your home drops below or rises above-designated temperatures. And in terms of safety, you even have the option to create emergency automations that will alert you in the event of a carbon monoxide, fire, or flood event.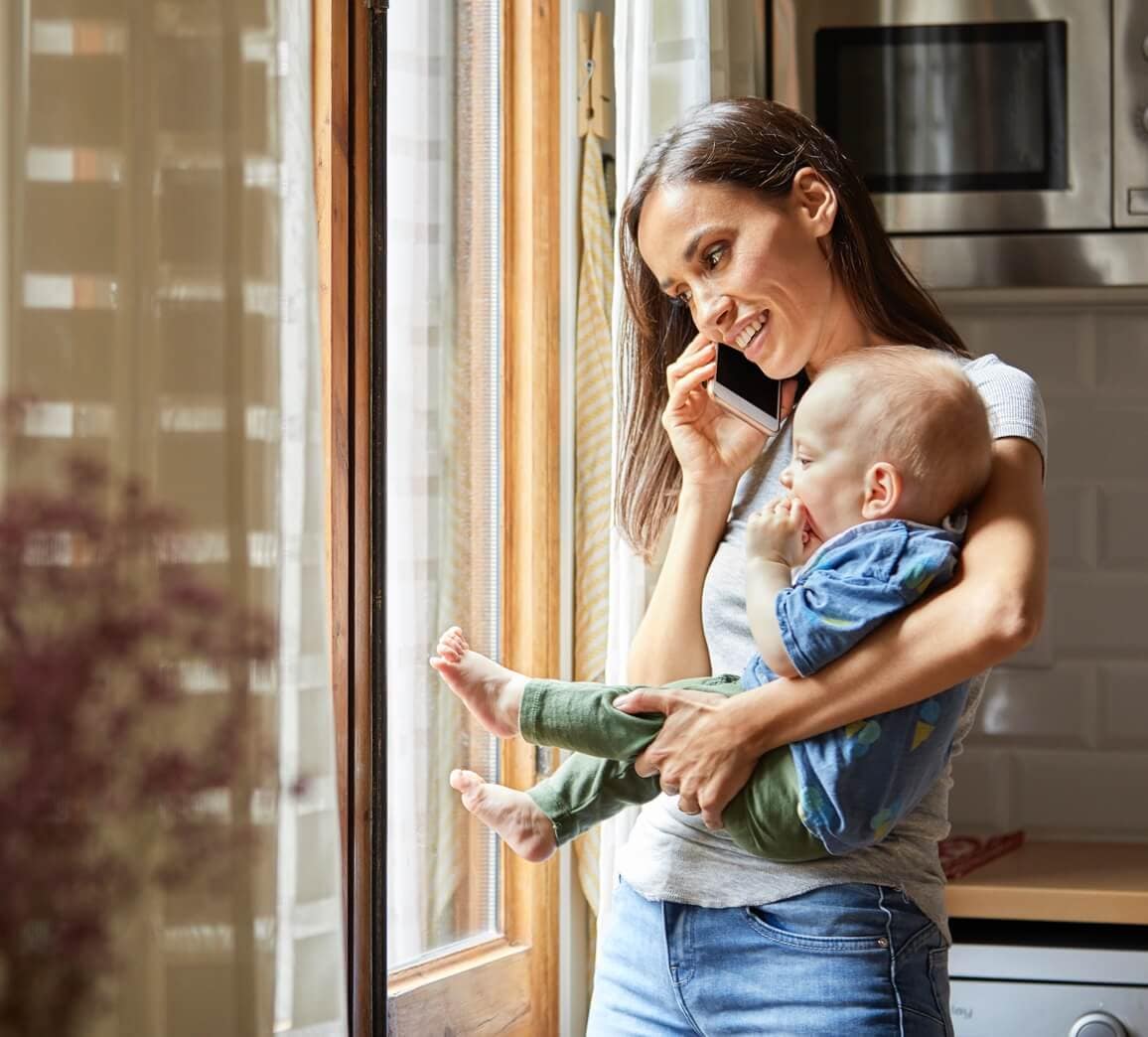 Benefits of Home Security Automation
Home security automation just makes life easier. Some benefits of home security automation will go into further include:


Having more control over when children enter or leave their home
Knowing who is at the door and talking to them without having to leave your couch
Controlling ambient home features like music and lighting through smart hub connections
Automating responses for potential threats like carbon monoxide, fire, or flood


Did you grow up in a time when someone could get locked out of the house accidentally? Automated locks that can be controlled by parents who are not even home prevent that scenario from existing today. Did your parents teach you as a child to never answer the door for strangers? Doorbell security cameras with two-way audio governed by a smartphone mean there is no more guesswork in coming to your own door, and increased safety for your family.

Home security automation means you can use Alexa for more than music and trivia. You can take control of your household's daily schedule in ways never possible before and feel secure about the investment made in your family's overall well-being.

ADT home automation security systems let your lights shine on more than the dinner table and diminish the struggle or need to find a trustworthy neighbor who is willing to do things for you like water your outdoor plants.

Automation means everything from getting more functionality out of your common appliances to having to ask for fewer favors when you go out of town. The more you can own each step of your home's management and control it all from the palm of your hand, the fewer security risks you face.

Life Safety by ADT syncs up with existing carbon monoxide, fire, and flood alarms in your home to detect problems prior to the already established systems alerting you. People may have the tendency to think of home security automation as just something put in place to protect from burglars, but the reality is that many threats to home security are not human and do not make much noise.

Automated responses can help recognize fire, flood, and carbon monoxide far faster than you can detect them yourself – potentially saving lives.


Automate Your Way to a Brighter and Simpler Future
Offering home automation and security packages with our respected theft-protection guarantee, ADT will pay up to $500 of your insurance deductible if a burglary occurs while one of our systems is armed.

There is also no need to stress about installation as our technicians can be there to "smarten up" your home the same day you call us, or the next day if you prefer. Our experts will not leave until you feel completely comfortable operating and navigating your new home security automation equipment.

We bring 145 years of experience in the security industry and three times as many monitoring centers as our next nearest competitor in the field. ADT also offers a 6-month money-back guarantee because we are just that sure that your satisfaction will be, well, automatic.