With so many outdoor camera options on the market, it can be hard to know which type of camera is best. The truth is, the type of camera you opt for depends entirely on how you'll be using it. Wireless security cameras are great options for homeowners because they make it easy to install and monitor multiple units.

We'll walk you through some of the top reasons why you might want to purchase wireless outdoor security cameras and list the top features you should be aware of when deciding on the type of camera that best suits your needs.


Top Five Benefits of Installing Outdoor Security Cameras
Whether you're a homeowner, renter, or landlord, an outdoor wireless security camera can benefit you in many ways. Security cameras can help survey your property with live or recorded video feeds, allowing you to view your footage anytime, from anywhere.

Homeowners can help keep their families safe and decrease the risk of crime in their homes with security cameras. Likewise, landlords can protect their building and the tenants inside by installing wireless security cameras in common areas.

To help you better understand why a security camera might be in your best interest, let's walk through five of the top benefits of outdoor cameras, more specifically:


Security Cameras Help Deter Crime
Monitor entryways
Protect your property
Keep an eye on family and pets
Reduce insurance costs
Security Cameras Help Deter Crime
The presence of outdoor security cameras alone is often enough to discourage criminals from breaking into your home or stealing from you. ADT outdoor security cameras are small but large enough for criminals to spot outdoors. Additionally, if there was a crime, you'd be more likely to capture the suspects in action and identify them with these 1080p HD outdoor security cameras.


Monitor Entryways
Both homeowners and rental property owners may need to monitor building entryways. In your home, you can use outdoor security cameras to monitor who goes in and out of your home, as well as keep an eye on deliveries to watch for vandalism. If this is your main reason for purchasing a security camera, you can even consider video doorbell camera options.


Protect Your Property
Outdoor security cameras don't have to just zoom in on your entryway. Instead, many home and rental property owners also use security cameras to watch their entire property. Homeowners keep watch by recording property damage from natural disasters or people. They might even catch damages done to another home. You can also use your outdoor cameras to watch your car, monitor your garage, and survey your backyard and pool.


Keep an Eye on Family and Pets
Another useful way to use security cameras is to keep an eye on your family or pets when outside. If you're a parent cooking inside or working from home while your kids are playing outside, you can view live security camera feeds to make sure your kids stay safe and aren't getting into too much trouble. This can offer you peace of mind when you can't be outside with them.

Those with outdoor pets can also view their furry friends in real time to make sure they're safe and secure at all times.


Reduce Insurance Costs
Many times, having security cameras installed to help protect your home, rental unit, or property comes along with some savings. You might be eligible for a discount on your home or renter's insurance if you install outdoor security cameras. Not all insurance companies offer this option, so be sure to look at your eligible discounts ahead of time.


Where to Install Outdoor Security Cameras
You might be wondering where and how to install your outdoor security cameras. If you're installing your cameras to help deter crime or monitor all entryways, you should opt for front porches, backyard decks, garages, and other places that offer easy visible access to the perimeter of your home.

The Best Places to Install Outdoor Security Cameras


Front porch
Backyard
Garage
Backdoor


For some, installing outdoor security cameras may seem like a hassle. ADT offers professional installation so you can ensure your cameras are mounted in the right position and set up correctly the first time. This ensures all important angles of your home are best protected by an outdoor security camera.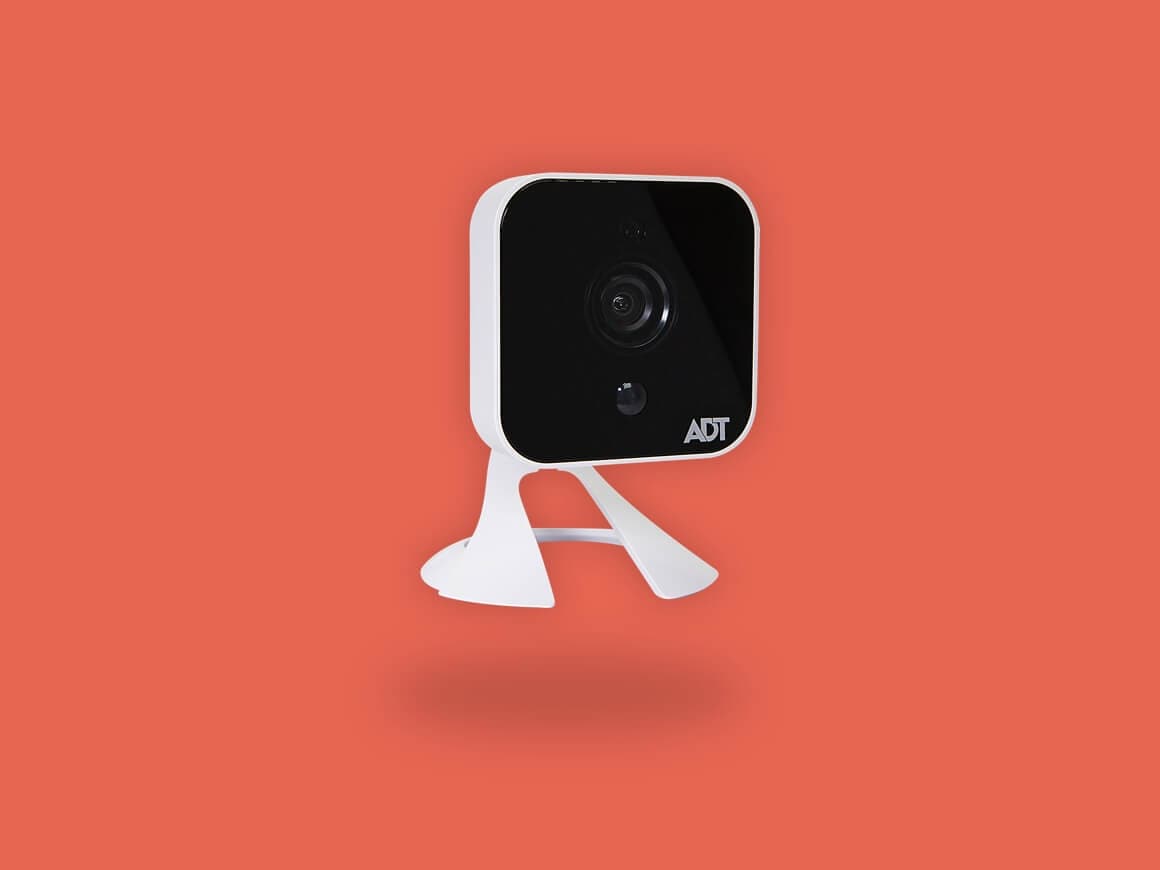 Top Six Features to Look for in Wireless Outdoor Cameras
With so many outdoor security cameras on the market, it can be hard to know which one is best. Before comparing features, we recommend deciding what use your outdoor cameras will provide, and then choosing the features that best meet your specific needs.

For instance, viewing real-time footage can be great, but if you can't view your footage outside of your Wi-Fi network, it may not be a helpful feature.

To help, we'll run you through a list of features you can expect in most outdoor cameras so you can narrow down your list. These features include:


High-quality video
Temperature and weatherproof design
Protected wireless access
Live vs. recorded video feeds
Remote smartphone controls
Automation features
High-Quality Video
When trying to figure out who's outside your home or identify a thief who stole products from your store, high-quality video is essential. There's nothing more frustrating than catching someone on camera, only to not be able to identify them due to poor video quality. Make sure you invest in a security camera system that offers clear, concise images.

At ADT, we offer 1080p HD video capture with all of our outdoor security cameras. Our high-quality outdoor security cameras also have infrared technology, allowing them to see and relay crisp images even in the dark.


Temperature and Weatherproof Design Features
Depending on where you live, you might be worried about investing in security cameras, only to have mother nature get in the way. If you experience all four seasons, have high humidity levels, or experience rain or snow throughout the year, you'll want to invest in weatherproof security cameras.

ADT outdoor cameras offer snow, rain, and humidity-resistant features to protect your purchase, as well as the quality of the video you're recording. We even have a built-in heater in our outdoor units, ensuring your camera works in temperature well below 42 degrees Fahrenheit.


Protected Wireless Access
One of the benefits of wireless cameras is that they're able to transmit video and audio signals to a wireless receiver, eliminating wired transmission cords. Make sure your outdoor wireless security cameras can connect directly to your home or company Wi-Fi, allowing you to protect your footage.


Live vs. Recorded Video Feeds
Since many outdoor security cameras are now wireless, many also offer the ability to view both live and recorded footage. Sometimes, you may want to be able to view your security footage in real-time, whereas other times you might need to look through old footage to identify an incident or suspect.

ADT offers both options, which are also viewable remotely.


Remote Smartphone Controls
Another perk to consider when shopping for outdoor security cameras is remote access to your live or recorded video feeds. If you're away on vacation, you'll want to be able to view your home and make sure that nothing unusual is happening outside of your property.

ADT offers smartphone access to both your live and recorded video feeds, allowing you to view all cameras in customizable views via our mobile app. You can also set up motion sensor alerts after closing down your workplace for the day or after putting the family to bed so that you'll be notified if anything out of the ordinary occurs.


Automation Features
Do you have a home automation system? ADT makes it easy to incorporate your existing smart home devices with our outdoor security cameras and family doorbell security systems. You can sync your ADT security device with your existing virtual home assistants as well, including Alexa and Google Assistant, to streamline how you communicate with your device.

You can automate your existing smart home devices, such as outlets, thermostats, lights, and more with your ADT app, making it easy to control all of your smart devices from one central location. This also allows you to use these devices from anywhere outside your home. You can even create routines via your virtual home assistants to automatically turn motion sensors on at night, while also turning on outside lights and turning off inside lights.

ADT makes automation easy so everyone in your family can easily assess your important security features through one app or voice control option.


The Choice is Easy with ADT Wireless Outdoor Cameras
At ADT, we've combined the best technological advances with our smart, easy-to-operate outdoor security cameras. Our lightweight outdoor cameras offer wide-angle video surveillance, so you can see more of your property with one camera. Our innovative, intuitive ADT app allows you to access your video footage from virtually anywhere, while quickly letting your shift between live and recorded video views.

Choose from our sleek doorbell camera with two-way audio or our weatherproof outdoor security camera with simple setup.

Find out more about how ADT can help keep your home or rental property safe with outdoor security camera systems. Design your protection for your home and let ADT create a custom solution for your family.