When deciding between ADT and Ring, your choice depends on your needs and finances.
ADT has over 150 years of experience in the home security space, while Ring is the new kid on the block. They are a fresh face under Amazon.
If you choose ADT, you will feel comfortable knowing that you and your family are safe.
Why? They overwhelm the competition with all the boxes they check. They have nine company-owned monitoring centers working to keep your home safe.
This month, ADT announced that they reached a significant milestone. Their smart home security platform, ADT Command and Control, reached one million installations.
ADT introduced the product in 2019 as the successor to the ADT Pulse Smart Home Security System.
They provide 24/7 customer support if you need problems resolved with your devices or the mobile app. ADT gives its customers flexible payments for up to five years.
The support can come in handy for those times when the unexpected occurs. If a burglary occurs in your home, ADT will replace $500 worth of those items guaranteed.
ADT Security Packages
ADT has three packages available.
The Video & Smart Home Package includes fire, carbon monoxide and flood monitoring, the touchscreen control panel, voice control integration, the mobile app, smart home automation, video surveillance, and stored video clips.
The smart package comes with everything except video surveillance and stored video clips.
This basic package does not allow you to have mobile app access, smart home automation, video surveillance, or the ability to store video clips.
Times have changed. Many decades ago, neighbors and strangers could knock on your door and introduce themselves. Homeowners didn't fear for their safety back then as we do today.
Your front door is your first line of defense. In the video doorbell debate, the ADT doorbell camera solutions will keep you informed of all the activity happening in front of your home.
It allows you to see a 180-degree wide viewing angle of your front door. It has night vision technology, and it's compatible with Apple IOS 10.X or higher and Android 4.4 or higher.
In addition to that, the doorbell camera is weatherproof. It works in temperatures as high as 122 degrees Fahrenheit or -4 degrees Fahrenheit.
Lastly, it works with Wi-Fi, and you can mount the camera on a variety of door frames and gang boxes.
ADT Saves Lives
Ask the Hoffman family. In 2018, Kayla Hoffman and her daughter were home. Kayla's husband Lee was out with friends.
Kayla was relaxing on the couch watching TV while their daughter slept upstairs. It was a perfectly normal night until a fire changed everything.
Kayla saw smoke coming from the door between the house and the garage and quickly took her baby out of the house.
From there, an ADT smoke detector sent a signal to the ADT Customer Care Center in Florida. ADT Dispatcher Jamar Cunningham called 911, and the fire department was on the way.
Both Kayla and Lee received alerts from ADT, and by the time Lee got there, the house was up in flames. Luckily, the Hoffman's survived thanks to quick thinking by Kayla. ADT was swift in notifying all parties involved.
ADT Acted Quickly in Suzanne Smith's Home Invasion
The elderly woman was the victim of a home invasion in Houston. The shrieking sound of the ADT Burglar Alarm shook Smith out of her sleep.
She bolted for the bathroom, closed the door, and held it as tight as she could. As she did this, she could hear someone walking toward her bedroom.
Smith spoke in a hushed voice with ADT Emergency Dispatcher Stacey Fioravanti so that the intruder couldn't hear where she was hiding. Smith was relieved to know that police were on their way within minutes.
The good news was that the police caught and arrested the intruder. Fioravanti stayed on the line to make sure everyone was safe.
ADT Saved the Costas From a Carbon Monoxide Disaster
The Costa family had a carbon monoxide issue interrupt their dinner on a nice spring night in April 2019. At first, the Costas thought that it was a fire caused by their food on the stove.
Luckily, the carbon monoxide detector was loud enough for Wanda and Tyrone Costa's son, Tyler, to hear all the way upstairs as he was watching TV.
The Costa family sprang into action as they tried to fan the air away from the alarm. Once they turned on the oven, that's when they knew the problem was much more severe.
ADT called first responders immediately, and ADT Dispatcher Debra Dickey called the family and told them they needed to get out of the house.
Dickey met the Costa family and gave them all warm hugs. They also met with Chiefs Jeff Johnson and Ed Elliot of the Newport News and City of Chesapeake Fire Departments.
Because of their hard work, the fire departments received $5,000.
Ring Features & Benefits
According to CNN's Jacob Krol, Ring announced some nice upgrades to their second-generation model in April 2020. Krol said that it might be small for certain houses because of its limited range, but it's perfect for apartment renters.
Ring opted to go with a sleeker, less bulky design that is about half the original model's size, and the second generation model has one-touch buttons for emergency services.
It takes three seconds to activate, and you should be careful not to hit the buttons by accident.
There are three buttons on the keypad dedicated to arming, disarming, and exiting your home or apartment. You will have to enter a custom pin to arm and disarm the system.
You're going to like the second-gen model's aesthetic because it has rounded corners and edges and a matte white color scheme for the entire line of products.
If there is a power outage in your area, the new model still has a 24-hour backup battery that kicks in when necessary.
There is good news if you use AI smart technology. The Z-Wave functionality that exists in the base and station range extender, customers can take control of light bulbs, smart plugs, and other smart technology with Alexa.
In March, they unveiled their Video Doorbell 3 and Video Doorbell 3 Plus technology for $199.99 and $229.99, respectively.
These models are similar in size to the previous ones, they give clear 1080pHD video, and the battery life is excellent also.
Both ADT and Ring have DIY options. Check them out.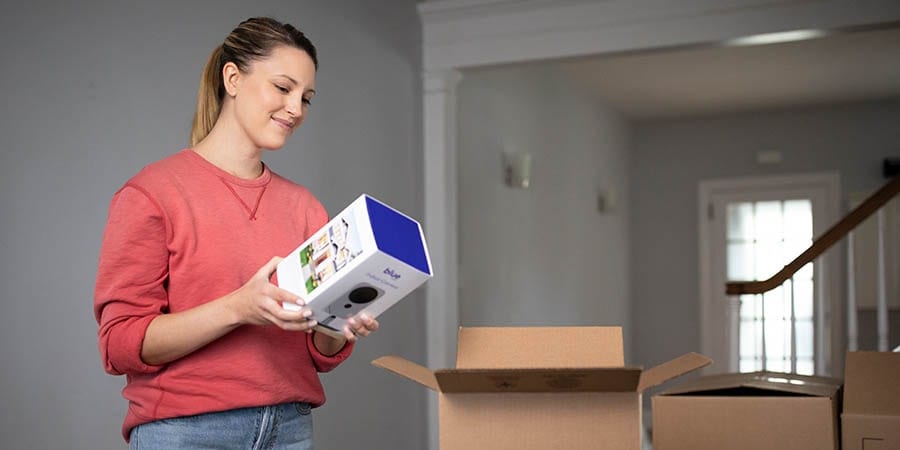 ADT vs. Ring: Service Fees & DIY Options
Ready to upgrade from your current simple home security measures?
ADT has monitoring costs of $28.99-$62.99, and professional installation.
They have a six-month money-back guarantee. If you decide to cancel your contract, you have to pay up to 75 percent of the remaining balance.
ADT would be a good option for families who prefer to have a professional touch with their home security system.
Ring is a much cheaper option for the do-it-yourself customer. Their monitoring costs range from $0-10 per month, and there's no installation fee or contact. The only steep price to keep in mind is the $199 starter kit.
Blue by ADT offers customers the option to do a DIY installation. You can build your own system for $179.99 that comes with a hub, integrated keypad, and mobile app.
The Starter System comes with the hub and integrated keypad, two-door and window sensors, a mobile app, a yard sign, and four window stickers for $219.99.
Blue by ADT's Starter Plus System supplies you with the hub and integrated keypad, four-door and window sensors, two motion sensors, the mobile app, yard sign, and four window stickers.
All you need is a solid Wi-Fi connection and 20 minutes to install your devices. If you want even more protection, you can buy their wireless outdoor, indoor, and doorbell cameras for $199.99 each.
Frequently Asked Questions
Is ADT worth the money?
Yes, ADT is worth the money, as you can see from the features above.
Does ADT alert the police?
Yes, ADT alerts the police while speaking with customers in crisis.
How long is an ADT contract?
The ADT contract is for three years with a six-month money-back guarantee.
Does Ring call the police?
Ring does call the police. When you signal SOS in their app, your first emergency contact will be called. If no one answers, their monitoring center will call the police or other emergency service units.
Get 24/7 Peace of Mind & Protection
In the battle between ADT vs. Ring, ADT reigns supreme. They have the experience, resources, and proven track record of relationships built.
Help protect your home inside and out, and feel comfortable knowing that ADT is working for you. Check out our custom home security systems today!