Did you know that, according to the FBI, there were over 100,000,000 burglaries in the US in 2019? Out of these burglaries, over 60% of them occurred on residential properties.
If you're concerned about the security of your own home, then you need to use all the right strategies and technologies to help keep you and your family, as well as your valuables-safe.
One of the best types of technology you can use to improve the security of your own home is the motion sensor doorbell camera.
If you're considering getting a motion doorbell for your home, you may be asking yourself frequently asked questions such as:
"Which doorbell is best?"
"Is there a doorbell camera without a monthly fee?"
In this article, we'll answer these questions and tell you everything you need to about a doorbell camera system with motion detection. That way, you can find decide if a motion detector doorbell is right for you, and choose the best one for your home.
Finally, you can help keep your family can be safer than ever. Read on to learn more.
How a Motion Sensor Doorbell Camera Works
To understand whether you want a doorbell camera with motion detection technology, you first need to understand how this type of technology works.
A wired doorbell is often connected to your existing doorbell wiring

A wireless doorbell is battery-powered and placed where a normal doorbell would usually be.
Whenever someone presses the doorbell, you get notified automatically on an app on your mobile device and through your virtual assistants, such as Amazon Alexa or Google Home.
You can see the person through your app in a live stream and even speak to them via the 2-way talk feature. Many of these smart doorbells also make it possible for you to speak with the other person outside with the tap of a screen.
More importantly, however, is what you get from this technology because of the motion sensor.
If there's motion within the motion detection zone, the security camera security activates the live stream. Our doorbell cameras record in crystal clear HD video. If an unexpected burglar arrives at your home, you'll know immediately with video quality you can depend on.
Sometimes, in addition to the motion sensor, some doorbells have artificial intelligence that makes it possible for you to know if it's a person outside.
Video recording of captured events are often stored one of two ways:
Within a micro-SD card

On a Cloud server
This is an important differentiator, so sure to check the video storage options before selecting your doorbell camera. Especially if you don't have an SD card reader handy.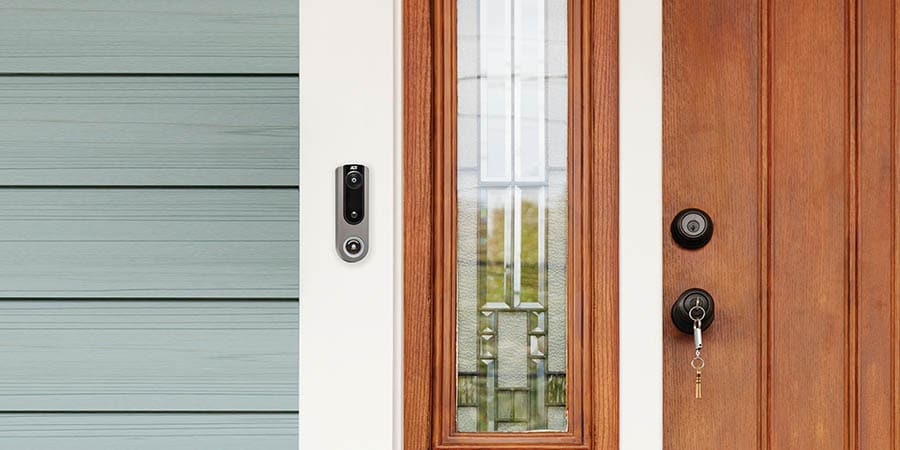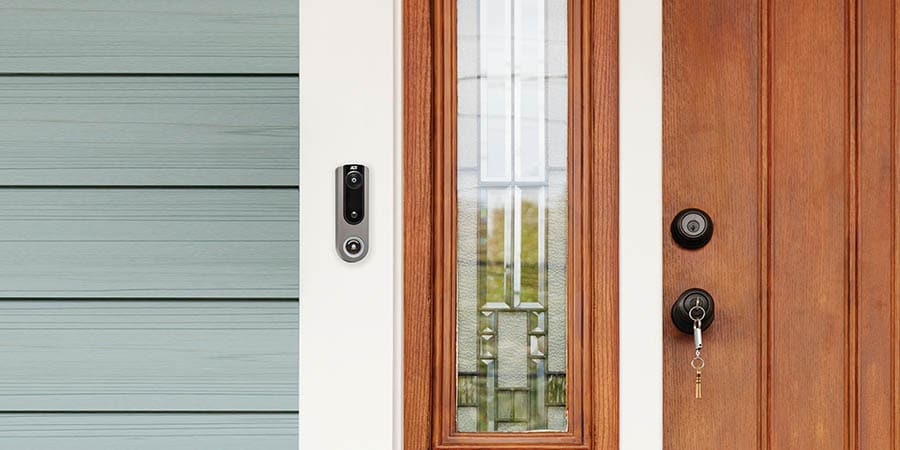 Benefits of a Motion Sensor Video Doorbell Camera
If you're thinking of getting a motion-activated doorbell cam, it's important to know what the video doorbell benefits are. Generally speaking, this type of video camera is optimal for both convenience and self-surveillance. Here's how.
Potential Burglar Deterrent
Most importantly, this type of doorbell camera is a big potential burglar deterrent. This is for three reasons.
If a burglar approaches your home and sees a camera outside of it, they often won't want to break in. After all, it will be far more likely for them to go to get caught if they're captured on camera.

Before robbing a home, many burglars scope out the neighborhood, checking out what types of security measures they have in place before planning their robbery. Homes with a doorbell camera and security system are viewed as a much bigger risk.

Utilizing the 2-way audio is also a great way to help defend your home. If a burglar is outside and they hear a voice saying, "Hello, who are you? I can get to the door soon," there's a good chance they'll leave immediately.
This means that your doorbell camera can help protect your home when you're asleep and even when you're out of town.
Finally, because a motion sensor doorbell camera records every move, you won't only be helping to deter burglars... You'll also be capturing them on HD video, which means you can help keep your entire neighborhood safe.
You Can Monitor for Packages
With a motion detection doorbell, you can easily monitor packages. Instead of having to wait by the door if you have a package coming, you can go about your day doing what you need to. Then, even before the doorbell button is pressed, you'll be notified via your smart device that someone is outside with your package.
As a result, you'll have a little extra time to get ready. You can slip into your robe and slippers without having to rush to the door to pick up the package.
Additionally, if there are any issues with your delivery, you'll have everything recorded.
For example, if your delivery is late and you want to complain to the company or get a partial refund, you have evidence of when it arrived.
2-Way Audio for Guests
If you're expecting a guest at your home, you can answer from virtually anywhere with two-way audio. If you're having a fancy dinner and have invited some of your closest friends and family, this can be useful if you're busy in the kitchen preparing appetizers.
If your friend shows up outside or rings the bell, you can simply wipe off your hands, pick up your phone, and say to them:
"Hey! I'm just in the kitchen prepping some stuff! Come on in!"
If you're throwing a bigger get-together, this means you won't have to get up out of your chair every single time a new guest arrives to open the door for them.
Instead, you can look at your phone or smart TV, speak with them, confirm it's them, and welcome them in.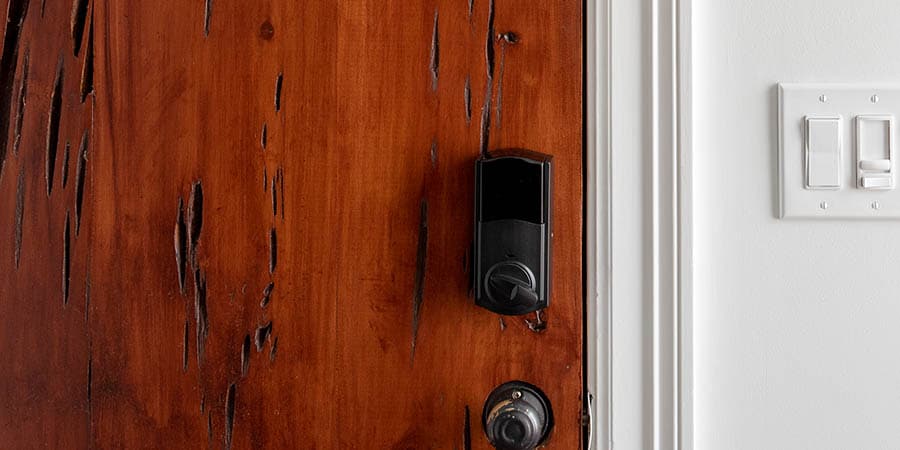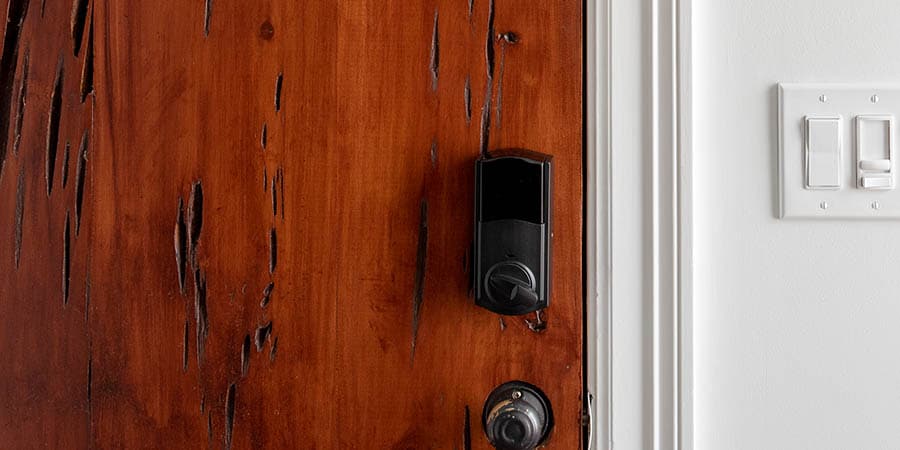 Pairing With a Smart Lock
At this point, you might be wondering, "Okay, but if I have 2-way audio with guests, how can I let them in? I still have to go to my door to unlock it, right?" That's where pairing your motion sensor doorbell camera with a smart lock comes in.
This is the ultimate form of front door security. Imagine this scenario, for example.
You're out of town, and you really want your home clean when you come back from vacation. For this reason, you've hired some cleaners to come in to clean your home the day before your return.
While you're out on the beach, you get a notification from your phone that the cleaners have arrived outside of your home.
You take a look through the camera and see that they're there.
To confirm it's actually them (instead of someone pretending to be cleaners but who actually want to rob your home), you can speak with them, discussing something about the cleaning job (the amount on the invoice, for example).
Then, even though you aren't home, you can let them in by simply unlocking the smart lock with your phone.
Once they've finished cleaning your home, you can unlock the smart lock again.
Once they've confirmed through video and the 2-way audio that they have all their equipment, they'll leave your home. Then, you can lock your smart doors.
As you can see, when you pair video doorbell cameras with a smart lock, you have the same type of security that an office might have, with a camera where you can see all visitors before unlocking your door electronically to let them in.
The Best Security Technology
Motion sensor doorbell cameras are designed with the best of technology in mind. As a result, your home is secure with all the best security technology. These cameras are weather-resistant, have adjustable motion sensors, and are Wi-Fi compatible.
Additionally, they have camera lenses that are wide-angle, so you'll capture everything you want to so you can keep your home safe. They also have night vision.
Considering all this, this type of camera will keep your home safe, no matter what threats are at your door.
Track Visitors
If someone came by your home while you were away, you'll know who it was. For example, if one of your kids' friends came by, you can let your child know. This means you can easily schedule a playdate. This shows that this technology is not only safe but convenient too.
Adds Value to Your Home
More and more, homebuyers are interested in buying homes that have smart home capabilities. If you have a motion doorbell camera that's smart and have combined it with smart locks, buyers will be more interested in your home if you choose to sell it.
Which Smart Doorbell Camera Is Best?
If you want the best high-quality motion sensor doorbell, it needs to have the right features. First of all, it should be artificially intelligent, so that it can distinguish between packages, cars, animals, and people. It should also have few false alerts.
After all, you don't want to be woken up in the middle of the night, heart racing, as the alarm goes off telling you that there's someone trying to break into your home-when, really, it's just a raccoon wandering by.
Additionally, the view of your doorway should be complete, head-to-toe. It should also have a siren built into it that can scare intruders away. Finally, an internal battery is important.
This way, even if the power goes out, the doorbell will continue to work.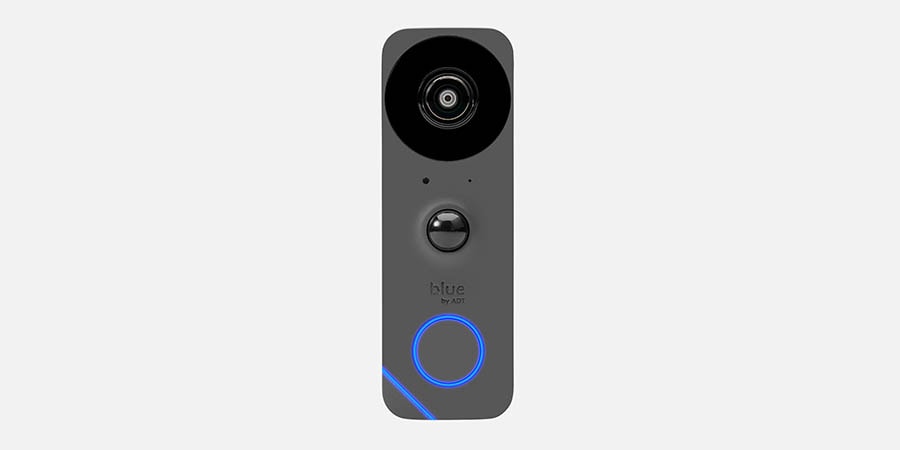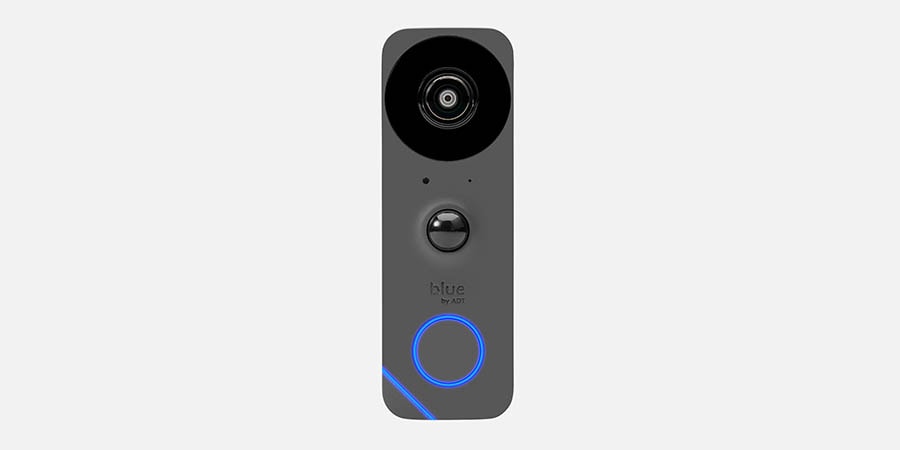 A Doorbell Camera Without a Monthly Fee
As you research different doorbell cameras, you might find that you're asking yourself, "Is there a doorbell without a monthly fee?" Yes, there is, the Blue by ADT doorbell camera. This camera is available without you having to get a contract, which gives you freedom.
You can cancel whenever you need to. There are three different ways you can set up this camera. You can build your own system, use the Starter System, or use the Starter Plus System.
Build Your Own System
If you want to build your own system, you can easily connect the Blue by ADT smart video doorbell camera to your Smart Home Hub. This gives you the freedom to select the cameras and sensors that work best for your home.
Starter System
With the Starter System, you get all the benefits of a motion sensor-powered doorbell camera without having to worry about a complicated setup. This is perfect if you have an apartment that you want to keep secure, protecting your windows and doors.
Starter Plus System
If you have a home that's small or mid-sized, this is the perfect solution for you. Sensors protect your windows and doors. Additionally, there are motion sensors that protect other open areas near your home (your driveway, for example).
Additional Benefits and Features
There are some additional benefits and features that come with the Blue by ADT doorbell. Some of these features include night vision, video recording, 2-way talk, and HD video. It also integrates with your smart home setup, connecting to all your smart devices.
There are also impressive security features. This doorbell has encryption technology, reinforcement of password strength, and locks out people who fail to log in.
Set up is simple and takes only an hour. You can use the free mobile app to monitor your home's entrance in no time.
Need More Information?
Now that you've learned everything you need about motion sensor doorbell camera technology, you might need more information. Maybe you want to learn how to set up one of these cameras for your home.
Or maybe you want to learn about other security systems you can use in your home.
Whatever information you need, we're here to help. At ADT, we're experts when it comes to home security solutions. We also offer many of these solutions. To learn more about how we can help you, contact us now.