Home security is increasingly popular in recent years, and it's no wonder why. In 2019, there were an estimated 1,117,696 burglaries in the US alone.
If you want to secure your home, your main entrance is the place to start. Your front door is your first line of defense against burglaries. Approximately 34% of break-ins begin at the front door.
Additionally, these days packages frequently arrive on your doorstep. Even if you're not as concerned about home security, it's nice to monitor deliveries.
That's why a video door lock system is such a great asset. A smart video doorbell is a tremendous comfort to homeowners. It allows you to monitor your front door regardless of where you are.
Smart locks pair nicely with this. Throughout the day, a smart lock system logs who enters and exits your house. It utilizes a Wi-Fi or Bluetooth-based tool that lets you control your lock even when you're away.
Even if this sounds spectacular, you may have questions and concerns. If that's the case, don't worry. We'll address what you need to know about a smart doorbell and lock combination.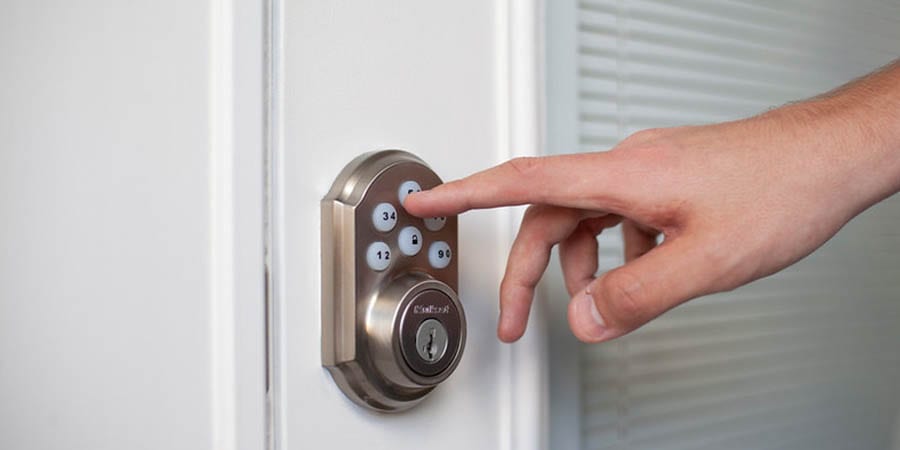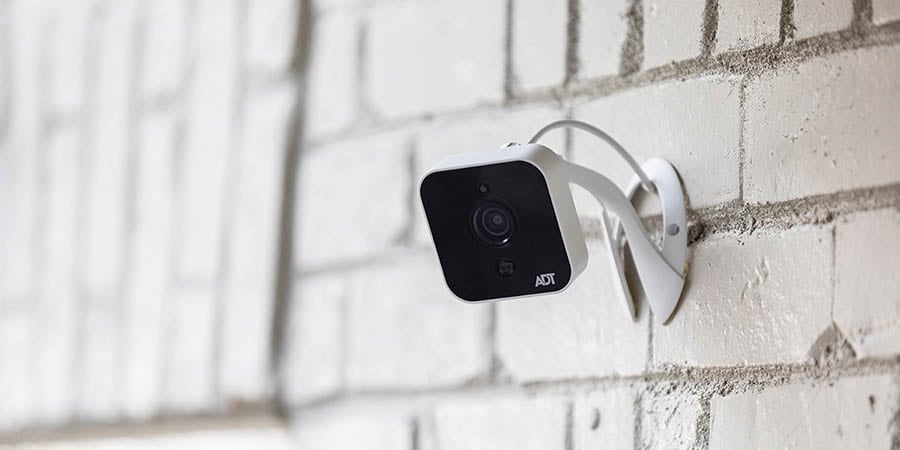 Smart Locks: What Are They and What Are Their Benefits?
As said before, a smart door lock utilizes a wireless connection that you can control through an app. Smart locks do not require a key; it's an entirely electronic tool. You only have to set a code, which will let you open your door.
There are several different smart lock models on the market, some with varying assets and functions than others. Generally, however, they all tend to function along these lines.
You may be wondering why a smart lock would be necessary or beneficial. After all, keys have worked for a long time, so why replace them? However, there are several benefits to having a smart lock.
1. Is a Smart Keypad Lock Safe? Yes, and More Convenient
Smart locks are incredibly safe. In addition to being safe, they also give you more control over your front door. There are several limits on a manual lock that no longer exist for smart locks.
For instance, say you're on vacation. You're on a beach in the Caribbean sipping a margarita or hiking through the mountains with your significant other. Suddenly you wonder: "Did I lock my door before I left?"
If you're bound to a manual lock, this can be a terrifying thought. If you have a smart lock and a connection, though, you can check your status and see if the door is locked. If not, you can lock it without taking another step.
You can also unlock your door at will. Once again, suppose you're on vacation and have a friend pet-sitting for you. Instead of giving them a spare key, which they can lose or abuse, you can unlock the door for them whenever they arrive at your house or give them a custom pin code.
Another convenience provided by electronic locks is your ability to control them through voice control. By connecting your smart lock to a smart home hub, such as Alexa or Google, you can lock or unlock it by voice command.
2. Which Type of Door Lock is Safest
A skilled burglar can pick even the sturdiest traditional lock. A smart lock, however, would take much longer to break. It's much harder to guess a passcode or hack a network than to jiggle a lock open.
If you're more traditional deadbolt and key, though, that's not a problem. Several models of smart locks include a deadbolt with them.
3. You Can "Change Locks" Easily
Let's say you give out a spare key to your house or building and eventually wish you hadn't. Maybe the keyholder abuses his privileges, perhaps he loses it and the key ends up in the wrong hands, or something else happens.
If you want to prevent that key from being used on your door, you have to call a locksmith. Then you have to wait on them to show up and change the lock. Lastly, of course, you have to pay for the new lock and keys.
If you have a smart lock, you can bypass this process entirely. Because your lock opens through a passcode, you can change that passcode as frequently as you wish.
Regularly changing your lock passcode, as with changing other passcodes, increases your security. It's much more difficult for a hacker to break your code if it changes often.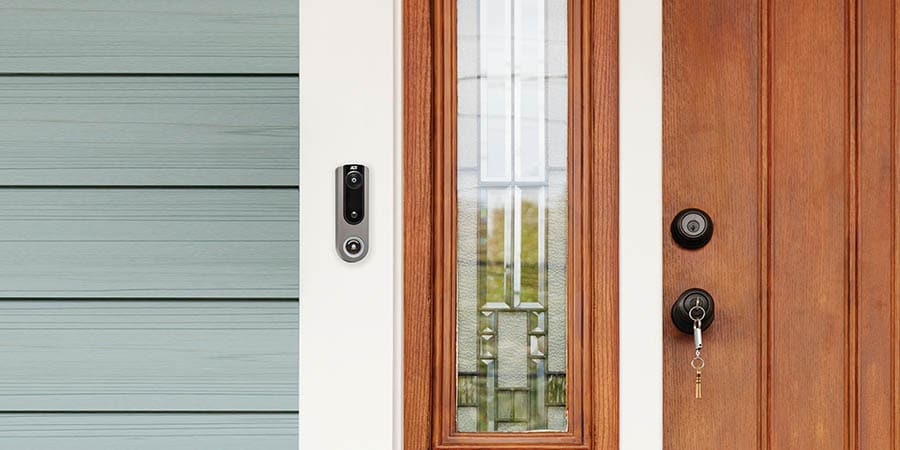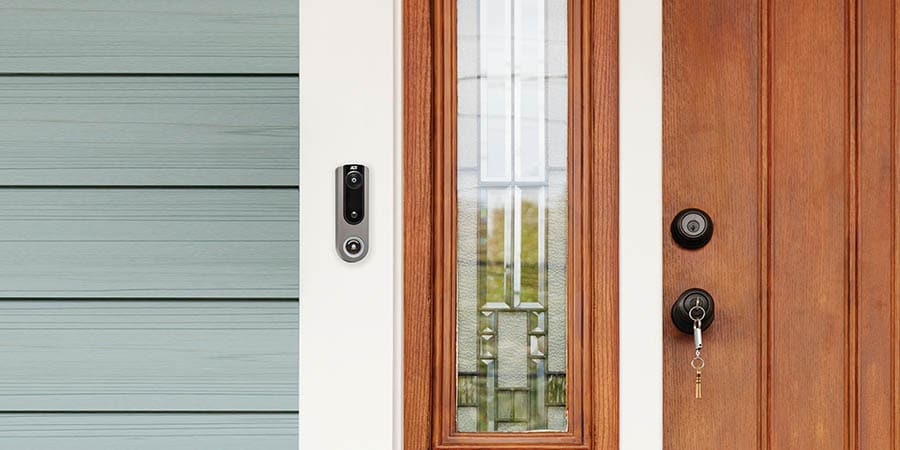 The Benefits of Smart Video Doorbells
Smart video doorbells are rising in popularity due to the branding of such companies as Ring. These doorbells feature a camera that allows you to monitor your front door at all times.
Installing a smart video doorbell can have a litany of benefits. These include the following.
1. Provides Useful HD Video Footage, Day or Night
If something terrible should happen and somebody does succeed in breaching your front door, a doorbell camera with motion detection will record them doing it.
This makes identifying the potential criminal easier for law enforcement. The camera may capture their appearance, personal effects, and maybe even their license plate number or car model, our night vision doorbell cams provide a clear picture at any time of day.
2. Settle Package Delivery Doubts
It's likely that, at some point, you've had a package that didn't show up on time. However, has the delivery company ever claimed they did deliver the purchase when you haven't received it?
A doorbell camera can settle the dispute. With its 24-hour footage, you can know for a fact whether a deliveryman delivered your package or not. You can also verify if somebody stole the delivery or not.
3. May Reduce Insurance Bills
Everybody loves to save money, especially when it comes to monthly payments. Many insurance companies will offer discounts to customers who install home security equipment.
This allows you to increase your home security while also saving money on insurance premiums. As of 2011, a study by ESA discovered that of the 10 largest insurance companies, discounts of up to 20% were available on insurance premiums.
Before you get too excited, though, be sure your insurance provider offers a discount for security equipment.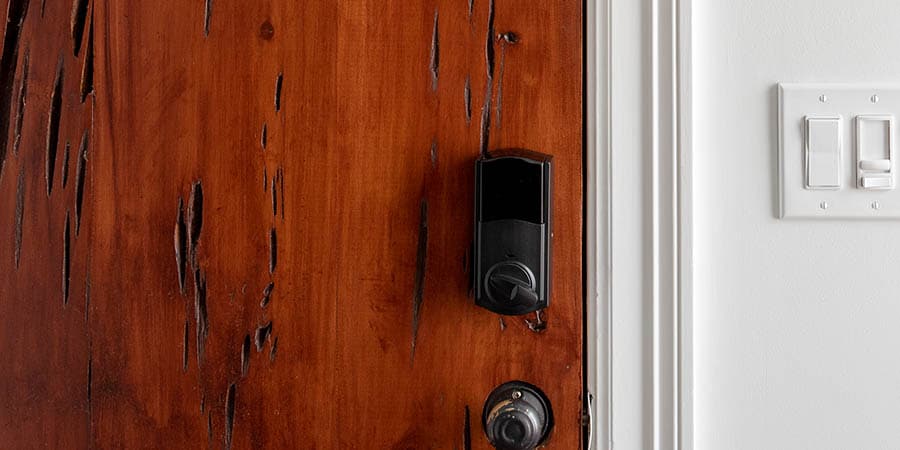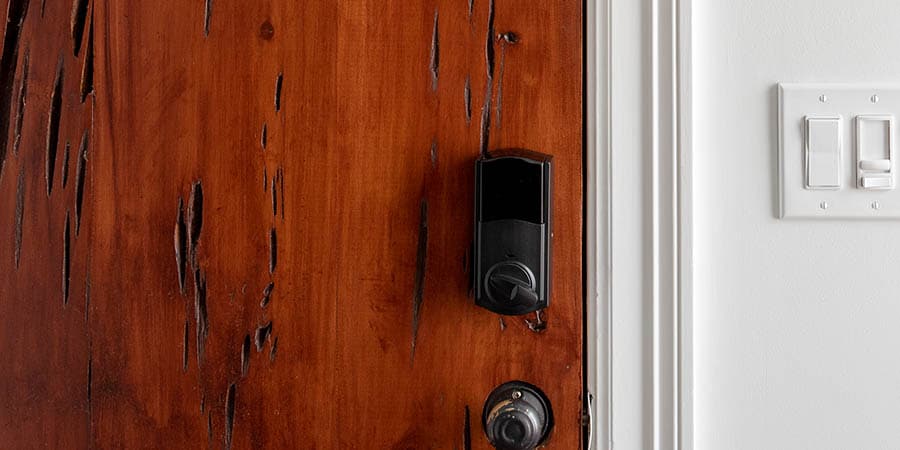 Doorbell Camera and Lock Combinations
At this point, you probably see the advantages that either piece of equipment provides. You may not be sold on both of them, though.
After all, if a doorbell camera or smart lock can provide extra security on their own, why spend the money on both?
While this is an understandable perspective, it may be shortsighted. Doubling up on the two can doubly increase your home security and offers you more options to keep your home safe.
For example, let's say you have a doorbell camera. You've even set it up so that when somebody comes within a certain distance from your front door, you get a notification on your smartphone or another internet-enabled smart device.
That notification may help you contact the authorities swiftly if need be. However, it doesn't let you change the condition of your house. You're entirely reliant on the police's arrival for your home's safety.
This is not true if you have a smart lock. The second you receive a notification that someone is at your door, you can check to make sure your door is locked and lock it.
In many cases, smart locks and smart video doorbell systems can work together. This can take several forms.
For instance, if you have children in school, you can use these two to make sure they have safely arrived at the house. Using your camera and its two-way audio, you can greet your children at the door and chat.
You can then use your smart lock app to open the door for them. This spares your children the need of having to carry a key with them at school.
Alternatively, you may receive an alert from your doorbell's sensors that somebody is at your home when your children arrive.
If they have access to the mobile app from their devices, they can open the door themselves. You will receive a notification through your lock's log that they've arrived.
A Video Door Lock System Has Endless Possibilities
We hope that you can see how this combo can make your life more convenient and safe. If so, then excellent! Now it's time to take the first step. Check out ADT's smart doorbell and lock combo, as well as our security camera and smart device options, online!
Make your front door a smart front door with a little help from the home security system and alarm experts at ADT. Let us help you build a smart home today!