Did you know that 23% of all Americans reported being  victims of package theft in 2021?
Package theft is a growing problem across the country, with "porch pirates" stealing recently delivered boxes right from their neighbors' porches. This disturbing trend highlights how important it is to have video surveillance cameras around your porch and property.
Most people think of security cameras as being for home protection against break-ins. Of course, deterring break-ins is still very important, and home security cameras have been shown to be effective for this again and again. But having cameras on your front porch is useful for lots of things, such as greeting visitors remotely when you can't come to the door.
However, there are many types of cameras available, and it can be challenging to choose the right ones for your home. When it comes to the front of your house, your main options are outdoor security cameras and doorbell cameras.
But which one is right for you?
This article will compare the pros and cons of video doorbell cameras to standalone security cameras. Keep reading to learn all about the systems available to protect your front porch and entryway.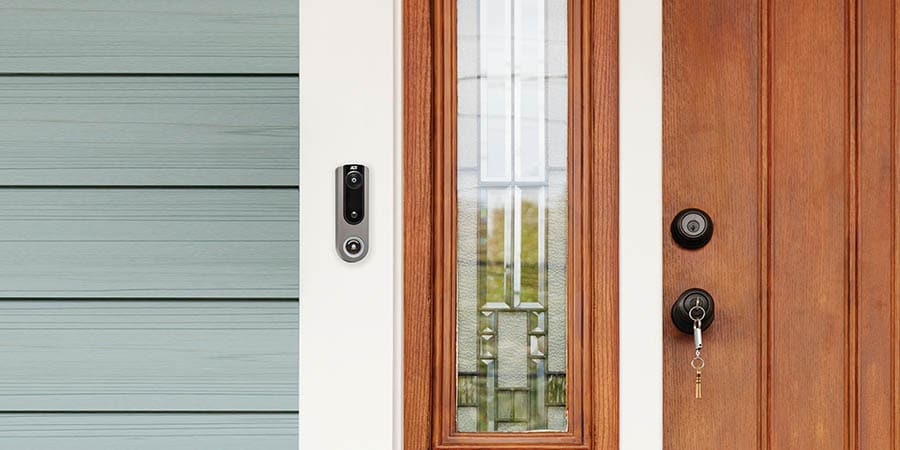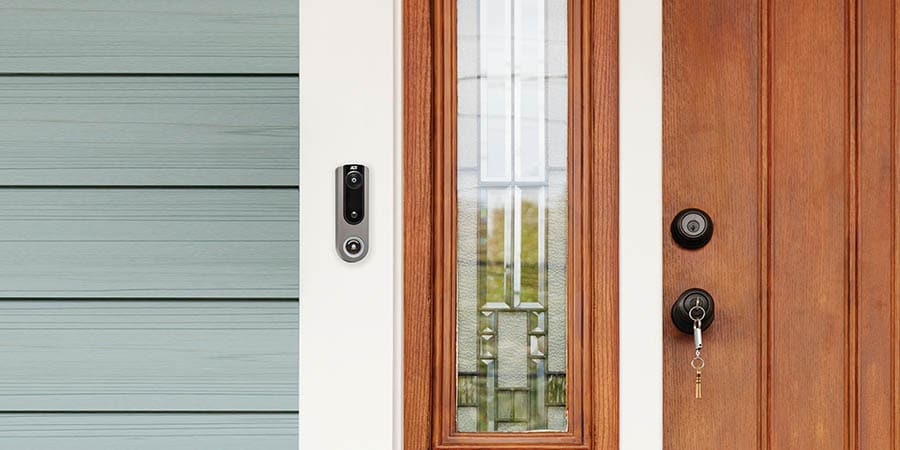 Video doorbell vs. security camera
Your front yard and main entryway are among the most important places to protect. Break-ins often occur at the front door, and it's important to keep an eye on the front yard since that's usually the section most open to the world. Besides, when porch pirates strike, it's almost always right in front of the door.
As mentioned already, you have two main options for protecting the front of your home: standard outdoor security cameras and video doorbells. People with smaller yards can often get away with only using a video doorbell, while those with larger yards might need several security cameras.
Whichever system you choose for your home, in this article we'll be comparing the features of ADT's video doorbell and outdoor security camera offerings.
Video doorbell
The Nest Doorbell lets you see what's happening at your door and answer it from virtually anywhere.
It can also recognize when you get packages delivered to your door and can alert you when they arrive. Then you get to keep an eye on them from virtually anywhere until you have time to grab them.
In addition to HDR and a taller, vertical field of view that lets you see people clearly from head to toe, the camera also includes night vision. The taller field of view provides a more complete picture of your front porch, even allowing you to see packages on the ground.
When the doorbell detects motion in front of your door, it'll send a notification to your phone and begin recording video. It'll also allow you to speak to anyone at your door, even when you aren't at home.
Pros and Cons
Nest doorbell pros:
145-degree field of view with a taller 3:4 aspect ratio makes it easier to see people from head to toe

Highly affordable front door monitoring option
A motion-activated video doorbell  automatically starts recording when it detects movement
Intelligent alerts that know the difference between a person, package, vehicle and animal, and can alert you to specific activity
Superior noise and echo cancellation make it easy to hear your visitors clearly—without background interference 
Nest doorbell cons:
Since it's a doorbell, its use is primarily intended for entry points around your house
Wireless doorbells will need to be charged periodically*
The connection is only as reliable as your Wi-Fi
Whether you're guarding your packages, protecting against break-ins or welcoming your kids home from school, the Google Nest Doorbell allows you do all this and more.
* We recommend wiring your Nest Doorbell for continuous power to your existing doorbell wires 
Outdoor security camera
Outdoor security cameras take a more comprehensive approach to home video security.
Like the video doorbell, each security camera features a speaker and microphone for two-way audio communication. This lets you speak and interact with anyone who happens to be near one of your cameras, just like you would at your front door with the video doorbell.
Unlike the video doorbell, however, ADT and Google's security cameras can distinguish between people, packages, animals and vehicles.
Also, just like the video doorbell, outdoor security cameras feature night vision for recording in low-light situations. This isn't all, however: they can also feature a wider field of view which makes it easier to see what's going on in the live feed.
Outdoor security cameras make it easy to check on different areas around your property. If you thought you heard a sound behind the house, instead of walking to the back door to find out, you can simply check the camera from your phone. If you want to keep an eye on your dog while it plays in the fenced-in yard, you can do that from the comfort of your couch or desk.
All the while, you can shift between cameras to capture different views from around your house. While nothing compares to doorbell cameras for greeting guests and watching over packages, a complete security system gives you more control over your entire home.
Pros and Cons
Outdoor camera pros:
An outdoor video security system provides wider coverage and fields of view than a single doorbell porch camera can
Highly customizable camera placement Superior 1080p HD video quality 
IP54 water resistance
Intelligent alerts that can tell the difference between people, packages, animals and vehicles
Outdoor camera cons:
Security cameras are always on and recording
Can be more expensive to set up than a video doorbell
You should exercise caution when installing outdoor cameras, so they don't infringe on people's personal privacy
When you need more than just a single front door video camera to feel safe, outdoor security cameras from ADT are the perfect solution.
What's better, a video doorbell or security camera?
A video doorbell and a security camera are both worthwhile security measurements to add to your home. And while they share some features, like allowing you to check in or keep an eye on your property, there are some notable differences.
Because of these differences, you should install both a video doorbell and an outdoor camera for the most comprehensive coverage on your property.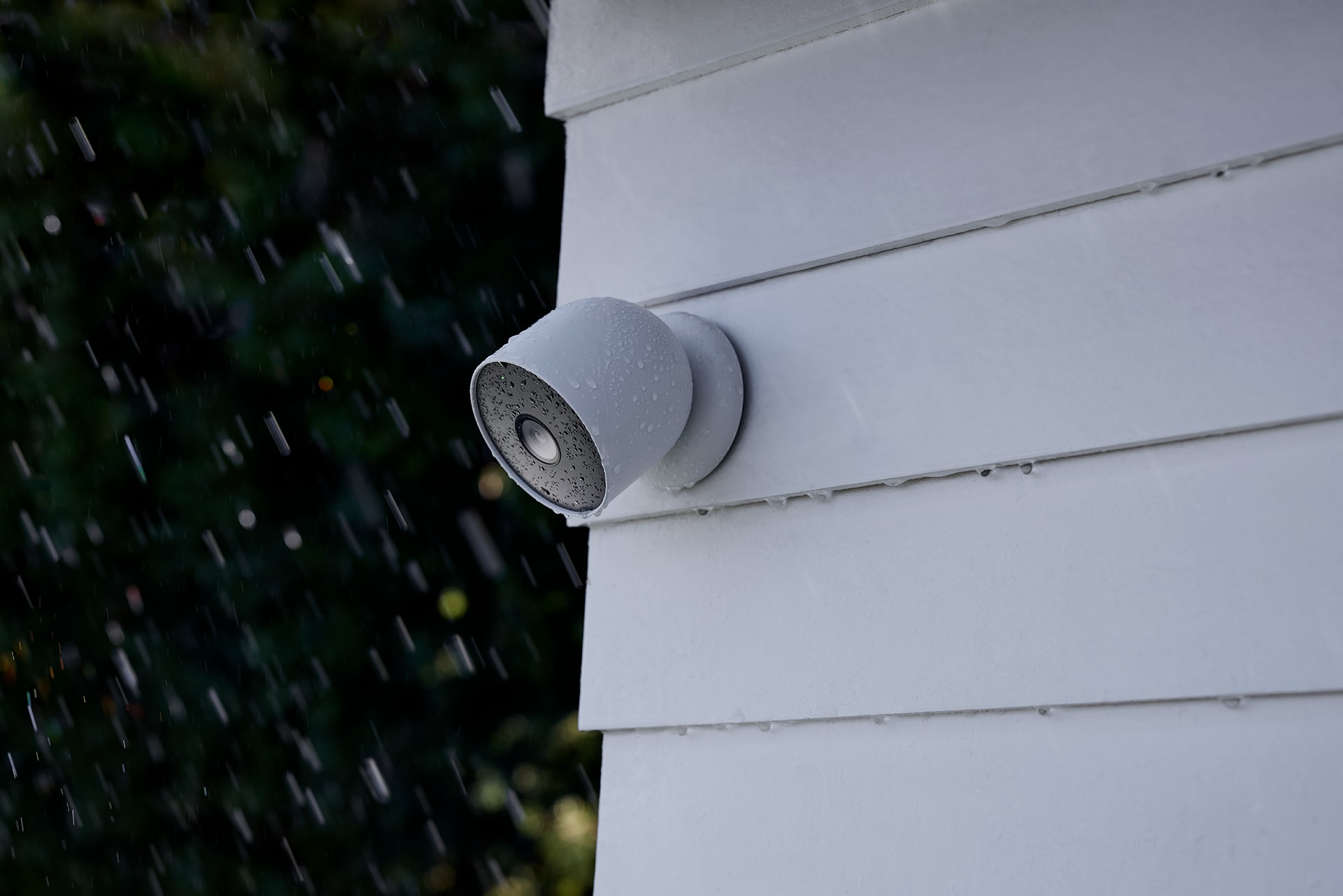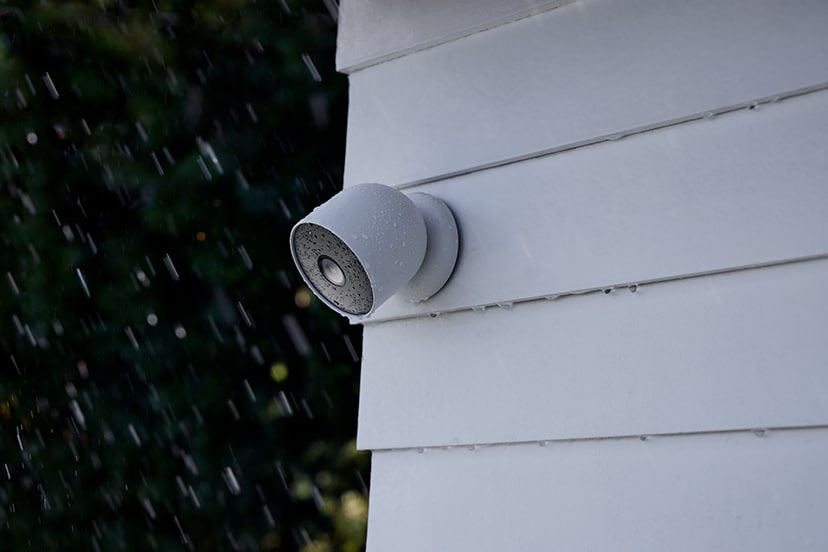 Where should you put a front door camera?
You'll want to place outdoor cameras where would-be thieves are likely to snoop or break into your home, including the front and back doors, patio doors, outside your garage, and outside first-floor windows.
A professional installer can provide you with the best suggestions for outdoor security camera placement.
Front and back yards: An outdoor camera can help you keep an eye on late- night visitors or your pup when you let it outside.
First-floor doors and windows: Add outdoor security cameras around these windows to help cover potential access points. Never point cameras inside bedrooms.
Driveway: Motion-detecting cameras can catch unsolicited people entering and exiting your driveway or keep an eye on your car when you're out of town.
Garage: Add an outdoor camera or floodlight camera on your garage, pointing towards your driveway to cover any potential thieves trying to look for vulnerabilities.
Patio doors: Burglars may use clear glass patio doors to determine whether or not you're home. Add a camera outside your patio door, pointing towards your yard to catch anyone trying to snoop on your property.
It's important that you keep your neighbors' privacy in mind when installing home security cameras outside. Never point cameras toward other people's windows or anywhere that may infringe on their right to privacy within their own home.
Can you put a camera on your front door?
A video doorbell is an excellent home security option perfect for many applications, from keeping an eye on packages to speaking with people that come to your door with 2-way audio.
That being said, if you're installing an outdoor camera, you likely won't be positioning it on your door, but above it. Video doorbells can sometimes be placed either on your door or next to it.
Where do you put a security camera near lights?
When placing security cameras near lights, you should make sure that you position the lights out of the camera's frame by installing them above the camera. This will ensure that the light floods the camera's field of view—without shining directly into the camera.
Floodlight cameras already come with the necessary hardware and positioning, taking the guesswork out of security camera placement.
How can I hide my front door camera?
There are a few instances where you might want to hide your front door camera. For example, you may want to hide a security camera if you want to catch which neighbor is allowing their dog to do its business on your lawn so you can approach them about it.
Here are a few places to put hidden security cameras:
In a plant container
Inside a birdhouse
Under your roof's eaves
Among your lawn décor
We recommend that you consider professional installation, especially if you want to hide your outdoor camera. A professional can help you figure out the best angle to place hidden security cameras, so they're positioned to capture your porch or yard with minimal obstructions or light glare.
Read more about hiding an outdoor camera: How to Make an ADT Outdoor Camera a Hidden Security Camera
Can someone hide a camera in your home without your knowledge?
It's illegal for someone to hide a camera in your home without your knowledge. If someone does this, it's an invasion of privacy.
If you find a camera that doesn't belong to you in your home, you should immediately contact the police.
5 more ways you can secure your front door
We've gone over a few ways to secure your front door with video cameras, but there are other ways you can increase your home's security.
1. Upgrade your locking system to smart locks
2. Add a security bar
3. Replace your current door with a solid-core door
4. Add a barricade bar
5. Install a new deadbolt
Frequently asked questions about front door cameras
Do I need a video doorbell?
A door-mounted security camera, such as a video doorbell, is one of the most efficient ways to secure the space in front of your house. This is because a good doorbell camera will capture not only your front porch but the yard in front of it.
With standalone security cameras, you might need two facing opposite directions just to get the same coverage. Because of this, a video doorbell may be the most practical option for front yard security.
How can I hide my front door camera?
There are countless ways to disguise security cameras, from enclosing them in birdhouses to hiding them in shrubbery. However, keeping cameras hidden might not be your best option.
The visible presence of a camera can deter thieves by itself, whereas hidden cameras only capture their activity. Would-be thieves tend to avoid risky situations, so a visible camera usually keeps them away.
Still, if you're interested in concealing your porch camera for aesthetic reasons, then a doorbell camera could be the right choice. Although the camera lens is visible, it's stylishly designed and very minimalist. This gives you the best of both worlds: a visible camera to deter thieves and a sleek, minimalist look.
Will a security camera work through a window?
During the day, pointing a camera through a window to capture activity outside shouldn't be a problem. However, when it gets dark, window glare becomes a significant problem.
Although you can set up a front porch camera from inside a window, it's far from the most optimal option. It's far better to set up a wireless camera outside or to use a video doorbell.
Do doorbell cameras record all the time?
While many outdoor cameras don't record all the time, some do.
Doorbell cameras typically start recording once they sense movement. Once that happens, you'll receive an alert on your smartphone so you can either speak to the person through 2-way audio or ignore them. 
Do doorbell cameras deter burglars?
When it comes to porch pirates, doorbell caneras definitely can't hurt. At the very least, you'll be able to provide footage of the theft to your local police department that may help the officers catch the thief.
ADT can help you improve your home security today
Keeping your home safe isn't something you can afford to leave to chance. Whether you're guarding against package thieves or keeping your family safe, you can't be too careful when it comes to security.
Fortunately, ADT can help secure your home with advanced, state-of-the-art security systems. Visit our shopping page today and begin protecting your home.