Did you know that roughly 13% of college students experience sexual assault per year? That goes for both female and male students. It isn't the only type of assault that people report on college campuses, either.
Other's say that robberies, bullying, hazing, and homicides are also commonalities across colleges. If you are a parent sending your child off to college or if you are a student, then that news is unsettling.
That's why you must research safety and crime stats whenever looking into a university. Do you want to learn more about the safest college towns in the United States? If yes, you should check out our list along with some college safety tips.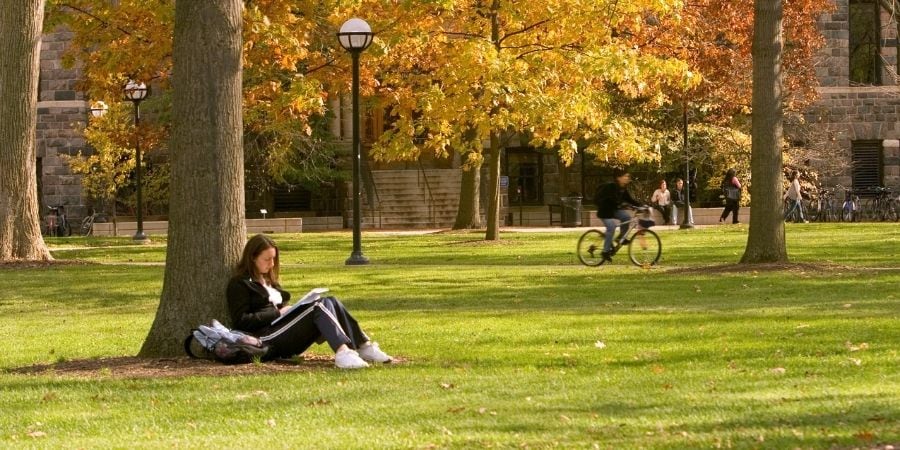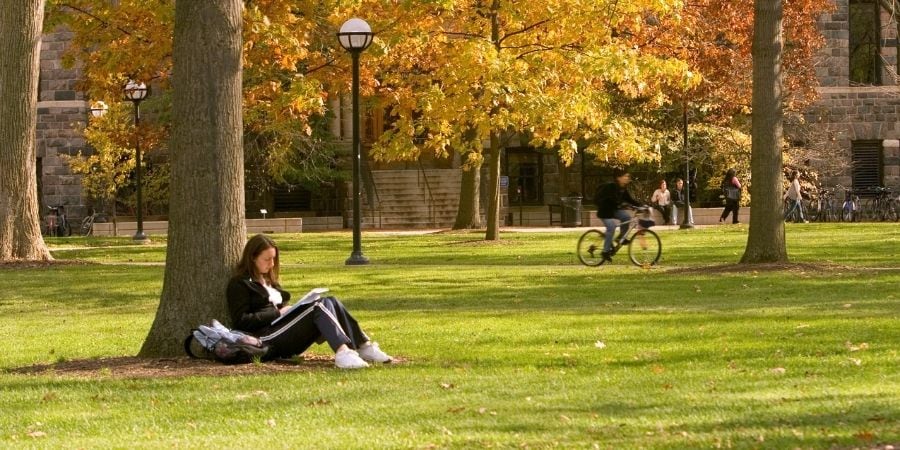 What To Consider About College Campus Safety
When it comes to college safety, you can never be too prepared. Before diving into the safest universities, you should first understand how to determine what makes a college town safe.
There are critical things to research and ask, like:
What are the campus crime stats?

What type of security cameras are there?

What do the cameras show?

Is there campus security/police?

What crime prevention features are there?

Do they have sexual assault safety programs?

How do they handle hazing?

How do they handle conflict?
By finding answers to questions like these, you can accurately assess how secure the university grounds are. When you do this, don't only look at the statistics on campus, either.
Be sure to research the area around the college to see how high the rates are in cities, towns, and neighborhoods. That is especially critical for public schools.
Since these colleges are open to the general public, that means anyone can walk on the grounds. So, having a decent understanding of the city will help you when you make an informed decision.
Brigham Young University (Rexburg, Idaho)
Brigham Young rates very high on the list of college campus safety statistics. They report an astounding .0082 for every 1000 students. And the Rexburg area only has a 17% crime rate that shows signs of decreasing.
According to students of Brigham Young, they feel safe and never as though they are in danger. The school also touts a strict code of conduct and safety programs to ensure their students know the proper protocol.
The University of Connecticut (Mansfield, Connecticut)
Next up, we have the University of Connecticut, or UConn, which has only 826 incidents reported in 2019. That number may seem high, but consider that the school's student body consists of 32,183 students.
Along with these low rates, the school also implements 54 safety awareness programs. These teach students how to stay safe on campus and enforce the importance of being alert to their surroundings.
They also have a police force that is non-invasive but is still present. These police officers also dedicate part of their time to community outreach programs that teach students safety measures. Not to mention that Mansfield, Connecticut has about 1.02 crimes per 1000 residents.
Washington State University (Pullman, Washington)
With only seven campus arrests, Washington State is, by far, one of the top safest colleges in the United States. It rests a few hours away from Seattle and is safely in Pullman, WA. Out of a student body that makes up 31,478, only 771 people reported violent crimes.
The campus does have a police force that is active on campus. The school also implements the necessary lighting for pathways, so no student walks in the dark. The area of Pullman, WA, reports 11 per 1000 residents.
New York University (New York, New York)
New York City has a bad rap for being dangerous. After all, it is a big city which causes people to assume a high crime rate.
However, New York University, NYU, is in Greenwich Village, which has a below-average crime rate, especially when it comes to violent crimes. Along with that, the NYU campus has 22.86 reports per 1000 students out of a student body of 51,000.
Clemson University (Clemson, South Carolina)
The chances of violent crime at Clemson University is 1 in 460. College Stats lists this school as having some of the lowest crime rates out of any other university.
Their college has a 24-hour police department (CUPD). Their law enforcement provides educational outreach and escort services. Clemson also hosts several safety awareness programs like rape awareness, self-defense awareness, and workplace violence awareness.
Pennsylvania State University (University Park, Pennsylvania)
Penn State reports 1.23 crimes per 100 students. They also work constantly with their local police department to provide the safest atmosphere possible for students.
They also have safety features like their campus night map. This feature allows students to navigate the expanse of the campus grounds without getting lost. It will also show whether there is no thru-way and the location of the nearest campus emergency station.
Eastern Illinois University (Charleston, IL)
This university has one of the smallest student populations in the country. They have roughly over 7,000 students on campus. That said, they only receive about 92 complaints about violent crimes on campus.
The Charleston, Illinois area also boasts one of the lowest crime rates within Illinois. The university offers unique features along with its safety preparedness programs.
It is the internet crime complaint center. With this online tool, students may report internet crimes like harassment and virtual theft. There are not many other universities that implement this feature.
Utah State University ( Logan, Utah)
Utah State University has only seen about 18 criminal acts on campus. Their student body is over 20,000, which rates this school as one of the safest campuses around.
Along with that, the town of Logan only has about .14 per 1000 residents when speaking of their overall crime rate. So, not only is the school safe, but Logan is equally as secure for students to explore.
Lincoln Memorial University (Harrogate, Tennessee)
Ranked at the top of the list is Lincoln Memorial University, which reports only 160 crimes. The National Council for Home Safety and Security named this school the top safest university in the entire country back in 2019.
That ranking still holds two years later. They take their on-campus safety to another level by using apps and tools like LiveSafe. That allows students to sign-up and receive constant notifications about security breaches on campus.
So, if there is a lockdown, a school-wide alert will send a text to the student's phone about the criminal's location and crime. Along with this, they have on-campus foot patrol police officers as well as vehicle patrol. They also have 24-hour camera monitoring and doors that lock and unlock as you enter the buildings.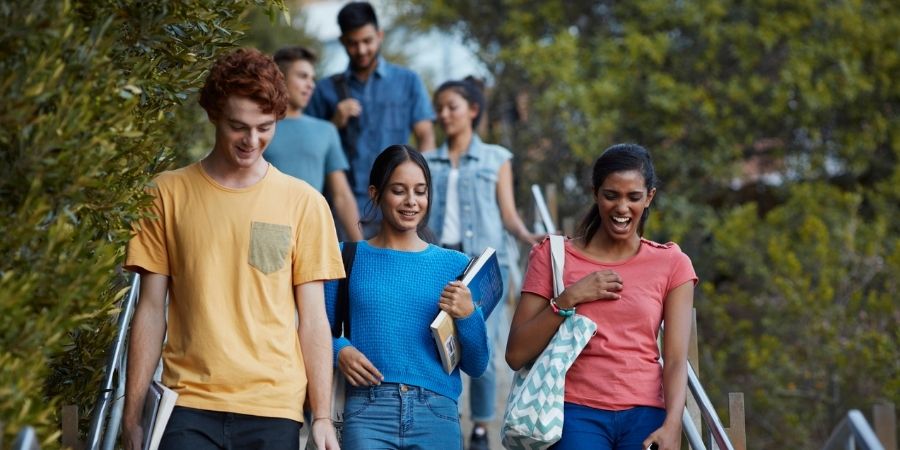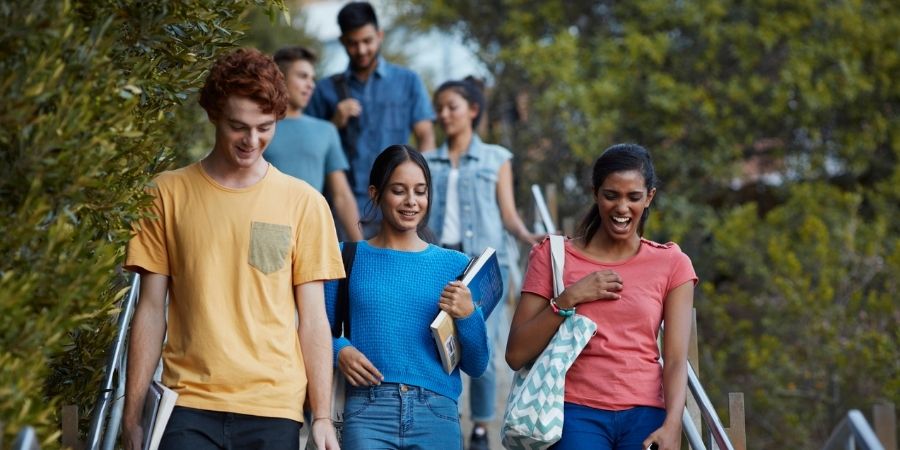 Essential College Safety Tips
Whether you decide to attend one of the college campuses listed above or one that isn't, you need to know tips on how to stay safe. No matter how secure a campus seems, crime can occur at any moment. You should study how to prevent yourself from entering dangerous situations and what to do if you become a victim of a violent crime.
Safety Tip #1: Try Not To Walk Alone
If it is late at night, try to have a friend walk with you across campus or back to your dorm. About 24% of violent crimes occur between the hours of 8 pm and midnight.
So, if you have a late class or are leaving a party, find someone you trust to walk with you. If you don't have anyone, you can always call the campus police.
As you read above, many campuses offer escort services. That means an office will walk you to wherever you need to go, like your dorm or car. And, if you can't do either of those two things, be sure to know your way around campus.
That way, you don't get lost and take unnecessary paths. Study your campus map and make a plan of the most efficient course leading you back home.
Safety Tip #2: Have Your Phone Open
Keep your phone open to dial emergency services. In the event of an emergency, you may not have time to unlock your phone and dial. Have it already set to 9-1-1, so all you would have to do is press the call button.
Safety Tip #3: Don't Get Distracted
Stay alert of your surroundings at all times. That means no texting or surfing social media while you walk alone on an empty campus. Predators look for people who seem oblivious to what is going on around them.
You want to be aware of who is around you and how they are acting. Along with that, you want to ensure you stay in well-lit areas and don't meander somewhere in the dark. As a rule of thumb, stay off of your phone until you are in a safe space.
Safety Tip #4: Locate Emergency Booths
Most colleges have emergency booths placed around campus. They often look like payphone booths or small towers with blue lights on them.
When you press the button, it calls campus police and notifies them of your location. Whatever your class schedule is, you should plan a route to each class. Take that same oath every day or night and note where the emergency booths are along the way.
Safety Tip #5: Install Home Security System
Not all students live on campus in the dorms. Whether you have a student apartment or a house nearby, you might want to invest in a home security panel.
These come with several features that allow you to arm or disarm your house. They also have entryway contacts that alert you to an intruder crossing a threshold into your home.
With a security system, you can ask for motion sensors and 24/7 monitoring, so there is always someone ready to send emergency services to your house.
Safety Tip #6: Install Security Cameras
Video doorbell cameras are popular choices for people to install at their front door. That is because these cameras show footage of who is at your home.
You can access the footage from your phone. So, if you suspect an intruder, you don't have to approach the door or ask who is there.
You can also control the camera along with your in-home security system via the ADT mobile app. So, if a break-in happens while you are away, you will get an alert and can take action from a safe place.
Safety Tip #7: Carry Pepper Spray
You can pick up a can of pepper spray at your local store. That is a handy tool to disable anyone who tries attacking you. Spray it in their eyes, and it will give you time to run away and call or help.
But don't keep it tucked away. Many people make the mistake of having their pepper spray or mace stuffed down in their backpacks or bags.
In an emergency, you won't have time to dig through your belongings. Many pepper spray companies make their products into keychains So, put it on your keys and always walk with it in your hands.
And, if you don't want pepper spray, you can invest in a panic button or anything that makes a loud noise. That is sure to scare a predator off and attract the attention of people nearby.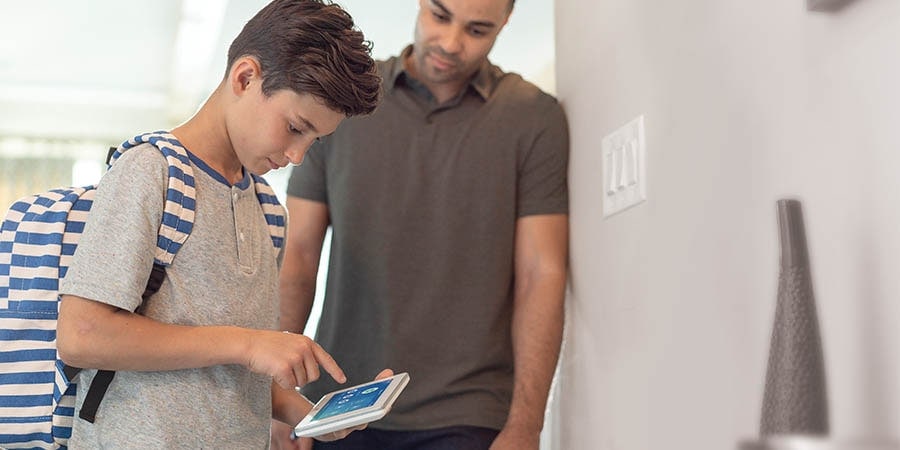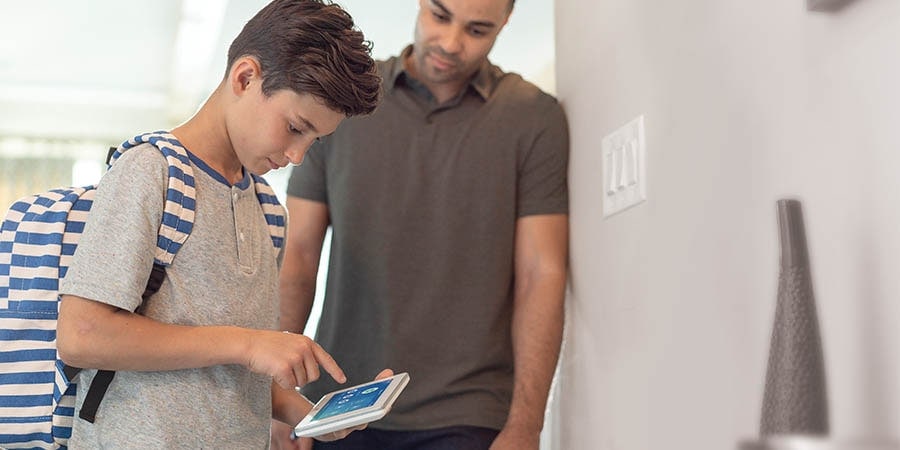 For More on the Safest College Campuses
As you can tell, there are several college campuses with low crime rates. These universities take college campus safety seriously and want to ensure every student is well protected.

And remember that safety tips make all the difference in keeping yourself free from any assault. At ADT, we want to help ensure your safety, too. We hope this article helped you in choosing the safest college campuses to further your education.
If you would like to enhance your security systems, ADT encourages you to visit our shop now page and browse our top-of-line items. Or, you can contact us and get a free quote today!