The day has finally arrived for you to go on vacation. You've already booked a hotel, set up travel arrangements and hired a house sitter. But don't forget the most important step-securing your home and valuables.
The last thing you want to worry about while traveling is whether or not your home is properly protected. One of your biggest considerations should be the hiding location of your spare key. If it is hidden in an obvious location, you could be vulnerable to theft. You could be vulnerable to theft if it's hidden in an obvious area. Follow the tips below when choosing the best place to hide a key.
The best places to hide a spare house key
In addition to setting up an alarm system, evaluate the hiding place of your spare key. To avoid potential unwanted guests, you need to be a little crafty with your key placement. Here are some good hiding spots:
In a hollow, fake rock that blends in with its surroundings
Inside a small lockbox under the porch
In a key hider/magnetic key holder
Tucked inside the barbecue grill in the backyard
Under the foot of a chair on the patio
Under a loose brick in the walkway
Inside or under a children's toy or birdhouse in the front yard
In the doghouse
Secure a key on a nearby tree with a nail
The worst places to hide a spare house key
Choosing the right hiding spot is essential in protecting your home. Burglars will check the obvious places first, so avoid hiding your extra key in plain sight in one of these common locations:
Under your door mat
Under a potted plant or in a flowerpot by the door
Under a garden statue
On the doorjamb
In the mailbox
In your wallet
While your hidden key may not be in plain sight in these hiding places, they're the first places a would-be thief might look at when trying to enter your home.
Get to know your neighbors
When you leave your home, worrying about the "what ifs" is easy. That's why getting to know and having a trusted neighbor is an invaluable tool in your home security arsenal.
Leaving a spare key with a neighbor can:
1. Prevent you from getting locked out of your home.
2. Give you an extra set of eyes on your property while you're away.
3. Ensure you have a quick line of communication if something goes wrong.
A neighbor can help spot a burglar or suspicious activity when you can't.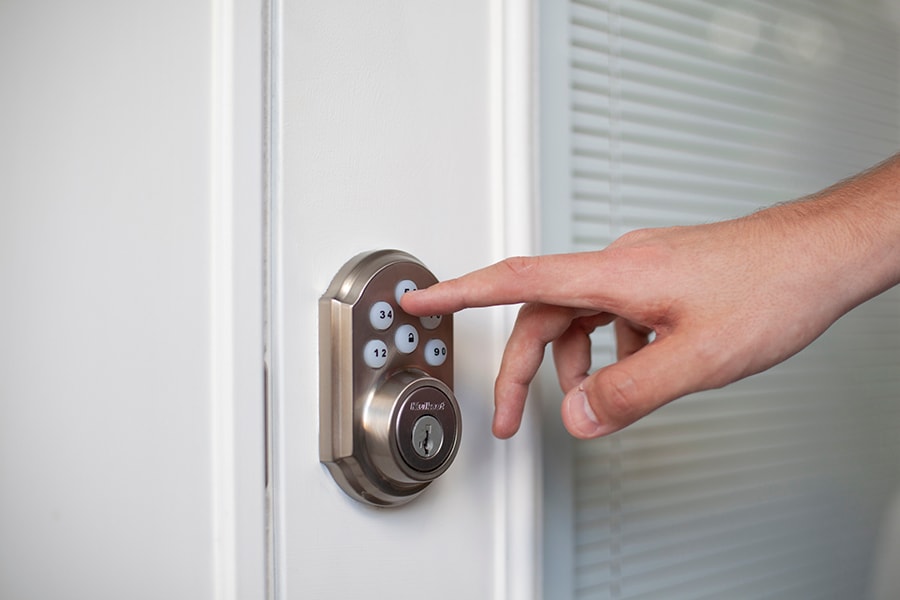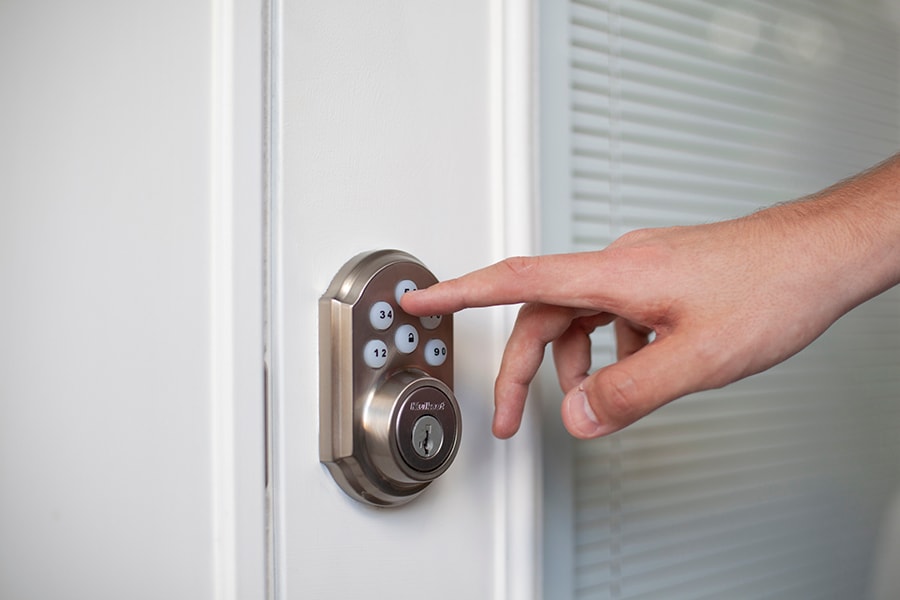 Eliminate the need for a spare key
If you feel uneasy keeping a spare key, smart door locks are a better solution. Benefits include keyless entry, with text notifications each time the door is unlocked. With an ADT-connected home, you can unlock and lock your doors remotely with the ADT mobile app.
If you're concerned about giving your house sitter the code to your smart lock, you can easily change the codes after you return home.
Put your mind at ease
If you're hiding a spare key, ensure it's in one of the well-hidden locations listed above. However, even the best hiding places aren't foolproof; take it a step further and install a security camera or doorbell camera that allows you to monitor your property from your smartphone.
An ADT connected home sends you notifications when motion is detected in your home or on your property, providing you with confidence in your home's security system—from virtually anywhere.
What to do if you lose a spare key
You aren't necessarily out of luck if you lose your spare key.
Try to remain calm and retrace your steps to see if you dropped your keys

Check in and around your car, including the roof, the ignition, between the seats and underneath the car

Contact your homeowner's insurance company and see if your policy covers locksmith services

Contact a professional locksmith to get a copy of your house keys made
If you believe someone stole your keys, you should file a police report and re-key your home locks as soon as possible. Even though re-keying or re-programming your locks can be expensive, it'll still be less expensive than if would-be burglars break into your home.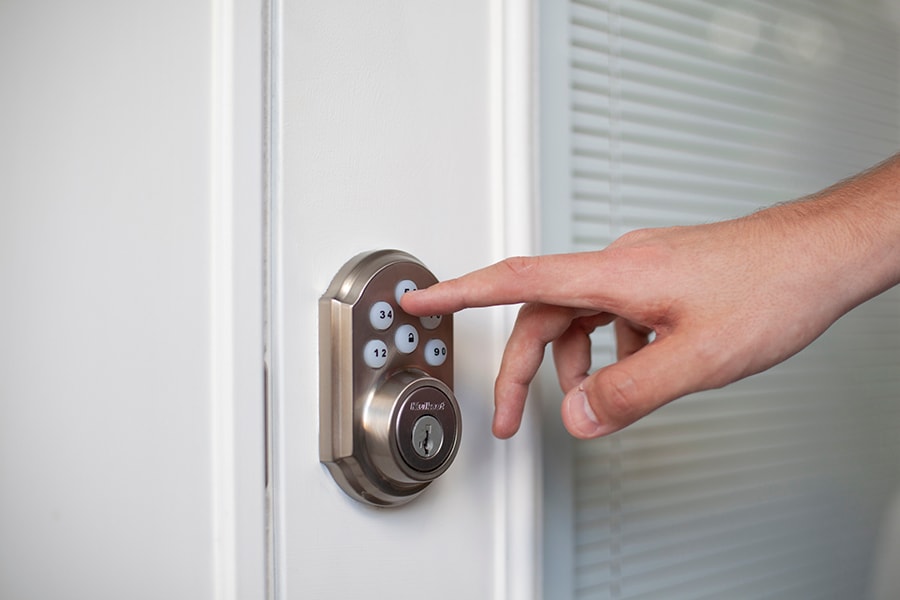 How can you get inside your home if you don't have a spare key?
If something has happened to your spare key, or you forgot to make a copy of your house keys, all isn't lost! There are still ways you can try to access your home without a spare key.
Check the perimeter and see if there's an unlocked door or window

If you rent your home, call your property owner

If you have an attached garage, you may be able to gain access to your residence through a smart garage door opener

Contact a professional locksmith
Never worry about hiding a key again with an ADT Smart Lock.
Smart locks make it easy to lock and unlock your home from virtually anywhere with the ADT mobile app. You can also receive alerts when someone uses your lock and remotely locks the door if they forget to lock it on their way out the door.
Call today to talk to our security experts. They can help you pick the perfect smart home solutions to fit your needs.
Frequently Asked Questions about Hiding a Spare Key
Should you hide a spare key?
While hiding a spare key near your property may seem appealing, there are some risks involved in hiding keys. One of the most significant risks is that a thief could potentially void your homeowner's insurance policy. If you decide to hide a spare key nearby, make sure you read your policy. Alternatives to hiding a spare key near your property include a smart lock and giving a spare key to a trusted neighbor or friend. 
Where can I hide my spare key in my home?
If you're looking to hide your spare car keys inside your home, here are a few suggestions:  
In a locked safe inside an office or bedroom

Locked cabinet or desk

While you shouldn't hide a spare key in an outside flowerpot, you can place a key inside a waterproof canister and bury it if you have inside plants

In a shoebox with an inconspicuous label like "Art Supplies

How much does it cost to replace a spare key?
The cost of a key replacement depends on several factors, including what type of key you need, the time of day you're getting it replaced, your location, and whether you're using a locksmith, auto or hardware store, or a dealership. So, the short answer is that a simple, cut key can be less than $50, whereas a transponder or smart key can run you several hundred dollars.