Are you ordering more online these days? If so, you're not alone. Almost 50% of Americans were expecting one package per week in 2020.
Unfortunately, porch pirates are taking advantage of the uptick in package deliveries. Last year, Americans lost an estimated $5.4 billion in stolen parcels.
How can you keep an eye on your home while you're away or working from home? Consider a video doorbell. Video doorbells record activity outside your home with cloud-based video storage (no need to keep track of an SD card). Many also connect to other devices via wifi, allowing monitoring via mobile devices.
This smart device alerts you to what it detects via phone notification or a doorbell chime sound inside your home.
Sound too expensive? It doesn't have to be. You don't need a subscription plan. The Blue by ADT offers a video doorbell without subscription that works for you and your family.
Advantages to a Video Doorbell Without Subscription
Great technological advances have provided opportunities earlier generations wouldn't have dreamed possible. So, if others have gotten by without it, why do we need it now?
Times have changed. More and more households are dual income, with both spouses working. Children of working parents are in school or daycare during the day, leaving more homes empty during daytime hours.
When nobody is at home, houses are open for crimes of opportunity. In 2019, theft and burglary were the top crimes committed in the US. The good news is, you can help keep your home safe by installing a video doorbell camera.
Watch Your Front Steps
Using a security camera can be a deterrent for porch pirates. Live updates and two-way talk features provide opportunities to communicate when you're away as well. If you see someone who shouldn't be there, day or night with night vision capabilities, you now have a description and the capability to communicate.
Thieves won't know if you're speaking from inside the house or not. This could also help deter someone from trying to steal your property.
Watch Your Property
ADT's blue wifi doorbell has a wide 180-degree range. This could help detect beyond your front steps. If someone intends to damage your property within the doorbell's motion detector range, you will be notified with a push notification via the Blue by ADT mobile app.
Real-time alerts via your mobile device can alert you to anything shady happening around your home.
Keep an Eye on Your Kids
Are your kids staying home without an adult in the house? If you're following state guidelines, children can gain a great sense of responsibility by holding down the fort for a short time.
If someone comes to the door, your kids can easily see who is there through a Blue doorbell cam with its custom motion detection ranges and notification. You, the parent, can also see what's happening through your smart device.
In addition, you can easily communicate with whoever is at the door from virtually anywhere. This could help take the pressure of dealing with an unexpected guest off of your child. It also helps you see what is happening so you can handle situations how you see fit.
How Is It Installed?
Not all devices are created equal. The Blue by ADT camera doorbell connects to the existing doorbell wiring. This makes it easier to keep the device powered up, but it might not work for everyone.
Homes that have an existing doorbell blocked by a post or wall aren't good places for a doorbell camera. In these cases, look for a wireless video doorbell with a rechargeable battery.
Whether you're connecting to a wired doorbell or using a battery-powered one, read installation instructions carefully. Maybe you'd like to hire a video doorbell pro to do the job. If you don't need a professional, you can follow the directions to learn how to install a video doorbell.
With a Blue Doorbell Camera by ADT, DIY installation is easy. Make sure you know if you'll need a professional installation for your video doorbell before you buy.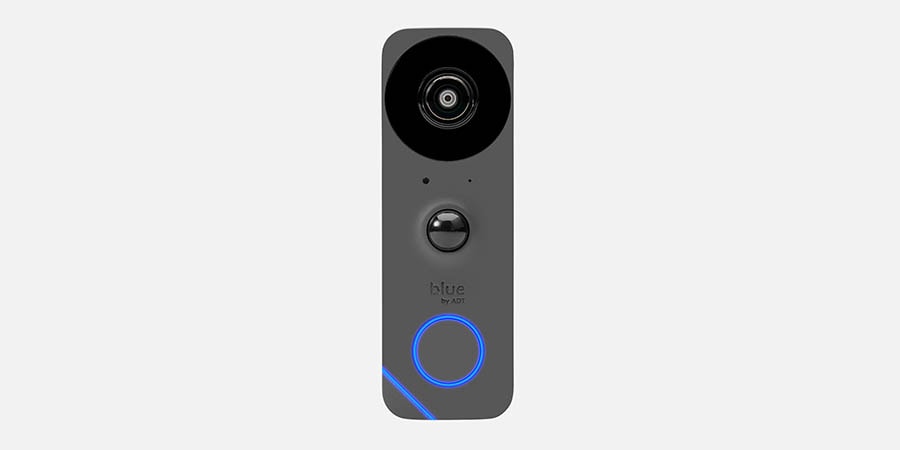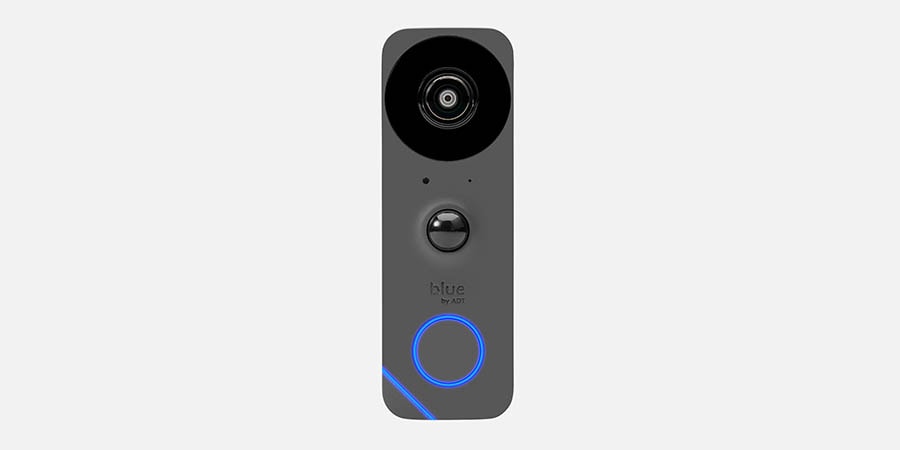 The Blue Smart Video Doorbell Camera by ADT
Blue by ADT can help protect your home with the Blue Doorbell Camera . This sophisticated security camera doesn't require a subscription. Buyers have the option to add the monthly fee package at any time without a lengthy contract obligation.
Blue Doorbell Cam has additional features such as:
Push notifications with live video previews
Facial Recognition
Full 1080p HD video quality
2-way talk features
Cloud storage for video clips (no need to monitor an SD card)
Custom motion detection zones with a 3 meter range
Motion sensor triggered video recording
Night vision + true day support
Connects to existing doorbell wiring (no need to worry about a rechargeable battery common with a wireless doorbell!)
The Smart Doorbell Camera connects with your smart home devices. Pair it with Amazon Alexa, Assistant, or IFTTT , and soon, Apple Homekit. Its camera has an impressive 180-degree view span and a 9.8 ft (3 meters) detection range.
You can which motions you want to be detected and which you don't. That way you won't be bothered with a motion alert every time the neighbor's cat crosses the camera.
Trust The Professionals
When shopping for a video doorbell, it's important to do your research. Your video doorbell isn't just another piece of technology. Therefore, those who create a video doorbell should know the industry.
ADT is America's #1 smart home security provider. ADT has applied this knowledge to Blue Video Doorbells. They understand consumers' needs and know what features matter.
That's why Blue Doorbell Cameras are available without a subscription service. Should you decide you'd like to upgrade to a subscription, you can do so at any time without long-term contracts.
Get The Whole System
If you'd like more extensive home security, you can expand on your ADT Blue Doorbell Camera purchase. ADT provides customizable packages that allow you to build your own security system.
You can also choose from a variety of security package options. Don't wait until you're a victim of theft or burglary to protect your home.
ADT can help protect your home with a Blue Doorbell Camera. Let us help you find the right fit for your home security needs.