These days, everyone wants to feel more secure, and home security cameras with motion activation are just one method for helping make sure your home remains protected. However, you may still have questions about how these cameras pick up activity around and inside the home.

This article will break down the ways home security monitors detect movement, which systems work best for your home and purpose, and where to mount your cameras for maximum coverage.

Before we go into detail, here is a quick look at some of the benefits of motion sensors and cameras:

Protection against burglaries
Get notified when family members are going in and out of your home
Pair these cameras with smart devices so that they can turn on when motion is detected
Potential incentives like home insurance discounts
How Do Motion Sensors on Cameras Work?
A typical home security motion detector can work in one of three ways. The first, a microwave sensor, utilizes continuous waves of electromagnetic radiation that are bounced back to obtain a general map of an object's size and shape. If the microwave sensor detects changes, the motion detector will activate.

The second, a passive infrared sensor (PIR), contains two opposing grooves or apertures constructed of a material that is highly sensitive to infrared energy (body heat). When the PIR sensor detects a change in the infrared energy between its background and these two grooves, a pulse is released, and this pulse is read as "movement."

A third type, a dual technology sensor, combines features from microwave and PIR sensors.

ADT is proud to offer 24/7 monitoring with our home security cameras that are motion activated and customizable to recognize everyday movement patterns, reducing false alarms and keeping your home safer.

Our cameras are activated by motion and send video clips immediately once triggered. You can set up custom alerts for specific kinds of triggers and maintain a level of advantage against potential intruders without compromising privacy.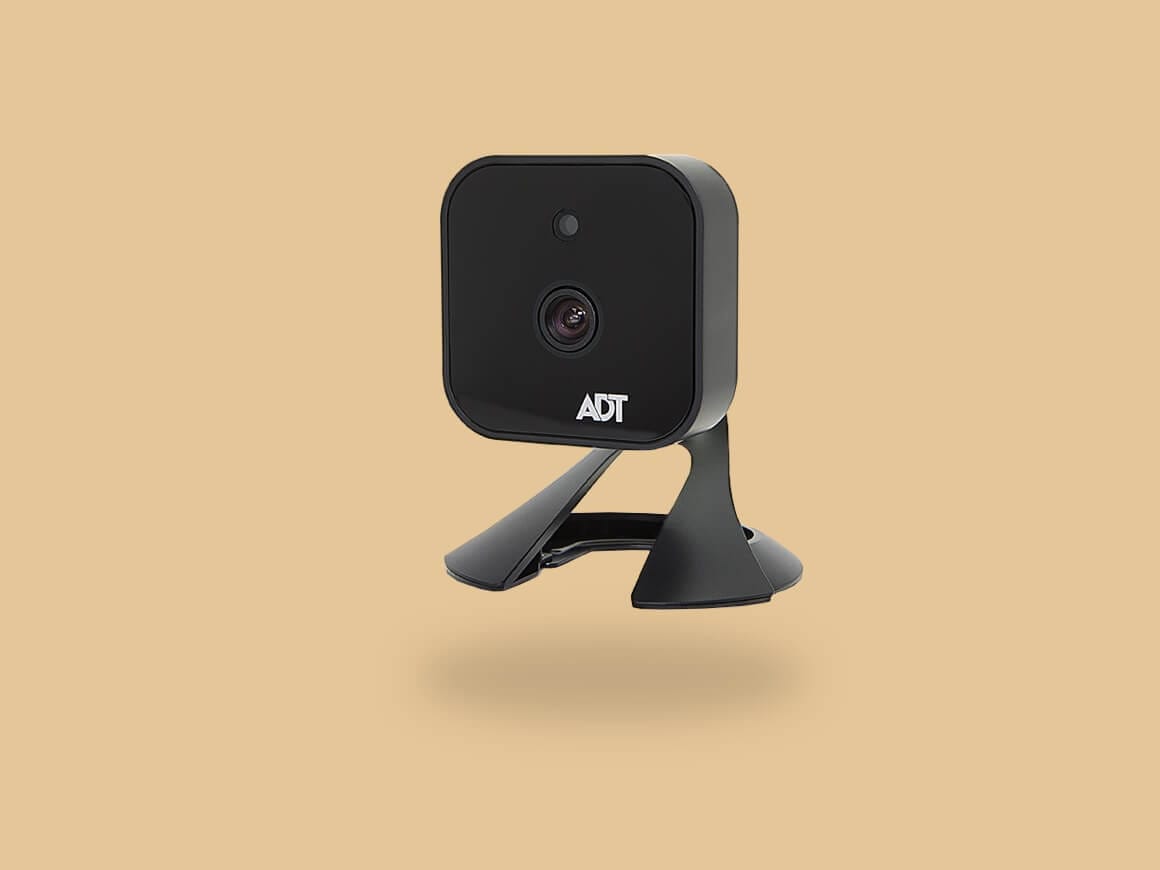 Four Important Features to Look for in Cameras with Motion Sensors
A home security monitor should have the widest possible coverage to ensure that the maximum amount of your property's space is canvassed and accounted for. ADT sensors can cover an area as much as 35 feet by 40 feet. Ultimately, this ensures coverage for multiple high-traffic locations within your home without having to place more than one or two cameras.

ADT motion detectors also come with a host of additional features, such as Wi-Fi-protected access and infrared night vision.

Check out these other features that ADT motion detectors possess and that you should look for in any well-equipped device:


Home Security Detectors That Are Pet-Friendly

ADT recognizes that pets are an irreplaceable part of any family. Our home security motion detector can be customized to the specific size and weight of your furry friend, allowing pets to roam freely without compromising the integrity of trigger alerts.



Home Security Motion Detector With Custom Alerts

Wondering how you'll know when something has been picked up by one of your home security detectors? ADT makes it simple with a spectrum of options. You can receive emails or text alerts directly to your smartphone any time your camera is tripped.

You can likewise set up a trigger-activated video or arrange for a light to click on anytime the camera is triggered automatically. Additionally, the ADT Control app puts management of your smart security right in the palm of your hand.



Wired vs. Wireless Cameras with Motion Detectors

Whether you want your camera hardwired into the structure of your home or free of all wires so that it can remain portable, ADT has you covered. We have over 145 years of experience in the security industry, and our average installation technician has been in his or her job for over nine years.

If you are not satisfied with the setup of your home security motion detector or do not yet feel confident in your ability to control it, our technician will not leave until you are. All of our equipment has been tested at the highest stress points prior to our arrival at your property so that we can be certain that everything functions properly before bringing it to your home.

Wireless cameras can be freely placed anywhere in your home within Wi-Fi signal distance of the main control panel. Our Blue by ADT cameras bring DIY to your home security design and even allow you to see and communicate with visitors via your HD indoor, outdoor, and doorbell cameras no matter where you are.

With a six-month warranty and free ongoing service after installation for all customers, you can feel certain that you won't be left alone if you have questions or problems with your home security monitor.



Home Security Detectors With Extended Battery Life

No one wants their safety diminished due to the dwindling life of a standard battery. ADT home security motion detector batteries last approximately seven years, on average, and let you know ahead of time with a specialized alert when they are fading. This allows you to replace them before that critical moment when they are most needed.
Keep an Eye on When Family Members
Beyond the obvious protections against intruders, ADT home security detectors can enhance your day-to-day household management in ways you might not expect. For instance, if you've got teenagers who drive now, you likely want to know exactly when they arrive home. Keep the curfew guesswork to a minimum with a standard trigger alert on designated points of entry set for times selected by you.


Automate Different Home Features
You can further utilize your detectors to pair with smart devices in your home that can be automated to turn on lights if motion is sensed, upping the ante not just on your level of security but the speed at which you can address any problems.


Potential Home Insurance Incentives
Then there's that other kind of insurance – the kind you have to pay for and that having ADT can often make cheaper for you. If our home security camera with a monitor system is deemed eligible for a discount from your homeowner's insurance company, we will provide an alarm monitoring certificate to help you get that better rate.


Finding the Best Place to Mount Your Motion Sensor
There are always four things you want to consider when mounting a home security device regardless of how you plan on using it. They include:
Proximity to points of entry to your home
Range of view and line of sight
Height
A home security motion detector needs to reside someplace near points of entry to your home and focus on high-traffic areas. This includes above windows and doors, facing out onto hallways and stairways inside and outside your home. Corners are also a prominent placement location, as they tend to give a view of multiple sides of a wall or structure.

To fully take advantage of home security detectors, cameras need to be hung high enough that tampering becomes nearly impossible. You don't want to spend the time and money arranging a security camera if an unwanted guest can just reach up and alter or destroy it.

Any motion detector also needs to be kept away from direct sunlight or other sources of extreme temperatures, such as heating vents. The Blue by ADT outdoor cameras can operate in 14 to 122 degrees Fahrenheit and are unfazed by 0% to 80% humidity.

Best of all, ADT cameras come with the standard ability to tailor your motion zones. This means you never have to worry about getting an alert every time the mailman passes by or a kid rides a bike down the street.

After security itself, ADT's calling card remains its dedication to employees. Our monitoring experts have been on the job an average of five years, and any of our staff is readily available to help you make the smartest choices when it comes to placing your home security monitors.


Now to Detect the Best Security Plan for Your Home
With this explanation of home security detectors and how they operate, we hope you feel a greater sense of understanding toward the importance and benefits of setting up a home security plan. Offering options ranging from fire and carbon monoxide awareness systems to those that are aimed specifically at guarding children and the elderly, ADT has a plan that will perform for you.

Customize your home security plan to your family's unique needs and start enjoying the kind of peace of mind ADT is happy to help support.