Online dating has become the new norm, with more than 40 million Americans using the internet to search for love, according to Match.com1. However, there's always some risk involved when meeting someone for the first time, especially if you met them online.
Whether you use Bumble, Match.com or Tinder, safe dating should always be a top priority. The following are eight important online dating safety tips that will help you safely transition your relationship off the app and into real life.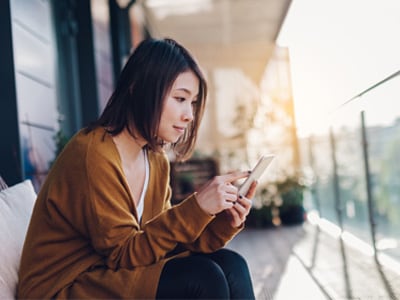 1. Wait until you feel comfortable
When online dating, you'll probably come across some profiles that say, "Not looking for a pen pal," or "If you don't want to meet up, swipe left." While it's important to meet potential partners in person, don't feel pressured to meet someone before you're 100 percent comfortable.2
If you want to wait longer, don't feel embarrassed or pressured—the right person will give you the time you need to feel comfortable.
2. Do a little digging
While there's some stigma attached to "Facebook stalking" potential dates, you shouldn't feel bad about doing a little social media research before meeting someone for the first time. It's a great way to spot red flags and ensure you're not dealing with a catfish.
3. Tell someone where you're going
When you make plans with someone you met on a dating app, always tell a trusted friend or family member where you're going. You might even consider giving them access to your location via iOS or an app like Find My Friends.
Another good safety precaution is to use a service like ADT SoSecure, which allows you to share your location with family and quickly call for help in an emergency.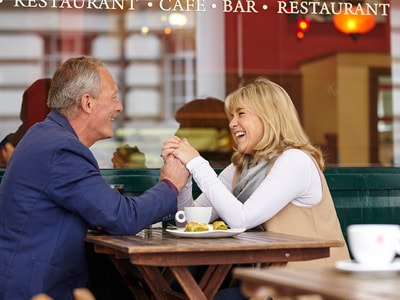 4. Meet publicly
The first time you meet up with someone, do so in a public place where there are plenty of other people around—restaurants, bars, movie theaters, coffee shops or parks are good options.
Further, Tinder recommends staying in public for the duration of your date—it's inadvisable to go back to the apartment or home of someone you just met.4
5. Provide your own transportation
On a similar note, it's best to provide your own transportation to the date, even if it's just taking a cab, the subway or a rideshare. While it may seem chivalrous when your date offers to pick you up, you'll be happy you can leave on your terms if things go south.
6. Stay sober
Many people like to grab a drink on their first date, but if you do decide to go to a bar, take care to stay sober. You need to be able to get yourself home safely, and you put yourself at risk when intoxicated. Know your limits, and stick to them! When in doubt, suggest a coffee date instead.
7. Don't give out private info
Online dating scams are genuine, and they're on the rise. According to USA Today, people of all ages and demographics are being targeted by bad actors. Complaints of "romance scams" have jumped significantly in the past few years.5
To keep yourself safe from scams, don't give out personal information to potential dates and never entertain requests for money.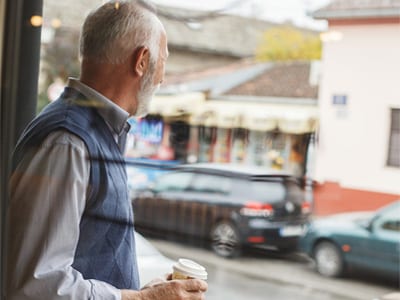 8. When in doubt, bow out
Don't be afraid to bow out if you feel uncomfortable at any point during the date or even before it. You're in no way obligated to stay with someone if you feel awkward or threatened. When it comes to eHarmony, Plenty of Fish, Coffee Meets Bagel, Bumble or Tinder, safe dating should be your first priority!
9. Use a unique phone number
You should always use the dating app for initial communication, but at some point, you may want to swap phone numbers. There are many apps on the market that you can download that allow you to keep your phone number private.
Simply download one of these apps, and you'll receive a unique phone number. You can then use this number like you would use your regular phone number: to chat or text.
10. Download a personal security app
Another safety precaution you can utilize is to use a service like the SoSecure by ADT app, which allows you to share your location with family and quickly call for help in an emergency.
ADT can check in with you through a call or text to ensure you're safe. If you don't respond, ADT alerts your Guardians and emergency responders with your location.
11. Take new pictures for your profile
When someone does a reverse image search, that means they're taking an image you currently have and putting it into a search to find related images. If you're using the same photo for your dating website and your social media profile, it may be possible for someone to find you and learn details about your life through your social media accounts.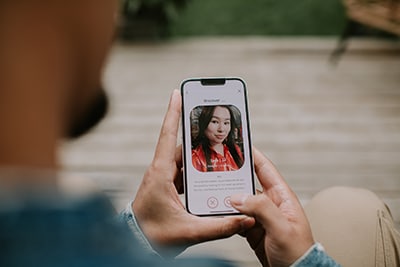 7 online dating red flags
Dating red flags refer to something you should look out for when dating. Some online dating red flags are more obvious, like if a prospective partner is asking you for money before your first date. But there are other red flags that not only seem innocent, but a natural part of dating.
When meeting and talking with strangers, it's always important to use your best judgment and listen to your instincts. If your date seems respectable, but there's still something off about them, you should listen to your unease and remove yourself from that situation.
We've compiled a list of a few flags to look out for when searching and connecting with others as you navigate online dating apps.
1. If your prospective date only has one or two pictures, it may indicate that they're a bot or an otherwise fake profile.
2. You should be cautious if the person you've matched with constantly dodges your questions, or they only provide vague answers.
3. If you're chatting with someone who tries to force you to meet in person before you're ready, this could also be a red flag.
4. If your match refuses to talk with you on the phone before meeting, this could indicate that they're trying to catfish you.
5. Someone who posts their social media handle on their profile may not be an overt red flag, but it could suggest that they're only looking for followers and not a serious dating match.
6. Be cautious if someone unmatches with you after getting your phone number or before you get a chance to go on a date with them. This could be a way for a person to prevent being reported on those apps.
7. Profiles of people who aren't local, especially if they only want to meet at a hotel or other private area, should be approached with caution.
5 online dating scams and how to avoid them
1. Personal identity theft scams
These scams can often be long-term cons. As you become more comfortable and send increasingly private information, like where you live and the names of your relatives, they take note of this information to use against you later. Some adept scammers may even gain enough information that they can hack your password or email accounts.
Divulging certain information to an untrustworthy date could put you at risk of identity theft and compromise your bank account, credit history or even your social security number.
To prevent this from happening, never give personal information to a stranger on the internet, even if it's "just" your last name. Exercise caution until you feel like the person you've been chatting with is genuine and won't scam your personal information.
2. Phishing and malware scams
These generally entail someone who chats with you for a while, then tries to convince you to click on a link. Sometimes, this link can look reputable or even appear to be a copy of a social media profile. Once you click on it, malware infects your computer and gives over your personal information to the scammer.
Never click on any links a stranger sends you, even if it seems like a TikTok or fun meme. You should also make sure your phone and computer have up-to-date malware protection software in the event you do click on a phishing link. If your computer warns you that you're attempting to open a suspicious website, you should listen to it and back out of the link immediately.
3. Various money scams
Money scams can vary from helping your potential suitor, to helping their sick dog or family members. It all boils down to the scammer attempting to get money from you to help pay for something. Once they get this money, they may try to extort you for more, or simply vanish.
Asking for money for a plane or bus ticket to visit you.
Requesting funds for medical bills or an operation.
They need help with their phone payment.
They need money to pay off a passport.
Don't send money to strangers on the internet, even if it seems like they really need the money. Usa.gov has many resources you can utilize if you believe that you're a victim of cybercrime.
4. Catfishing
A "catfish" is a person who uses a phony dating profile or online presence to convince someone that they're someone they're not. This term was coined in 2010 when MTV ran a documentary with the same name. In these scenarios, the catfish can often seem like the perfect match, telling you everything you want to hear.
A prospective partner may do this to gain personal or financial information from you. Or, someone may choose you specifically if they have a personal vendetta against you or want to cause you embarrassment.
Be careful of any date that seems too good to be true. When you feel like it's appropriate, arrange a virtual or in-person meet-up to make sure the person is who they say they are.
Just like others can use reverse image lookup on you to find your other social media profiles, you can do the same to someone you suspect is catfishing you. If this is a scam they've done before, it's likely you'll find their image on the internet associated with multiple accounts and names.
5. Authentication scam
This scam surrounds the use of the two-factor authentication security features we encounter when trying to log into social or bank accounts. You receive a security message with a one-time code that you enter into your account that allows you to access it.
Some scammers say that a code they're getting doesn't work, and then they ask if they can send your phone number the code. However, they're trying to access your accounts.
If you receive an alert that someone is trying to access your account, but you know it wasn't you, immediately change your password. To avoid this, never give someone a verification code.
Resources
1. Broussard, Meredith. "Dating Stats You Should Know." Match.com. Accessed March 21, 2018. https://www.match.com/cp.aspx?cpp=/cppp/magazine/article0.html&articleid=4671.
2. "Safe Online Dating." Get Safe Online. Accessed March 28, 2018. https://www.getsafeonline.org/social-networking/online-dating/.
3. "Dating Safety." Tinder. Accessed March 21, 2018. https://www.gotinder.com/safety.
4. Ell, Kellie. "FBI Says Internet Romance Scams on the Rise. Here's What You Need to Know." USA Today. July 20, 2017. Accessed March 21, 2018. https://www.usatoday.com/story/money/2017/07/20/fbi-says-internet-romance-scams-rise/485311001/.
Frequently Asked Questions about Online Dating Safety
How do you protect your identity in a dating app?
Helping protect your identity while you're dating online starts with your dating profile. Never include private information like your last name, email address, social media profile and phone number. 
You should always sign up for two-factor authentication if you have the option. This can alert you if someone else is trying to log into your account and help reduce the chance someone may get access to your account.
Can online dating be safe?
Knowing what to look out for when dating online can significantly reduce the likelihood of an incident occurring. Since dating apps don't use background checks as a part of their process, it's up to you to trust your instincts and comfort level when meeting a person for the first time. 
What are three tips for dating safely online?
You can do many things to ensure a safe first date with someone you met through an online dating app.
1. When you're meeting someone you don't know, it's important to meet them in a public place like a café or restaurant.

2. Always inform a few friends about your date. Tell them when and where you'll be and check in with them afterward.

3. Stay sober, especially during your first few dates.