Online dating has become the new norm, with more than 40 million Americans using the internet to search for love, according to Match.com1. However, there's always some risk involved when meeting someone for the first time, especially if you met them online.
Whether you use Bumble, Match.com or Tinder, safe dating should always be a top priority. The following are eight important online dating safety tips that will help you safely transition your relationship off the app and into real life.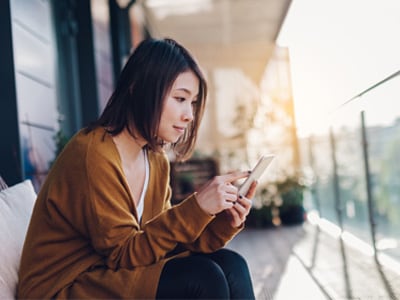 1. Wait until you feel comfortable
When online dating, you'll probably come across some profiles that say, "Not looking for a pen pal," or "If you don't want to meet up, swipe left." While it's important to eventually meet potential partners in person, don't feel pressured to meet someone before you're 100 percent comfortable.2
If you want to wait longer, don't feel embarrassed or pressured—the right person will give you the time you need to feel totally comfortable.
2. Do a little digging
While there's some stigma attached to "Facebook stalking" potential dates, you shouldn't feel bad about doing a little social media research before meeting someone for the first time. It's a great way to spot red flags and ensure you're not dealing with a catfish.
3. Tell someone where you're going
When you make plans with someone you met on a dating app, always tell a trusted friend or family member where you're going. You might even consider giving them access to your location via iOS or an app like Find My Friends.
Another good safety precaution is to use a service like ADT SoSecure, which allows you to share your location with family and quickly call for help in an emergency.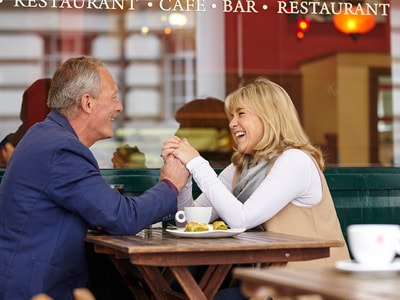 4. Meet publicly
The first time you meet up with someone, do so in a public place where there are plenty of other people around—restaurants, bars, movie theaters, coffee shops or, even, parks are good options.
Further, Tinder recommends staying in public for the duration of your date—it's inadvisable to go back to the apartment or home of someone you just met.4
5. Provide your own transportation
On a similar note, it's best to provide your own transportation to the date, even if it's just taking a cab or the subway. While it may seem chivalrous when your date offers to pick you up, you'll be happy you can leave on your own terms if things go south.
6. Stay sober
Many people like to grab a drink on their first date, but if you do decide to go to a bar, take care to stay sober. You need to be able to get yourself home safely, and you put yourself at risk when intoxicated. Know your limits, and stick to them! When in doubt, suggest a coffee date instead.
7. Don't give out private info
Online dating scams are very real, and they're on the rise. According to USA Today, people of all ages and demographics are being targeted by bad actors. Complaints of "romance scams" have jumped significantly in the past few years.5
To keep yourself safe from scams, don't give out personal information to potential dates and never entertain requests for money.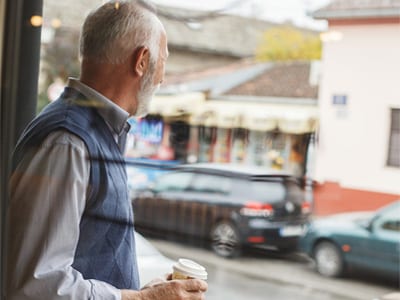 8. When in doubt, bow out
If you feel uncomfortable at any point during the date or even before it, don't be afraid to bow out. You're in no way obligated to stay with someone if you feel awkward or threatened. When it comes to eHarmony, Plenty of Fish, Coffee Meets Bagel, Bumble or Tinder, safe dating should be your first priority!
Resources
1. Broussard, Meredith. "Dating Stats You Should Know." Match.com. Accessed March 21, 2018. https://www.match.com/cp.aspx?cpp=/cppp/magazine/article0.html&articleid=4671.
2. "Safe Online Dating." Get Safe Online. Accessed March 28, 2018. https://www.getsafeonline.org/social-networking/online-dating/.
3. "Dating Safety." Tinder. Accessed March 21, 2018. https://www.gotinder.com/safety.
4. Ell, Kellie. "FBI Says Internet Romance Scams on the Rise. Here's What You Need to Know." USA Today. July 20, 2017. Accessed March 21, 2018. https://www.usatoday.com/story/money/2017/07/20/fbi-says-internet-romance-scams-rise/485311001/.