If you work from home, the configuration of your home office is important for your productivity and comfort. You want your space to both accommodate your professional needs and compliment your home decor. There's no need to hire a professional decorator; you'll feel confident about creating a DIY home office after reading the below tips.
Choose the right lighting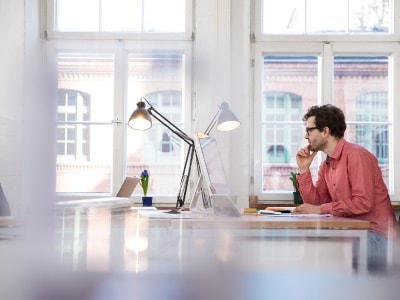 Deciding on the right lighting should be your first task, since lighting determines the atmosphere of your work space. If your space has windows, be sure all that natural light doesn't cause a glare on your computer screen. Try adding a set of gauzy curtains to mute the brightness or positioning your desk away from the windows.1
You should also consider what type of lighting you'll need if you plan to work at night. Do you prefer fluorescent lighting or more of an ambient glow? ADT allows you to control the brightness of your lights through their Smart LED Light Bulbs. To prevent eye strain, you may also consider setting your computer preferences to automatically dim the amount of blue light emanating off your screen.2
The importance of ergonomics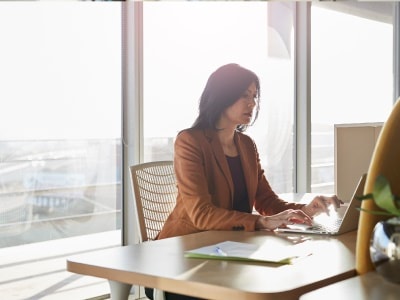 You're going to spend long hours in your home office, so be sure that your desk chair is comfortable.2 Choose one that has height adjustment features, as well as lumbar support. If your bottom tends to go numb after long work sessions, also look for a chair that has extra padding in the seat area or buy a gel or memory foam seat cushion for added support.
Get a desk that suits your needs
Your desk is where you'll be spending all your time, so it is important to choose one that really works with your needs.3 If you have a large computer system, desktop printer or scanner, then you'll need to splurge on a larger desk. Often, L-shaped desks are a good choice for people who need a lot of space.
You may also consider a desk that can transition from a sitting desk to a standing desk. This will give your routine flexibility and free you from constant sitting.
Home office security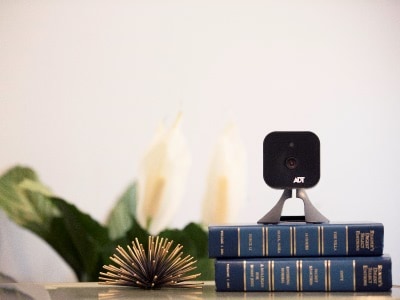 Your home office will no doubt contain important, sensitive documents and expensive electronic equipment. So, while you're designing your DIY home office, be sure to think about home office security, as well. ADT can help you feel more secure working from home with products like keypad security systems and door and window sensors. Feeling safe is an important factor in any workplace environment.
Pull it all together
Once you have the right lighting, seating, desk and security in place, you are ready to start working from your home office.
References
1. Roberts, Gretchen. "10 Tips for Designing Your Home Office." HGTV. October 15, 2014. Accessed March 28, 2018. https://www.hgtv.com/design/rooms/other-rooms/1/10-tips-for-designing-your-home-office.
2. Nield, David. "How to Use a Computer All Day But Still Stay Healthy." Popular Mechanics. February 15, 2018. Accessed March 28, 2018. https://www.popularmechanics.com/technology/a27236/computer-use-posture-health/.
3. "Desk Buying Guide." Wayfair. Accessed March 28, 2018. https://www.wayfair.com/ideas-and-advice/desk-buying-guide-S4300.html