Are you thinking of moving to the Sunshine State?
Did you know that Florida was the third-largest state, according to the 2020 Census? When you consider all the beautiful beaches, warm year-round temperatures, and friendly southern hospitality, it's no wonder!
If you've ever wanted to move to Florida but you weren't sure where to start, we've done the research for you. So why are people moving to Florida, and why should you?
10 Reasons to Move to Florida
1. Beautiful year-round weather.
Florida's weather is one of the main reasons people choose it as their new home. It's one of the warmest states in the country, averaging 70-degree+ temperatures from May to September.
2. Award-winning beaches with white sand.
Because Florida is the closest state in the U.S. to the equator (other than Hawaii), the water that borders Florida contains currents that are warmed in the tropics. This results in beaches that continue to be warm throughout the year.
3. No state income tax.
Florida doesn't require you to pay state income tax, meaning you could save hundreds or even thousands of dollars every year come tax time.
4. Affordable cost of living. (Including lower property taxes)
Unlike some states that offer an affordable cost of living but still require hefty property taxes, Florida also has lower property taxes. Before the pandemic, you could often find a luxury beachside retreat for less than $300,000.
Florida prices are up over 19% since 2020 but still average about $364,900 for a single-family home.
5. Theme parks.
Florida has tons of theme parks! You'll find Universal Orlando Resort, Walt Disney World, SeaWorld, Legoland and other attractions the whole family can enjoy in Florida.
And did you know that Florida residents get discounted tickets to many of these attractions?
6. Wonderful retirement communities.
Over 20% of Florida residents are over 65 [1]. This means that you will have a great community wherever you retire in Florida.
7. Florida offers a plethora of outdoor activities.
Beautiful weather goes great with outdoor activities. Some of Florida's most popular include fishing, hunting, golfing and sailing. Florida ranks as the number one state for golf courses, and since these golf ranges are open year-round, we can see why!
8. Affordable college tuition.
Florida's in-state tuition for a 4-year school is a little over $6,000, much lower than the national average of $10,740 [2]. The same can be said for 2-year degrees, which are also below the national average of $3,800.
9. Relaxed lifestyle.
Beautiful sunshine, fresh produce, constantly warm beaches. What's not to love, right? Because of these factors, many people in Florida consider themselves relaxed, approachable and with a live and let live mentality.
10. Incredible seasonal produce and seafood.
Locals and visitors don't just love Florida's sunshine, but the state's plants, too. Depending on the season, you can find anything from fresh squash, eggplants, strawberries, and of course, oranges! The Florida Department of Agricultural and Consumer Services lists over 30 different kinds of fresh seasonal produce the state offers.
Florida also has plenty of fresh seafood. It provides over 84% of the nation's grouper, mullet, pink shrimp and spiny lobsters, so the chances are pretty high that if you like seafood, you've already tasted some of Florida's finest.
Bonus: Florida is home to truly unique places, like the Everglades.
The Florida Everglades are a unique place that you won't see anywhere else in the world. Combining a subtropical environment with wetlands, rivers, mangrove forests and grass marshes. It houses many rare and endangered species, some unique to that part of the world.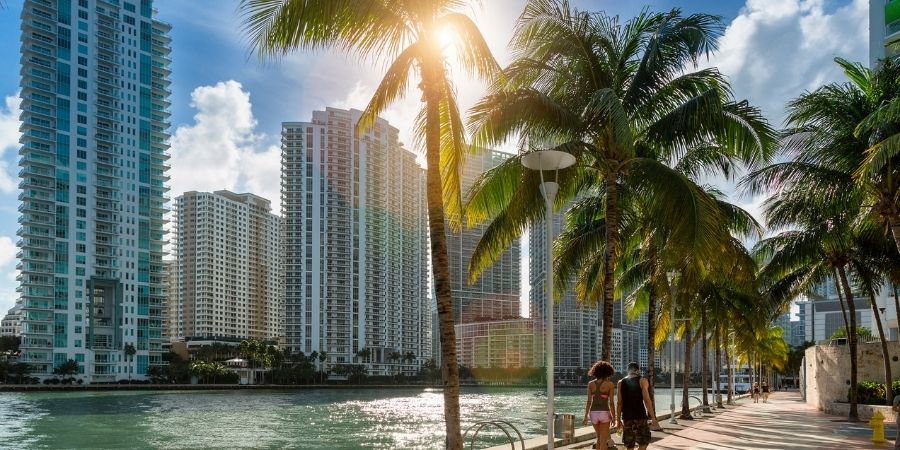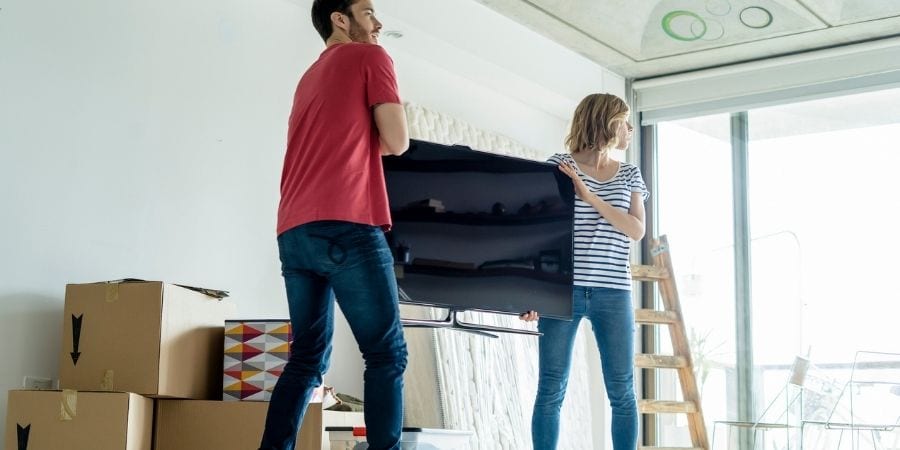 Best places to live in Florida
The Sunshine State has many incredible cities for all types of people, so figuring out what you're looking for will help you know which Florida city you should choose. Whether you want to find a safe place to raise your family or somewhere with tons of outdoor activities, there's a place in Florida for you!
Best overall places to live in Florida:
Everyone has a different opinion on what makes a place, whether focused on nightlife or culture or affordability and education. Florida has a vibrant culture with plenty of all of these.
Key Florida Stats:
Population: 21,781,128*

Annual Median Household Salary: $55,668**

Average Monthly Rent: $1,175**

Median Value of Owned Homes: $215,300**

Average Travel Time to Work: 27.8 minutes
*Population estimates, July 1, 2021
**2015-2019
[Source: United States Census Bureau]
Best of Lists:
Naples is #7 and Sarasota is #9 on U.S. News' overall Best Places to Live list, with Melbourne at #18, Jacksonville at #22, Pensacola #26, Tampa at #32, Fort Myers at #43, and Port St Lucie at #47. Ocala, Orlando, Daytona Beach, Tallahassee and Lakeland also in the top 100.

U.S. News also ranks many Florida cities in their top 10 destinations for retirees in the U.S.: #1 Sarasota, #2 Naples, #3 Daytona Beach, #4 Melbourne. Then Tampa is #6, Fort Myers #7, Port St. Lucie #8, and Pensacola #10. Six more Florida cities rank in the top 50.

St. Pete Beach garnered the #1 spot on TripAdvisor's Top 25 Beaches in the U.S., beating out several Hawaiian Beaches. Additionally, Maderia Beach came in at #9, Ormond Beach #12, Henderson Beach State Park #13, Pensacola Beach at #15, Treasure Island Beach at #16, Siesta Beach #17 and Clearwater Beach #18.

St. Pete Beach was also on TripAdvisor's Top 25 Beaches in America at #5.

To further add to the beach awards, WalletHub ranks Naples as the #1 Best Beach Town to Live in. Sarasota hits #6, Boca Raton #8, Destin #9, Vero Beach #12, Venice #14, Jupiter #22, Jacksonville Beach #24, Fernandina Beach #25.

Navarre, Florida ranks #34 on Money Magazine's list of Top 50 Best Places to Live in the U.S.

Seminole Golf Course is Golf Digest's #11 on America's 100 Greatest Golf Courses list.

#4 Best Place to Start a Business by WalletHub and Forbes' #5 Best State for Business.
The University of Florida is on Forbes' Best Colleges list, at #25, while the University of Miami is #87 and Florida State University is #94.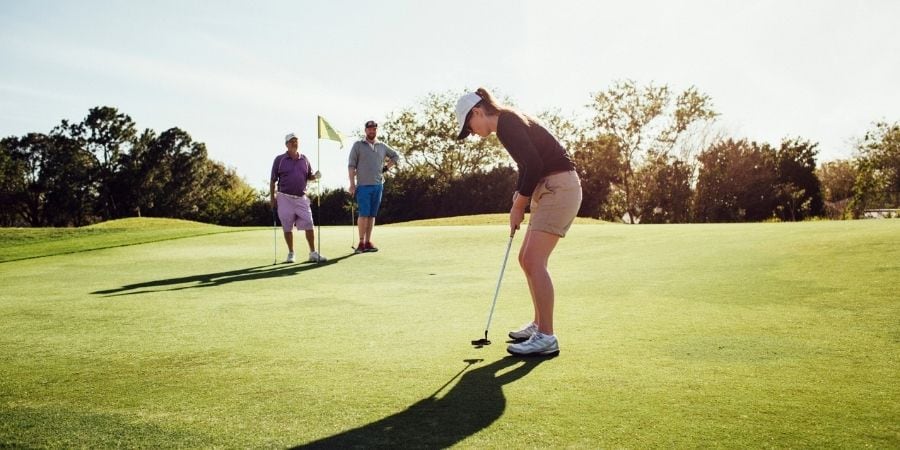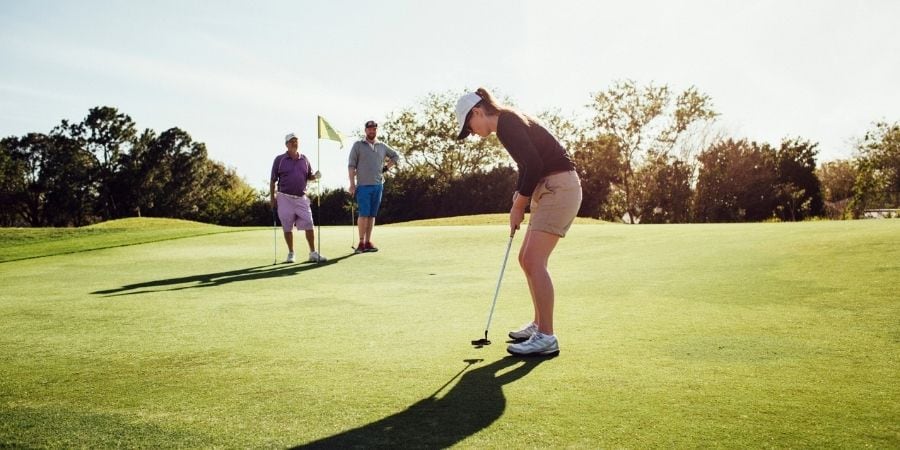 Florida Crime Statistics:
In 2020, the total crime rate in Florida was 2,152.3 per 100,000 inhabitants, down a little over 15% from the 2019 rate [3]. This decrease in crime is in line with crime decreasing across the United States.
We've used data from a combination of sources here, from various FBI Crime Reports to Florida Department of Law Enforcement (FDLF) reports, to various reliable sources to come up with the safest and most dangerous counties and cities in Florida.
Here are a few more crime statistics about Florida.
Crime dropped in Florida for the 50th year in a row.

There were over 75,000 fewer reported crimes from 2020 to 2019 [4].

$1,252,684,229 is the estimated amount of reported stolen property, down 20% from the previous year [3]

From 2007 to 2017, over 1.6 million burglary offenses were reported in Florida [3].

In 2007, 1/3 burglaries were forced entries. Nearly 40% of reported burglaries are done without forced entry [3].
The FBI and Census Bureau are excellent resources for the annual crime statistics, but there are other resources you can check out, like a local crime map that may offer more up-to-date statistics.
Top 10 safest and most dangerous counties in Florida:
According to the FDLF, Duval County has the highest overall crime rate³ with 3,508 crimes per 100,000 residents, while Lafayette County has 540.9 [3].
Highest overall crime rates³ in Florida counties per 100,000 people in 2020.
Duval County – 3,508.1

Alachua County – 3,208.5

Escambia County - 3,181.2

Bay County - 3,122.5

Taylor County - 3,071.0

Leon County - 3,059.6

Okeechobee Co - 2,956.4

Orange Co - 2,804.4

Levy Co - 2,626.0

Columbia Co - 2,618.3
Lowest overall crime rates³ in Florida counties per 100,000 people in 2020.
Flagler County – 997.1

St. Johns County 979.8

Glades County – 940.6

Santa Rosa County - 937.4

Sumter County - 881.1

Union County - 869.6

Jackson County - 802.8

Liberty County - 699.7

Gilchrist County - 662.3

Lafayette County - 540.9
¹ Data includes the offenses of murder, rape (legacy definition), robbery, and aggravated assault.
² Data includes the offenses of burglary, larceny-theft, and motor vehicle theft.
³ Data includes the offenses of murder, rape, robbery, aggravated assault, burglary, larceny-theft, and motor vehicle theft.
Top 10 safest and most dangerous cities in Florida:
Using data collected from the FBI's 2019 Crime Statistics, these are the safest cities in Florida per 100,000 people.
Marco Island - 496.5

Weston - 549

Parkland - 561.7

Satellite Beach - 713

Winter Spring - 779.3

Oviedo - 815.2

North Palm Beach - 911.6

Minneola - 983.5

Port St Lucie - 997.3

Safety Harbor  - 1001.2
¹ Data includes the offenses of murder, rape (legacy definition), robbery, and aggravated assault.
² Data includes the offenses of burglary, larceny-theft, and motor vehicle theft.
³ Data includes the offenses of murder, rape, robbery, aggravated assault, burglary, larceny-theft, and motor vehicle theft.
This data was calculated by eliminating towns with less than 10,000 residents.
Most dangerous cities in Florida per 100,000 people in 2019.
Florida City - 9885

Lake Park - 9065.7

Miami Beach - 8492.7

 Opa Locka - 8096.4

Lake City - 7758.8

Panama City Beach - 7349.6

Cocoa - 5933.9

Leesburg - 5806

Panama City - 5758.2

 Miami Shores - 5628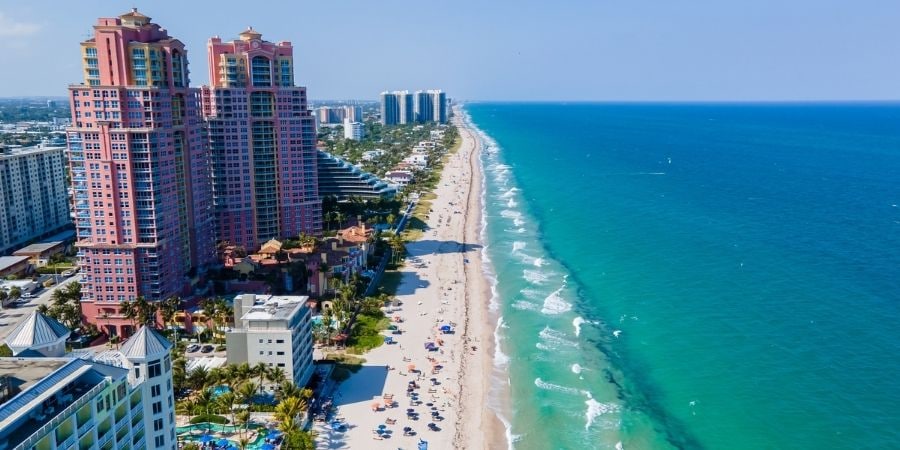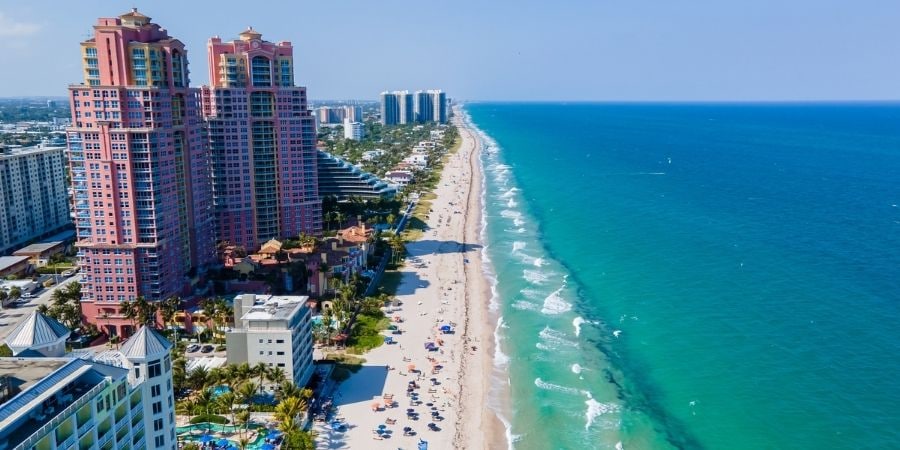 What is the best place to retire in Florida?
What could be better than retiring to a place that's always warm, sunny and offers fun attractions when your family comes to visit? On top of no state taxes and affordable property taxes, it's no wonder so many people call Florida home after retirement.
We've compiled a list of some of the best.
Sarasota is home to some of the largest senior living communities in Florida. Numerous beaches, a rejuvenating hot spring and many nearby parks make it a great place to relax.

Naples' cost of living is higher than the national average. But if you can afford to retire there, then you'll get access to not only gorgeous white-sand beaches but also some of the best golf ranges in the state.

Daytona Beach is both a popular place for tourists and retirees, so you'll have plenty of activities to keep you occupied. Offering an excellent alternative to fast city living and more affluent areas like Naples, Daytona Beach has beachfront and residential living.

Melbourne offers affordable housing options below the national average, lots of green spaces, parks, and miles of unspoiled beaches, making it another great destination for retirees.

Tampa is perfect if you're an active senior that enjoys vibrant nightlife and world-class restaurants as much as beach trips and sports.

Fort Myers has a charming downtown area with a diverse population. This southwestern Florida city constantly has warm weather, and you can expect the temperature to rarely fall below the 60s, even in winter.

Port St. Lucie has a low-key, small-town vibe but still has plenty of attractions. Residents are attracted to the town's low cost of living (even lower than the average cost for Florida state), and safety–it's one of our top 10 safest picks for the entire state of Florida.

Pensacola was named on Market Watch's list of places where you can retire on $40,000, making it an affordable home for a retired senior. An active nightlife, walkable downtown and gorgeous beaches along parks add to Pensacola's charm. Additionally, Pensacola is only a 3-hour ride away from New Orleans!

Lakeland is located halfway between Tampa and Orlando, so it's a car ride away from some of the biggest attractions Florida has to offer. It's home to many senior retirement communities, has a lovely downtown area and is typically warm year-round.
Ocala offers cheap housing and insurance rates for retirees. The median home prices are around $230,000, which is below the national average.
How much does it cost to buy a home in Florida?
County
Median Price
Percentage Difference YoY
Deltona-Daytona Beach-Ormond Beach MSA (Flagler and Volusia counties)
$290,000
+18.4%
Jacksonville MSA (Baker, Clay, Duval, Nassau, and St. Johns counties)
$325,000
+16.5%
Miami-Fort Lauderdale-West Palm Beach MSA (Broward, Miami-Dade, and Palm Beach counties)
$480,000
+20.6%
Ocala MSA (Marion County)
$230,900
+24.3%
Orlando-Kissimmee-Sanford MSA (Lake, Orange, Osceola, and Seminole counties)
$356,899
+18.4%
Pensacola-Ferry Pass-Brent MSA (Escambia and Santa Rosa counties)
$281,000
+17.1%
Port St. Lucie MSA (Martin and St. Lucie counties)
$332,000
+22.5%
[
Source
: Florida Market Reports, Statewide Reports & MSA Snapshot, Annual, 2021]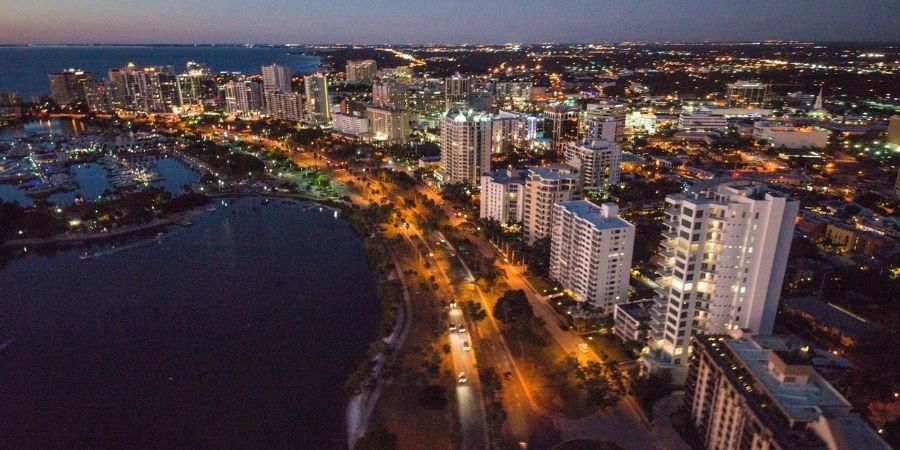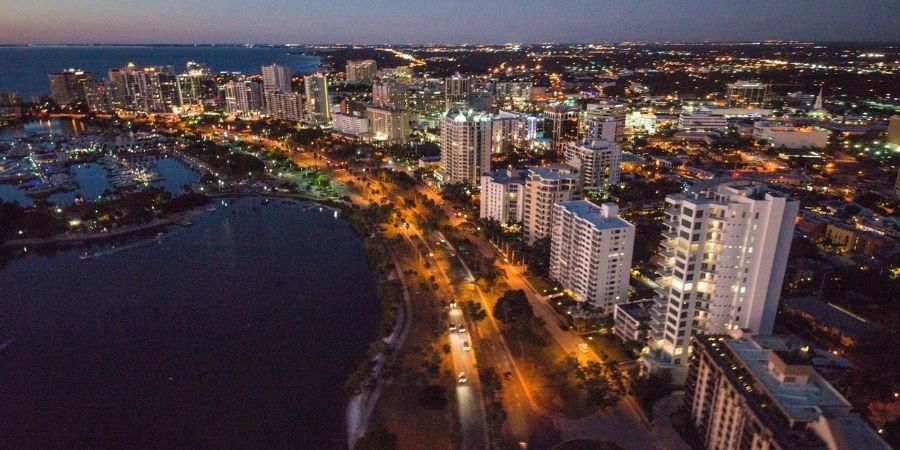 Cost of living in Florida
How much does it cost to live in Florida?
If you're wondering how much an average Florida utility bill is, we've done the research for you.
Of course, when looking to buy or rent, it's always a good idea to ask the realtor the average for that neighborhood, but this is a good place to start.
Electricity: $128.64
Natural Gas: $21.38 (per one thousand cubic feet; not to be confused with square feet)
Internet (50 Mbps; national average): $52.37
Cable: $217.42 (national average)
Basic streaming services (Netflix, Hulu, Amazon Prime, Disney+): $36.96
Combined Water and Waste/Sewage: $101.75 (8,000 gallons per month)
Garbage (Trash): Varies from city to city. Here are a few examples: Palm Beach: $14.41 for a single-family home, Orlando: $20.50 and Jacksonville: $12.65.
Welcome to Florida!
Now that you're in your new home, it's an excellent time to consider installing a home security system.
At ADT, we offer home protection you can trust from the leader in smart home security. From 2-way audio doorbell cameras that help make it easy to see who's at the front door, to indoor cameras that offer crisp, clear images of your kids and pets, we're here to help keep your home safe.
Frequently Asked Questions about Florida
Where is the most beautiful place to live in Florida?
Florida has plenty of beauty in the state, from white-sand beaches to stunning nature trails, national parks and vibrant, thriving cities. Each city has unique properties that help make Florida one of the most beautiful places to live in general.
How big is Florida?
Florida is over 65,000 square miles, ranking as the 22nd largest state in the U.S. It's the most populous southern state after Texas.
How many people live in Florida?
According to the 2020 census, Florida has a population estimate of 21,781,128. Out of this number, 51.1% are female and 48.9% male. Florida is predominantly white at over 77%, with 16.9% Black or African American and 26.4% Hispanic or Latino.
[1] https://www.census.gov/quickfacts/fact/table/US,FL/PST045221
[2] https://research.collegeboard.org/pdf/trends-college-pricing-student-aid-2021.pdf
[3] https://www.fdle.state.fl.us/FSAC/Uniform-Crime-Report/Data-Archives
[4] https://ucr.fbi.gov/crime-in-the-u.s/2019/crime-in-the-u.s.-2019