Whether you're moving across town for a new job or you're finally ready to upgrade from a rented apartment to your very own home, moving can be a stressful experience.
There are a lot of factors to consider when making the next big move. Do you want to hire professional movers or do the move yourself? When is the cheapest time to move? What should you bring with you and what should you leave during a move?
We've compiled a list of common questions you may ask during a move. We've even spoken to some moving experts to get their advice!
Moving Checklist:
Before starting the moving process, create a checklist and budget using professional movers. A list will help answer your questions and make the experience less stressful.
2-3 months before the move:
Figure out if you want to hire professional movers or get your friends to help you during the move.
Call around to several moving companies and go ahead and book your moving dates.
Double-check the moving agreement and make sure it includes what you want. Some movers will only move boxes, while others may not move certain valuables.
Reach out to friends or family and ask if they have any moving boxes. This is also around the time you can start purchasing some yourself.
Pack seasonal or infrequently used items (i.e., heavy winter coats if you're moving in the summer, a turkey roasting pan or books you won't get a chance to read before the move).
Start listing heavier items that may be difficult to sell on Facebook Marketplace, Nextdoor, Craigslist, or other local buying groups.
If you want to do a yard or garage sale, it's a good idea to do it during this time.
Packing tip: Before starting the packing process, make an inventory list. Note serial numbers or receipts. Take pictures. If any items go missing during the move or you need to file an insurance claim, having photographs will make it easier to recoup some of the value back.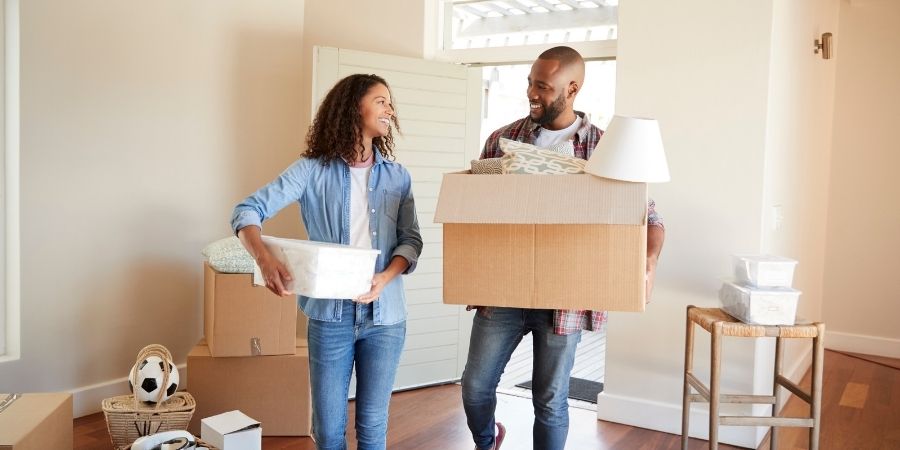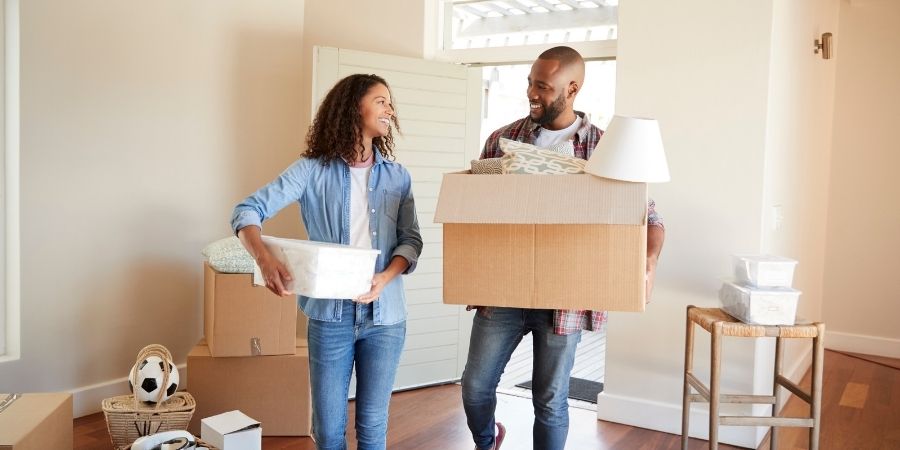 1-2 months before the move:
As you get closer to your move date, you may find that you're packing more and more items. You can prevent a mass packing scramble by starting to pack several months before the planned move.
We suggest packing things room by room. So 1-2 months is the perfect time to pack your guest bedroom, attic, basement and library.
Start the moving purge! Create separate piles for clothes, appliances, electronics and other items you don't want to bring along. Determine what you want to throw out, recycle, donate or give these items away to friends or family.
Don't forget to gift plants or unused electronics!
Continue to list items online for selling; sometimes, selling heavy furniture can take months!
30 days before the move:
Change your forwarding address with the postal service.
Now's a great time to create a meal plan with frozen and refrigerated foods to reduce the amount of food you'll end up tossing during the move.
Some cities or apartment complexes require a parking pass for movers, such as New York City. It's a good idea to make sure you have the appropriate moving permits and licenses in advance.
If you're taking time off work for the move, don't forget to ask off! Also, arrange for a babysitter or pet sitter, if necessary.
Contact your home security company as soon as you know you're moving and make sure you have the following info on hand: when your last day is at your current home when your move-in date is.
If you have professionally monitored DIY home security, you'll want to update your address in the system so they can send help to the correct address.
A month from the move date is a great time to donate used furniture. You can schedule furniture pickup with your local Goodwill, the Salvation Amy or Habitat for Humanity.
14-30 days before the move:
For non-perishable foods you don't think you'll eat, now is an excellent time to collect these items for donating to a local food bank or Feeding America.
If you're a frequent self-mover, now's a great time to purchase items you'll use frequently, such as a furniture dolly, furniture pads and covers, tie-downs for heavy pieces of furniture, etc. If you're moving locally and not a frequent mover, now is also an excellent time to ask your friends if they have any of these items for you to borrow.
Self-movers should ask friends to help them move.
Change your address with your student loan providers or other loan offices, as well as your job's payroll department, your bank and other financial institutions.
Schedule changes on monthly subscription services and update your insurance information. Notify your homeowner's insurance of a change of address, as well as cable and internet providers.
Make sure you have any extra hardware needed for furniture and appliances at least a month before you move since it may take a while for new ones to come into stock.
Bonus Moving tip: If you have access to your new home, you should measure low ceilings in the basement or attic, as well as doorways, stairs and elevators to ensure that your furniture will fit.
What to do 2-7 days before the move:
A week before the move, you can get the whole family involved in making a Moving Day Playlist. It'll be fun to listen to it as you finish packing and then you can take it along on the road during moving day.
A few days before the move is also an excellent time to deep clean your home from top to bottom. Remove picture hooks or nails, and take the time to add any odds and ends into additional boxes. The more likely that you leave your home as it was when you first rented it, the more likely you'll get your deposit back.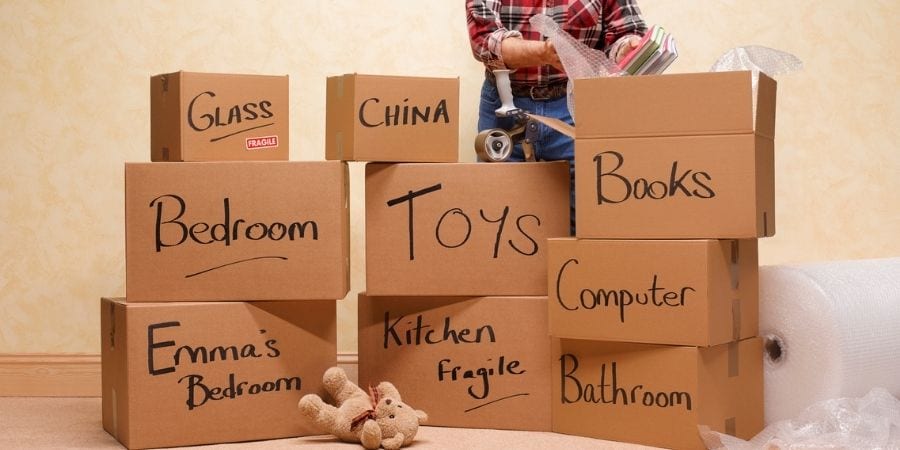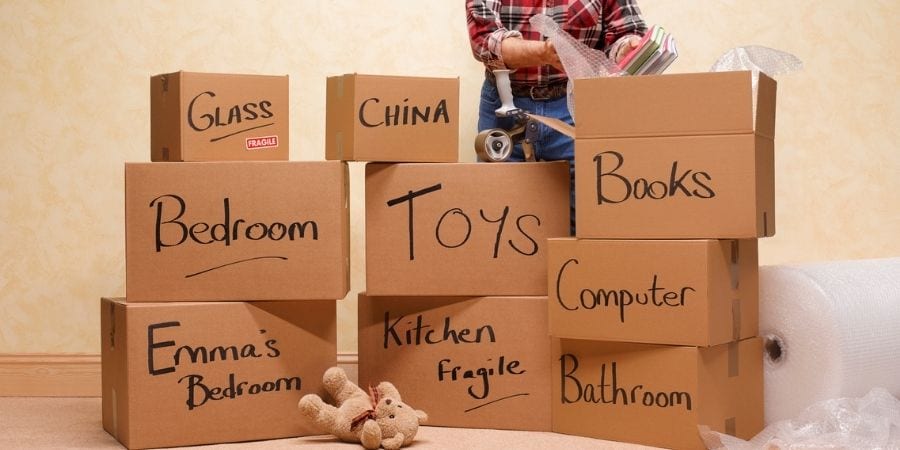 What to do the day before the move:
Pack a Day-of Essentials bag. Include several changes of clothes, toiletries, medications, an extra pair of reading glasses, computer and cellphone chargers or anything else you'll need in the first few days of moving. If your luggage or movers are lost or your packing containers get delayed, you'll have all your must-have items handy.
Pack an additional First Few Days box. This box could include a shower curtain with hooks, keys and basic kitchen and cleaning essentials. Additionally, we recommend adding curtains, sheets and pillows for your bed to this box.
Ensure you have any important documents like passports or birth certificates in an easy-to-access box.
Unplug your refrigerator and allow it to defrost overnight. Add a few towels to absorb any water that may leak.
Detach and drain the hoses to your washing machine.
Make sure you have some cash on hand to tip the movers.
Do a last sweep and wipe down any surfaces to ensure everything is clean and ready for a walkthrough with your landlord.
Empty the contents of your vacuum cleaner.
What to do the day of the move:
If you're not dropping your pets off somewhere else, ensure they're secure during the move, especially since you'll be in and out all day.
Protect hardwood floors by using floor coverings.
Make the bed in your new home. You may not feel up to making it after a long day of moving, and having fresh sheets can make the first night much more comfortable.
Hang sheets for temporary privacy if you don't have your curtains unboxed.
Pack fragile and sentimental items and valuables into your car. Doing this will give you peace of mind that your favorite things are safe.
Have a general game plan for how you want to pack your car or moving truck before starting the packing process. When packing, consider moving all your boxes first, then the mattress, then heavy furniture and light furniture.
What to do after the move:
Update your voter's registration card, driver's license, library card and other items.
Clean the floors and carpet.
Give away cardboard boxes on Craigslist or local Buy Nothing or Nextdoor groups.
Turn on your new home security system.
If you have a DIY home security system, now is the time to set it up again.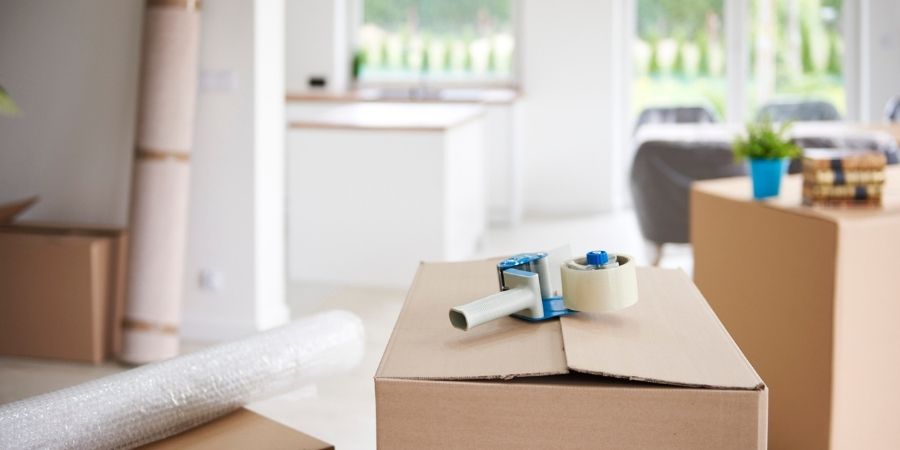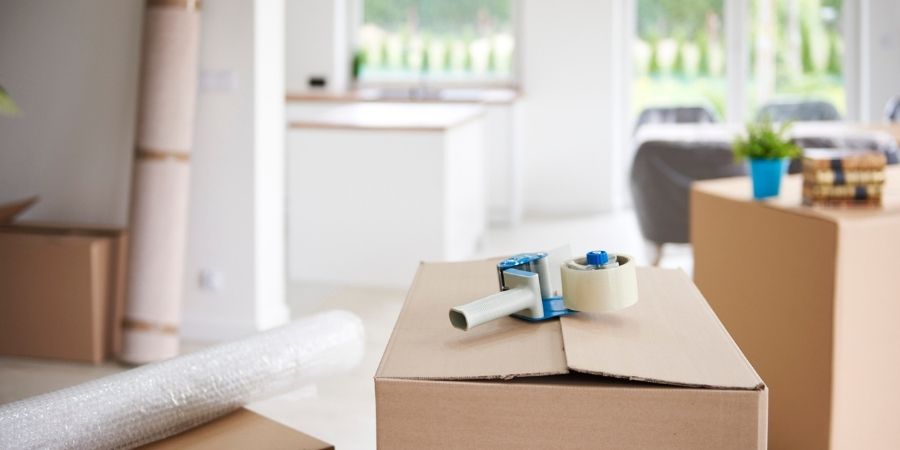 Packing Supply Checklist:
Now that you know what you need to do, it's time to start gathering the supplies! From color-coded labels to moving boxes, here's our exhaustive list of things you need to make your move as easy as possible.
Moving boxes
Packing tape
Permanent markers
Color-coded stickers or labels
Furniture pads or covers
Toolset for any last-minute item disassembling.
Bubble wrap or newspapers; some homes receive Sunday advertisements or coupons, and this is a great way to re-use something that you would otherwise throw away.
Self-moving packing supply list:
Cargo straps, bungee cords, or ropes for securing furniture
Dollies or hand trucks (these are especially valuable if you move frequently)
Work gloves to protect your hands as you move items
Back support brace
Cleaning supply packing list:
Garbage bags
Vacuum or broom and dustpan
Glass cleaners
All-purpose cleaners
Sponges or paper towels
When is the best time to move?
When determining your move schedule, each person is different. Are you looking for the cheapest option for professional movers or the month where you'll get back the most bang-for-your-buck when selling your home?
We've crunched the data to bring you suggestions on the best time to move.
What month is the best to move?
Moving September through April may offer you more flexibility and an overall cheaper moving experience. Many families move during the summer when their kids are out of school because it's the most convenient time. So it stands to reason that if you move during the months when kids are commonly still in school, you're more likely to find better deals and less competition with other people who are moving.
Consider your budget and school or work schedules to determine what will work best for you.
Cheapest: Mid-September through April

Best for families with kids: May through September

Best months for selling your home: June and July offer an increased demand for homes, allowing you to set a higher price. However, summers tend to be more competitive.

Worst months for selling your home: January and February. While this time is the worst time to sell your home, these are excellent months if you are trying to buy a new home.
What week and time of day are the best to move?
Since many people start and stop their leases at the beginning and end of the month, moving companies often have less business during the middle of the month. So you may find a good deal mid-month.
Many people are off work or school during the weekend, so prices increase. There is also more competition for professional moving services, so you'll likely end up paying more for the convenience of moving during the weekend.
Consider moving during the weekday or middle of the week, Monday through Thursday.

The middle of the month tends to have the best deals.

Moving in the early morning may give you more competitive pricing, around 8 am-10 am.
Bottom line: If you're looking for the most affordable moving time, your best bet is the second or third week of September through April, during the weekday (Monday-Thursday), from 8 am-10 am.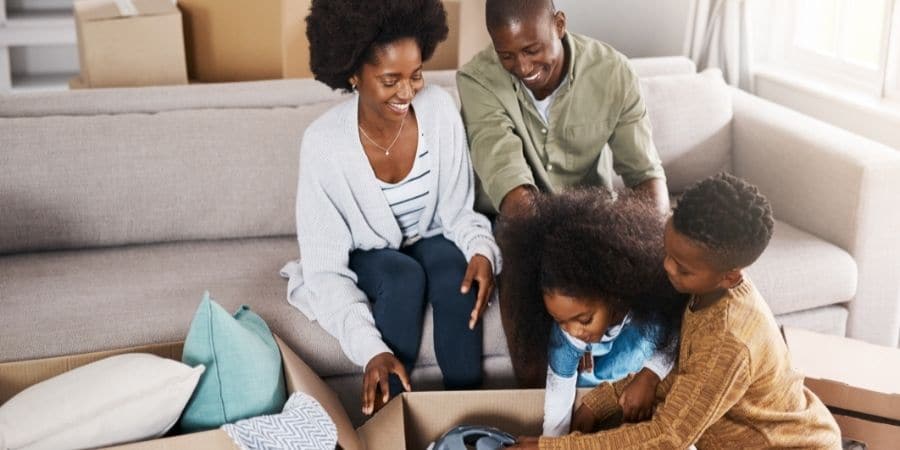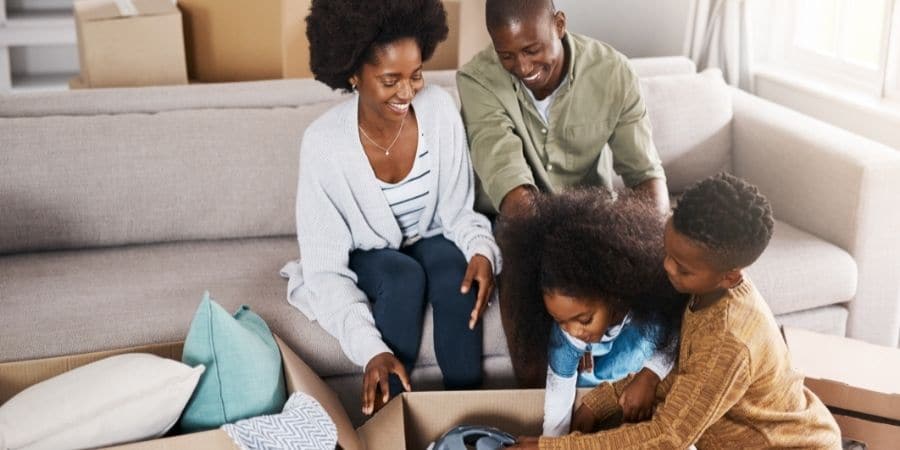 How many moving boxes do I need?
When deciding on the number of moving boxes for a move, how many you need will depend on the size of your home and the number of items you have.
How long you've lived in a place often determines how much stuff you have, so if you've lived somewhere longer, you can count on needing more boxes.
In an independent study, we found that the number of boxes our self-movers used varied wildly. One respondent even admitted they often use over 100 containers when they move.
So what sort of questions should you ask yourself to determine the correct number of boxes?
What sort of lifestyle do you have? Are you a minimalist or a collector? Or maybe somewhere in-between?

How many people live in your home? More people means more belongings and more boxes.

How long have you lived in the home or apartment? Several of our respondents were surprised by how much stuff they accumulated over the years. Unsurprisingly, many of the frequent movers we surveyed had less stuff, while families had more.
How Many Moving Boxes You Need Based on Home Size
# of Bedrooms
# of Boxes
Studio
10-20
1-Bedroom Apartment or Condo
20-40
2-Bedroom Apartment or Condo
40-60
2-Bedroom Home
60-80
3-Bedroom Home
80-100
4-Bedroom Home
100-120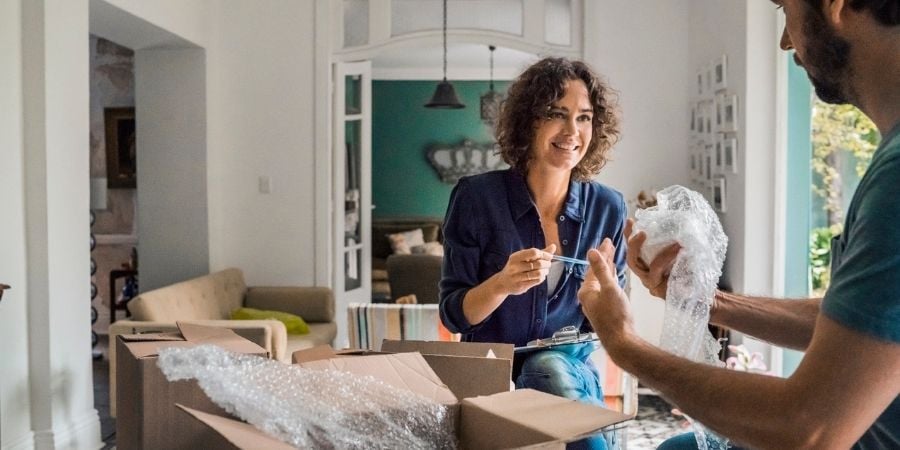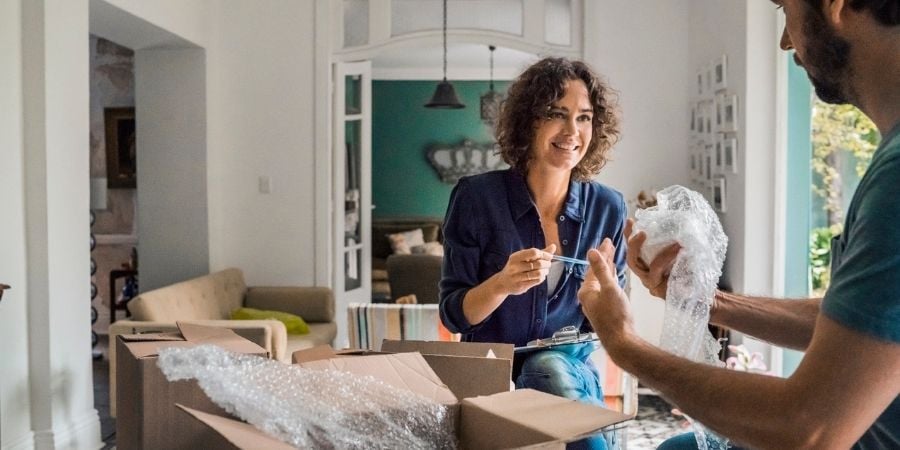 Ideas for Packing the Kitchen:
When wrapping dishes, place them on their sides. If you pack them flat, they are more likely to break.

Wrap delicate glassware in aprons, towels or even clothes. This decreases the number of boxes you'll need and keeps these fragile items safer.

When packing the kitchen, it's crucial to pack the boxes as tightly as possible. If there are any remaining holes or gaps, put linens or bubble wrap inside the holes to fill them up.

Don't forget to mark the box as fragile so movers can be extra-careful!

Mark cabinets with painter's tape when they're empty, that way, you're not repeatedly opening the same door.
How to Label Your Boxes:
Many of our self-movers had excellent suggestions for labeling boxes, from using a clever system to make sure essential boxes are opened first to hacks that keep your items neatly separated.
Label boxes in a way that will make them easier to unpack later. You could use color-coded packing tape, different colored boxes or add a sticky note on each box.

When labeling boxes, add the room's name and where to place the box. For example, label your toiletries "bathroom." You can even go a step further and label important boxes like "open first" for each room.

Label each container according to its exact location in the home, such as "left kitchen drawer" or "under stove drawer."

If you're more of a lover of lists, you can keep notes with corresponding information. For the bathroom example, the box might say "Bathroom 1," and you could list the contents of that box: toothbrush, soap, etc. Because it's listed as 1, you'll know you should open that box first.

Labeling boxes based on weight, fragility, and whether they should or shouldn't be stacked.
Now is the perfect time to upgrade your home security system to ADT.
You've done it! You're in a new home, and everything seems new again, even your furniture. While moving can be stressful, home security is one thing you can leave to us. With professionally monitored services and live customer service representatives ready to answer your questions, we want to help keep you and your valuables safe.
Let us help keep your new home safe and secure. Give us a call, or live chat with us today.
Frequently Asked Questions about Moving
How long before moving should I start packing?
It's a good idea to start planning a move early, around two to three months out. You should start packing about 2-3 weeks before you're ready to move and be mostly finished about a week from your moving date. The sooner you prepare for a move, the less stress you'll have when moving day comes along.
How much does it cost to hire local movers?
The price of movers varies depending on what you need. Are you looking for local movers or cross-country movers? Local movers could cost from $25-50 per hour per mover. If you're looking to move a 2-bedroom home, you'll want three movers for six hours. This means you're looking at around $900. And if you decide to go the full-service moving route, where your movers pack everything in your home, that would cost even more.
What should I leave behind when I move?
So you've gone through your clothes, furniture, and appliances, and now you're wondering what else you should leave behind in the move. Here's a list of five other items you should toss before heading to your new home:
Toiletries like half-used soap or old makeup and anything else that takes up space but is still easy to purchase can be tossed.

Bulky or heavy kitchen appliances you never use or canned food. Consider donating canned goods or perishables to a local food bank.

It's likely you've been sleeping on the same old mattress for years, so consider taking the time to purchase a new one. (Mattresses take up a lot of space and are not that costly to replace.)

 Worn out linens, like sheets, towels, or comforters. These items tend to take up a lot of space and get worn down after several years of use.

Anything you have too much of, like cookware, dishes, glasses, office supplies, or miscellaneous chargers from old electronics that you no longer use.

Books or magazines that you never got around to reading.

Décor may not match your new apartment or home, like curtains, rugs, lamp fixtures, living room sets or bedroom furniture.

Knick knacks or items that no longer hold sentimental value.

Holiday decorations, since these items are sometimes delicate and easily replaceable.

Toys, games, or other items you or your children may have outgrown.
How much should I tip movers?
If your movers went above and beyond while moving your items or extended their time well beyond the initial timeline, you might consider tipping them. 
The standard is $4-5 per hour, per mover if you do. Alternatively, you could also tip 5-10% of the total moving cost, then divide that among the number of movers.
How much should moving boxes weigh?
A good rule of thumb is that each box should weigh less than or around 50 pounds, no matter the size. This makes it easy for you or the moving company to move the boxes around.
Can I take my home security system with me when I move?
When moving with your ADT system, you have the option to take your home security system with you, activate an existing system or install a new one when you get there. 
If you have Blue by ADT, the only thing you need to update is your address. And that's only if you have professional monitoring.