When you calculate the money you're spending on hiring a full-service company, on top of all the closing expenses, moving costs can really add up.
We've compiled an in-depth article covering everything from the number of boxes you may need during your move to where you can buy new boxes. With these tips, you may even be able to move everything in your home with cheap or free boxes!
How many moving boxes will I need?
Unfortunately, there's no hard and fast rule to the number of moving boxes you'll need. But these are some things to consider to help you get on the right track.
The number of people in your home.

How long have you been in your current residence? The longer you've been there, the more boxes you'll likely need.

Your lifestyle may also play a factor in the number of boxes you'll need. If you tend to live minimally, you'll have fewer things and need fewer boxes.
How Many Moving Boxes Do You Need?
# of Bedrooms
# of Boxes
Studio
10-20
1-Bedroom Apartment or Condo
20-40
2-Bedroom Apartment or Condo
40-60
2-Bedroom Home
60-80
3-Bedroom Home
80-100
4-Bedroom Home
100-120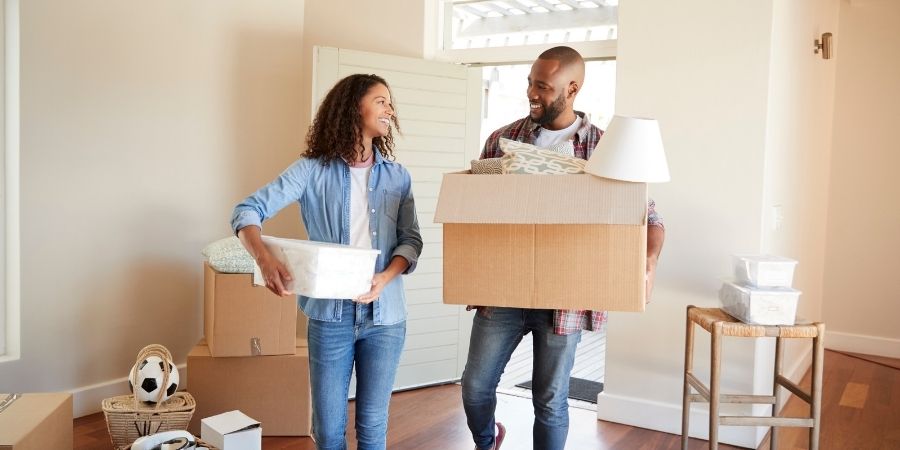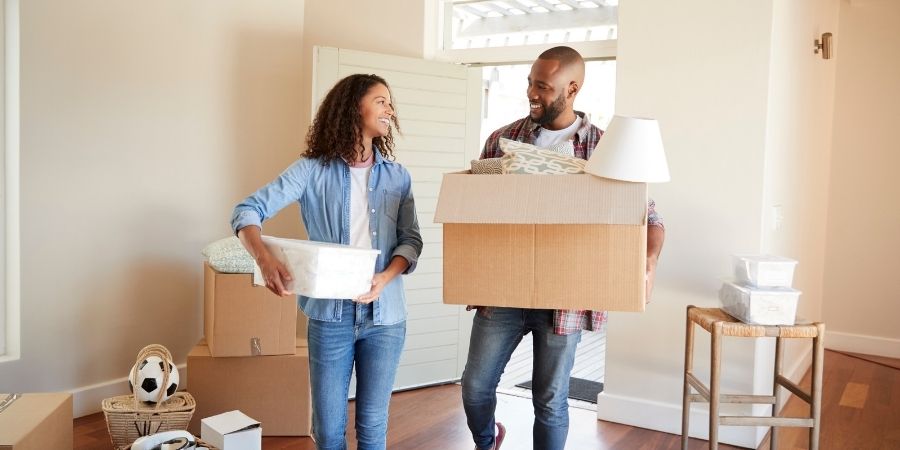 How do I choose the right type of moving boxes?
If you plan your move far enough in advance, it should give you enough time to develop a plan based on the type of items you have.
Plastic containers are great all-purpose boxes that hold up well in moisture and easily stack, making them perfect for long-term storage.
Corrugated or heavy-duty cardboard boxes feature multiple layers of cardboard and are good general-purpose boxes for many items, from books to delicate glassware. Because cardboard can degrade, we don't recommend using them during long-term storage.
A good rule to consider is that heavier items should always go in smaller boxes. If a box is too big and heavy, you may not be able to move it on your own, or your movers may request that you repack the box.
Pro Tip: If your cardboard box doesn't have handles, here's how to make some:
Carefully put the end of a boxcutter into one side of an empty cardboard box.

Slice four lines into the shape of a rectangle.

Push the flap out and repeat on the other side.

Now you've got two box handles!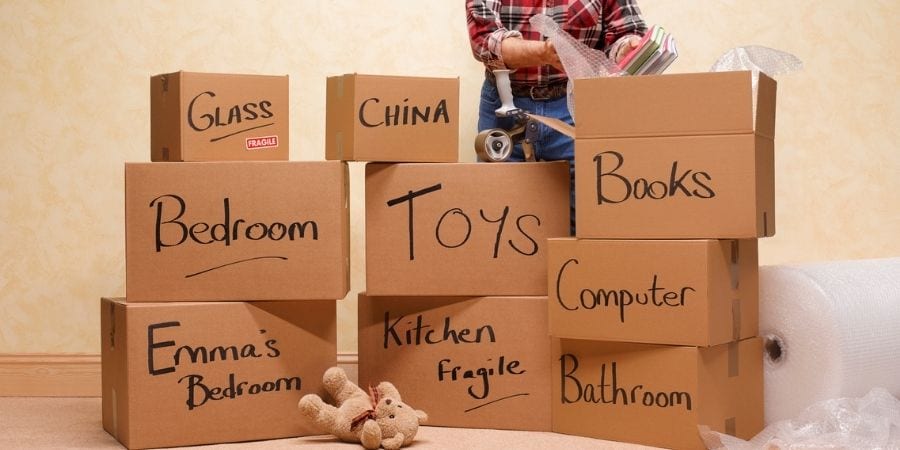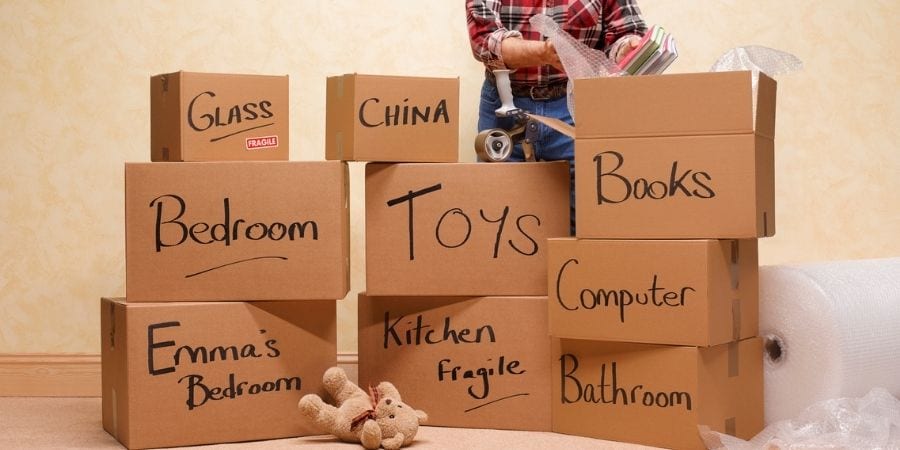 How much do moving boxes cost?
The cost of moving boxes varies depending on several factors:
Where the containers are purchased.
There is a noticeable price difference between big-box stores, office supply stores and local storage moving services.

What type of boxes you need, especially if you want a specific one like a wardrobe box or a higher-quality moving box.
Regular cardboard moving boxes are the cheapest, corrugated cardboard boxes are slightly more and plastic containers are the most expensive.

Whether or not you purchase individual boxes or moving kits.
Some companies offer a deal when you buy 1-bedroom or 2-bedroom kits, but overall, kits are fairly pricey if you don't need all the boxes that come in them.

The box size.
A small box will be the cheapest, while an extra-large box will be the most expensive.
Extra small boxes and small boxes: $0.90 to $2.00
These boxes are commonly sized around 14 to 17" x 10 to 14." They are best suited for heavier items like books or grouping small or fragile items together. They're also an excellent option for anything from office supplies or tools to pantry items.
Medium boxes: $1.00 to $2.80
These boxes were commonly sized around 17 to 21" x 11 to 18." Fill your medium moving boxes with pots and pans, toys, clothes or decorative items around the home.
Large boxes: $1.60 to $4.20
These boxes are commonly sized around 21 to 27" x 15 to 18." Large boxes should be filled with blankets or other linens, winter clothes or your lighter pots and pans or other kitchen items.
Extra-large boxes: $2.80 to $5.60
These boxes are commonly sized around 22 to 24" x 18 to 24." Use them for large or light items like pillows, comforters, shoes, duvets or bedsheets.
The lowest prices were simple, one to two-layered, non-corrugated boxes, while the higher prices included heavy-duty or corrugated boxes.
**All prices rounded up to the nearest tenth.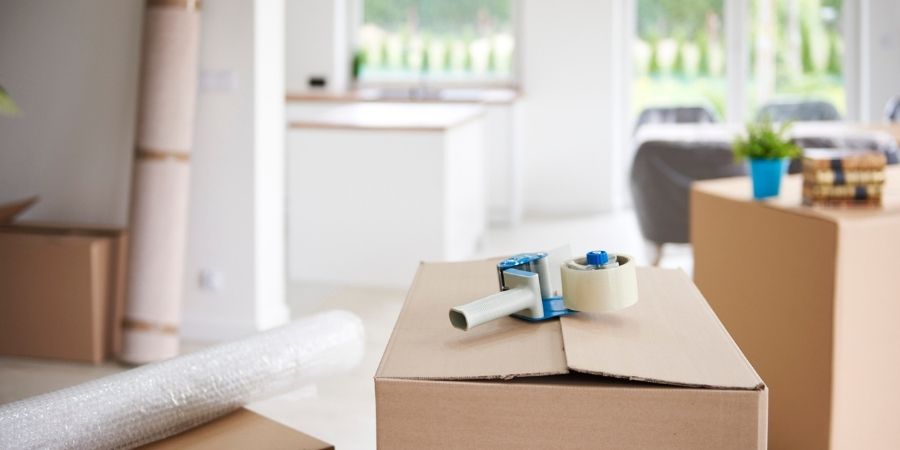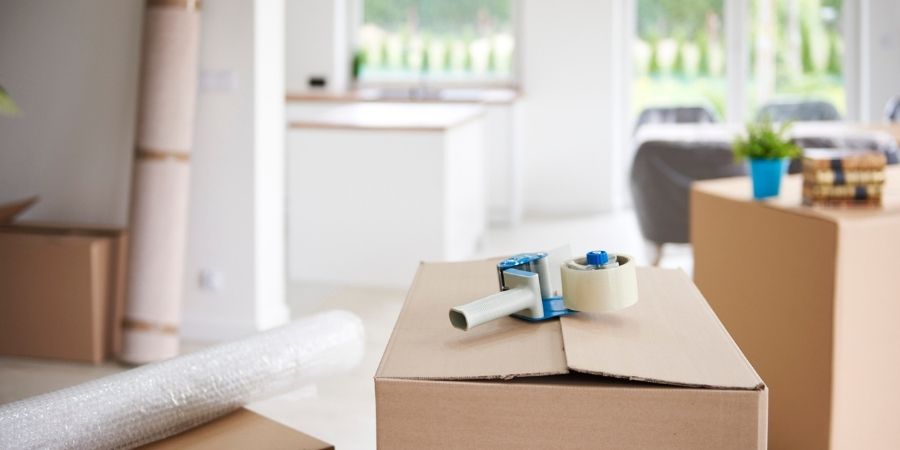 Where to buy quality moving boxes?
Most moving companies will offer you the option of buying boxes, but if you'd rather choose your own, there are plenty of other stores that sell them.
Look for moving containers at:
Big-box stores (Walmart, Target)

Office supply stores (Staples, Office Max)

Home improvement stores (Lowe's, Home Depot, Office Depot)

Offices of storage or moving companies (Public Storage, U-Haul)

Local movers will also often give you the option of buying their boxes

Online retailers (Amazon, Uline)
These stores are ideal if you'd prefer to purchase moving kits or specialty boxes, like wardrobe moving boxes or plastic storage boxes.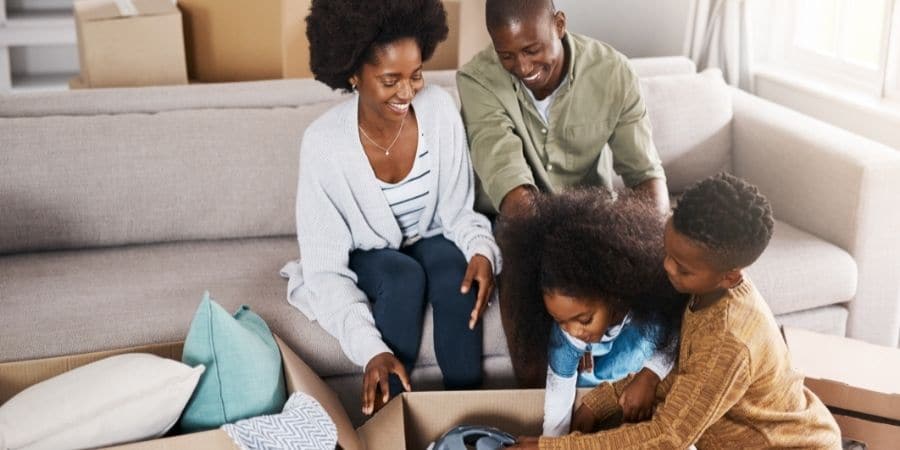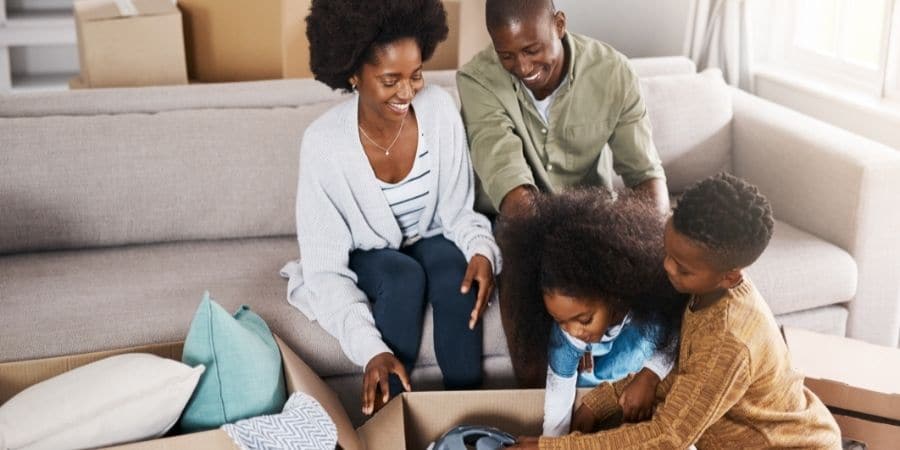 Where can I get free moving boxes?
Many stores bring in large shipments of various items throughout the week. Whatever boxes are leftover at the end of the day are thrown in the baler for crushing. Many people are more than happy to save a few boxes from the baler since it means less time for them.
This list is by no means exhaustive, but it's a great start! You may get lucky with some of these businesses by asking them while you're out and about. However, for the best results, we recommend calling a day or two in advance to ask if someone will hold a few boxes for you.
Grocery Stores
We conducted an independent moving survey, asking both professional movers and people who have moved a time or two to give us their best tips.
One favorite is the boxes eggs are delivered in. They are sturdy and have handholds for transporting your things.
Grocery stores restock their shelves frequently, so they're a great first stop. When you're at the grocery store, make sure to request a few of their sturdiest boxes from moving:
Produce boxes, especially ones for apples, oranges and lettuce

Egg boxes

Detergent boxes
Universities, libraries or campus computer labs
Universities and libraries often receive book shipments and need big, sturdy boxes to hold these books. They may be more than happy to send you home with a carload of boxes.
Students often buy books from online retailers, so if you don't have luck in the university bookstore, it may be worth your time to check out the mailroom.
If the campus has printers in the library or computer labs, look for copy paper boxes.
Tip: If your move overlaps with the start or end of a new semester, you'll have a better chance of grabbing boxes as students move in or out of their dorms. Make sure you speak with a campus official.
Big box or office supply stores like Home Depot, Walmart, Target or Lowe's
While you can certainly buy moving boxes at any of these stores, you may also luck out and get free boxes… If you know where to ask. See if management will hold a few boxes for you the next time a shipment comes in.
Copy paper often comes shipped to the stores in large, sturdy boxes. These boxes are relatively uniform in size and are perfect for hauling books.

You have a few options if you're going to a big box store. Walmart often unloads their boxes in the night, making it the perfect time to grab a few last-minute ones before they're crushed.

The local copy shop may also have paper case boxes they're willing to part with.
Your favorite fast food or coffee joint
You may not have thought about this before, but your favorite burger chain has its fair share of large, usable boxes. They get plenty of french fry and chicken nugget deliveries, which are some of their sturdiest boxes.
It's worth noting that while these are neat, uniformly sized boxes, they may also come with a "fast food" or fry odor.
Many coffee purveyors get shipments on a weekly basis, making them an excellent place to call up and see if they'll hold a few boxes for you next stop you stop by for your morning cup of coffee.
Hospitals or nursing homes
You should be particularly respectful at both nursing homes and hospitals when trying to get free boxes. Nursing homes often receive large boxes of supplies, just like hospitals. In order to get these boxes, it's best to reach out to the janitorial staff before your visit.
Tip: You'll want to inquire with someone about their shipping/receiving area.
Liquor stores
These often uniform, sturdy boxes are great for moving, considering they need to transport heavy bottles and cans. Additionally, sometimes you may luck out and find a box with glass dividers included.
Craigslist
Craiglist is still alive and kicking. It's still an excellent option not only for free boxes but free moving furniture, too. You can often request someone to leave their cardboard on the curb.
To find them, you can either use the search bar for "free moving boxes" or "free cardboard boxes," or you can go to the For Sale section, then click on Free.
In your work office
If you work in an office, consider asking the receptionist for any extra boxes. Your office building might also have a recycling area in the mailroom, too.
Social media
Your social media profiles are a great way to track down free moving boxes. Consider asking your friends if they have any boxes they no longer need.

Various local social media groups, including local Buy Nothing.

Facebook Marketplace.

Nextdoor.
Other retail stores to consider: Automotive stores, hardware stores, dollar stores and department or shoe stores
As we've mentioned, there are many different ways you to get free moving boxes. But what is the best method to be successful?
Call before closing and speak to the Leader on Duty. Ask if they'll set aside some boxes for you to pick up the following day. Be polite and thank them whether they're able to help you or not.

Some 24-hour stores add new inventory to their shelves around midnight or 6 am before the first shift happens. If you're in a time crunch, it might be worth it to drive by and see if you can find empty boxes as they're unloaded.

Plan on calling ahead to several stores so you can drive by them all at once.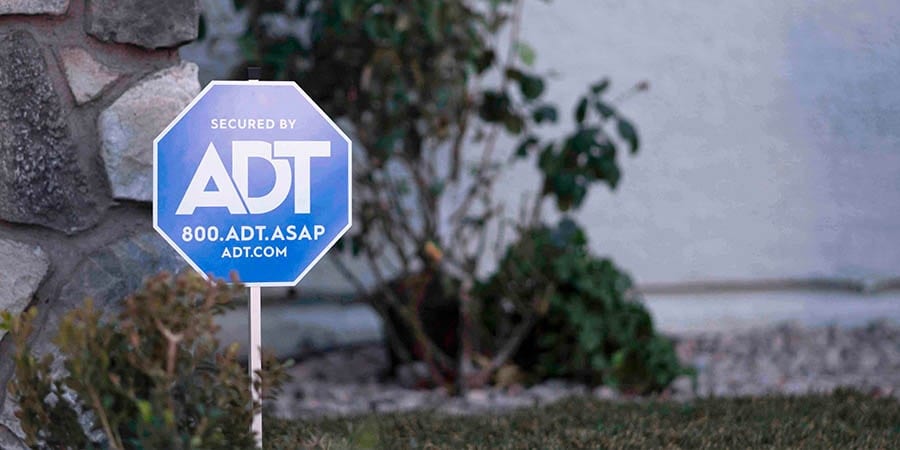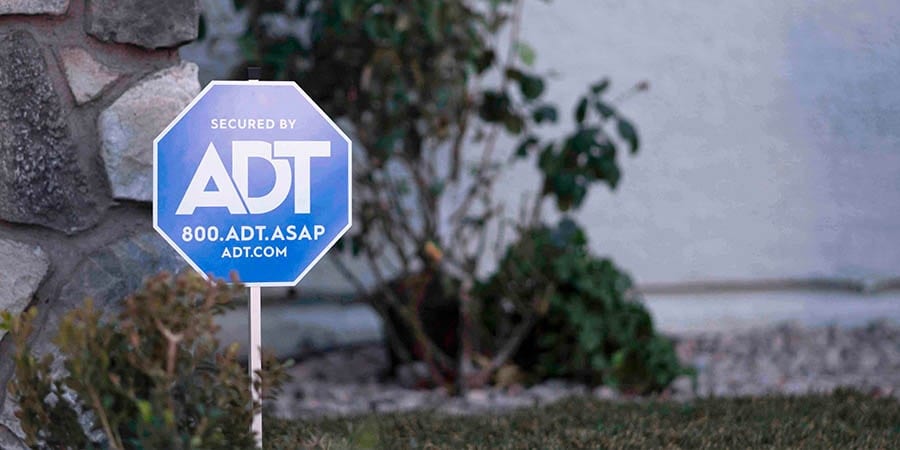 Help protect your home and its valuables with ADT.
Once you move into your new place, it's a great time to upgrade your home security. At ADT, we make it easy for you to keep an eye on your home with remote viewing, smart home capabilities and professional monitoring.
Whether you need to update your fire alarm in your new home to the latest technology or you want to add outdoor cameras, ADT helps protect your home from burglars, fire, flood and more.
Frequently Asked Questions about Moving Boxes
What packing supplies do you need?
A general packing list should include several sizes of moving boxes, packing tape, permanent markers, color-coded stickers or labels, furniture pads or covers, a toolset for any last-minute disassembly and bubble wrap or newspapers to cushion your items.
What do you do with your boxes after a move?
You can recycle your cardboard boxes, choose to flatten them down for storage or give them away for free in a local social media group. For plastic boxes, you can keep them around to store seasonal items when they're not in use, like the turkey roasting pan or Christmas directions in summer, or beach towels and lightweight clothes in summer.
Since most moving boxes are recyclable, you should avoid throwing them away and consider giving them to someone else who might find them helpful.
What is a corrugated cardboard box?
The difference between a corrugated cardboard box and a regular cardboard box is that corrugated boxes are made up of three layers. The middle layer features a fluted design that helps add durability.