Every 90 seconds a home fire starts somewhere in the nation
July 15, 2016. Every 90 seconds, a house catches on fire and a family can lose their irreplaceable possessions, entire home, or even a furry member of the family. Sadly, 500,000 beloved pets are injured or killed in house fires each year. Learn how you can protect your pet and home with ADT pet cameras and a pet monitoring system.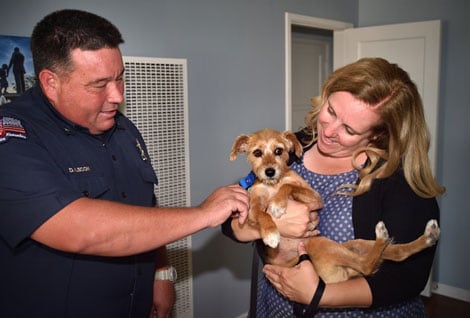 Amber and Fiona
Amber and Fiona are a typical little family. Amber is a fifth-grade teacher and Fiona, a Yorkshire Terrier mix who spends most of her time lounging in her doggy bed while Amber is at work.
Fiona means the world to Amber and Amber is Fiona's entire world. Amber would not know what she would do without her furry four-legged best friend.
Amber knows you can never be too careful when it comes to pet safety. She relies on ADT for her pet safety and pet monitoring needs. Amber needs all the help she can get and the extra set of eyes watching over her home and beloved Fiona.
Without monitored smoke detectors, helpless Fiona would not have a chance."
Monitored Smoke Detectors Help Save Pet Lives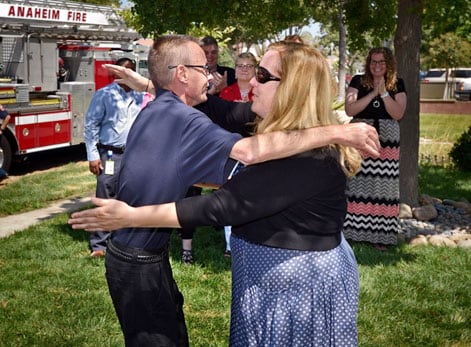 Amber left for work like any other morning, said goodbye to Fiona and was off. Little did she know, her garbage disposal would set on fire not long after she left for work. The kitchen filled with smoke and no one was home to tend to Fiona, who was snuggled in her doggy bed, asleep. Without monitored smoke detectors, helpless Fiona would not have a chance.
Within seconds Amber's ADT monitored smoke detector sounded while the house was consumed with smoke. ADT instantly received the signal and tried to notify Amber.
Since Amber is a teacher, it was almost impossible to alert her in time before the fire spreads. After no answer, ADT called 911 and the fire department was dispatched within minutes. House fires double in size in as little as two minutes, so ADT knows every second counts when it comes to helping to save lives.
"I Just Hugged Her."
When the first reponders arrived, they found Fiona in the kitchen, which was filled with smoke. The firefighters got Fiona out of the burning kitchen while they put out the flames.
Amber was notified by the school about the fire. When ADT could not get in touch with Amber, they had called her school so they could inform her. Amber rushed home worried her precious Fiona would be gone as well as her home.
As soon as Amber arrived and saw her beloved Fiona outside scared to death and covered in soot, the relief went through her body and she rushed to Fiona. "I just hugged her," she stated.
Fiona Wouldn't Have Had a Chance
Monitored smoke detectors help save lives every day. Dan LeCon of Anaheim Fire & Rescue said, "Had there not been monitored fire protection in the home, little Fiona probably wouldn't be alive today." It does not take long for a house fire to destroy a home. Dan says, "Another twenty minutes, the whole house would have been destroyed."
Amber could not be more grateful to the firefighters and relieved her little Fiona is safe and unharmed. "Fiona is my best friend. She's very protective of me and very sweet." Because of ADT's monitored smoke detectors and the brave and speedy firefighters, Fiona was okay and Amber's house was salvaged.
Watch Your Pet's Secret Life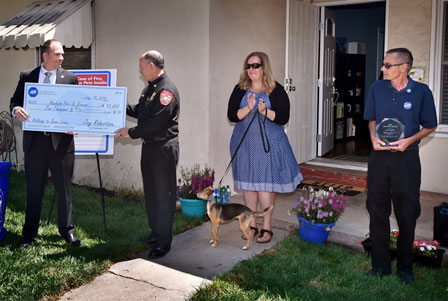 Pet safety is nothing to take lightly. Pet monitoring systems are perfect for keeping track of your pets while you are away. Investing in pet cameras for your home will enhance your pet's safety and your home's security.
If you get a call from ADT that there is a disturbance in your home or if your monitored smoke detectors have picked up smoke, simply view your home camera footage live on ADT's Pulse App with your smart device or computer.
These cameras can keep an eye on your pets when you're not home. You'll know if your pets are in any immediate danger. You can also find out if they're getting into mischief, or discover if your pets really do have a secret life.
Do not fret that you could lose your precious pet to a house fire. ADT pet cameras and monitored smoke detectors help save lives like Fiona every day. Be like Amber and put yourself at ease.
Share how ADT has helped protect you
Tweet @ADT & share your #ADTSaves story with us on Twitter.
Customers Tell Their Stories
The ADT LifeSaver Program recognizes outstanding ADT professionals who helped save a customer's life.
`
"That call from ADT helped save our lives. And the fast response of the fire department helped save our house."
- Amy S., Wayne Township, IN