The Silent Killer Has Many Clever Ways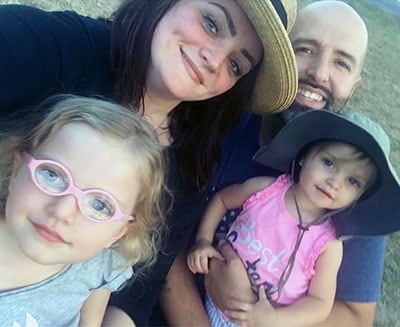 On the evening of June 28, Brian DiGrazio was driving his wife Jackie's car, a Hyundai which has a push to start, keyless ignition. The couple's two children, two-year-old Olivia and four-year-old Emily, had fallen asleep in the back. As Brian parked the car and put the garage door down, he failed to realize the engine was still on. "I had the keys in my pocket and didn't hear the engine running as I closed the garage door and went inside," said Brian.
As the family slept that night, deadly amounts of carbon monoxide spewed out of the garage through a common space and into the attic of the house.
At approximately 3:25 am the ADT CO detector in the DiGrazio's kitchen activated, sending a signal to ADT emergency dispatcher Fred Cannon at Knoxville Customer Care. Fred called the DiGrazio home and told Jackie of the alert and advised her and the family to get out immediately. Fred hung up and immediately called local Lee County 911 which dispatched Estero Fire Rescue.
Using portable detection devices, firefighters determined there were high levels of the "silent killer" seeping from the garage into the home, levels of carbon monoxide were reported as high as 63 ppm. It took several hours for large fans to air out the house, and while that was happening, to be safe, the DiGrazio's spent the night at a local motel.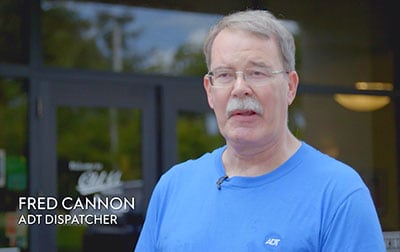 Without ADT protection and a fast response from Estero Fire Rescue, the DiGrazio's believe they would've gone to bed that night and not woken up. "The next day I called ADT and ordered three more carbon monoxide detectors, exclaimed Brian.
Like so many families who are saved by ADT and local first responders, the DiGrazio's were anxious and grateful to meet their rescuers during a celebrated ADT Lifesaver Event, particularly Fred Cannon their ADT Emergency Dispatcher who flew in hundreds of miles from Tennessee to meet the DiGrazio's face to face.
The silent killer is a clever killer. Who would ever think a push to start car sitting quietly in a garage could represent such danger? But fortunately, the silent killer was thwarted again by the always on combination of ADT and its close alliance with local first responders.
Share how ADT has helped protect you
Tweet @ADT & share your #ADTSaves story with us on Twitter.
Customers Tell Their Stories
The ADT LifeSaver Program recognizes outstanding ADT professionals who helped save a customer's life.
`
"Without the carbon monoxide detector we would've gone to bed that night and never woke up."
- Jackie DiGrazio, Estero, FL