Are you a first-time dog owner? If so, have you taken the proper steps toward puppy-proofing your house? Our 6 tips will help you prepare for that new puppy!
Secure your yard
Remove dangerous plants
Do a deep clean
Plan your exits
Get the right door
Prepare for the worst
You may not realize it, but simple things like the plants in your garden, or objects lying around the house, can be hazardous to your new pet. You might also think about strengthening elements of your home security system before bringing your new friend home—for his safety and yours.
Here are some puppy-proofing points to consider.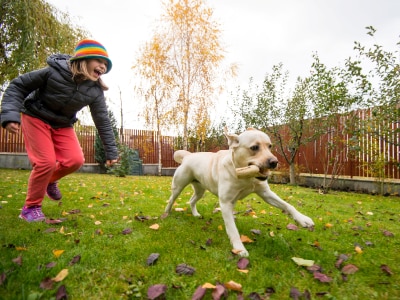 Secure your yard
One of your first considerations as a first-time dog owner should be what your puppy's daily routine will look like. Will you let it play in the yard, or will you bring it to a dog park? If at-home exercise is in your plan, installing a fence is a must.
For example, if your puppy's breed is known for digging, you may want to have a fence installed with the base buried underground to prevent tunneling.1 If your breed is known for jumping, you will need to purchase a fence that is tall enough to prevent airborne escapes.2
Remove dangerous plants
When considering potential puppy-hazards in your yard, consider the type of plants that grow there. Some plants can be poisonous to dogs when eaten. According to the Pet Poison Helpline some of these dangerous plants include:3
Autumn Crocus
Azaleas
Cyclamen
Kalanchoe
Lilies
Oleander
Dieffenbachia
Daffodils
Lily of the Valley
Sago Palm
Tulips
Hyacinths
Either remove any dangerous plants from your yard, or be sure that your pet can't access the plants without your supervision.
Do a deep clean
Puppies love to chew on just about anything, which can make them more prone to choking. Before your puppy comes home, do a deep clean to remove any small items, like coins, bottle caps and marbles from the floor that could get caught in its throat. While puppy-proofing, be sure to also check under chairs, couches, tables and beds for any choking hazards.
Plan your exits
Even though you may think of your new dog as an addition to your home's security, it can change the dynamics of your everyday routine, making your home more vulnerable. For example, with a new dog, you'll be leaving your home more frequently to go on walks or to take your puppy to the dog park. If you're the type of person who tends to forget to lock the front door, ADT allows you to lock your doors remotely through your phone with the Pulse app.
Get the right dog door
If you plan on installing a dog door, be sure it has safety features that can prevent an intruder from entering your home. Many "smart" dog doors have fobs that can be attached to your dog's collar. The sensors on the dog door will only unlock when the dog comes near to exit or enter.
Prepare for the worst
Leaving your puppy at home while you are at work can understandably cause anxiety for a first-time dog owner. To help ease some of the stress, be sure that your security system is connected to your smoke detectors. In the case of a fire, an ADT-connected home can alert your local fire station, possibly saving the life of your pet.
Bibliography
Writers, Staff. "Hot DIG-gity Dog – Solutions for Dogs That Like to Dig." American Kennel Club. July 14, 2015. Accessed January 29, 2018. http://www.akc.org/expert-advice/training/common-behavior-issues/solutions-for-dogs-that-like-to-dig/.
Ray, Jasmyne. "Puppy-Proofing Tips For Your Home And Yard." American Kennel Club. July 27, 2016. Accessed January 29, 2018. http://www.akc.org/content/dog-care/articles/puppy-proofing-tips-for-your-home-and-yard/.
"Top 10 Plants Poisonous to Pets." 2018. Accessed January 23, 2018. http://petpoisonhelp.wpengine.com/poisons/.