If you're hosting a summer bash this year, chances are you'll want to have it outside. These five tips will ensure you've covered all your bases when it comes to outdoor entertaining.
Set the scene
Create a menu
Plan entertainment
Consider clean-up
Don't overlook safety
One of the best parts of summer is having backyard barbecues, pool parties and bonfires with your friends and family. If you're thinking of hosting a party in the coming months, it's time to start thinking about how you'll make it an unforgettable event!
The following are five essential outdoor entertaining tips to help you plan a fun, festive and safe event.
Set the scene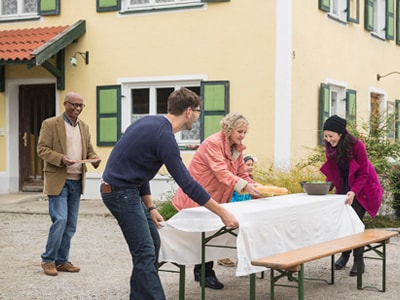 First of all, you'll want to consider the space where you're hosting the party. The sooner you start thinking about your party set-up, the better! This will give you ample time to gather any items you need.
Take into account things like:
Do you have enough chairs and surfaces where people can eat?
Will your guests be bothered by mosquitoes and other bugs?
If your party is in the evening, do you have adequate outdoor lighting? If it's during the day, will there be enough shade for your guests?
If people are planning to bring children or pets, are there any hazardous areas to avoid?
Depending on how you answered these questions, you may need to borrow or invest in additional outdoor furniture, bug repellent, lawn umbrellas or pop-up tents, outdoor lights and other party essentials.
Create a menu
Most outdoor parties have a pretty casual menu, but there are several food-related summer entertaining tips to remember as you plan the food for your gathering.
Take food restrictions into account
Even if you think your guests don't have food allergies or dietary restrictions, it's a good idea to ask anyway.
According to the Pew Research Center, 37 percent of Americans say party hosts should always ask guests ahead of time if they have any food restrictions or allergies.1 It's a common courtesy that will prevent awkward situations on the big day.
Think about the weather
If you're planning a party during the day, you don't want to serve anything that will melt or spoil in the heat.
"Watch out for mayonnaise in the hot sun or anything with chocolate—unless you're prepared for it to become chocolate sauce," chef Rory Schepisi explains to Food Network. "And stay clear of anything with Jell-O. It will just turn to liquid in the heat."2
Carefully calculate alcohol
Nothing puts a damper on a summertime party like having to run out for more drinks. According to The Kitchn, you should assume most guests will drink two beverages in the first hour of the party, then one drink per hour after that.3
Using this logic, a four-hour event with 20 people will need roughly 100 drinks. Most hosts choose to offer both beer and wine, but don't forget to have some non-alcoholic beverages on hand as well.
Let people bring food and drinks
Effective party-planning is all about delegation. Guests don't like to show up empty-handed—even if you tell them not to bring anything—so take advantage of their willingness to chip in!
If guests ask what they can bring, give them a suggestion, such as chips, soft drinks, extra ice or a small dessert. These small contributions will take a decent amount of work off your own plate.
Plan entertainment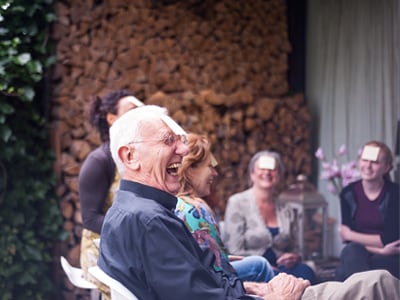 Don't assume your guests will just sit and talk throughout the whole event. A little bit of entertainment goes a long way toward making a summertime party great.
First, you'll want to have some music playing, so borrow a portable Bluetooth speaker for the event. Also consider having outdoor party games for guests to play. Some popular, inexpensive options include giant Jenga, cornhole, horseshoes or badminton.
Consider clean-up

It might seem strange to think about clean-up before the party has even started, but a little premeditated planning will make your job a lot easier.
The cardinal rule of party clean-up? Have multiple trash cans readily available—you can even use barrels or hampers if you need extra bins.
"Make sure you have plenty of trash receptacles located throughout your home so people can throw away their stuff on their own rather than you having to clean it up," Carly Fauth, the head of marketing at Money Crashers, tells HouseBeautiful.4
Some other helpful tips to make clean-up a breeze include:
Use throw-away tablecloths on any and all surfaces.
Consider using paper plates, plastic cups and plastic utensils.
Have containers for leftovers ready to go, so you can encourage guests to take extra food on their way out.
Empty your dishwasher in advance. This way, you can simply load it up when the party is over.
Don't overlook safety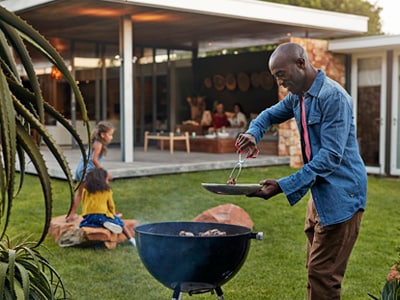 Finally, one of the most important outdoor entertaining tips is to stay safe!
When it comes to food safety, the FDA explains you should keep food cool with the help of ice and keep "ready" food warm until it's consumed.5 Make sure to wash produce in advance and avoid cross-contamination by keeping raw meats securely wrapped. Finally, use a thermometer to ensure meats are cooked thoroughly, and don't reuse plates or utensils.
You'll also want to consider grill safety. Some useful tips from the National Fire Protection Association include placing the grill away from your home, keeping pets and children away from the area, keeping the grill clean and never leaving it unattended.6
Get ready for a great summer party
There's certainly a lot to think about when planning an outdoor party, which is why you should start your preparation well in advance and enlist help whenever possible.
If you follow these summer entertaining tips, you'll be able to plan a great event! Everyone will have fun and stay safe, and you'll feel like the summer's best host.
Resources
1. Funk, Cary, and Brian Kennedy. "Public Views about Americans' Eating Habits." Pew Research Center: Internet, Science & Tech. December 01, 2016. Accessed May 27, 2018. http://www.pewinternet.org/2016/12/01/public-views-about-americans-eating-habits/
2. Preiser, Amy. "8 Mistakes You Make Hosting a Summer Party." Food Network. June 28, 2017. Accessed May 27, 2018. https://www.foodnetwork.com/grilling/summer-parties/photos/summer-party-mistakes
3. Prasertong, Anjali. "Mixer Math: How To Calculate Alcohol Needs for a Party." Kitchn. August 12, 2011. Accessed May 27, 2018. https://www.thekitchn.com/how-to-calculate-alcohol-needs-153610
4. Smith, Lauren. "10 Cleaning Secrets From People Who Love to Throw Parties." House Beautiful. October 17, 2017. Accessed May 27, 2018. https://www.housebeautiful.com/lifestyle/cleaning-tips/a6352/cleaning-tricks-from-the-best-party-hosts/
5. Center for Food Safety and Applied Nutrition. "Consumers - Eating Outdoors, Handling Food Safely." U.S. Food and Drug Administration. May 21, 2018. Accessed May 27, 2018. https://www.fda.gov/food/resourcesforyou/Consumers/ucm109899.htm
6. "Grilling Safety Tips." National Fire Protection Association. Accessed May 27, 2018. https://www.nfpa.org/Public-Education/By-topic/Top-causes-of-fire/Cooking/Grilling/Grilling-safety-tips