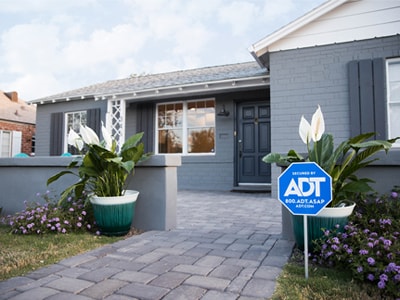 Slowly but surely, Alexa-enabled devices are becoming a staple in the homes of many Americans. According to Amazon, the Echo Dot was one of the top-selling products on the site during the 2017 holiday season, with millions of units sold.1 While the Dot may be the most popular, there are numerous other Alexa devices available, as well.
If you have one of these devices in your home, you're probably still discovering the many Amazon Echo uses. Alexa can help you in a variety of ways—even when it comes to home security! As an ADT Security Services customer, you can easily turn your Echo into a home security assistant if you know what to ask Alexa.
How to enable the ADT Pulse Skill
ADT allows customers to control their home security systems by pairing Pulse with an Amazon Alexa app. To do this, you'll need to enable the ADT Pulse Skill (which requires a compatible ADT Pulse system).
All you have to do is visit the ADT Pulse Skill page on Amazon.com and click "Enable." You can also do this through the Alexa app on your smartphone—just navigate to the "Skills" tab and search for ADT Pulse.
Either way, you'll be prompted to log into your ADT account to link the two services and create a four-digit PIN. Then, you're good to go!
ADT and Amazon Echo uses
Once you've enabled the skill, ADT allows you to control your home security system through voice commands.
With the right commands, Alexa can ask ADT to arm or disarm your security system—super convenient if your hands are full when you get home. You can also turn lights on and off, control locks in your home and open and close doors.
The following are a few examples of what to ask Alexa:
Alexa, ask ADT to check the status of the security system.

Alexa, ask ADT to lock/unlock the front door.
Alexa, ask ADT to take a video clip from my back door camera.

Alexa, ask ADT to turn on/off the living room light.
As you've probably noticed, you have to specify that you want Alexa to "ask ADT" to complete a certain task—otherwise, she may not understand the command.
Feel confident
Linking your ADT Pulse system with Amazon's Alexa will make your home security more convenient than ever. Your whole family will have the ability to control the security system with simple voice commands, so everyone can feel safe and confident at home.
Resources
1. Amazon - Press Room - RSS Content. Accessed April 18, 2018. http://phx.corporate-ir.net/phoenix.zhtml?c=176060&p=RssLanding&cat=news&id=2318860