ADT Helps Save a Customer from Carbon Monoxide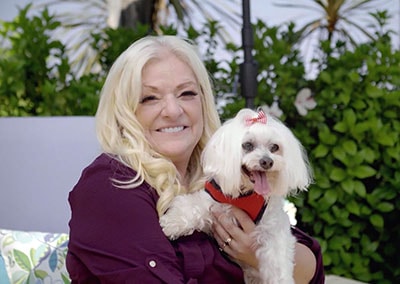 Thousand Oaks homeowner Pixie Monroe recently had her furniture cleaned not realizing that lethal levels of carbon monoxide were seeping into her home. The fumes were coming from the cleaning company's vehicle which was parked too close to her air conditioning unit. The deadly gas triggered multiple alarms and sent emergency signals to Florida where ADT Security Dispatcher Najee Freeman received them. He called Pixie and advised her to evacuate while he contacted local 911. When Ventura County firefighters arrived, they donned Personal Protection Equipment and used portable gas meters to confirm high levels of the 'silent killer.' A gas company technician identified the source and made sure it was safe for Pixie to re-enter. Pixie was relieved that she and her beloved Maltese, Bailey, were rescued. She was anxious to thank responders and greet Najee who flew 2,500 miles across America to meet her for the first time.
Relieved that she and her beloved dog, Bailey, were rescued.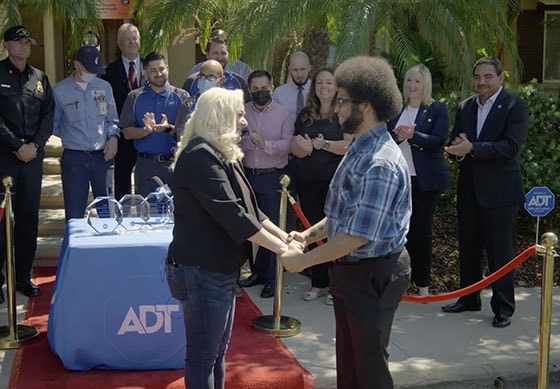 Pixie Monroe thanks Najee Freeman, the ADT Dispatcher
that alerted her of the carbon monoxide in her home.
Share how ADT has helped protect you
Tweet @ADT & share your #ADTSaves story with us on Twitter.
"That call from ADT helped save our lives. And the fast response of the fire department helped save our house."
- Amy S., Wayne Township, IN