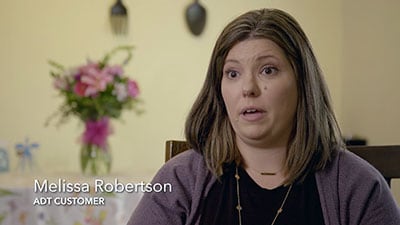 This story is about a woman whose estranged husband suffered from depression which triggered an ADT Story unlike any we have ever written. It occurred in Spokane Valley, WA, where Melissa "Missy" Robertson endured the traumatic experience on April 23 at 2:30 a.m.

Missy woke to her husband, Justin Robertson, tying her wrists with a cell phone charger cable. After struggling with him, she attempted to call for help through the window but he stopped her. When Missy got the chance, she grabbed her ADT key fob and triggered the alarm and tucked it where he couldn't see it.

Sue Phommanirat, the ADT Dispatcher, facilitated the emergency calls to the First Responders and to the home. Justin answered the phone but when he couldn't respond with the correct pass code for the alarm, he hung up on the dispatcher. What's next, is almost imaginable. Justin threw the phone, grabbed a knife, then stabbed Missy. Soon after, he fled the scene with their five-year-old son.

First Responders got to Missy in time to save her. Her son was released. But Justin committed suicide.
Missy believes that she survived because of the ADT panic alarm she activated on that day.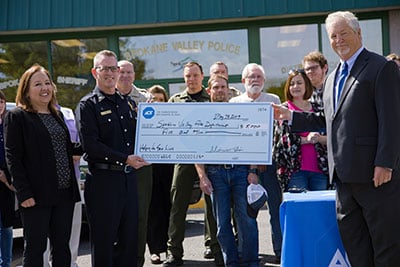 According to Missy, Justin "struggled with depression for about 3 years and didn't tell anyone." After two protection orders and filing for divorce, Missy decided to get an ADT security system to protect herself and the children. Missy believes she survived because of the ADT panic alarm that she activated on that day.

On her road to recovery, both mentally and physically, Missy wished to thank the people that helped her in her time of crisis. "I have not had a chance to meet the dispatcher. I'm eternally thankful and grateful for her doing her job and for making that call because it did save me," said Missy.

On May 23, Missy got her wish. The ADT Dispatcher flew 2,000 miles from New York to meet her face-to-face for the very first time. ADT donated $5,000 to the Spokane affiliate of the National Alliance on Mental Illness. The first responders agencies were also recognized with $5,000 for their diligent work that helped saved Missy and her son.
Share how ADT has helped protect you
Tweet @ADT & share your #ADTSaves story with us on Twitter.
Customers Tell Their Stories
The ADT LifeSaver Program recognizes outstanding ADT professionals who helped save a customer's life.
`
"That call from ADT helped save our lives. And the fast response of the fire department helped save our house."
- Amy S., Wayne Township, IN