"The Biggest Hug In The World."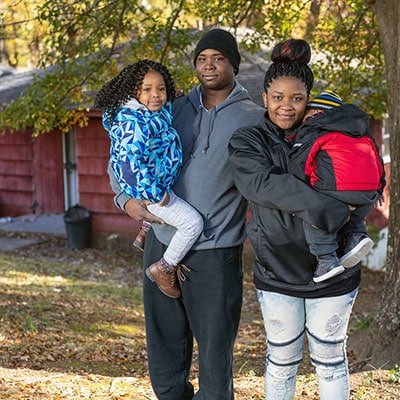 3:00 am In College Hill, Birmingham, Alabama, the Samuels family were sound asleep.

As they slept soundly in their beds, a growing nightmare was taking place in their home. A fire had broken out and with that an ADT fire alarm began to scream.

Marcella Samuels was the first to wake up. She began to shake her husband once she realized that something was actually wrong. It wasn't a false alarm.

"It was loud and roaring, it was a scary moment." said Jonathan.

As Jonathan bolted out of bed to assess the situation, he was greeted by a wall of orange and rising temperatures. As the flames expanded throughout the wooden home, his first fatherly instinct was to grab both of his children which he did as the alarm wailed in the background.
"Another minute or two and it would have been too late"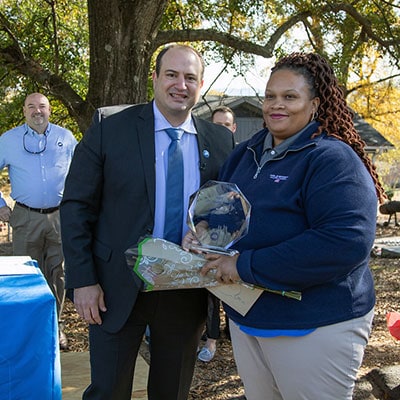 The Samuels family escaped the blaze and watched from a distance as their house burned. While Jonathan cared for the safety of his family, ADT call center employee Kinesha Liptrot, reported a medical and fire alarm at Jonathan and Marcella's home. The Birmingham Fire and Rescue Team received Kinesha's call and were able to respond within minutes.

"This particular incident showed ADT and The Birmingham Fire Department working together as partners" said Captain Harold Watson.

While the family had no insurance, and lost almost all of their possessions, they feel fortunate that they still have each other. The Samuels family is also grateful for both Kinesha's and the fire department's quick response and dedication to their craft.

As Jonathan states it best, "if I could say anything to Kinesha, I would just hug her and thank her for being so alert!" At an ADT Life Saver Award Ceremony Jonathan got to do just that. Kinesha was awarded her very rare second LifeSaver Award, the Birmingham Fire and Rescue Department was recognized for their rapid response -- and Kinesha very much appreciated the biggest hug of her life.

Luckily this time Kayla did have a plan, never second guess a monitored smoke detector -- and a mother's instinct.
Share how ADT has helped protect you
Tweet @ADT & share your #ADTSaves story with us on Twitter.
Customers Tell Their Stories
The ADT LifeSaver Program recognizes outstanding ADT professionals who helped save a customer's life.
`
"That call from ADT helped save our lives. And the fast response of the fire department helped save our house."
- Amy S., Wayne Township, IN