New York Family Survives House Fire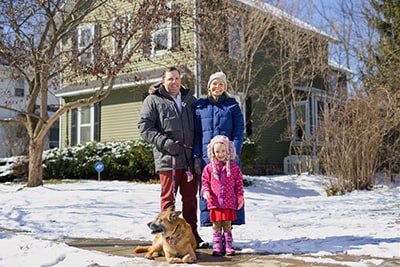 It was around 3:30 a.m. and the Goodman family of Pittsford, NY was sound asleep. Suddenly, the home's ADT security system rattled awake Jessica Goodman who then woke up her husband, Peter. He went to investigate while Jessica ran to retrieve the couple's daughter so they could both escape the burning house.

When looking at the ADT panel, Peter saw there were multiple alarms triggering from the basement and as he approached the stairs, he spotted flames shooting up from a small appliance.

Carrying his cell phone, Peter was comforted to see an incoming call from ADT Dispatcher Shari Howland. In his conversation with Shari, Peter confirmed there was a fire, and that his wife, child, and dog had gone outside to wait for first responders.
This has reinforced the importance of being prepared.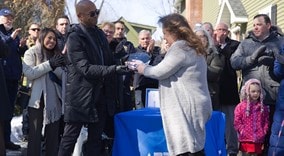 When firefighters arrived, they quickly extinguished the fire, determining it was a faulty dehumidifier that had burst into flames.

The home suffered severe smoke damage, so the Goodman's had to reside elsewhere for several weeks.

When reflecting on the incident, Peter said it was a great feeling knowing that, even in the middle of the night, there was someone looking out for his family and providing critical help so he could focus on the fire.

As ADT customers for four years, the Goodman's were pleased to meet Shari during a LifeSaver celebration at their house. They watched as ADT Chief Marketing Officer DeLu Jackson presented Shari with the company's highest honor for helping save their lives.
Share how ADT has helped protect you
Tweet @ADT & share your #ADTSaves story with us on Twitter.
"There's not a day that goes by before this or since this event that I dont have immense gratitude for our lives and our well-being ."
- Jessica Goodman, Rochester, NY