Des Moines Customer Survives a Carbon Monoxide Leak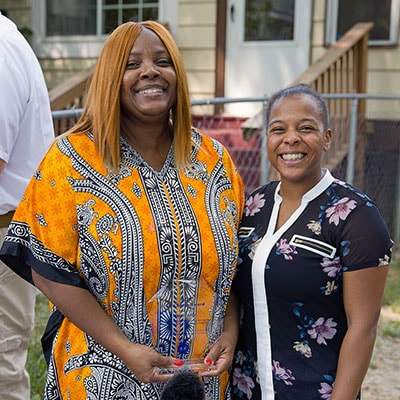 Just before midnight on June 6, Reda Stajcar was awakened in her Des Moines home by a call from ADT Dispatcher Kathy Taylor who advised a carbon monoxide signal was being received.

Kathy suggested Reda wait outside while she called 911. Upon arrival firefighters from Des Moines FD used a portable meter and immediately received a reading of C/O coming from the water heater in the basement. They shut off the gas and ask for MidAmerican Gas to respond.

When they went inside, the water heater was relit and the technician discovered corroded holes in the vent piping leading to the outside wall, so when the water was turned on for heat, C/O would leak. At one point, a reading of 220 parts per million (PPM) was detected, which is extremely dangerous since Reda was already in bed.
I feel blessed, I'm grateful to still be here.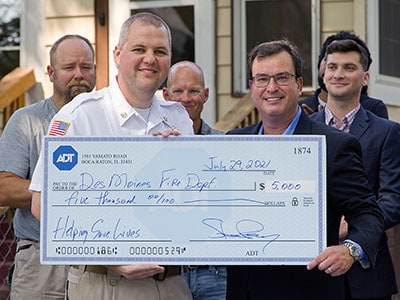 The gas was turned off (red tagged) for several days while Reda got the water heater repaired. She is grateful for her ADT system and says she is 'absolutely sure' that she and her brother, Kenny Ayers, were saved. He was in the house the entire day. At one point, he stated not feeling well but thought it was allergies. Reda also has two dogs and a cat and all are fine.

The system was sold and installed by Safe Haven, an ADT Dealer. Reda says she purchased from the rep after he knocked on her door. Crime in her neighborhood is a concern, plus she is a single, so that's why she purchased.

Kathy Taylor has worked at ADT for 13 years. This will be her second LifeSaver. The first was August 2019 when she helped save a Boston-area customer from a fire sparked by spontaneous combustion. Safe Haven representative Matt Meier was being trained when he visited Reda and her sale was the first one he made at Safe Haven.

At the LifeSaver celebration hosted by Steve Penney a $5,000 donation was presented to the Des Moines Fire Department from ADT.
Share how ADT has helped protect you
Tweet @ADT & share your #ADTSaves story with us on Twitter.
"That call from ADT helped save our lives. And the fast response of the fire department helped save our house."
- Amy S., Wayne Township, IN