DeGeorgis Family LifeSaver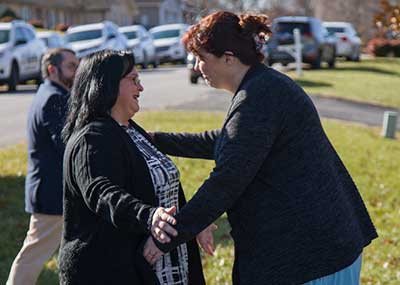 It was around 7:45 pm on Friday, November 1 when Nancy DeGeorgis was dining at a restaurant with her older son. Two other kids, 10-year-old Emma and 17-year old Ethan were home.
That's when a fire started in Ethan's upstairs bedroom from a lit candle placed too close to his bed. It activated a smoke alarm. Receiving the signal was Genise Quinton at the Knoxville center. She called Nancy who said her two kids were there along with pets. She asked Genise to send firefighters.
Right before that call, Nancy had spoken with Emma who was hysterical and hard to hear – but Nancy did hear three words "fire alarm and smoke" along with the panic in Emma's voice. Nancy said to grab Ethan and the pets and get out while she quickly left the restaurant and drove home, fast but safe.
"The ADT alarm alerted my kids and quickly summoned the fire department"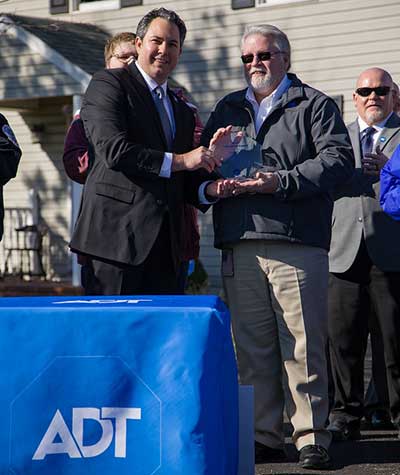 When Nancy arrived, Ethan was crying and saying that he was sorry. He, Emma, and one of the family's dogs were at a neighbor's house across the street. Nancy soothed both kids and calmed them. A third pet, a bearded dragon was still inside. Eventually, a firefighter brought him out, covered in soot and somewhat lethargic. Nancy took him to an emergency vet and he recovered.

It took firefighters about 30 minutes to contain the fire which was limited to the upstairs bedrooms.

While there is about $75,000 in damage and the DeGeorgis's are displaced for a minimum of six months, Nancy is grateful for ADT and the fire department. She believes the sensitivity of the alarm, and the quick notification to first responders helped her children to escape. With Ethan being slightly autistic and Emma, at a young age, Nancy says it would have been a much more devasting outcome without ADT.
Share how ADT has helped protect you
Tweet @ADT & share your #ADTSaves story with us on Twitter.
Customers Tell Their Stories
The ADT LifeSaver Program recognizes outstanding ADT professionals who helped save a customer's life.
A Guinea Pig for Fire Response
`
"That call from ADT helped save our lives. And the fast response of the fire department helped save our house."
- Amy S., Wayne Township, IN