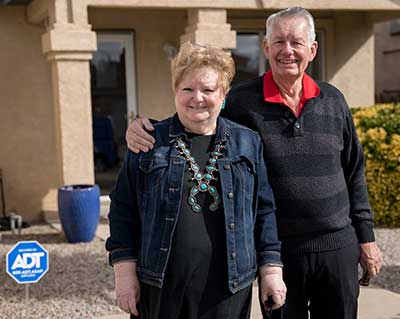 Albuquerque, New Mexico; February 8th, 2020. It was a Saturday and the Schmitt family had a plumber come to their house to replace the existing gas line in their fireplace. After the line was installed, the gas was turned on and a fire was started to ensure no leaks. This standard check went well. Unfortunately, neither the plumber nor Jim verified that the fireplace flue was open.

Several hours later, around 7 pm, Jim Schmitt was sitting in his home office when he was startled by the carbon monoxide alarm. He and his wife Nancy searched the house trying to find a cause for the alarm's sudden outburst.

At the same time, Dominique Sessions from ADT Customer Care in Irving, TX called their home and told the couple that carbon monoxide had been detected and to leave the house with their two dogs as soon as possible. Within minutes, the alarm went off again. Dominique called again to report that the fire department was on their way.

Upon arrival, four firefighters entered the house with carbon monoxide detectors. They determined the carbon monoxide level was too high and was originating at the fireplace. They placed a call to the gas company while everyone waited safely outside.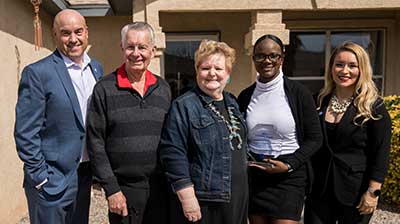 When Rueben Martinez from the gas company arrived, he directed all windows and doors opened. He thoroughly checked the entire gas system in the house and confirmed there were no leaks. He agreed the carbon monoxide source was coming from the gas fireplace. It took 30 minutes for the carbon monoxide levels to drop.

The Schmitt's are extremely thankful they had the carbon monoxide alarm included in their ADT alarm system. The retired couple had moved to Albuquerque last year after several years in Washington State, and only purchased a security system because their new house was in a high crime area. A door knocker from Safe Streets sold them the system just three months before the incident. Dominque had just started her ADT career four months before the incident.
"Pamela didn't even realize the home had a carbon monoxide detector."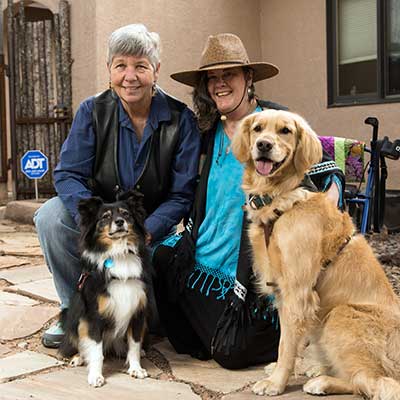 Santa Fe, New Mexico; January 30th, 2020. It was around 7:25 am on a Thursday when Pamela Dean and Karen Fielding were inside their home with their four dogs and cat. Two of the dogs have severe allergies, so the ladies were baking sweet potatoes for them in a Samsung oven purchased ten months previously.

After Karen commented that the house smelled funny, their ADT alarm started beeping and the phone rang with an ADT dispatcher explaining that their carbon monoxide alarm had been triggered and to exit the house with all the pets as soon as possible. Handling the call and then contacting the local Fire Department was Sarah Montgomery from Knoxville Customer Care.

A second alarm soon came, this time accompanied by a call from Emily Tucker, who also works at the Knoxville Center. She issued the same instructions: to remain outside.

When Santa Fe firefighters arrived, they found high levels of carbon monoxide in the house. When New Mexico Gas Company arrived and thoroughly tested all gas lines and appliances. When testing inside the oven, the detector's gauge as high as it could go, which was 1200 ppm.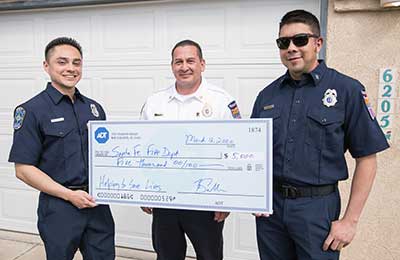 Pamela didn't even realize the home had a carbon monoxide detector. She got the system as protection from crime. She never dreamed it would save their lives in this way. Her health even seems to have improved since the incident.

Emily has worked at ADT for four years and Sarah has been employed for two years.

To celebrate how these families were saved, a double ADT Lifesaver Celebration was held on Thursday, March 12. Checks for $5,000 each were presented to both the Santa Fe and Albuquerque Fire Departments and LifeSaver Awards presented to dispatchers Emily, Sarah and Dominique for their efforts. As a special bonus, the ceremony included David Sanchez, an ADT customer who shared his LifeSaver story in 2011 and was so enamored with the company's Lifesaving mission that he joined the company and continues to work for ADT Commercial in Albuquerque.
Share how ADT has helped protect you
Tweet @ADT & share your #ADTSaves story with us on Twitter.
Customers Tell Their Stories
The ADT LifeSaver Program recognizes outstanding ADT professionals who helped save a customer's life.
A Guinea Pig for Fire Response
`
"That call from ADT helped save our lives. And the fast response of the fire department helped save our house."
- Amy S., Wayne Township, IN