ADT Helps Memphis Couple Survive Lethal Levels of Carbon Monoxide
Zina and Eldridge Henry are no longer experiencing headaches, grogginess and other health ailments now that a faulty furnace has been replaced and carbon monoxide is no longer spewing into their Memphis home.

The couple credits two ADT employees for finding 'the silent killer' and helping them survive. It all happened in late February when ADT Technician Chuck Novak installed thecouple's security system.

After he left, it started beeping, indicating a carbon monoxide leak. Thinking it was a malfunction, Zina called ADT Customer Care and spoke with Manny Rojas who advised it was likely carbon monoxide and to evacuate the house while he called 911.
I was tired all the time, I was having headaches every day.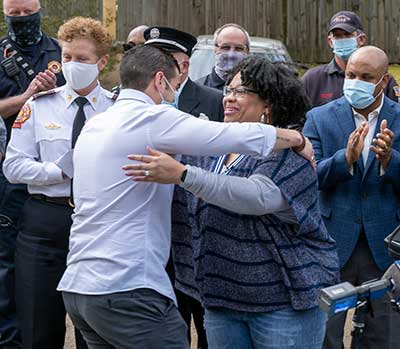 Upon arrival, firefighters detected large amounts of carbon monoxide and aired out the house, making it safe.

On March 31, the Henry's shared their amazing story during an ADT LifeSaver celebration where they publicly thanked Chuck and Manny for their work. Each was presented an ADT LifeSaver Award.
Share how ADT has helped protect you
Tweet @ADT & share your #ADTSaves story with us on Twitter.
"That call from ADT helped save our lives. And the fast response of the fire department helped save our house."
- Amy S., Wayne Township, IN