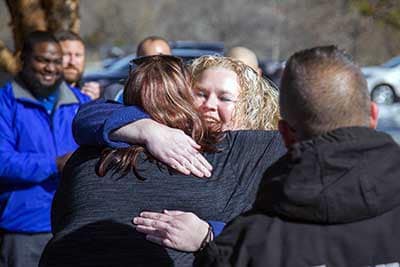 Louisville, Kentucky: It was almost 2 AM on September 29th when Christie and Phil Sanders woke up to their ADT alarm going off. When Christie looked at the notification on her phone, it said "back door sensor" so she thought someone was trying to break in. Phil ran to the other side of the house to investigate and found that the back deck and sunroom were on fire. As Christie rushed to call 911, ADT called. On the line was Amanda Esbrandt, an ADT Dispatcher who was working the night shift in Knoxville. She'd called to verify the alarm but Christie was on her cell, so she went ahead and called 911.

As all of this was happening, a police officer who was driving up the street saw flames and reported the fire as well. Phil had run outside barefoot in his boxer shorts, trying to put out the fire with his garden hose. Christie grabbed some clothes and shoes for him as she was trying to get the family's fur baby, Roxie, out the door. Smoke was beginning to fill the den.

All in all, it's estimated that it was about four minutes from the time the ADT alarm activated to when firefighters arrived.

Thankfully, firefighters were able to extinguish what was left of the fire. They told the Sanders that had they not been home nor gotten out so quickly, the fire would have consumed the attic. Due to ADT and their local Fire Department, Phil, Christie, and Roxie were saved. They feel blessed and very appreciative.
"She thought someone was trying to break in."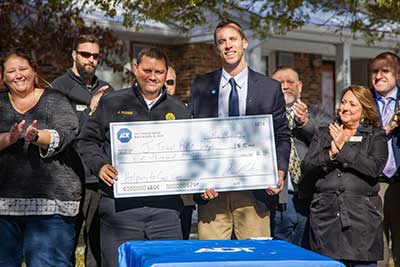 Most of the house received only smoke damage, with the worst of it being contained to the deck and sunroom. The Sanders family was able to move back in after the house was cleaned, so life could get back to normal for them. It appears the fire originated from an electrical junction box underneath what used to be the deck.

The Sanders had just purchased the home this past July and the ADT security system was sold by Josh Walker. The original installer was Phillip Cherry. In August, Tech Ben Adams made a service call, and on October 4, Chris Toler was at the house to fix the door sensor damaged in the fire. From sale, install, and maintenance to monitoring, dispatching, and first responders; we credit every single one of these people with saving lives.

On Wednesday, November 13, a LifeSaver reunion was held at the Sanders house, hosted by Customer Communications Director Aaron Miller. An amount of $5,000 was presented to the local fire department, in thanks for their continued service to their community, and Phil and Christie Sanders were able to thank everyone who had helped to save their lives that fateful September night.
Share how ADT has helped protect you
Tweet @ADT & share your #ADTSaves story with us on Twitter.
Customers Tell Their Stories
The ADT LifeSaver Program recognizes outstanding ADT professionals who helped save a customer's life.
A Guinea Pig for Fire Response
`
"That call from ADT helped save our lives. And the fast response of the fire department helped save our house."
- Amy S., Wayne Township, IN