Posted on 9/22/2016
*Customer was compensated
ADT Helps Save Ohio Woman Stung by a Hornet
When Ray and Julie Kissel* purchased their ADT security system in January they never imagined it would help save Julie's life in July. The couple wanted monitored protection for their Mansfield, OH home so they called Defenders, an ADT Authorized Dealer which sold and installed the system.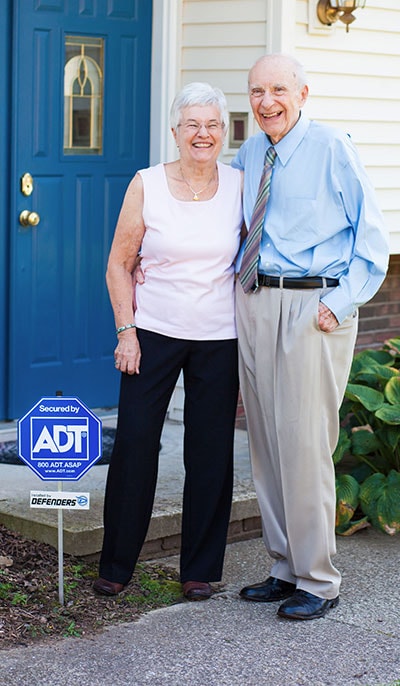 Six months later, Julie was pulling a weed in her front yard when a hornet suddenly stung her in the back, triggering a severe allergic reaction. A former nurse, Julie knew she was in trouble when her face turned fiery red, her breathing became difficult and she started drooling.
"I was woozy and weak," Julie said.
Unable to drive, Julie stumbled inside the home. She collapsed on the floor, far from the phone.
Julie's life line for help was the ADT key fob in her hand. She pushed it, activating the panic alarm which immediately signaled ADT Dispatcher Sally Boutwell at ADT's monitoring center in Rochester, New York.
Following ADT procedures, Sally first called the home. Julie heard the ringing but couldn't pick up. Sensing something was wrong, Sally then contacted local authorities.
At the 911 Dispatch Call Center in Richland County, OH, Jolene Zehner answered Sally's call and immediately dispatched Sheriff's Deputies Jeff Myers and Reggie Ganzhorn.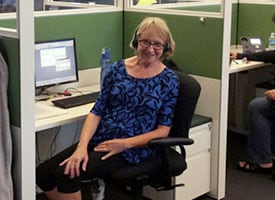 "We arrived and looked around to see if there were any signs of criminal activity," Deputy Ganzhorn said. "We saw a car in the garage so we suspected someone was inside the house."
After knocking on the door and not receiving an answer, the deputy went next door where a neighbor provided a cell phone number for Ray Kissel who rushed home from work when called.
As Ray and the deputy entered the house, they heard a faint cry from Julie, "Please help."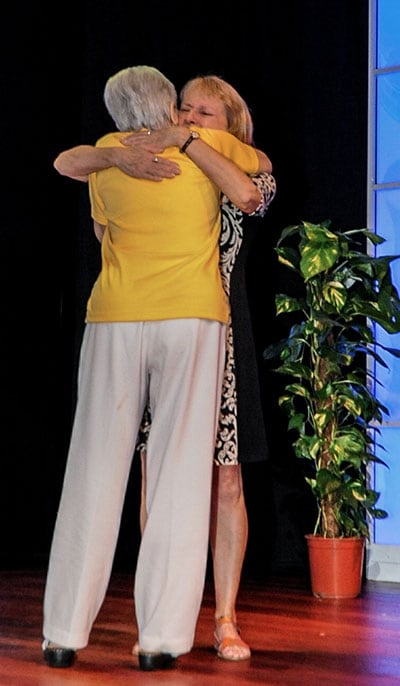 They saw Julie on the floor in need of emergency care so they called an ambulance and Julie was taken to the hospital where she was treated and released. Without ADT, Julie doubts she would have survived being home alone for hours.
"ADT saved my life," she said.
To celebrate the happy ending, Julie was given an opportunity to meet Sally at the annual ADT Authorized Dealer convention. Several hundred people watched as Julie embraced Sally for the first time and thanked her for saving her life.
Two Defenders employees received LifeSaver Awards for selling and installing the Kissel's system. And Sally was presented a LifeSaver Award, the second time she has won it during her nine-year career at ADT.
"Winning the LifeSaver Award is the ultimate honor at ADT," Sally said. "I love how all of us at ADT work together to help our customers when they need us most."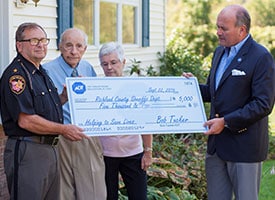 Also recognized was the Richland County Sheriff's Department which received a $5,000 check from ADT.
"It will be used for equipment in our department," said Sheriff Steve Sheldon. "I'm proud of the fine work of our office and for the quick transport of Mrs. Kissel."
As for the hornet nest, it was removed from the Kissel's front yard when the tree it was hanging from, was cut down.
Share how ADT has helped protect you
Tweet @ADT & share your #ADTSaves story with us on Twitter.
Customers Tell Their Stories
The ADT LifeSaver Program recognizes outstanding ADT professionals who helped save a customer's life.
`
"That call from ADT helped save our lives. And the fast response of the fire department helped save our house."
- Amy S., Wayne Township, IN