Posted on 5/2/2017
*Customer was compensated
ADT Helps St. Louis Family Survive Raging Fire in the Middle of the Night
It was six days before Christmas and Tabitha Taylor*, a single mom, had her three college-age children home for the holidays. All were sound asleep upstairs in their St. Louis-area house when fire erupted at 2:20 a.m. in the garage.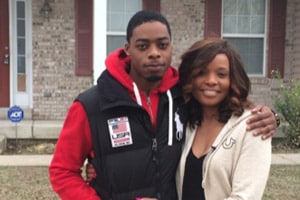 The beeping of a non-monitored smoke detector woke them. They went downstairs to investigate and as Tabitha's son, Jerrel Wilson, opened the garage door, he saw flames coming from a van. He grabbed a fire extinguisher. When that didn't work, his sister handed him a sack of flour. But the fire kept growing and the family panicked.
Unable to find any phones, Tabitha furiously pushed the buttons on her ADT alarm panel. That signaled Stacey Fioravanti who was working the night shift at ADT's Rochester, NY Customer Care Center. Stacey immediately called the home and Tabitha's daughter, Destiny, answered.
"We have a fire…in the garage," exclaimed Destiny. Stacey then called 911 and crews from the Florissant Valley Fire Protection District were dispatched.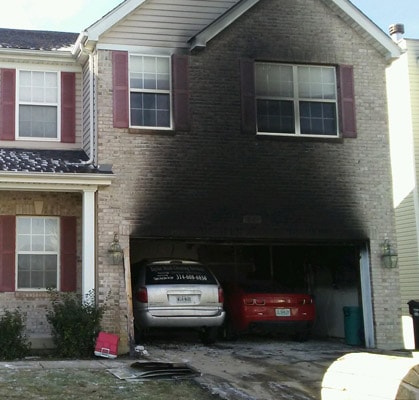 While the Taylor family waited outside in the frigid night air, firefighters battled the blaze. Because of the quick response, damage was limited and the house didn't burn to the ground. More importantly, no one was hurt.
"It was a blessing that ADT called us. We didn't even think to call 911. Having ADT do that saved us," said Tabitha. "We are so grateful."
"It happened so fast," said Jerrel. "Every second the flames got bigger and I realized this would be a disaster unless we got help."
Jerrel joined Tabitha at an ADT LifeSaver event in March to publicly thank everyone who helped save their family, including ADT employees and first responders.
Every second the flames got bigger and I realized this would be a disaster unless we got help."
Hosted by Joe Nuccio, ADT Senior Vice President of Business Development, the event featured strong emotions and frequent applause as LifeSaver Awards were presented to Stacey and Brianna White, an FSC agent from Irving, TX who helped set up the Taylor account when it was sold last year. Accepting on behalf of Stacey was her manager, Beth Mossworth.
Also recognized were Florissant first responders who received a $5,000 contribution from ADT which was matched with another $5,000 from State Farm® since Tabatha is a customer.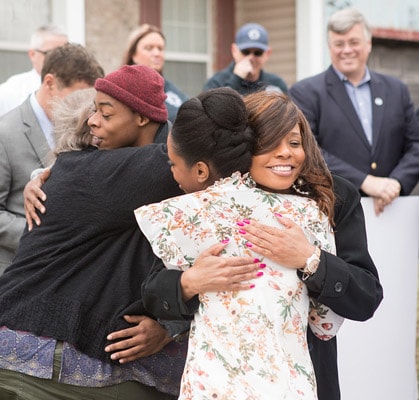 "We appreciate the recognition and funds from ADT and State Farm®," said Mark Flauter, Deputy Chief of Florissant Valley Fire Protection District. "Working smoke alarms are incredibly important. Already this year, at least nine Missourians have died in residential fires."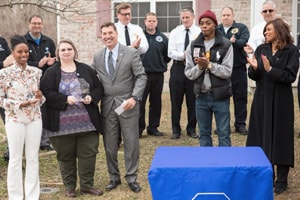 Following the LifeSaver event at the Taylor home, there was a Meet a Customer for Life lunch at the ADT office in nearby Earth City where about 50 employees, each wearing "I Help Save Lives for a Living" shirts greeted guests upon arrival.
With a welcoming by ADT Area General Manager, Bill Magnah, employees got a chance to hear a first-person account of the fire from Tabitha and congratulate the LifeSaver winners. ADT employees left the room feeling extra special about the life-saving jobs they do every day to help keep customers safe.
Share how ADT has helped protect you
Tweet @ADT & share your #ADTSaves story with us on Twitter.
Customers Tell Their Stories
The ADT LifeSaver Program recognizes outstanding ADT professionals who helped save a customer's life.
`
"That call from ADT helped save our lives. And the fast response of the fire department helped save our house."
- Amy S., Wayne Township, IN