Dog is Saved by 'Mouth to Snout' Resuscitation After ADT Alerts First Responders
The Hebert family of Breaux Bridge, LA have been ADT customers since 2012. One of the reasons they purchased ADT was to protect their beloved dog, Lou Lou, a nine-year-old shih tzu.
Lou Lou was home alone in April when a fire started. Within seconds, ADT received the signal and contacted the St. Martin Parish Fire District which quickly arrived and began battling the blaze.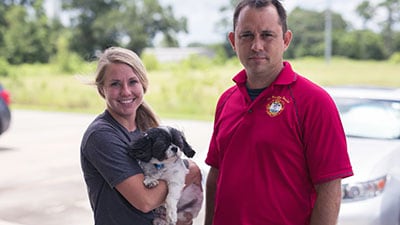 Pulling up a few minutes later, Andrea Hebert, begged the firefighters to go into the home to rescue Lou Lou.
"I was screaming for them to hurry up and get her out of the house," exclaimed Andrea.
When firefighter Chris Guidry went in, he found Lou Lou, unresponsive and with a very low pulse. Once outside, Chris cupped his fist and breathed into Lou Lou, giving her 'mouth to snout' resuscitation.
"In about a minute, Lou Lou came around and I handed her over to Andrea who rushed her to the Veterinarian," said Chris.
After two days of treatment and coughing up lots of black ash, Lou Lou returned home to her adoring family and has been normal ever since.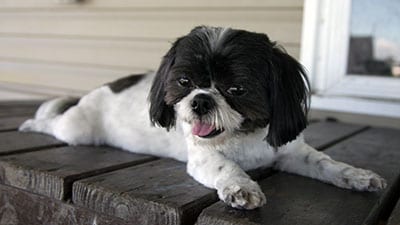 In celebration of Lou Lou's life being saved and in recognition of National Pet Fire Safety Day, ADT held a LifeSaver event at the Hebert home on July 13. Leading the event was Jason Shockley, ADT Vice President of Corporate Communications who presented LifeSaver Awards to ADT employees Devinee Curry, John Irons and Jessica Turner.
Jessica flew in from ADT's Customer Care Center in Jacksonville to accept her award and meet the Hebert family.
As a dog-lover, Jessica was thrilled to see Lou Lou alive and well and to know she played a part in the dog's survival. "Just to know that you helped save someone's family member – their precious pet – is just amazing," she said.
"I was screaming for them to hurry up and get her out of the house"
Besides presenting the LifeSavers, Jason also awarded a $5,000 contribution from ADT to the fire department.
"Part of the money will go toward purchasing oxygen masks for pets we rescue in the future and the remainder will go for training our volunteers," said Chief Brian Castille.
Firefighters also helped distribute ADT window clings which homeowners can use to identify how many pets need to be rescued during a fire.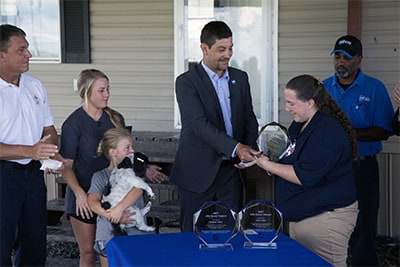 The clings are one of many ways pets can be protected. It's estimated about 500,000 dogs and cats die in home fires each year because their owners don't have monitored protection. Each year on July 15, ADT celebrates National Pet Fire Safety Day to bring awareness and encourage pet owners to consider monitored protection.
Following the LifeSaver event, a Meet a Customer for Life lunch was held at the Lafayette branch with about 30 employees attending. It was hosted by Louisiana AGM Louis Quijano, GM Belinda Castille and AAM Amanda Thibodeaux and featured a red-carpet welcome with employees wearing t-shirts which read, "I help save lives for a living." There was also fun signage, a customized cookie cake and a special gift basket for Lou Lou.
Share how ADT has helped protect you
Tweet @ADT & share your #ADTSaves story with us on Twitter.
Customers Tell Their Stories
The ADT LifeSaver Program recognizes outstanding ADT professionals who helped save a customer's life.
`
"That call from ADT helped save our lives. And the fast response of the fire department helped save our house."
- Amy S., Wayne Township, IN