Fire Alarm Detector Helped Save Seniors from a House Fire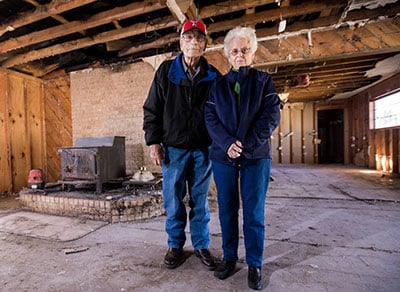 A grandson re-discovers his family sometimes the story behind the main story is the most poignant and memorable one.

The final outcome regarding the Garland and Barbara Schoor house fire has a happy ending, but its effects will ripple outward a lifetime.

Garland and Barbara Schoor, both elderly and living alone, had gone to bed at their regular time, around 10:30 as they recall. They were fast asleep, but were woken with a call from ADT around midnight.

"ADT wondered if someone was breaking in the patio door," said Mrs Schoor." "I couldn't see anything and thought everything was okay; I tried to wake my husband up and I couldn't. I tried shaking him and hollering at him, but without his hearing aid he couldn't hear me."

"When I woke up and saw all this smoke, said Mr. Schoor, "I told Barbara there is something wrong everything is not okay."

After rousing the Garlands, ADT Fast Responder Josh Edenfield immediately called the local fire department. "It's always a blessing when the people get out of the house in time," says Fire Chief Cory Buck, "when the guys got there and found the Schoors were at the neighbor's house, it gives you a big sense of relief."
"They probably wouldn't be here today without ADT"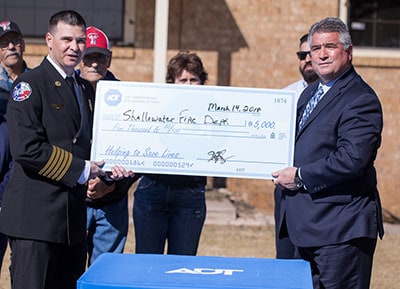 The Garland's grandson Jason Kirkland explained, "the fire started where the fireplace stovepipe ventilated. Over the last forty years the inside pipe had rusted out and the embers of the night's fire were working their way into the entire ceiling -- eventually causing the rafters to catch on fire, then spread throughout the house."

"Homeowners did have an ADT system which not only alerted the home owners but the fire department as well. Had that not occured, we could have gone into a very different situation," says Chief Cory.

Here's the good part, the real story that will live long after the Garland's home is restored.

"The main thing is they probably wouldn't be here today without ADT," says grandson Jason, "without getting the phone call in the middle of the night and asking if everything is okay. In situations like this you go through life and take your family for granted. It's caused me to take a step back and wrap my arms around my family again."

The LifeSaver reunion between the Schoors, ADT employees and first responders will happen Wednesday, March 14 at their home. Says Fast responder Josh Edenfield, "before I came to work at ADT, I was actually a police officer. I was trained to be able to handle crisis situations. It really makes me feel good about my job to meet them in person. Shake their hand and really get to know them."
Share how ADT has helped protect you
Tweet @ADT & share your #ADTSaves story with us on Twitter.
Customers Tell Their Stories
The ADT LifeSaver Program recognizes outstanding ADT professionals who helped save a customer's life.
`
"That call from ADT helped save our lives. And the fast response of the fire department helped save our house."
- Amy S., Wayne Township, IN