ADT Dispatcher Meets Customer She Helped Save From House Fire
The ear-piercing noise of an ADT-monitored smoke detector suddenly startled Connie Spotts from a sound sleep in her Clark Lake, Michigan home.
The retired teacher purchased ADT 11 years ago not knowing that someday it would help save her life, her house, her beloved dogs and nearly all of her irreplaceable possessions. But that's what happened around 3 a.m. on June 7 when Connie ran to the phone, with the ADT alarm shrieking in the background, as Dispatcher Chris Starks called from the ADT Customer Monitoring Center in Jacksonville, Florida, alerting her to a fire inside her two-story, wood home.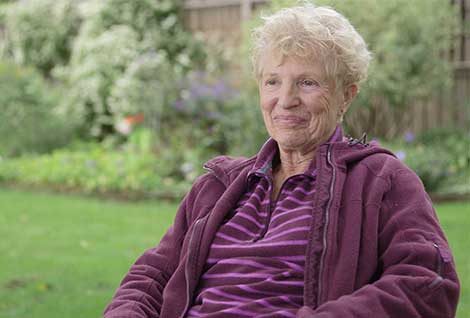 Connie was only able to speak to Chris for a few seconds and then rushed off to find the source of the fire. In the meantime, Chris called local authorities who dispatched the Liberty Township Volunteer Fire Department.
Still unaware of where the fire was, Connie grabbed her two dogs, Carley and Kiwi, and evacuated the house as smoke began to build up inside.
We strongly believe fire monitoring saved her life that morning
"Connie screamed from the porch saying there was a fire," said neighbor Gloria Mohr who was awakened by the commotion. "I saw flames coming out the roof so I grabbed a fire extinguisher and tried to help Connie put it out, but the flames were too big and moving too fast.
"Firefighters arrived on the scene and quickly got the blaze under control, saving the house. Unfortunately, Connie's cat did not make it.
For months, Connie has wanted to publicly thank the firefighters who made a difference and to meet her ADT hero, Chris.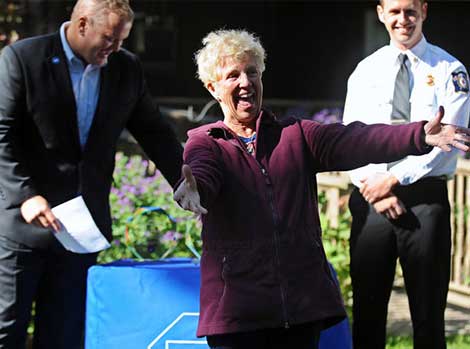 On Sept. 27, she got the opportunity to do that as Chris was flown over 1,000 miles from Florida to meet Connie on the front lawn of her house, along with firefighters, during an emotional ADT LifeSaver event.
Connie was overjoyed to meet Chris and gave her a big hug while thanking her for helping make a difference between life or death.
"Having a smoke detector is great, but who is going to hear it if you're a heavy sleeper or you're not home," Connie said. "I'm just happy to finally meet Chris and thank the first responders in person."
Chris was presented an ADT LifeSaver Award along with ADT Install Technician Jason Buck and Service Technician Ross Gatien who work out of the ADT office in nearby Lansing. They had serviced Connie's home over the past several years.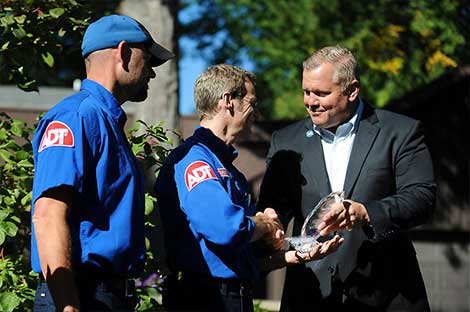 Connie's fire was sparked by an electrical socket connected to a clothes dryer in the laundry room which shorted out. According to Liberty Township Fire Chief Brandon Hughes, the flames quickly spread through the walls and into the attic.
"We strongly believe fire monitoring saved her life that morning," Hughes said.
Presiding over the LifeSaver event was ADT Regional Vice President Mark Birchmeier who presented a $5,000 grant to the fire department and said, "We just want to recognize the dispatchers and the firefighters for their service and for the great work they do."
When asked how the funds will be spent, Hughes said, "We are going to have to sit down and decide on what we could really use in the department to save lives."Connie's house is still being repaired from the fire and severe smoke damage. She expects to move back in by Christmas.
"The fire was the worst thing that has ever happened to me," Connie said. "But the silver lining is that I've met a bunch of new friends and will have a brand new home to enjoy for years to come."
Share how ADT has helped protect you
Tweet @ADT & share your #ADTSaves story with us on Twitter.
Customers Tell Their Stories
The ADT LifeSaver Program recognizes outstanding ADT professionals who helped save a customer's life.
`
"That call from ADT helped save our lives. And the fast response of the fire department helped save our house."
- Amy S., Wayne Township, IN