Indoor Pool Heater Creates Lethal Levels of Carbon Monoxide in Pennsylvania Home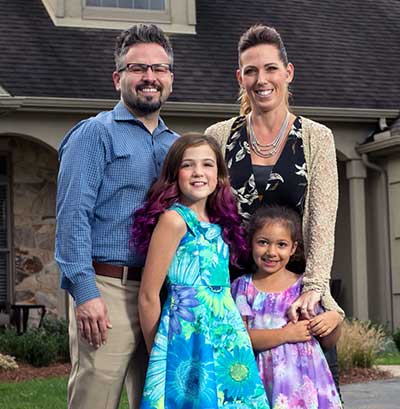 "There were C/O readings that, over time, could have threatened the lives of everyone inside," said Firefighter Zach Petticoffer. "I immediately shut off the gas and we aired out the home to make it safe."
It was a phone call every parent dreads. ADT Customer Rachael Wood was three hours from her Manheim, PA home when ADT called to report a carbon monoxide alarm. Back at home was Rachael's mother, caring for her 10-year-old daughter, Angie and 6-year-old granddaughter, Sophie.
"My heart just sank. I am the protector and supposed to be there for my kids," Rachael said. "Thankfully, ADT came to the rescue by receiving the carbon monoxide alarm and immediately contacting first responders. Then they reached me on my cell and I also got an ADT Pulse alert."
While waiting for volunteers from the Penryn Fire Company to arrive, all three family members evacuated the home along with a menagerie of pets; one dog, two cats, three ferrets and eight reptiles.
"I could have lost my family. "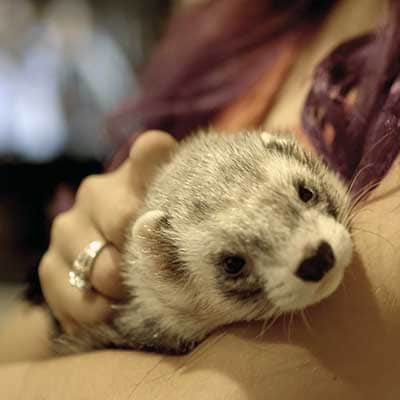 All were outside as firefighters went inside, using a portable gas detector. They determined carbon monoxide was seeping from a faulty pool heater in the basement.
"There were C/O readings that, over time, could have threatened the lives of everyone inside," said Firefighter Zach Petticoffer. "I immediately shut off the gas and we aired out the home to make it safe."
To celebrate the save, LifeSaver Awards were presented to four ADT employees. Included was Dispatcher Duane Hilton, who has worked at ADT Customer Care in Rochester, NY for 18 years. He drove 300 miles with Manager Dave Grunder to meet the family in person.
"I am so proud my training and skills helped this family," said Duane. "It was an honor to be here and see the gratitude on their faces."
Also honored with LifeSavers were three employees from the ADT branch in Lancaster, PA who sold and serviced the ADT system in Rachael's home; James Anderson, Jacob Knapp and Dan Morrow.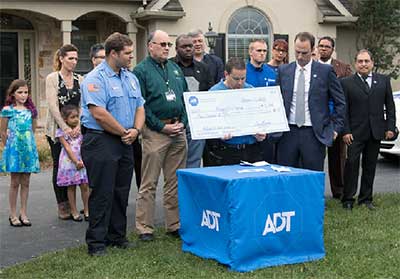 The LifeSaver event was hosted by Jon Marvin, ADT VP of Customer Care who presented a check for $5,000 to Penryn Fire Company.
"We will use a portion of the funds to buy additional air monitors to detect dangerous gases in homes and businesses," said Doug Bollinger, President of Penryn Fire Company. "We'll use the remainder to outfit another emergency vehicle we are purchasing this spring."
"I could've lost my family. They're my universe," Rachael said. "The exceptional customer service and great technology ADT provided me during this emergency made the difference between life and death."
Share how ADT has helped protect you
Tweet @ADT & share your #ADTSaves story with us on Twitter.
Customers Tell Their Stories
The ADT LifeSaver Program recognizes outstanding ADT professionals who helped save a customer's life.
`
"That call from ADT helped save our lives. And the fast response of the fire department helped save our house."
- Amy S., Wayne Township, IN