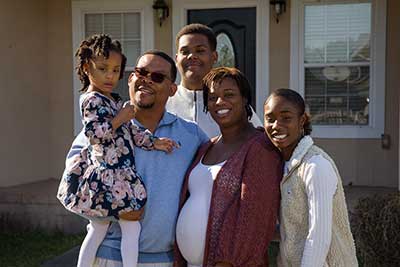 Brunswick, Georgia; December 21st, 2019. It was a Saturday and Nakita Foreman -- five months pregnant at the time -- was cleaning her house. Her husband Jeremy was away, along with older daughter Mackenzie and son, Jeremiah. At home with Nakita was three-year-old Amber Kaye and the family dog, Minnie.

As Nakita finished cleaning the master bedroom, she celebrated by lighting a new candle on a dresser underneath the television. She closed the door and started cleaning the room next door. A short time later, around 2:45 pm, Nakita sat down with Amber Kaye. Suddenly, the ADT alarm activated. At first, Nakita wasn't concerned because she thought it was the security system's door chime indicating Jeremiah had entered the house.

However, the alarm's beeping grew louder and was so disturbing Nakita couldn't ignore it any longer. Nakita's heart was pounding as she slowly opened the bedroom door and witnessed the most horrifying image she'd ever seen - flames were shooting from the TV, dresser and carpet. The smoke was thick and the heat was searing. She froze.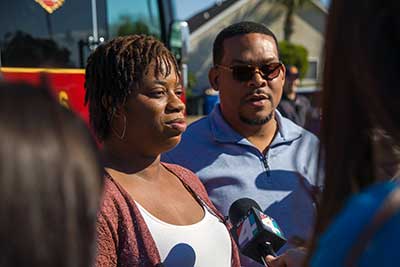 Nakita's first thought was "This only happens in the movies!" She jumped into action, getting a glass of water to throw on the fire. But it had no impact. Then, Nakita ran into the living room screaming, "We have to run" and bolted outside with her daughter. Her cell phone was ringing in her pocket, but she let it ring because she was running to her neighbor's house.

Out of breath and terrified, Nakita banged on the door, screaming "HELP ME" at the top of her lungs. Her neighbor answered, but Nakita didn't have the words to describe what was going on. Instead, she motioned towards the house.

By this time, many neighbors were outside. One of them, Sidney Bush, immediately ran into the house, grabbed a bucket of water and put out the fire without a second thought.
Nakita banged on her neighbor's door, screaming "HELP ME"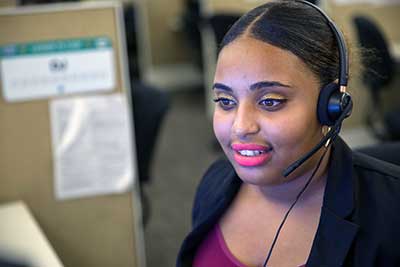 While all this was happening, an alarm signal was received by ADT Dispatcher Dejaunni Edwards at Jacksonville Customer Care. She tried calling Nakita's cell phone and the house but got no response, so she then called the Glynn County Fire Department. About the same time, Nakita called 911 and her husband, Jeremy.

Jeremy was nearby in Savannah, getting ready to play in a concert at the Civic Center when Nakita phoned. She was hysterical. All she could say was, "the house is on fire baby! I need you to come home!" Jeremy immediately headed home – an hour's drive. Right then, ADT called again to report that firefighters were dispatched. Then Jeremy's brother, also on the ADT contact list, called and said, "Hey are you ok? ADT said the smoke alarm was going off.

Jeremy stated that he is forever grateful that ADT was so diligent with contacting everyone to inform them of the fire and is appreciative that nothing tragic happened to his pregnant wife and toddler.

Nakita said that when firefighters walked her through the house after it was safe, the stench of smoke was everywhere. Tears filled her eyes as she saw pictures, clothes, and memories burned to ashes. Nakita cried silently as a firefighter confirmed what she was thinking: ADT had saved their lives. Her tears of sorrow turned into tears of joy. She is thankful to have a dependable alarm service that made the difference.

The Foreman's both work in public education. They purchased their ADT system in November 2017 through a Solutions Advisor with Affinity Integrated Solutions, ADT's fourth largest Authorized Dealer based in Greensboro, NC. The dispatcher that helped save their lives, Dejaunni Edwards, has worked at ADT since March 2019. Sidney Bush works investigations for Georgia Emergency Management and has experience as a volunteer firefighter. He and his wife, Erica, are also ADT customers.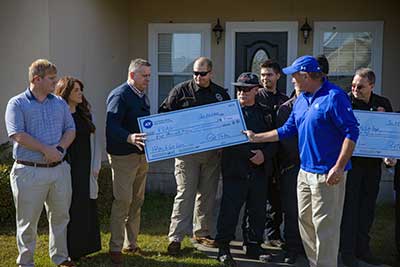 To celebrate how this family was saved from tragedy, an ADT Lifesaver event was held on Monday, January 20th. There was a surprise reunion between Nakita and Dejuanni at the Foreman home. A knock at the door interrupted videotaping of the LifeSaver video and Nakita met Dejaunni as news reporters looked on. Representatives from the Glynn County Fire Department were presented with a $5,000 contribution. An additional $5,000 was awarded to the Peace Officers Association of GA, a charity chosen by fellow lifesaver, Sidney Bush.

Later that day, Dejaunni was presented her LifeSaver Award in front of colleagues at the Jacksonville Center. On February 24th, the Foreman's shared their story, along with the LifeSaver video at the annual Authorized Dealer Convention in Nassau. Their neighbor, Sidney Bush surprised them on stage.
Share how ADT has helped protect you
Tweet @ADT & share your #ADTSaves story with us on Twitter.
Customers Tell Their Stories
The ADT LifeSaver Program recognizes outstanding ADT professionals who helped save a customer's life.
`
"That call from ADT helped save our lives. And the fast response of the fire department helped save our house."
- Amy S., Wayne Township, IN