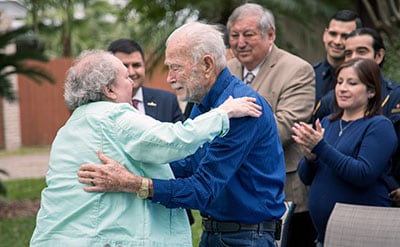 Help sometimes is closer than you think.
Bob Hensley, a retired Air Force pilot, survived disaster with some aided coordination. The quick action of his heroic neighbors and the trusted call from ADT to first responders kept this 90-year-old resident alive and out of harm's way.
Bob was asleep on the evening of December 11th in his Mission Texas home. Laurel, his wife, was away on a cruise, and his caretaker had left for the evening.
He woke to a smoky home. The ADT alarm system activated, but Bob was already too delirious from the fumes to react.
Bob's neighbors jumped into action. "It was about 10:45. I heard some kind of beeping, and I told my dad something doesn't sound right," Erik Garza recounted. The father and son frantically tried to rescue the homeowner and enlisted the help from neighbors Sandy and Mike Overly to gain entry. Bob was in the kitchen delirious, when they found him.
"I told my dad something doesn't sound right," Bob's neighbor Erik Garza recounted.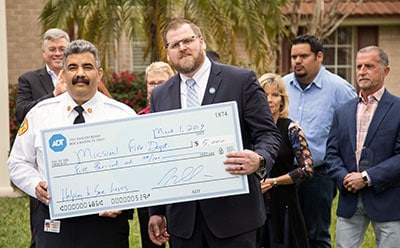 "If Erik hadn't heard the alarm and actually come out and taken a look at what was going on, it would have been a disaster for Bob," Mike Overly remembers.
Meanwhile, the Fire Department arrived and worked on subduing the flames. They responded to a call from Becky Mingie, a dispatcher at ADT.
After the crisis, Becky went to Texas and was honored for her service during the incident, and the Mission Fire Department was presented with two $5,000 checks, one from ADT and one from the USAA.
Chief Gilbert Sanchez, the fire marshal, determined the fire originated in the attic. ADT's alarm systems helped minimize the damage and danger. "As Fire Marshal for over 18 years, the importance of having these systems in place - not just in businesses, but residential - enhances the response time in these emergencies."
It was a close call for sure. Without the help from Bob's neighbors, ADT and first responders, it could have been a very different story for this close-knit Texas town.
Share how ADT has helped protect you
Tweet @ADT & share your #ADTSaves story with us on Twitter.
Customers Tell Their Stories
The ADT LifeSaver Program recognizes outstanding ADT professionals who helped save a customer's life.
`
"That call from ADT helped save our lives. And the fast response of the fire department helped save our house."
- Amy S., Wayne Township, IN