ADT Customer Uses Home Security System to Help Save Her from Violent Attack
It was the most horrific day of Katie Anderson's life. On March 14, she allowed her ex-boyfriend back in her Fresno, CA home to collect his belongings after kicking him out days before. An argument ensued and then he started assaulting her.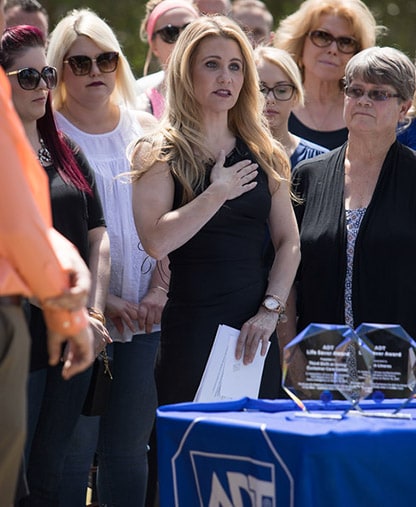 "I felt the sheer panic that he would kill me," Katie said. "He abused me for about 90 minutes…smothering me, holding me down and not allowing any chance of escaping while repeatedly threatening to kill me. He had taken my cell phone and keys so I couldn't call the cops or drive away."
That's when Katie spotted her ADT key fob on the kitchen counter. She reached for it, activating her two-way voice security system. The call was received at ADT's Customer Care Center in Irving, TX. The agent came on the line and asked if everything was okay. Katie said no and requested she call 911. In the background, the ADT agent could hear a man trying to control the conversation by claiming Katie was okay. The agent disconnected from the home and called police.
"I knew the red button on my ADT panel would save my life,"
Within minutes, officers were at Katie's front door but the attacker had fled. Katie believes the ADT security system scared him off and saved her life.
"The security system was my lifeline," she said.
To celebrate how Katie's life was spared, an ADT LifeSaver event was held June 8 at Fresno's Marjaree Mason Center, one of California's largest domestic violence shelters. Surrounded by her friends and family as she shared her powerful story, Katie met ADT team members and police officers who played a part in her rescue.
"I am sharing this horrific event in my life to illuminate the issue of domestic violence and to bring other victims forward," Katie said. "I am grateful to be alive today."
"I felt the sheer panic that he would kill me"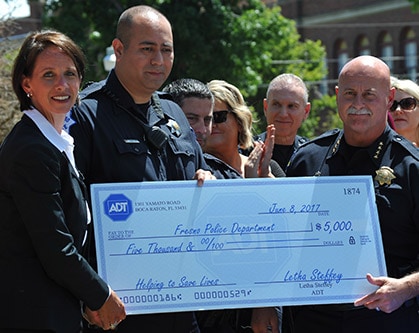 As part the event, ADT contributed $5,000 to the Fresno Police Chief's Foundation and an additional $5,000 to the Marjaree Mason Center. Both checks were presented by Letha Steffey, ADT Sr. Vice President of Marketing.
"Domestic violence is just not a police problem, it is all of our problem," said Fresno Police Chief Jerry Dyer.
Letha also awarded five LifeSavers. Among the recipients were ADT Fresno team members Sam Tristan and Jason Rerucha who sold and installed an upgraded security system in Katie's home. Also receiving ADT's highest honor were Kevin Gaylord and John Linares from SafeStreets, an ADT Authorized Dealer, which did the original sale and install in Katie's home. Additionally, the third shift at the Irving Customer Care Center was recognized. Accepting was Unit Manager Jamie Smith.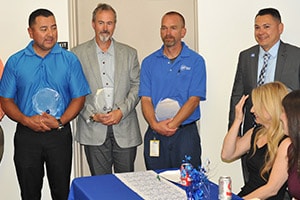 Following the LifeSaver event, which was covered by most of Fresno's news outlets, the celebration of life continued at the ADT Fresno branch where Letha and Joe Longfield, ADT Regional Vice President, co-hosted a Meet a Customer for Life event. They were welcomed by Daniel Bodie, Area General Manager.
Share how ADT has helped protect you
Tweet @ADT & share your #ADTSaves story with us on Twitter.
Customers Tell Their Stories
The ADT LifeSaver Program recognizes outstanding ADT professionals who helped save a customer's life.
`
"That call from ADT helped save our lives. And the fast response of the fire department helped save our house."
- Amy S., Wayne Township, IN