Two Cats, A Candle & A Note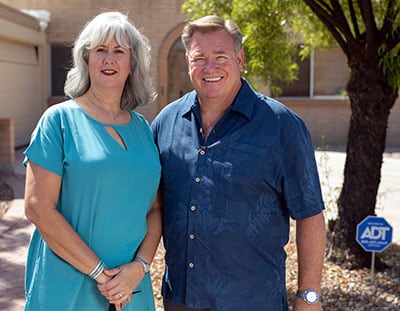 On a recent morning, Shawn Siqueiros lit her favorite bathroom candle. Later that morning, forgetting it was still burning, she left home with her fiancé, Pat McCracken. "We were going to the gym, we took off from the house around 9:00 am for a 9:15 class…
...by just minutes after pulling out of their driveway The Tucson Fire Department was dispatched by ADT to their home.
At first, the firefighters didn't see any trouble. It seemed like it might be a false alarm.
"We couldn't track down the homeowners, so we looked around the house and found a window that wasn't totally locked," said a firefighter, "we were able to get inside without damaging the home."
Shawn and Pat were still at the gym at this time, totally unaware of events back at home.
Once inside, the firefighters quickly noticed smoke in the bathroom where they found charred towels smoldering on the counter.
Meanwhile at the gym parking lot, "we both left our phones inside our truck before we went inside," said Shawn. "We came out and when I picked up my phone there were lots of messages. When we got back to the house and went inside, we immediately noticed the smoke."
"Because of ADT and the firefighters, the house & cats are fine."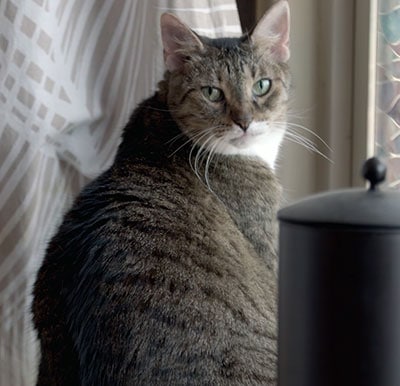 They also noticed something else.
"I saw a yellow piece of paper on my desk," said Pat, "there was a note from the fire department. "We've been to your house, you had a fire, we put it out and we locked up your house the best we could. Call if you have questions." "That note was really something," said Pat. "Who does that? Amazing."
Later they put together all the pieces. "We have a cat who likes to lay on fresh laundry and when she jumped off the bathroom counter, she pushed a towel over the lit candle." As the house started filling with smoke, it triggered our connected smoke detector and ADT was alerted."
"Thanks to our ADT alarm and the quick actions of firefighters, the house and our cats are fine," said Pat. The whole thing is remarkable, we left at 9:05 and the first message that came to my phone was less than ten minutes from when we left the house, before we got to the gym!"
"Because of our ADT alarm and the quick actions of firefighters, the house and our cats are fine," said Shawn. "Pat and I can't always monitor our phones, it's good we have back-up."
"And the note? Yes, we plan on keeping that very special letter from those very special first responders, said Shawn and Pat," "That's something we will never forget."
Share how ADT has helped protect you
Tweet @ADT & share your #ADTSaves story with us on Twitter.
Customers Tell Their Stories
The ADT LifeSaver Program recognizes outstanding ADT professionals who helped save a customer's life.
`
"That call from ADT helped save our lives. And the fast response of the fire department helped save our house."
- Amy S., Wayne Township, IN