The Millennial generation has grown up, started their careers, and are now settling down in the suburbs. The Wall Street Journal reported on recent U.S Census Bureau data, showing around 27,000 millennials between the ages of 25 and 39 leaving big cities for nearby suburbs.
This "Millennial Migration" started in 2018. By the time 2020 began to unfold, more and more reasons to leave the city for the suburbs were piling up: Mass layoffs, city-wide shutdowns. Self-Quarantining has meant pressing a huge "pause" button on any activities outside of our homes. And for a lot of people, this meant having time to reflect on what they wanted their lives to look like when they pressed "play" again.
The suburbs are not devoid of spirit. Brew pubs, coffee shops, and yoga studios are becoming more commonplace. Suburbia allows you to be closer to nature, to family, to be able to afford more living space. For those starting a family, there may be a better selection of schools outside of the city.
If we take all of these factors and add in the fact that interest rates are at an all time low and work from home allowances are at an all time high, the usual daunting costs of moving are no longer an issue.
We get it. When you get down to it, where you live can affect your entire livelihood. Your home's location has power over your finances, your health, your social life, and your peace of mind. Making the decision to leave the city in order to benefit from lower housing costs and extra peace of mind doesn't mean you need to sacrifice what makes city living so great - like access to those coffee shops, restaurants, and yoga studios. You can still enjoy the same conveniences in a suburb not too far from where you already are.
If you're looking to leave city life for any of the aforementioned reasons or another reason entirely, we're here to help. We support happy, healthy, safe homes. When you move, we'd like you to be somewhere safe. For that reason, below you'll find five cities with high burglary rates and the best towns nearby with the lowest burglary rates, according to the FBI.
City: Philadelphia, Pennsylvania
Burglary Rate: 0.42%
Suburb: Warrington, Pennsylvania
Burglary Rate: 0.05%, 157% lower than Philadelphia
Distance from Philadelphia: 25 miles
Population: 24,360
Median Household Income: $66,364
Warrington, PA is home to castles, museums, parks, and great shopping and dining options. Public schools are highly rated, and Philadelphia is only 25 miles away if you're craving an authentic cheesesteak.
City: Detroit, Michigan
Burglary Rate: 1.23%

Suburb: Royal Oak, Michigan
Burglary Rate: 0.08%, 175% lower than Detroit
Distance from Detroit: 15 miles
Population: 59,303
Median Household Income: $64,873

Royal Oak, Michigan's community motto is "Life Now Playing". They have at least 50 city parks sprawled across 310 acres, a thriving downtown scene, dining and shopping galore, and the 125-acre Detroit Zoo. They boast Tree City USA status, a walkability score of 87, and a cutting-edge, award-winning hospital.
City: Cleveland, Ohio
Burglary Rate: 1.52%
Suburb: Westlake, Ohio
Burglary Rate: 0.08%, 180% lower than Cleveland
Distance from Cleveland: 16 miles
Population: 32,330
Median Household Income: $64,963
Westlake, Ohio has been taking strides to become the perfect place to live. Only 16 miles from the city of Cleveland, Westlake offers ample activities including museums, beautiful parks, top performing schools, and plenty of shops and restaurants. Lake Erie (pictured above) is only a ten minute drive away.
City: Dallas, Texas
Burglary Rate: 0.78%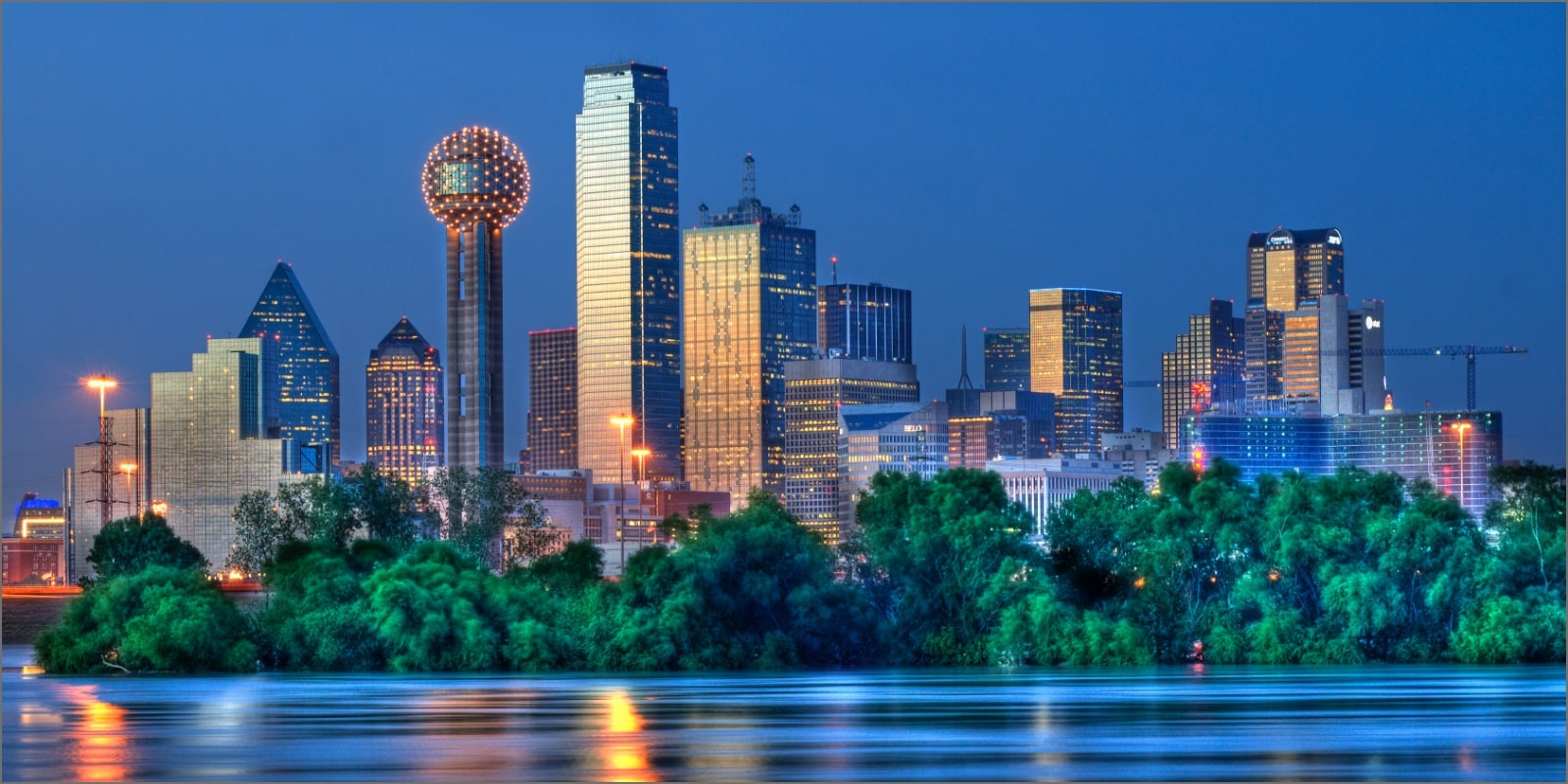 Suburb: Little Elm, Texas
Burglary Rate: 0.09%, 158% lower than Dallas
Distance from Dallas: 38.9 miles
Population: 46,097
Median Household Income: $81,866
Little Elm is one of the fastest growing municipalities in Texas. What's driving people here? Miles of shoreline, lakeside amenities, numerous parks, new buildings, and a growing nightlife. The biggest benefit in our eyes? You're only 39 miles from Dallas and can live in a city with only an 11th of the big-city's burglary rate.

City: Chicago, Illinois
Burglary Rate: 0.48%
Suburb: Wheaton, Illinois
Burglary Rate: 0.1%, 131% lower than Chicago
Distance from Chicago: 30 miles
Population: 53,444
Median Household Income: $95,238
Wheaton, Illinois was named Money Magazine's Best Place to Live in Illinois in December of 2018. Categories considered? Cost of living, public school performance, crime, and average income. Here you'll find 52 parks, breweries, shopping, and even a zoo, all less than an hour's drive away from Chicago.
These suburban areas have so much to offer. If you're looking for a change of pace, there are plenty of options for you in close proximity to the cities you already love. No matter where you choose to live, high-rise or town house, we believe everyone has the right to feel safe and our ADT home security packages can be customized to fit the level of safety you need.
If you'd like to learn more about crime statistics in your area, visit ADT's website to find an Interactive Crime Map. Then, browse our home security systems to see how ADT can help secure your home.