Keeping Cleveland, OH homeowners safe from criminals
At ADT, we understand that the most important service we can offer to you is to protect the security and tranquility of your family and home. To us, this means more than just installing a home security system in your Cleveland, OH home. We have been the leading home security company for over 140 years. At ADT, we are also leaders among home security companies in Cleveland, OH developing home automation systems that work in conjunction with our home security alarms. You can be assured that your home is monitored and secure, 24 hours a day/365 days a year, no matter how far you may be from Cleveland, OH. We ensure your home is monitored and secured for a variety of disasters.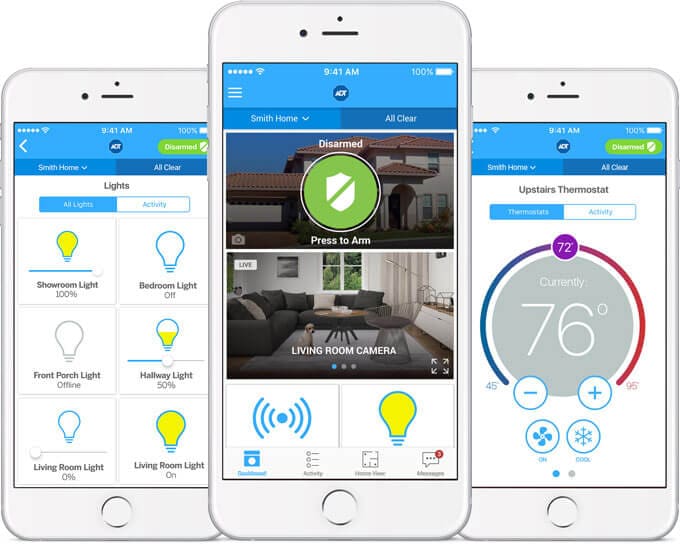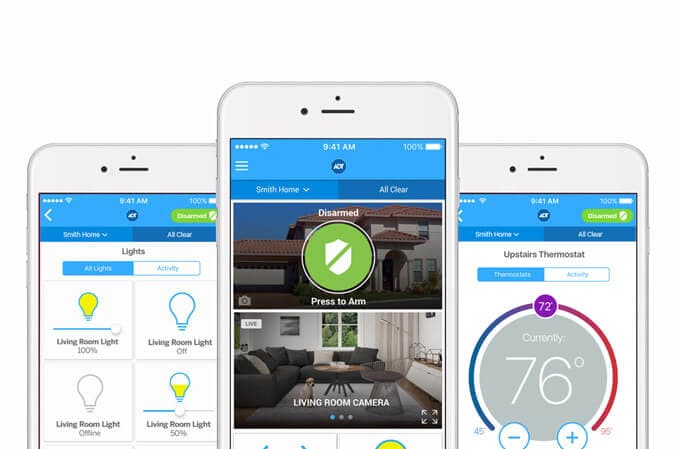 Reliable Home Security Systems with the Latest Technology Innovations
The ADT home security systems installed in Cleveland, OH are more advanced and more effective than ever when paired with Pulse - our cutting edge home automation service. The Pulse home automation control smartphone app gives you full access to your security alarm and household functions from the palm of your hand, whether you're in Cleveland, OH or anywhere else your life takes you.
From the comfort of your smartphone you can easily manage your home security with the ability to: Arm and Disarm the System, Receive Security Alerts, Adjust Your Thermostat, Control Lighting and Appliances, Lock and Unlock Doors

Pulse home automation means you never have to worry about forgetting to turn off appliances, setting the alarm, or walking into a dark empty house, and the service is matched by ADT's dedication to giving you the fastest response when your security alarm is triggered.
ADT Cleveland Service Area
Our ADT Cleveland team offers professional home security installation and a variety of security and automation products and solutions.
Same-Day Installation

6-Month Money-Back Guarantee*

24/7 Live Phone Support
ADT Security Services
Cleveland OH 44147
United States
(440) 397-4428
Cleveland Office Hours
M-F 8am - 4pm
Sat/Sun Closed
Questions? Call Us Today!
M-F 7am - 9pm
Saturday 8am - 6pm
Sunday 9am - 6pm
Nearby Cities
Newburgh Heights
Brooklyn
Bratenahl
Cuyahoga Heights
Brooklyn Heights
Linndale
Edgewater
Lakewood
East Cleveland
Parma
Riveredge
Seven Hills
Security Camera and Surveillance Systems
Keep an eye on your home, pets and loved ones with trust-worthy security cameras and surveillance systems. Your surveillance system will automatically start recording if your alarm is ever triggered, and notifications are pushed to your smartphone or tablet. Not only do these investments provide peace of mind, they can also assist with discounts on your homeowners insurance.
Cleveland Home Automation Services
Easily manage your security, lifestyle and home all from the palm of your hand with our home automation services. Our Pulse system is designed to help you control your living environment, whether you're home or not. Keep your home safe and your family comfortable by easily adjusting the lighting, temperature and even your home security system. Learn more about Home Automation Solutions.
The best part is that all these ADT home security services are affordable for the everyday home, condo, apartment, or townhome owner in Cleveland, OH. The peace of mind which ADT security systems provides, by ensuring your family and home are safe, is invaluable. We invite you to compare our home security alarms, systems, and automation can provide peace of mind at a price you can afford.
Smart Home Technology in Cleveland
Easily maintain control of your home and improve your quality of life with this convenient technology. This provides a simple solution for monitoring all aspects of your home, regardless of where life takes you, from safety (by seeing who is at your front door) to energy consumption. Smart home systems are great for all living situations whether you live in a house, condo, apartment or mobile home.
Get smarter home security with remote control of your system and more

Our home alarm security systems are constantly monitoring to ensure that once a burglary alarm is received at a Customer Monitoring Center, a trained ADT professional will notify you and first responders quickly.

With an ADT wireless home security camera system, you can do more than monitor your home security remotely — you can manage your life. For example, looking in on the cable repairman from your office.

Fire and Smoke Monitoring
When a fire and smoke detector in one of our home security systems is received, a trained ADT professional will notify you and your local fire department as quickly as possible.

Never feel alone again with ADT medical alert monitoring in our home alarm security systems. Push a button to be connected to a trained ADT professional through the two-way voice intercom system. If assistance is needed, this professional will contact the appropriate emergency response services.

Carbon Monoxide Monitoring
A carbon monoxide (CO) leak can spell serious harm for you and your family since it can be impossible to detect without a warning device. Make your home a safer place with CO monitoring services available with most ADT home security systems.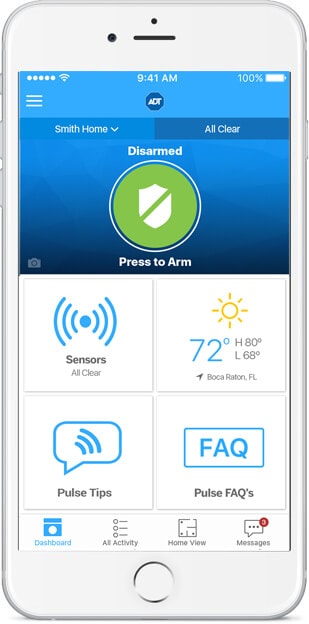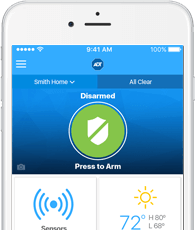 Happy Customers in the Cleveland Area
Secure your home in Cleveland with an
ADT Wireless Security System
*36 month monitoring contract required. Applies to Traditional Service Level only without Extended Warranty Plan. See important terms and pricing here.