1 in 5 Small Businesses Gets Hacked
The threats to your business extend well beyond someone sneaking in your back door, to intruders hacking their way in through your back-end systems. ADT cyber security solutions can help protect your systems and help minimize the possibility of your networks and customer data from getting hacked. And with our new flexible payment options, you can protect now and pay over time.
Protect Your Small Business
Nearly
60%

of small businesses that are victims of

cyber crimes

closed permanently within 6 months of attack.*
*According to the National Cyber Security Alliance. Read more here
Recognize the Cyber Threats to Your Business
Every Device Is a Potential Entry Point
Think of all the ways you, your employees and your customers access your networks and data. Phones, tablets, computers, Wi-Fi connections and even smart devices are all potential avenues for entry into your networks and the data you store and send. Comprehensive protection is essential to a healthy business.
How ADT Manages Cybersecurity
Professional System Installation
Our cyber experts assess your security needs and install a solution that covers your network.
If there's an attempted breach, we immediately move to help stop it and keep you from getting hacked.
We keep a close eye on your networks day and night to quickly spot cyber attacks.
When there's an update to your security software, we push it out to you automatically.
Call Now for a FREE Cybersecurity Audit with an ADT Specialist
ADT Cybersecurity Relies on Four Security Components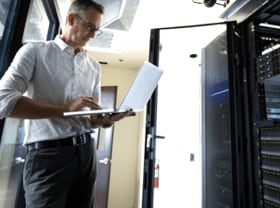 24/7 managed network security acts as a virtual perimeter wall for your business, helping prevent hackers from grabbing or destroying data.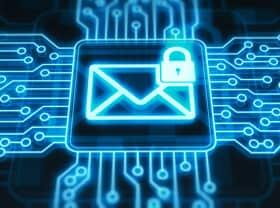 Scan e-mails for spam and capture malicious code before it enters your network to help keep ransomware and phishing scams off your network.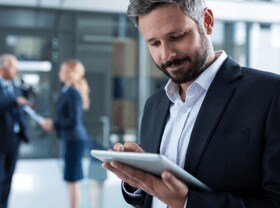 Make your firewall's protection mobile with virtual private network connectivity to the office for remote or traveling workers.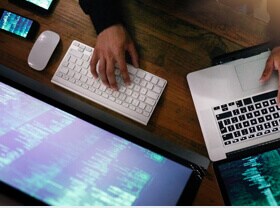 Know that we are constantly protecting your business from the latest threats, and that ADT is available immediately if an incident occurs.
ADT Technicians Are Certified in Advanced IT and Cybersecurity Solutions
Frequently Asked Questions
ADT cybersecurity solutions offer:
A next generation firewall device with deep-packet inspection capability to inspect all Internet traffic, including encrypted communications
Professional firewall installation by ADT technicians and network engineers
Premium content filtering service
A comprehensive and customizable weekly report to see all blocked threats, attacks denied, Internet use per user and other information
Add-on products like Secure Email and VPN services to complete the cybersecurity solution
Firewalls create virtual barriers to protect networks. They do this by inspecting and controlling incoming and outgoing Internet traffic and allow or block traffic based on whether it conforms to predetermined security rules.
A VPN creates a personal network that enables users to send and receive data that's shielded from shared networks through encryption techniques. Having a VPN is like having a personal, private and secure browser on public Wi-Fi networks or anywhere away from the office. Applications running across a VPN benefit from the functionality, security and management of the private network.
After the firewall device has been successfully installed at your business location, you'll receive a welcome email from ADT with instructions to create your online account. You can also visit www.myadtcybersecurity.com to set up your account. You'll need your ADT Cybersecurity account number, site number and your email address.
You can reach our customer care team 24/7 at 1-800-238-2727. Additionally, you can log support tickets for any issues related to your network or firewall device on the ADT Cybersecurity portal (www.myadtcybersecurity.com).