The first and most basic rule of social media is simple: Limit the amount of personal information you share online.
While this may sound counterintuitive – social media has become a haven for showing off where you're traveling, what you're eating, even what you might be wearing on a given day – online overexposure could be putting your safety at risk. It's not just yourself you have to worry about, either. Parents should be thoughtful about how much information they share digitally about their children, including their names and where they go to school.
But social media isn't the only way people can keep tabs on where we are or what we're doing. Your phone may have the ability to share its location services with anyone (or everyone). For a closer look at who may be lurking on your locations, we surveyed over 1,000 smartphone users who utilize location services and social media. Read on as we explore how many people keep their location services turned on, with whom they share their whereabouts, and what friends, family, and significant others might be doing with that information once they have it.
Finding Your Friends
Some digital safety tips might feel like routine behavior at this point. Being cautious with whom you share your credit card information, Social Security number, and other financial records is a big part of staying safe and secure in a digital era. But what about how we voluntarily share our location?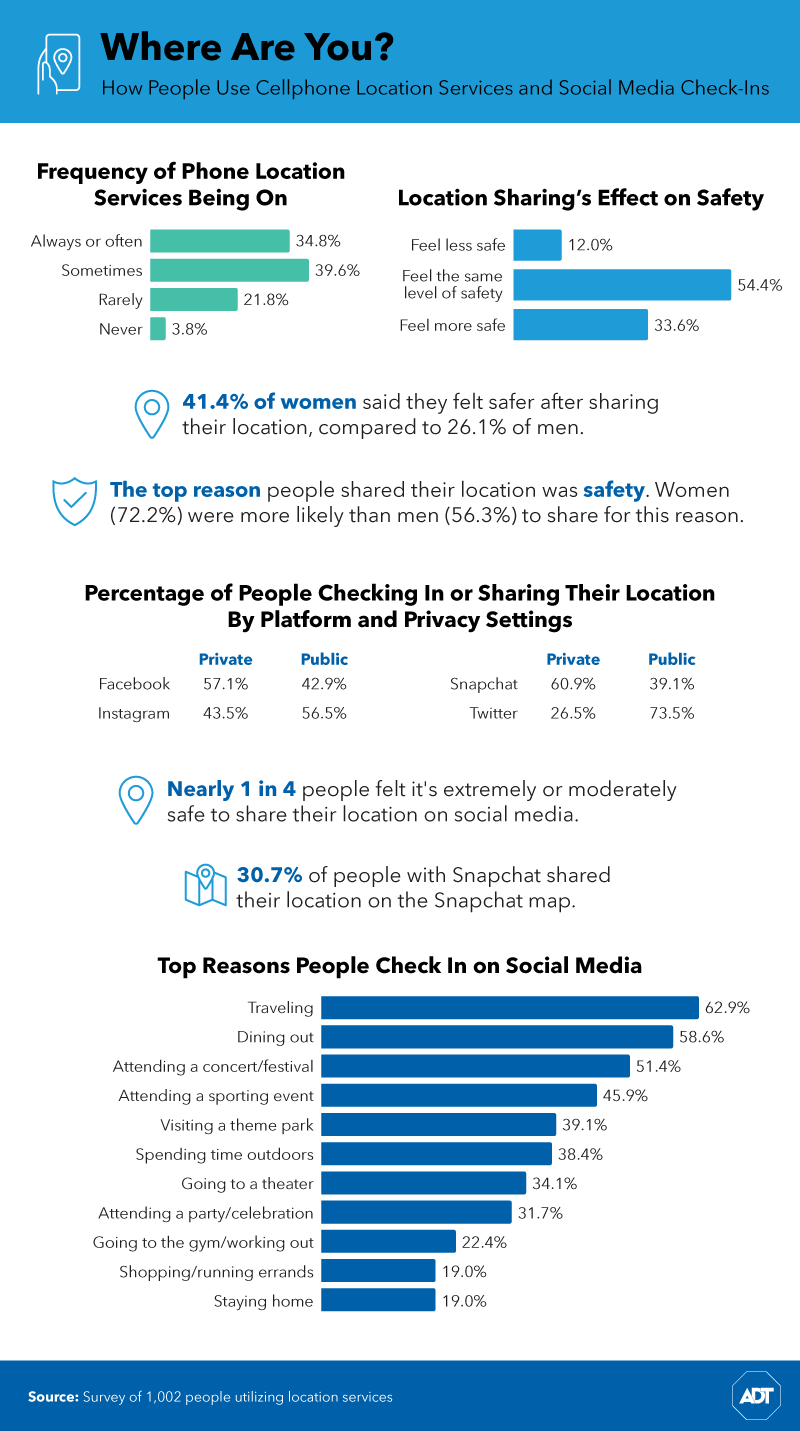 More than 1 in 3 Americans (35%) identified either always or often having their phone location services turned on, and another 40% sometimes had their location services enabled. Just 22% of people only rarely turned on location services in their smartphones, and a very rare 4% kept them turned off at all times.
Despite a vast majority of smartphone users enabling location services in some capacity, more than half (54%) said they feel the same level of safety by allowing others access into their whereabouts, while 34% felt more safe knowing those they've shared their location with can check in on them. Women (41%) felt safer than men (26%) after sharing their location services.
With geotagging and "checking in," you can just as easily share where you are via social media as you can through a phone's location services. More than half of Americans with public Instagram accounts (57%) had shared their location digitally through the app, followed by 43% of public Facebook users and 39% of public Snapchat users. A quarter of Americans believed it's extremely or moderately safe to share their location online through social media, most commonly by checking in while traveling (63%), going out to eat (59%), or attending a concert (51%).
Somebody's Watching You
On average, people polled shared their locations directly with four people. The most common recipients included their significant other (56%), friends (40%), parents (40%), and siblings (36%). Knowing their spouses, partners, or significant other had access to their location at all times made people feel the safest (61%), followed by their parents (46%) and siblings (42%).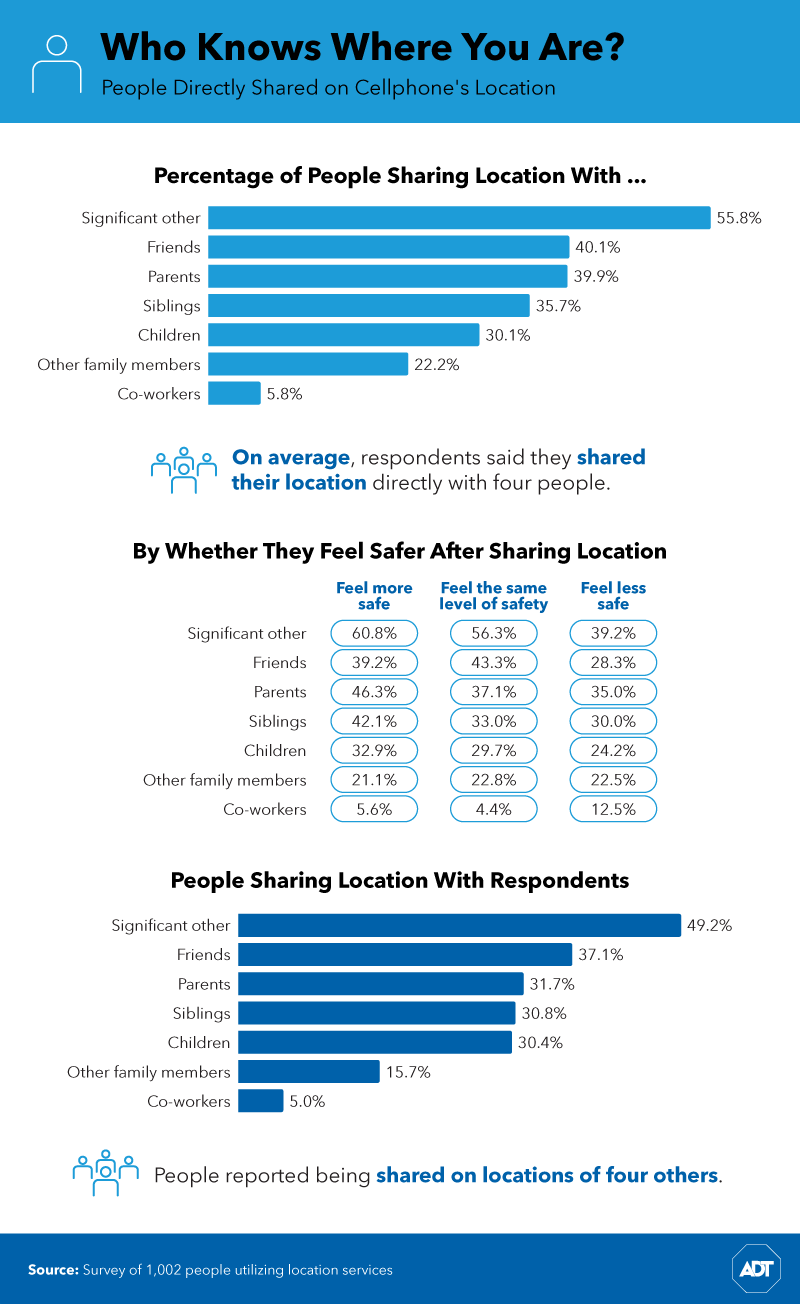 At the same time, 39% of Americans said sharing their location services directly with their significant other made them feel less safe, and 35% said the same about sharing this info with parents.
Those surveyed also identified four people, on average, who shared their location services with them, led by their significant other (49%), friends (37%), and parents (32%).
Frequent Usage
Just because you have access to someone's location whenever you want doesn't mean you'll use it as frequently as you could. Just 31% of respondents admitted to checking their significant other's location every day, followed by that of their parents (28%) and siblings (27%). Overwhelmingly, the most common use of checking in daily occurred between parents and their children, with 48% of parents checking in on their kids' whereabouts through location services.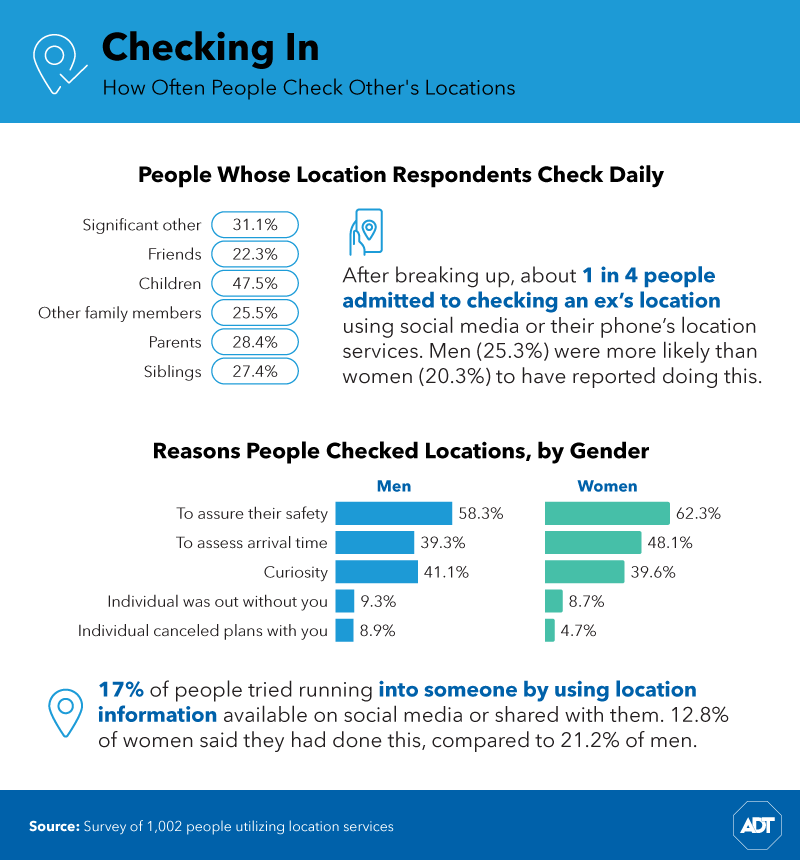 Women (62%) were more likely than men (58%) to check the location of others to make sure they were safe and to get an estimated time of arrival (48% and 39%, respectively) while they were commuting or traveling. In contrast, men (41%) were more likely than women (40%) to identify using location services simply out of curiosity and to see if the other person was out without them or when plans between them had been canceled.
In some cases, sharing location services (either directly through your phone or indirectly through social media) can lead to someone else crossing the line. Seventeen percent of people polled confessed to using the information they found on social media to try running into someone in a public space (more commonly among men, 21%, than women, 13%). Roughly 1 in 4 people used social media or their phone's location services to check in on an ex after breaking up with them – a practice also more common among men (25%) than women (20%).
Vulnerable and Exposed
It might be tempting to share all the intimate details of your next vacation online. After all, it's a break from your normal scenery, and there may be some iconic locations you're excited to take a selfie in front of. Still, it's smarter to limit your use of social media when you're away, especially when it comes to sharing your exact location. Not only can it make you a target in an unfamiliar area, it can signal to thieves and robbers that your home is empty and potentially unguarded.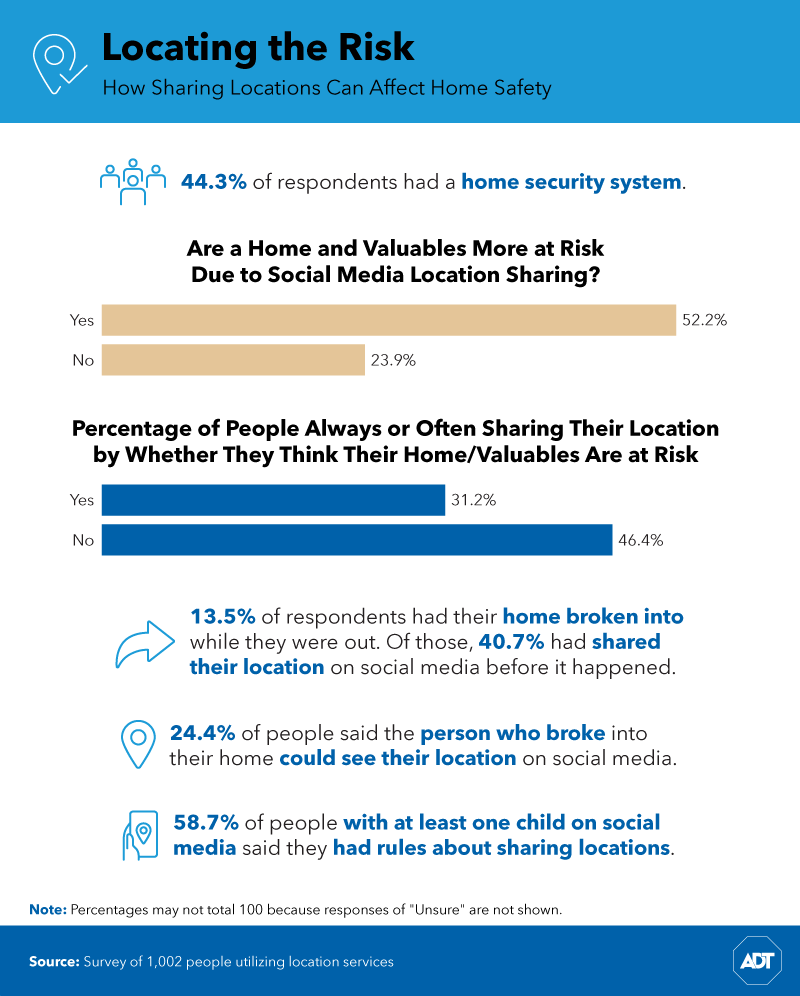 While more than half of people agreed their home and their valuables were at risk when they shared their location on social media, roughly 1 in 4 people disagreed. Even more, 46% of people who disagreed that sharing their location online could put their home at risk admitted to always or often checking in or tagging their locations digitally.
Of the 14% polled whose homes were broken into while they were away, 41% had shared their location on social media before the occurrence. One in four respondents said the person who broke into their homes could see their location online.
Safety in a Digital Era
Under the right circumstances, people sometimes feel safer when they know their partners, parents, and family members have constant access to their location and whereabouts. On the other hand, some people feel less safe when specific individuals have direct access to their location, and others may not be employing the best safety precautions with the way they share their locations on social media. Not only do some people admit to using the location information they have available for less than noble purposes (including checking to see if their exes are going out), sharing your location could lead to a break-in or robbery attempt while you're away.
At ADT, we know security means staying safe while you're on the go.
Our geo alarm services take your smart technology and put it to good use by incorporating the data you share with your alarm services to help keep you and your home secure at all times. Explore ADT.com to learn more today.
Methodology and Limitations
We surveyed 1,002 people who use location services, have a smartphone, and at least one social media account using Amazon Mechanical Turk.
The average age of respondents was 37.6 with a standard deviation of 11.7.
The generational breakdown of our respondents is as follows:
13.9% baby boomers, 30.6% Gen Xers, and 55.5% millennials. Other generations were unable to participate in this study.
50.5% of respondents were men, 49.2% were women, and .3% identified as nonbinary,
When exploring how many people know respondents' locations and how many locations the respondent has, we only considered answers in the 95th percentile. Anyone who entered in 0 was not factored into the averages here.
There are limitations with the data presented in this study as the responses are not weighted and they rely on self-reporting which can lead to exaggeration or recency bias.
Fair Use Statement
Do you think your readers might want to know how their location services are being used? We encourage you to share the findings of this study with your audience for any noncommercial use with the inclusion of a link back to this page as credit to our team of creative contributors and analysts.
This information is provided for general informational purposes only and should not be relied on in making any buying decisions. Information is deemed reliable but not guaranteed.
© 2020 ADT LLC dba ADT Security Services. All rights reserved. ADT, the ADT logo, ADT Always There and 800.ADT.ASAP and the product/service names listed in this document are marks and/or registered marks. Third party marks are the property of their respective owners.