The "internet of things" is continually expanding: By 2023, the global smart home industry is projected to surpass $150 billion. America leads the way in adoption, with over 45 million smart devices currently installed in homes across the country. But if the ubiquity of smart devices seems inevitable, many remain somewhat wary of the impending transition. Recent research suggests that consumers are eager for smart home security but leery of devices that could compromise their data privacy. Moreover, many connected products fall short of the convenience they promise, with 1 in 3 people struggling to operate their smart gadgets.
As the era of automation unfolds, we set out to study how individuals and families are creating smart homes of their own. We surveyed more than 1,000 individuals, analyzing their attitudes about specific technologies and connected devices more generally. Which needs and desires drive smart home adoption? Are users eager for more automation or uncomfortable with inviting more gadgets into their lives? For a deep dive into Americans' attitudes and apprehensions about smart devices, keep reading.
Getting Smart: Adoption and Appeal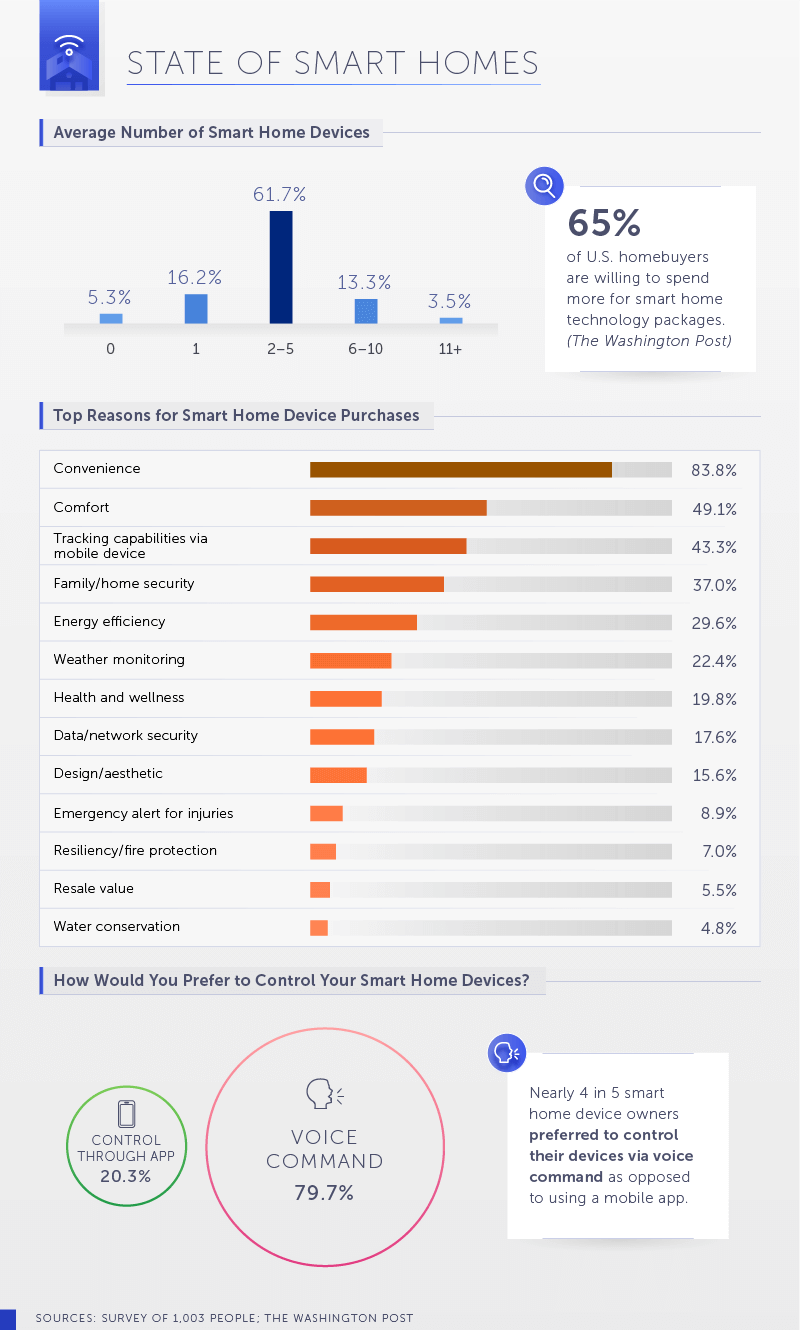 Among the respondents surveyed, the majority owned at least one smart home device – and a significant portion owned several. More than 6 in 10 possessed between two and five connected devices, a testament to the appeal of connectivity between internet-enabled products. Indeed, some experts suggest that smart speakers, such as the Amazon Echo or Google Home, frequently encourage further home automation: Consumers enamored by these gadgets subsequently plan to purchase compatible devices. Perhaps smart speakers, which feature virtual assistants such as Alexa, also account for the popularity of voice-commanded devices. Nearly 4 in 5 respondents preferred talking to their tech rather than operating an app.
In explaining their purchase motives, almost 84 percent of respondents cited convenience as essential to smart devices' appeal. More than 43 percent also prized comfort and the ability to track data related to their home. Thirty-seven percent attributed their purchases to a desire for greater security for their family, a particular priority for American consumers. The U.S. leads all other nations in smart home security installations, with internet-enabled systems installed in nearly 1 in 5 households. Analysts project that American demand for smart security devices will expand even further in the coming years, becoming an $11 billion industry by 2025.
Home Is Where the Hub Is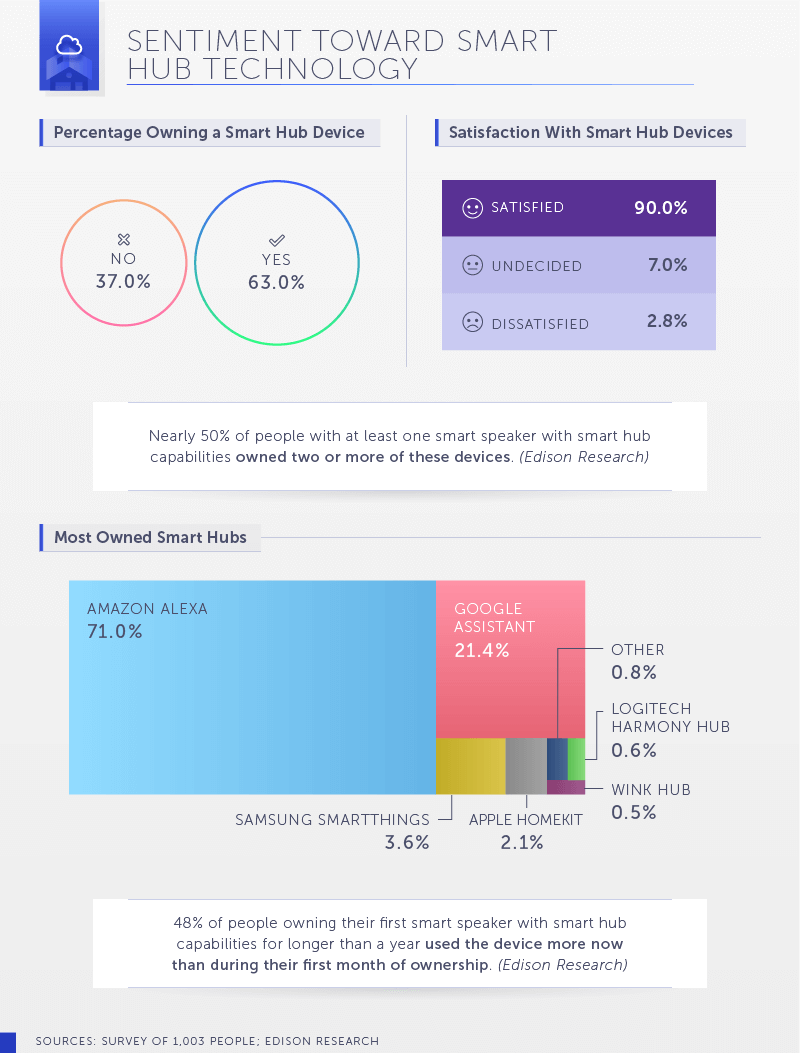 Among our respondents, 63 percent owned a smart hub device – a striking testament to the presence of connected gadgets in American homes. While the smart hub category includes a vast array of products and technologies, most consumers seemed pleased with the particular hubs they'd selected for their homes. Ninety percent of respondents described themselves as satisfied with their smart hub products, perhaps because they engage them in different ways over time. One recent report found that 48 percent of smart hub owners utilize their devices more often after a year than when they initially bought them.
Of course, the smart home technology landscape includes competing platforms, with some of tech's most powerful companies battling for market share supremacy. In this regard, Amazon seems to possess a sizeable lead: 71 percent of respondents reported using an Alexa smart hub. Google's Assistant was a distant second with merely 21 percent. Still, the company has achieved impressive growth in recent months, especially in foreign markets where it now offers voice command functionality in multiple languages.
Top Tech and Timing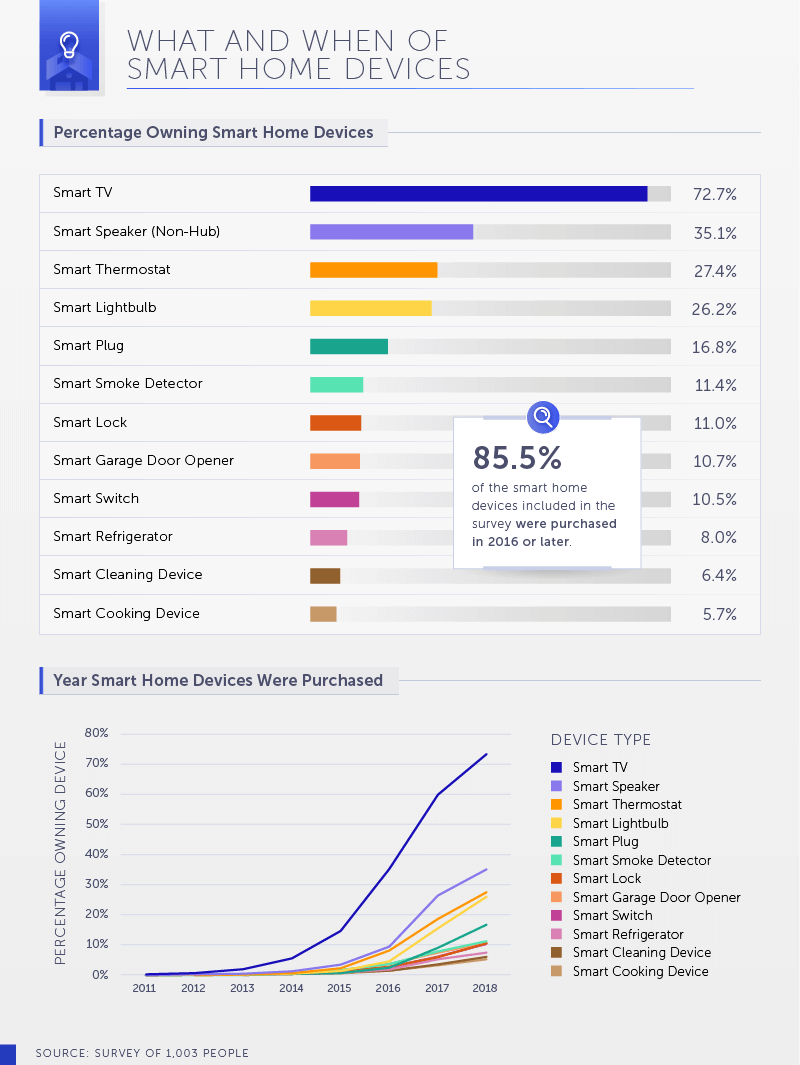 In terms of ownership, smart TVs were, by far, the most common form of smart technology: Nearly 73 percent of respondents said they owned one currently. This finding may simply reflect the standardization of smart features across the category. Whereas internet connectivity was once limited to the most expensive TV models, that's far from the case today. Additionally, 35 percent of respondents said they owned a smart speaker (other than a hub). More than a quarter of individuals owned a smart thermostat, and a similar percentage had smart lightbulbs as well.
At the other end of the spectrum, relatively few people owned smart appliances designed to assist with domestic necessities: Less than 10 percent of respondents had smart cooking or cleaning devices or an internet-connected fridge. But if the trajectory of smart device ownership in recent years is any indication, market penetration will surely increase substantially for all of these products. Among respondents with smart devices, over 85 percent purchased their gadgets in 2016 or later – a remarkably rapid rise in prevalence for smart devices of all kinds.
Smart Meets Safety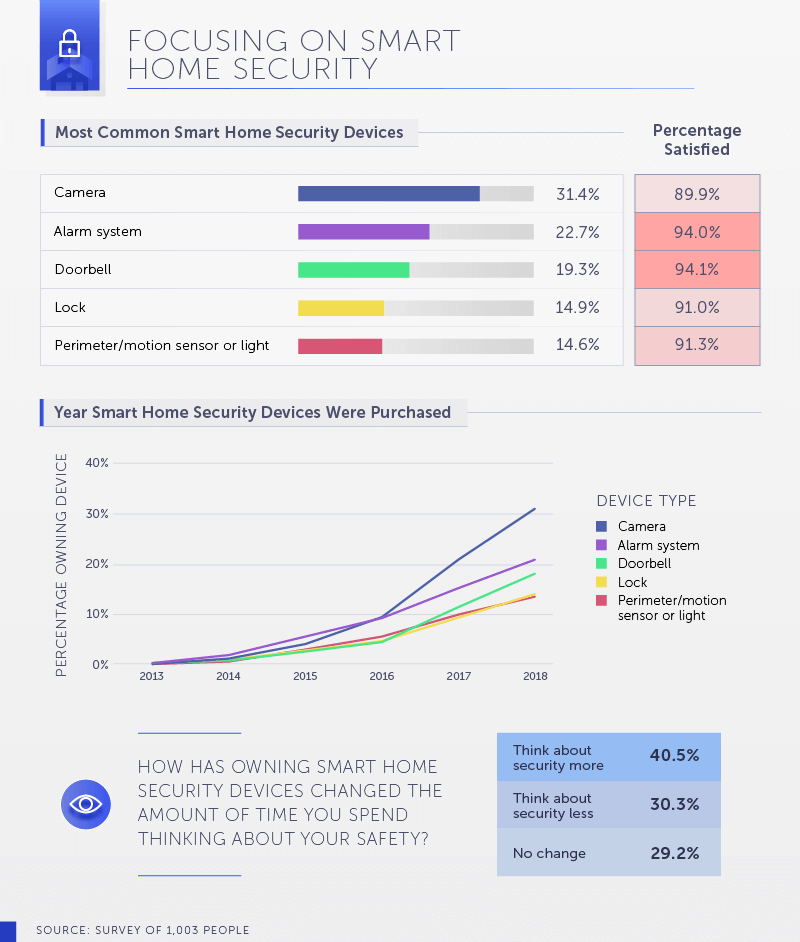 Concerning home security specifically, which devices have been adopted most widely thus far? More than 3 in 10 respondents said they had a smart camera installed, and the majority of that cohort was satisfied with their purchase. Yet, satisfaction rates were even higher for slightly more sophisticated home security gadgets: 94 percent of individuals who had smart alarm systems and doorbells were pleased with these products. The increasing popularity of these products has not gone unnoticed by the biggest names in home automation. In recent years, Amazon and Google have each acquired companies that make smart alarms and doorbells.
Our data suggest smart home security products enjoyed a surge in popularity after 2016, with a particular uptick in smart camera ownership following that year. And while these products may deliver peace of mind, they seem to cause some individuals to consider safety issues more frequently. Over 4 in 10 respondents said their smart security devices caused them to think more about safety, perhaps because many of these products send notifications or livestreams directly to users' smartphones.
Protection vs. Privacy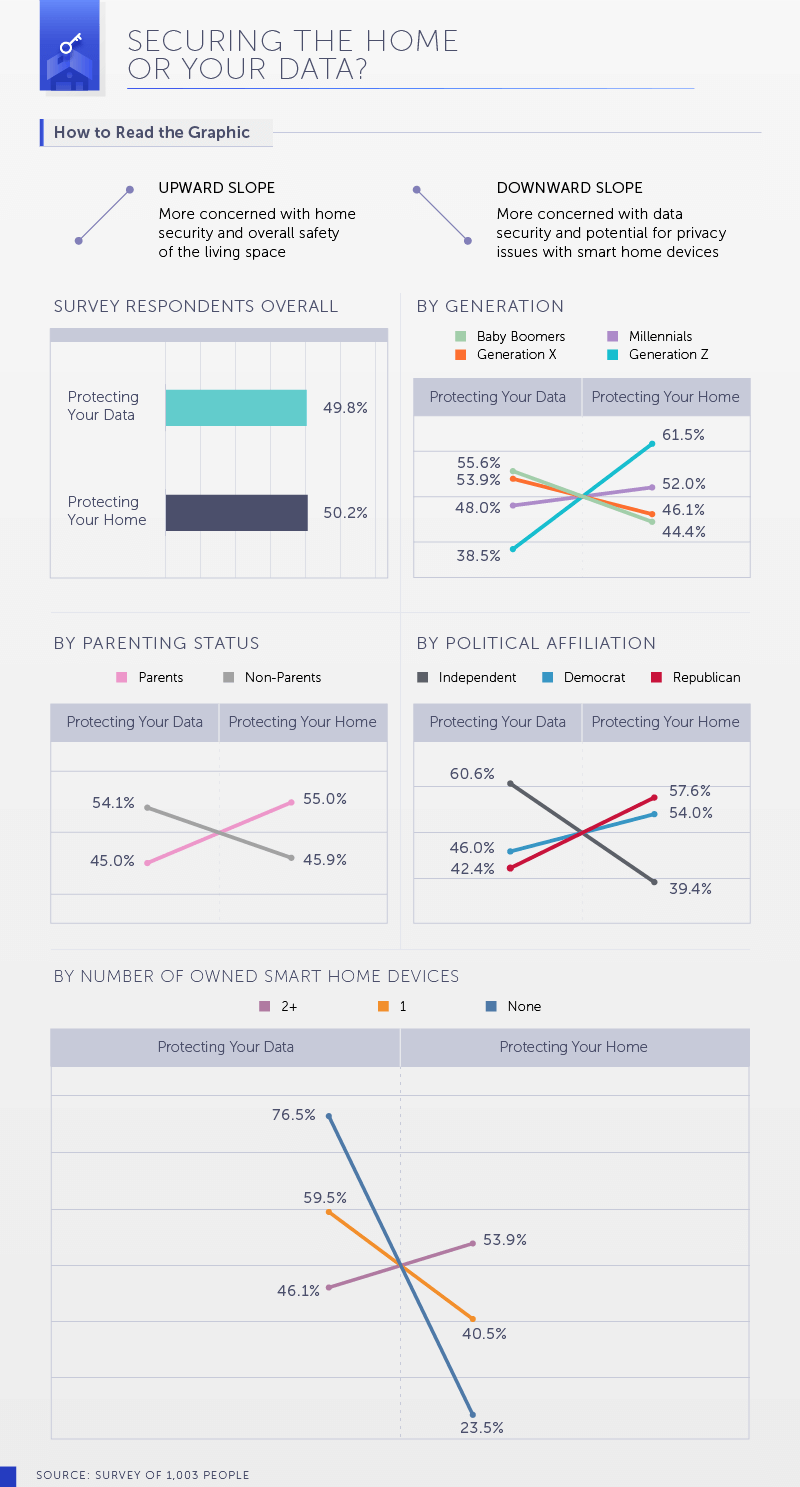 In considering home security products, many consumers find two priorities in conflict: They hope to improve their physical security without rendering their most intimate data vulnerable to misuse. Overall, respondents were evenly split on which forms of security mattered more, although opinions varied dramatically by demographic. Older respondents, for example, tended to prioritize data protection, while millennials and members of Generation Z favored physical security. These findings resonate with other recent research suggesting that young Americans are more aware of data privacy concerns than prior generations, yet less concerned their data will be stolen or misused.
Parents were more concerned about securing their home than respondents without children. Having kids in the house could understandably change one's safety calculus, and a recent survey affirmed that children are a leading reason homeowners install smart security systems. Democrats and Republicans tended to prioritize physical safety in similar ways, but over 60 percent of Independents said they were more concerned about potential data misuse. Meanwhile, three-quarters of respondents with no smart device said they were more concerned about data misuse than physical security, a stance that surely informs their resistance to internet of things technologies.
Technology Chronology

Our data suggest that most respondents acquired their smart home devices in 2016 or thereafter, but many of these technologies existed for years before being widely adopted. For example, the first smart TV debuted in 2008, but most respondents guessed they reached the market years later. A similar pattern emerged for other smart devices: 97 percent guessed that the first smart home hub appeared after 2009 when EnergyHub first brought one to the market. This trend may be attributable to the buzz that later accompanied products made by some of tech's biggest players. Most respondents guessed that smart hubs first appeared after 2014, the year in which Amazon's Alexa first appeared.
Smart refrigerators may seem like cutting-edge amenities today, but the first one appeared in 2000 – a fact known to just 1 percent of respondents. While that gadget, LG's Digital DIOS, boasted some appealing features, its $20,000 price tag severely limited its appeal to consumers. Conversely, 18 percent of respondents thought smart lightbulbs appeared before 2012, the year that Philips actually introduced its Hue line of bulbs. That product line remains quite popular with consumers; the bulbs are compatible with most major internet of things systems, including Alexa, Google Assistant, and Apple HomeKit devices.
Purchase Preferences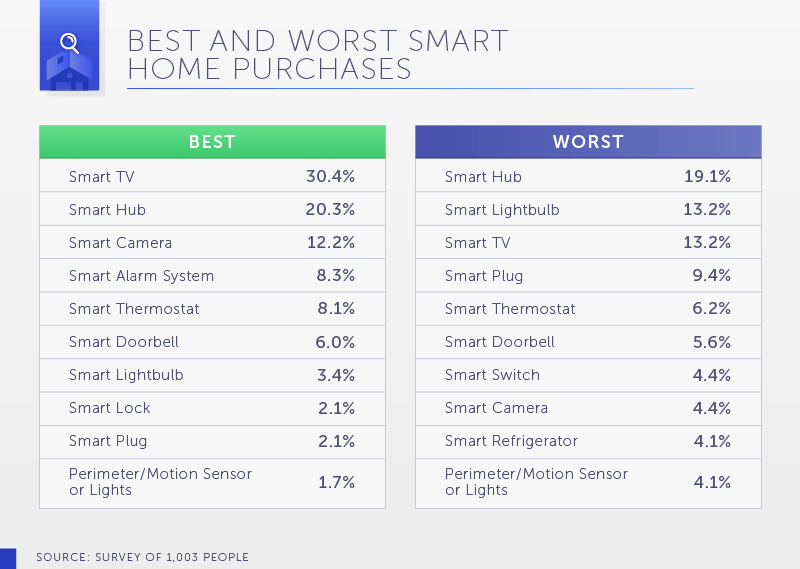 In addition to being the most prevalent internet-enabled products in American homes, smart TVs were also regarded as one the best smart home purchases by our respondents. Smart hubs prompted more mixed opinions: 20 percent said these devices were among the best purchases, while 19 percent said they were among the worst. These findings may seem to conflict with our earlier findings suggesting that most smart home users are satisfied with their devices. Yet, negative sentiment toward smart hubs may relate to privacy concerns raised by high-profile incidents, such as the plight of one Oregon woman who had her private conversations inadvertently recorded by her Alexa device.
Smart security devices were generally viewed in positive terms: 12 percent of respondents viewed smart cameras as among the best possible purchases, and just 4 percent deemed them among the worst. Similarly, 8 percent regarded a smart alarm system as a good purchase, and opposition to them was virtually nonexistent. Smart doorbells and thermostats, however, prompted approval and scorn in roughly equal measure.
Resisting Smart Tech: Suspicions and Objections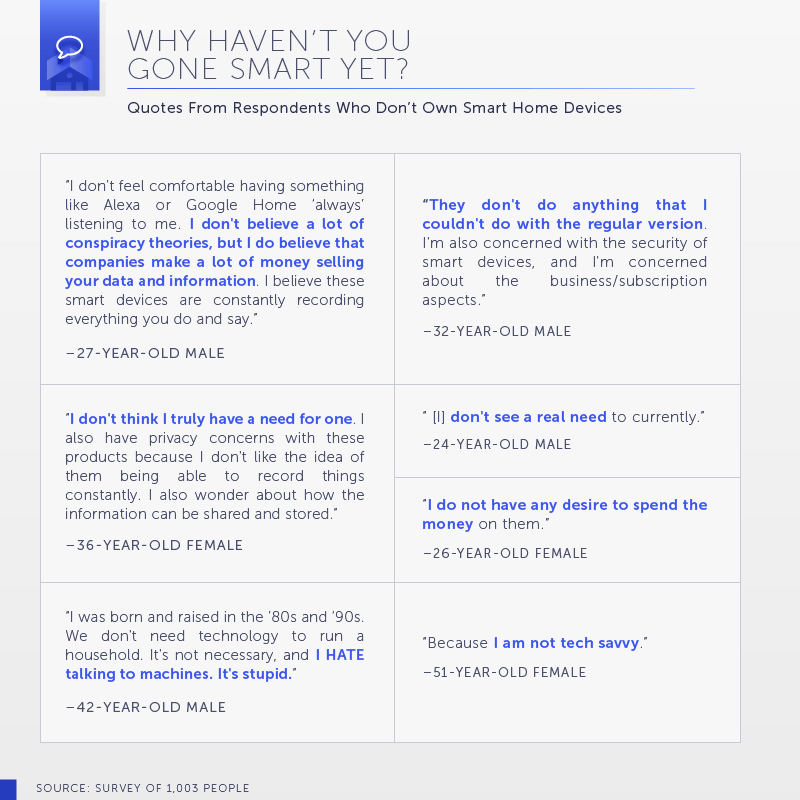 When we asked individuals without smart home devices why they had resisted the internet of things thus far, most fell into one of two camps. One group of respondents simply didn't seem drawn to the ease of these devices, apparently content to operate appliances around their homes manually. While convenience may not be a priority for this cohort, they might be swayed by arguments regarding efficiency instead: smart home systems can save homeowners hundreds of dollars on their electricity bills through a range of thrifty tricks.
The other category of objections centered on privacy concerns. In this group, the predominant concern was a sense of continuous surveillance – and the notion that collected data could be monetized at the expense of consumers. Indeed, recent research suggests that nearly half of Americans believe smart devices are recording consumers' conversations to target them more effectively with advertising. Beyond data collection by device-makers themselves, many fear their information might be sold to third parties. As one respondent put it, "I also wonder about how the information can be shared and stored."
A smart home of Your Own
Our findings attest to the suddenness and scale of the smart tech revolution: In just a few years, the internet of things has transformed from an intriguing novelty to an essential feature of the modern home. If uncertainty remains regarding data security and privacy, adoption rapidly continues – and few consumers seem to regret their smart home investments. In the midst of this ongoing transition, the major question for American families may not be whether to purchase smart products of their own. Rather, their chief concern will be which companies to trust as they inevitably move toward connected devices.
In embracing smart security technology, consumers should entrust the comfort and safety of their loved ones to companies they can count on. With an unparalleled track record of protecting families across the country, ADT offers the latest in smart technology and time-tested accountability to customers. Our connected home security systems seamlessly integrate data from all your devices, so you can control every aspect of your home in a single app. Learn more about our products and services today to see why trusting us is a truly smart choice.
Methodology
This project surveyed 1,003 adult Americans. Of this sample, 952 adults owned at least one smart home device. The sample included 471 men (average age was 35.9 years old), 530 women (average age was 37.1 years old), and two nonbinary participants. Respondents answered a series of questions on a survey built via SurveyMonkey and administered via Amazon's Mechanical Turk service. The survey was based on self-reported data and was likely slightly inflated in terms of overall ownership of devices due to the fact that it was collected from an internet sample (and, therefore, assumes access to the internet as a prerequisite for taking the survey). Self-reported data can also be limited by several extraneous factors, such as incorrect/incomplete recollections, minimizing, response bias, or other demand characteristics.
Sources
Fair Use Statement
Beyond smart devices, the internet can support a more important kind of connection – the bonds between friends and family members. In that spirit, please feel free to share this content with anyone who might enjoy it. When you do, link back to this page so that others can explore the full project. Please only use our work for noncommercial purposes.
This information is provided for general informational purposes only and should not be relied on in making any buying decisions. Information is deemed reliable but not guaranteed.
© 2019 ADT LLC dba ADT Security Services. All rights reserved. ADT, the ADT logo, ADT Always There and 800.ADT.ASAP and the product/service names listed in this document are marks and/or registered marks. Third party marks are the property of their respective owners.