You can read about a notorious serial killer, listen to a podcast about an unsolved murder mystery, or binge-watch a documentary series about a murder-for-hire plot starring eccentric zookeepers. True crime has taken over pop culture, evolving from a niche genre into a mainstream goliath of entertainment and storytelling.
It's been suggested that the charm and appeal of some highly visible serial killers, including Ted Bundy, have captured the imaginations of audiences everywhere. And while true crime as a genre doesn't explicitly condone violence, it has been criticized for sensationalizing violent and abhorrent behavior.
As a result, we wanted to understand the psychological ramifications of consuming real-life stories of murder as a form of entertainment. To learn more, we surveyed over 1,000 people who had consumed true crime content. Read on as we investigate how much time people spend on true crime, how real they prefer the footage, and their perceptions of safety after consuming the content.
The Grim Aftereffect
Not only is true-crime more popular among women, but also women surveyed were more likely to experience negative emotional consequences after consuming this type of content. Compared to men, women were more likely to indicate worrying about their family's safety (31%), their own safety (nearly 28%), and to feel anxious, scared, or paranoid (24%, 23%, and 22%, respectively) after reading, watching, or listening to true crime.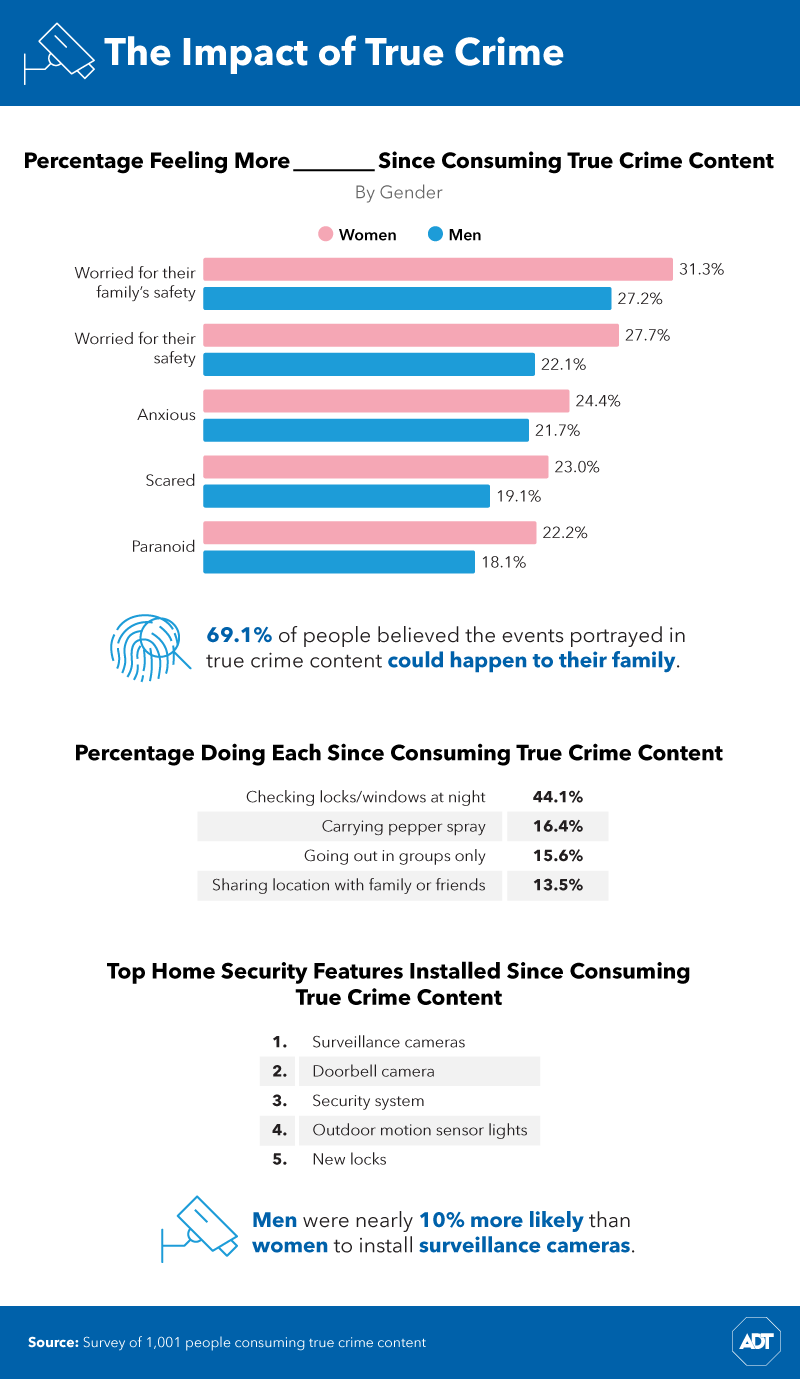 More than 2 in 3 respondents believed the events portrayed in true crime content could happen to their family, and 1 in 4 worried for their family's safety after watching true crime. The most popular home security additions included surveillance cameras, a doorbell camera, and a security system. More than 2 in 5 respondents also checked locks and windows at night after picking up true crime, followed by carrying pepper spray and only going out in groups (around 16% each).
Emotional Impact of True Crime
More than half of people said they enjoy being scared in situations they can control. Even if you have to watch through your fingers, there's a psychological reason some people are comforted by horror movies or TV shows. They might be tense and a bit unnerving, but knowing they're not real can make horror stories entertaining and enjoyable. However, 57% of people preferred true crime content with actual footage or recordings, and nearly as many said footage or recordings made the content scarier.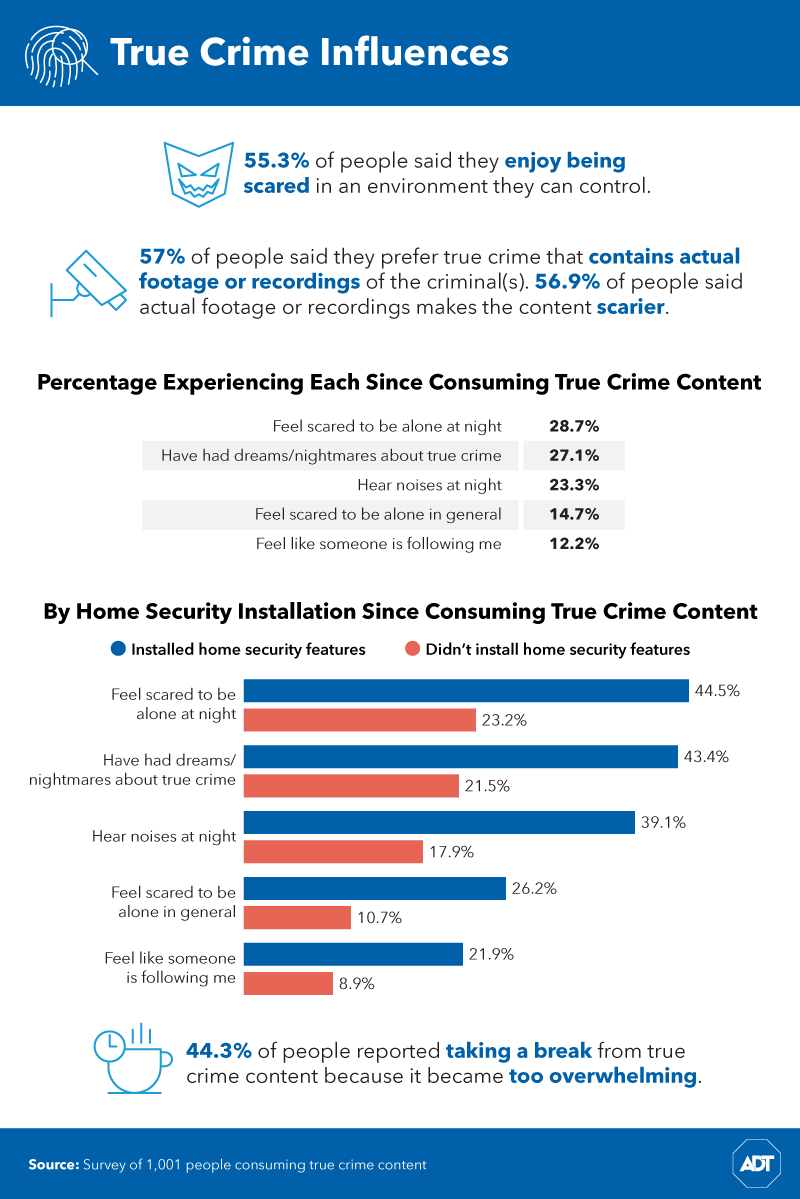 More than 2 in 5 people felt so overwhelmed by true crime that they needed to take a break from consuming it, and some were motivated to make changes to their home security as a result. Nearly 45% of people who installed home security features felt scared to be alone at night, and over 43% had dreams or nightmares about true crime. More than 1 in 4 people who updated their home security felt scared to be alone in general, and over 1 in 5 felt someone was watching them.
Consumption Behavior
Binge culture makes it easy to jump from one episode of a show or podcast to the next.People who installed home security features after consuming true crime averaged nearly five hours a week viewing or listening to true crime, compared to people who consumed less than four hours a week of similar content and didn't change their home security.
Among those surveyed, women were over twice as likely as men to consume true crime on a daily basis, with 8 p.m. being the most popular viewing hour. The most popular formats included TV shows (87%), movies (more than 75%), and books (43%). Less than 28% of people listened to true crime podcasts, which were more than twice as popular among millennials compared to baby boomers. Nearly 3 in 4 people (71.8%) even conducted their own research on true crime events they learned about, with people who installed home security features after consuming true crime 10% more likely to do so than those not installing home security features.
Prioritizing Your Safety
The effects of true crime can stay with you long after the credits roll. Popular shows like "Making a Murderer" and podcasts like "Serial" inspire audiences to research more facts about the cases they cover, which can make audiences more likely to want to upgrade their own home security.
Whatever your concerns, home security shouldn't have to be one of them. ADT is the No. 1 home security provider in America with over 140 years of unparalleled industry experience and a theft protection guarantee you can rely on. Learn more about our home security solutions and packages online at ADT.com today.
Methodology and Limitations
To collect the data shown above, we conducted a survey of 1,001 respondents. To qualify for this survey, respondents were required to consume true crime content. Of the respondents, 234 were baby boomers, born between 1946 and 1964; 373 were Gen Xers, born between 1965 and 1980; and 394 were millennials, born between 1981 and 1997. The respondent pool was 50% female, 49.7% male, and less than 1% identified as nonbinary. The data were calculated to exclude outliers. We did this by finding initial averages and standard deviations for the data. Then, the standard deviation was multiplied by three and added to the initial average. Any data point above the calculated number was then excluded from the data.
Because the survey relies on self-reporting, issues such as telescoping and exaggeration can influence responses. An attention-check question was included in the survey to help ensure respondents did not answer randomly.
Fair Use Statement
There's no murder mystery here. We invite you to share the findings of this study with your readers for any noncommercial use with the inclusion of a link back to this page so that they have full access to our findings.
This information is provided for general informational purposes only and should not be relied on in making any buying decisions. Information is deemed reliable but not guaranteed.
© 2020 ADT LLC dba ADT Security Services. All rights reserved. ADT, the ADT logo, ADT Always There and 800.ADT.ASAP and the product/service names listed in this document are marks and/or registered marks. Third party marks are the property of their respective owners.