In 2015, half of Americans had heard of ride-sharing but had not yet used the service, while around 1 in 3 had never heard of ride-sharing like Uber and Lyft. However, by 2018, just 3% of people across the country were unfamiliar with ride-sharing, and more than 1 in 3 were users. Although this service is still more popular among younger generations (more than half of those between the ages of 18 and 29 use ride-sharing), older generations are also utilizing this type of transportation, including getting to and from health appointments.
And while proper ride-sharing etiquette is one thing, ride-sharing safety is something else entirely.
So, just how seriously do people take their security when it comes to climbing into someone else's car?
We surveyed over 1,000 people to understand just how popular ride-sharing has become; how frequently passengers interact with their drivers; which safety habits they practice; and how safety awareness toward ride-sharing has evolved. Here's what ride-share users had to say.
Frequent Ride-Share Miles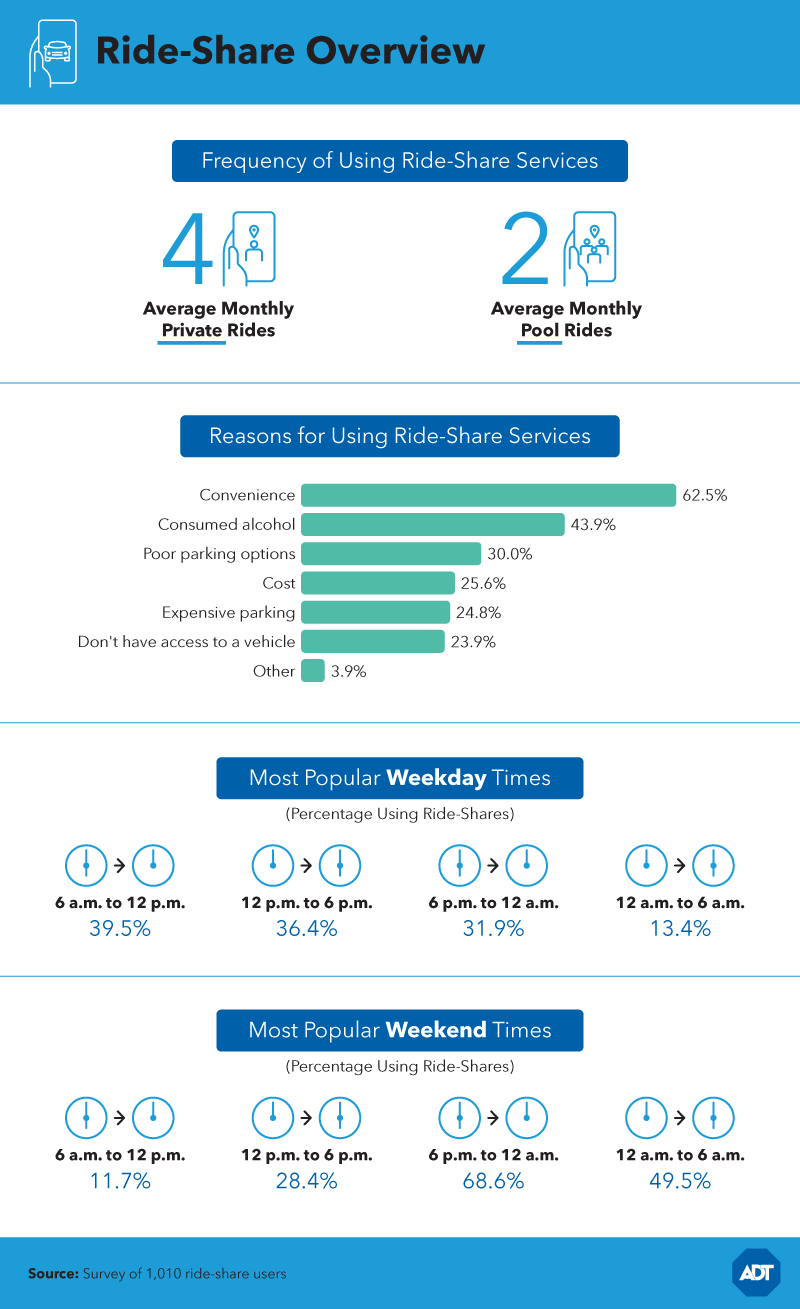 The introduction of ride-sharing, a convenient, app-based way to get from one point to another, has had a profound impact on the way people think about transportation and vehicle ownership.
Among those surveyed, the average person took four private ride-shares and two pool rides (where passengers with different destinations share a car) every month. While convenience was the most common reason passengers utilized app-based transportation (nearly 63%), alcohol consumption (44%), poor parking options (30%), and cost (almost 26%) were other popular reasons people used a ride-share service.
Peak workweek times for ride-sharing included 6 a.m. to 12 p.m. (about 40%) and 12 to 6 p.m. (36%). By the weekend, people used ride-sharing most often between 6 p.m. and 12 a.m.
The Impact of COVID-19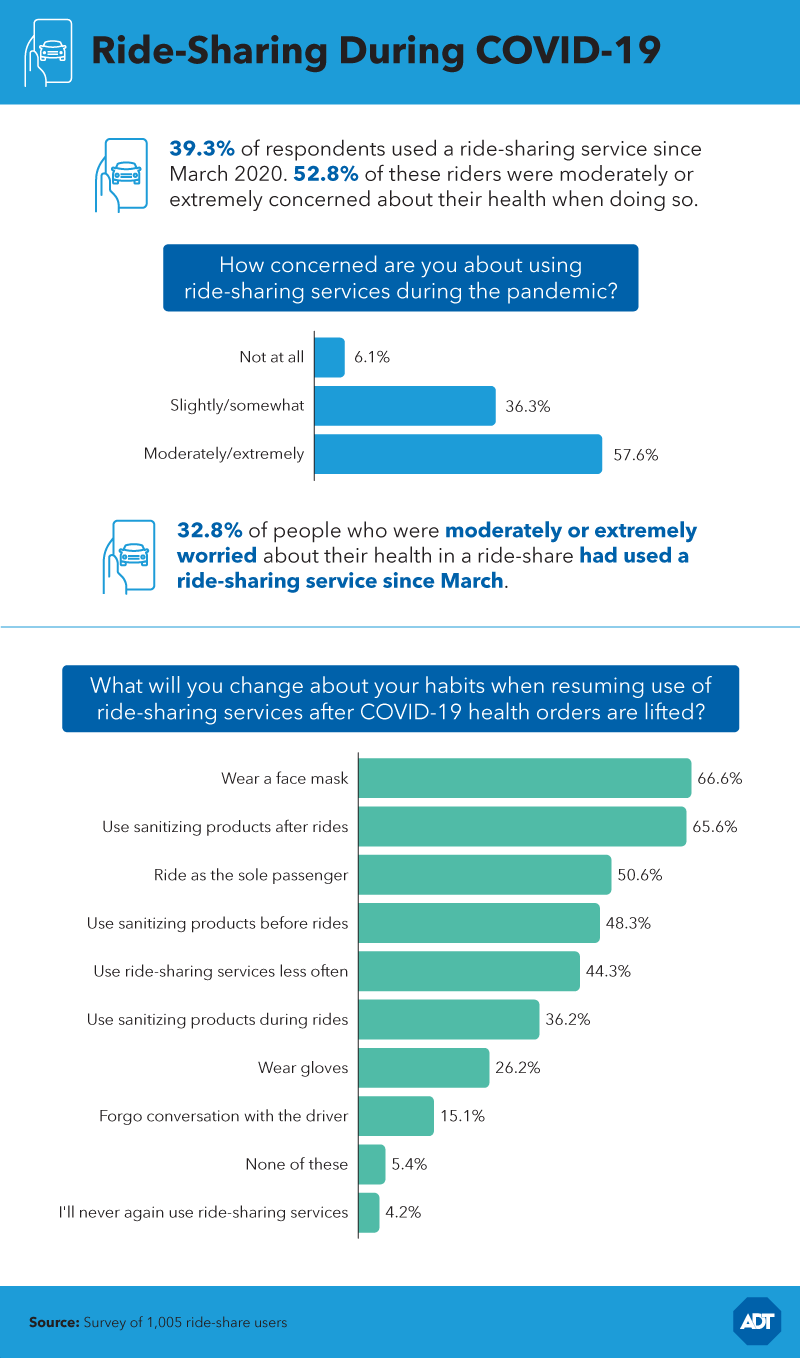 For both drivers and passengers, the global health pandemic caused by COVID-19 presents unique (and sometimes scary) challenges as people continue to rely on ride-sharing for transportation or income.
Since March 2020, nearly 40% of respondents reported using ride share services, and more than half (52.8%) were moderately or extremely concerned about their health while riding. Overwhelmingly, about 58% of people identified feeling moderately or extremely worried about using ride-sharing services because of COVID-19, and another roughly 36% of people were either slightly or somewhat worried. Just around 6% of respondents indicated not being at all worried about the safety of ride-share during the pandemic.
For those expressing concerns, behavioral shifts may continue to occur, even after the threat of COVID-19 has passed. More than 2 in 3 people indicated they expected to wear a face mask after returning to ride-sharing services, and nearly as many will use sanitizing products after rides (65.6%). More than half of people planned to ride alone as a single passenger, and over 44% reported planning to use ride-sharing services less frequently post-pandemic.
New Normal for Ride-Sharing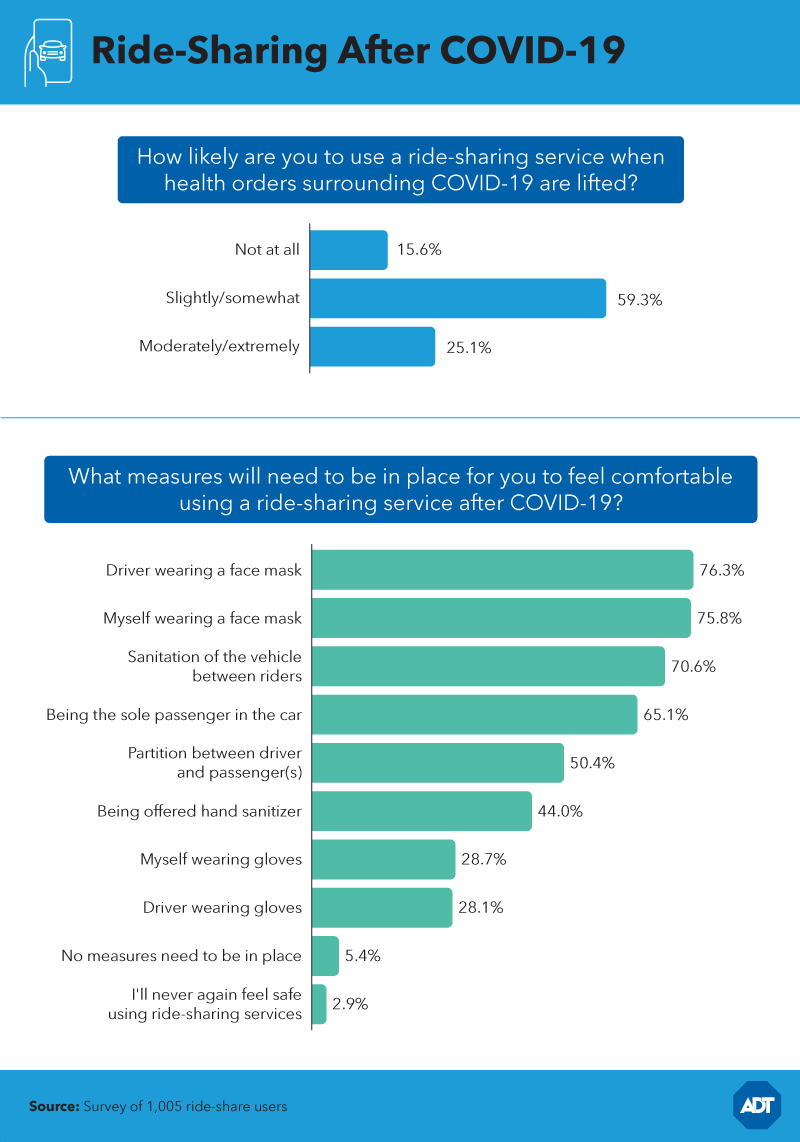 While looking back at life before COVID-19 seems to mark a very clear contrast to life during the pandemic, it's difficult to completely predict what life after COVID-19 will look like. By many estimations, we could enter into a "new normal" where some behaviors and etiquette are forever changed by the impact of the new coronavirus.
When asked about life after the COVID-19 health orders are lifted, just under 16% of people reported expecting to avoid ride-shares completely, while around 59% identified as just slightly or somewhat likely to go back to ride-sharing services.
In order to feel comfortable using ride-sharing services again, more than 76% of passengers want to see their drivers wearing masks, and roughly three-quarters anticipated wearing masks themselves. Sanitizing of the vehicle between riders (70.6%), being the sale passenger (65.1%), and a physical partition between the driver and passenger(s) (50.4%) were other commonly listed safety protocols users wanted to see implemented before feeling comfortable while ride-sharing again.
Passenger Safety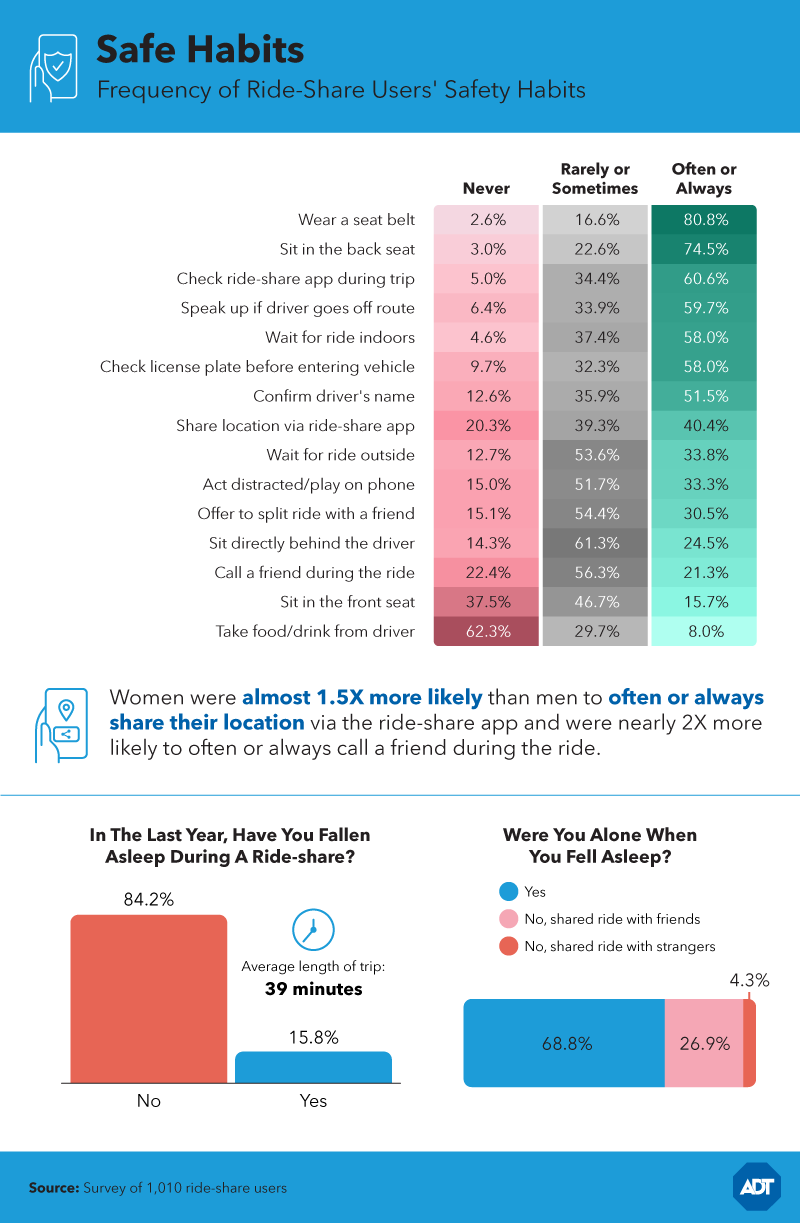 Safety should always be top of mind regardless of which ride-share service you use. A majority of riders often or always wore their seat belt (81%), sat in the back seat (over 74%), and checked the app while en route (almost 61%).
And while a majority of riders acknowledged frequently waiting indoors for their ride to arrive and speaking up if their driver took a different route, some were willing to play fast and loose with these precautions. Nearly 1 in 3 riders admitted to only rarely or sometimes checking the license plate before getting into a car, and less than half confirmed the driver's name, which is critical to ensure you're getting into the right vehicle with the right person. On average, women were almost one and a half times more likely than men to, often or always, share their location via the ride-share app and twice as likely to call a friend during the ride.
Unfortunately, nearly 16% of people admitted to falling asleep in the middle of a ride-share, and more than 2 in 3 were alone when it happened.
Rating Driver Performance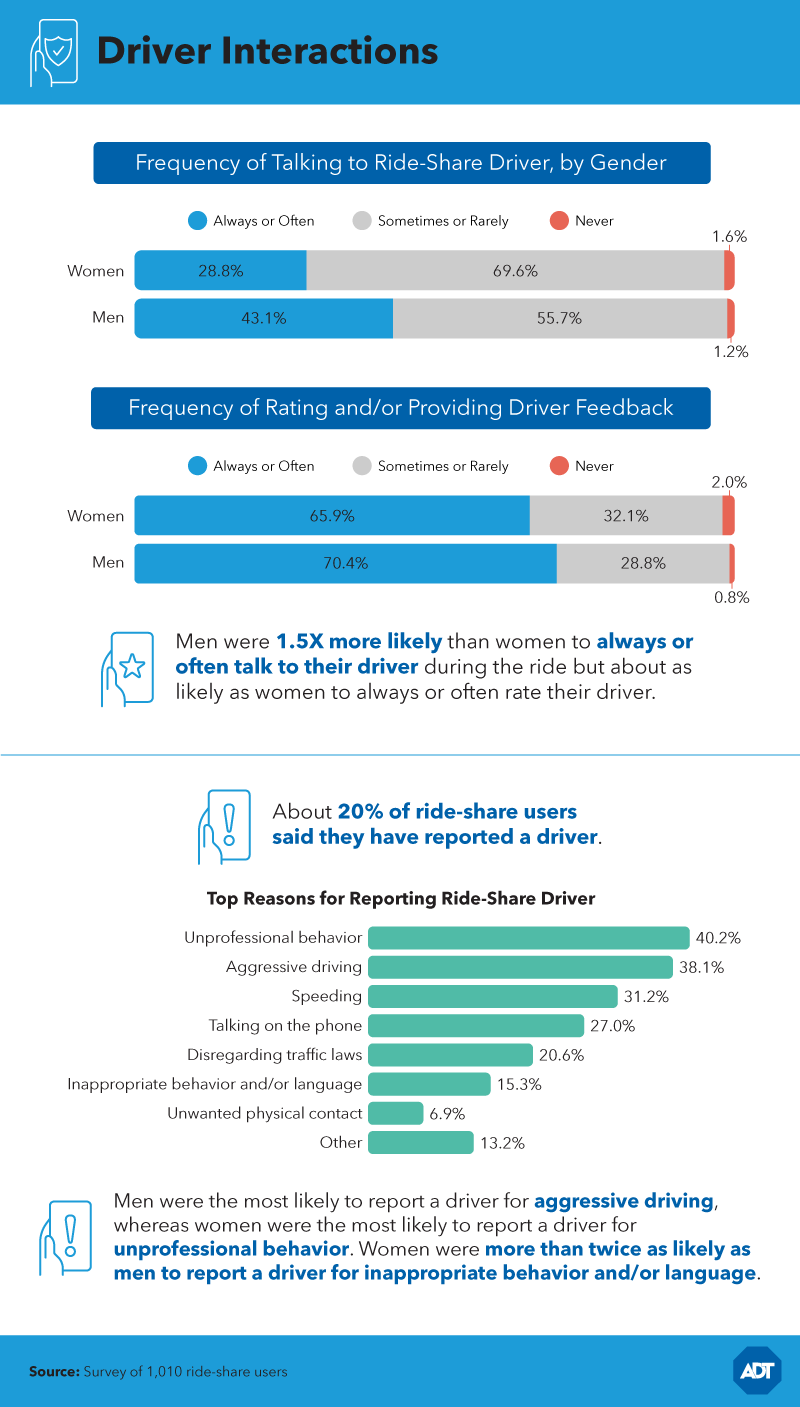 As with almost any relationship, communication is key. While a minority of people never talked to their ride-share drivers, more than 2 in 3 women and over half of men sometimes or rarely communicated with their drivers. However, 66% of women and around 70% of men always rated and/or provided driver feedback.
You may expect your rides to go smoothly, but there can be bumps in the road. Roughly 1 in 5 passengers said they've had to report a driver, most commonly for unprofessional behavior (40%), aggressive driving (38%), and speeding (31%). Just 15% of passengers reported drivers for inappropriate behavior and/or language, including more than twice as many women compared to men.
Security First
Ride-share safety isn't just up to passengers and drivers anymore. While 4 in 5 passengers were aware that ride-share companies conduct background checks on their drivers, slightly fewer (72%) knew they could assess safety features from within the app, and fewer still (nearly 56%) were aware they could call 911 from within the ride-share app.
There may still be room for improvement, but passengers are taking more responsibility for their own well-being. Among passengers who said they confirm their driver's name, 48% said they do this more now than they did last year. And just over 46% of riders say they follow the ride along in the ride-share app. Among riders who don't always sit in the front seat or take food from the driver, 39.3% and 32.4% (respectively) do this less frequently now compared to last year.
Sharing Safety Tips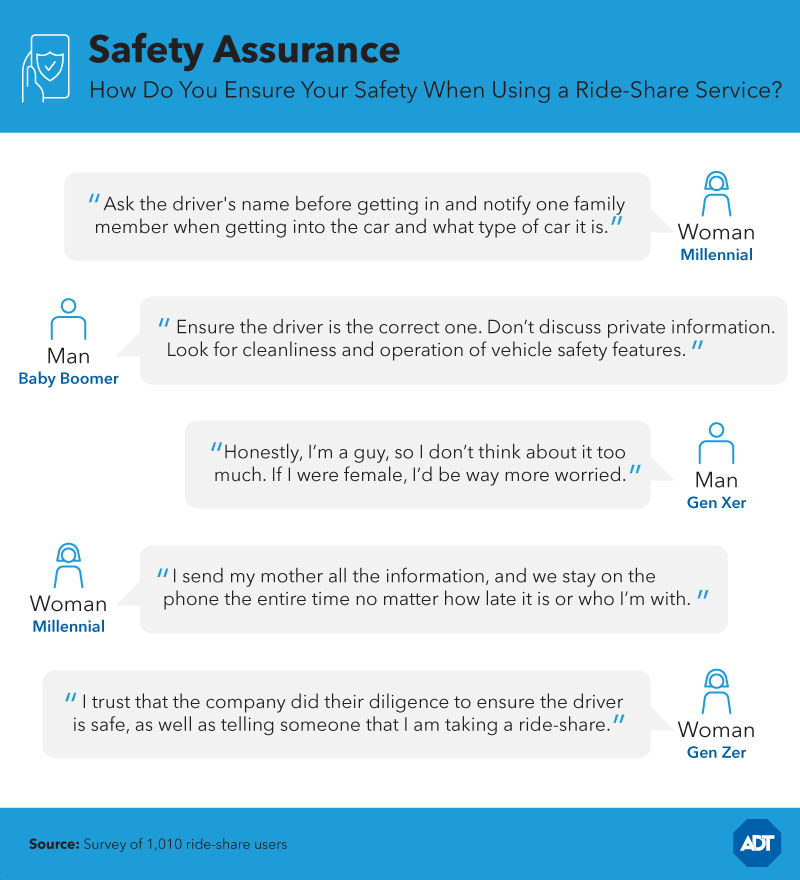 Looking for ride-sharing best practices? Here's what passengers of all ages had to tell us about putting security first when it comes to using app-based transportation services.
As you can see, asking identity questions of the driver and updating a friend or family member along the way were popular safety precautions. While one man indicated he'd be more worried about safety if he were a woman, another man still made an effort to confirm the driver's identity before getting into the car.
Building Better Ride-Share Habits
The convenience and accessibility of ride-sharing mean the service isn't going anywhere anytime soon, and you may find yourself relying on it more and more in the future. Still, even the most basic safety measures aren't universal among riders, and women typically take their safety more seriously than men.
With Lyft and ADT, we're bringing together the best of both worlds. With industry-first safety standards, including the ability to call 911 right from the Lyft app, ADT is adding another level of security to the ride-sharing experience, allowing users to connect to an ADT security professional if they feel unsafe. Learn more about the ADT and Lyft partnership at ADT.com.
Methodology and Limitations
Using Amazon Mechanical Turk, we surveyed 1,010 people who had used a ride-share service in the last month. Our survey was made up of 510 men, 496 women, and 4 others who did not identify as a man or woman.
The average age of our respondents was 36.4 with a standard deviation of 11.5.
This survey is based on the opinions and experiences of our respondents who have used a ride-share service in the last month of taking this survey. It relies on self-reporting, which could affect the answers. The data are not weighted.
Fair Use Statement
Ready for a ride? Help your readers keep their safety top of mind before they ride-share. Share the findings of this study for any noncommercial use with a link back to this page as credit to our team for their contributions.
This information is provided for general informational purposes only and should not be relied on in making any buying decisions. Information is deemed reliable but not guaranteed.
© 2020 ADT LLC dba ADT Security Services. All rights reserved. ADT, the ADT logo, ADT Always There and 800.ADT.ASAP and the product/service names listed in this document are marks and/or registered marks. Third party marks are the property of their respective owners.