If you're one of the 12 million people that own a water recreational vehicle, safety is probably your number one priority. Whether you have a boat, jet ski, canoe, kayak or a paddle board, there's some basic water safety tips you should know before diving in.
Think you're a seasoned water pro? Last year, the Coast Guard recorded 4,291 boating accidents that lead to 2,629 injuries and 658 deaths.1 Unfortunately, these kinds of accidents tend to peak during holidays like Memorial Day, Independence Day and Labor Day.2
Use these water safety tips to avoid ruining your holiday fun!

Wear a Life Jacket
It seems like a no-brainer, but 76 percent of boating deaths ended in drownings that possibly could have been prevented by wearing a life jacket.1 Boating and water accidents can happen suddenly, and half of all fatalities occur in calm water.3 Even if those who go overboard can swim, there are several other factors that can affect their survival: they may become unconscious, they may develop hypothermia or they may be weighed down by clothing.4 These days, it's easy to find low-profile, lightweight life jackets for adults that won't get in the way of your fun. Your boat needs to have one for each person on board, and children 13 years of age and under are required to wear one by the Coast Guard.5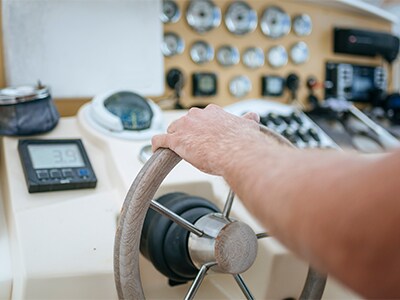 Don't Drink and Pilot
You don't drink and drive a car, so why would you drink and pilot a boat? According to the US Coast Guard, "Alcohol use is the leading known contributing factor in fatal boating accident," ahead of operator inattention, improper lookout, operator inexperience and machinery failure.1 It's illegal in all 50 states to drink alcohol while operating a boat. In addition to imposing stiff fines, some states will also tack on jail time, take away a boater's operating privileges and require that the person complete a boating safety course.6
Plan Ahead
If you're headed out for a day on the water—whether it's on a big lake or the ocean—you may want to bring a lunch, water, sunscreen and a playlist of your favorite summer songs. But that's not all. You should also pack some safety equipment, including lights, tools, extra fuel, a fire extinguisher and spare batteries. Don't forget to check the weather! There's quite a bit of preparation needed, but this pre-departure boating safety checklist from the Safe Boating Council consolidates it all in one place. Run down the list and check it twice. Don't forget to bring any needed prescription medications and pills that help with seasickness, too.
Use an Engine Cut-Off Device
When operating a personal watercraft, like a jet-ski or a powerboat, the National Boating Safety Council recommends that you wear the lanyard that connects to the engine's cut-off switch on the dashboard.7 If you fall overboard, the lanyard will automatically pull on the switch that turns off the engine. That could prevent you from getting struck by the boat's propeller. In 2017, the U.S. Coast Guard reported 172 such accidents that resulted in 31 deaths.1 In addition to paying attention to your surroundings, be sure to always be aware of your passengers' safety since becoming distracted can have tragic results. More than 600 boaters were hurt or killed in 2017 as a result of operator inattention.1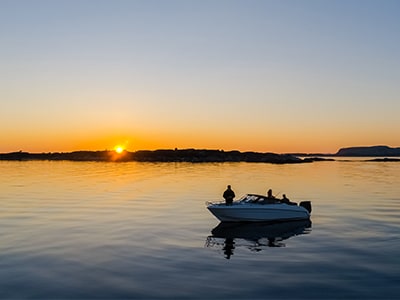 Don't Exceed Your Boat's Maximum Capacity
No one wants to miss out on the fun, and it may be tempting to pile everyone onto the boat at once. But a boat that exceeds its maximum capacity could capsize. Even if the vessel doesn't turn over, the extra weight can cause it to list or sit too low in the water, which will make the boat difficult to operate and susceptible to swamping.8 Before launching, check the capacity plate, which you'll find near the operator's seat or affixed to the stern. The plate will tell you the total amount of weight and the estimated number of people the boat can handle safely.
There's nothing better than spending time with your family and friends on the lake during the summer. These boating safety tips will keep you and your loved ones out of danger as you set sail into summer.
1. Williams, Jennifer. "2017 Recreational Boating Statistics." US Coast Guard, May 11, 2018. Accessed June 20, 2810. http://www.uscgboating.org/library/accident-statistics/Recreational-Boating-Statistics-2017.pdf
2. "Danger Ahead: 4th of July Holiday is the Busiest, and Often Deadliest Time of the Boating Season." American Boating Association, 2015. Accessed June 20, 2018. https://americanboating.org/safety-danger-ahead.asp
3. "How to Chose the Right Life Jacket." US Coast Guard. Accessed June 20, 2018. http://www.uscgboating.org/images/howtochoosetherightlifejacket_brochure.pdf
4. "It Doesn't Work Unless You Wear It." Wisconsin Department of Natural Resources, June 29, 2016. Accessed June 20, 2018. https://dnr.wi.gov/topic/boat/pfd.html
5. "Coast Guard Life Jacket Rule Becomes Effective on December 23." US Coast Guard, December 9, 2002. Accessed June 20, 2018. https://www.usps.org/eddept/files/pfd-13_release_r16.pdf
6. "Boating Under the Influence." Boat-ed, 2018. Accessed June 20, 2018. https://www.boat-ed.com/bui-laws.html
7. "Important Boating Safety Reminders for Fourth of July High-Boating Traffic from the Safe Boating Campaign." National Safe Boating Council, June 20, 2018. Accessed June 20, 2018. https://www.prnewswire.com/news-releases/important-boating-safety-reminders-for-fourth-of-july-high-boating-traffic-from-the-safe-boating-campaign-300639965.html
8. "Capacity Plate." Boating Basics Online, 2015. Accessed June 20, 2018. http://www.boatingbasicsonline.com/content/general/3_7.htm