Government
VA Medical Facilities
Your one-stop solution for a comprehensive, compliance-driven security approach.
Your All-in-One Security Provider Trusted to Help Protect Our Nation's Veterans
As part of the U.S. Department of Veterans Affairs, we understand that Veterans Affairs Medical Facilities must adhere to both stringent federal government regulations and healthcare industry standards.
Everon™ is your trusted partner to best address those specific security needs, equipped with an extensive portfolio that includes:
Robust access control systems
Intrusion alarm systems
Video surveillance
Remote monitoring and analytics
Critical gun detection technologies
High-level system integration
As your dedicated partner in security, we can step in as your full-service provider, so that your teams can concentrate on what matters most—delivering quality care to Veterans and their families.

Prioritizing compliance with federal government regulations and healthcare industry standard
You're in need of a security integration partner that can abide by the Buy America and McCain Acts to ensure all equipment installed is manufactured in the U.S. and delivered by a U.S. based, American company.
You can rely on Everon to have a qualified understanding of these regulations to maintain critical compliance across your access control, identity management and information security solutions:
FIPS 201 Approved Enterprise Physical Access Control Systems (ePACS)
Homeland Security Presidential Directive 12 (HSPD-12)
Federal Identity, Credential, and Access Management (FICAM)
Federal Information Security Management Act (FISMA)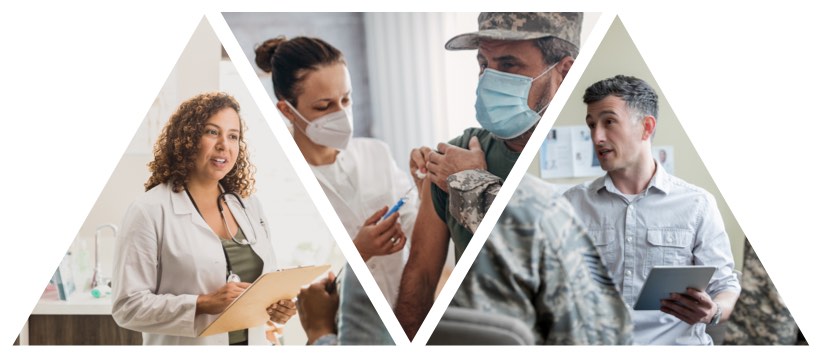 Working together to protect healthcare staff, physicians, patients and visitors
The safety and security of VA Medical Center workers, patients and visitors is our shared priority.
We'll work with you to develop an integrated security program with a comprehensive approach that begins with your outermost perimeter in your parking areas before reaching your entryways and caregiving facilities.
The 24/7/365 operations of VA Medical Centers with Outpatient Care require a reliable, multilayer approach to help ensure the protection of staff, patients and visitors, including:
Electronic Access Control

American-made, federal government compliant access control systems can help keep intruders out, track employees throughout your facilities and restrict access to areas where controlled substances are stored.

Advanced Video and Monitoring

High-resolution video cameras, remote monitoring and analytics—as well as the expertise to complete the installation and maintenance of all systems.

Critical Solutions

Emergency solutions like gunshot detection for active shooter scenarios, panic and duress alarms for healthcare staff and mass notification and emergency communications systems help prepare your teams for the unexpected.

Pandemic Management Solutions

Solutions like contact tracing, elevated skin temperature detection devices, and establishing safety protocols within ICUs can help reduce the need for nurses to physically enter contaminated spaces.
Given the high-value, sensitive nature of Veterans Affairs Medical Center Facilities, we are equipped to secure these facilities with a wide range of customizable solutions, including:
Security Solutions
Access control systems
Intrusion alarm systems
Video systems, remote monitoring and analytics
Security gates
Services
Systems integration
Installation, testing, inspections and maintenance
Design engineering
Analytics and reporting
24/7/365 UL Listed monitoring
Fire and Life Safety Solutions
Mass notification and emergency communication systems
Fire alarm systems (standard and wireless)
Fire sprinkler and suppression systems*
*Available in select markets
Specialized Solutions
Gunshot detection technologies
Panic/duress alarms
Emergency mustering and response plans
License plate recognition systems
Visitor management
Contagion management solutions, including contact tracing and Elevated Skin Temperature (EST) systems
Nurse call and clinical communications
Real-time locating systems (RTLS)
Wander management systems
Personnel and asset locating
Discover how Everon can help you secure your Veterans Affairs Medical Center facilities with a custom solution that aligns with your budget.
Let's start a conversation
We make it easy to switch providers, and our onboarding process is predictable, dependable and painless.